Yes, you did read that correctly. Every month* on my Instagram account I give away free gluten free products.
How do I get free Gluten Free Goodies?
What's the catch? There is no catch, seriously. In my This is Not a G!veaway (example of a 'not a g!veaway') I gather up lots of gluten free products over the month, some are bought, some are gifted and some might be freebies from shows I've attended.
All you need to do is follow me, like my posts and comment from time-to-time. Effectively I'm asking you to carry on as normal and do what you normally do on social media.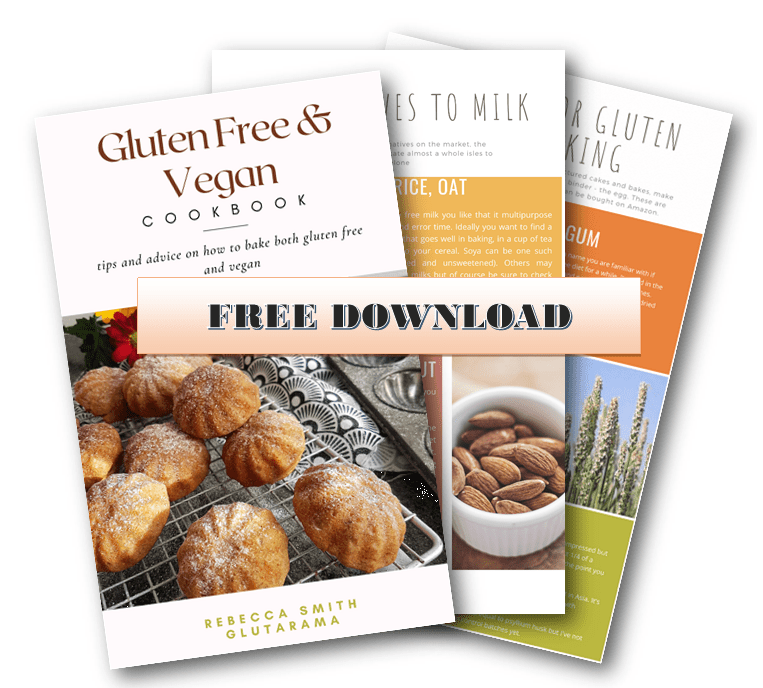 Never miss out again…
Sign up to my weekly Friday newsletter and not only get a FREE e-Book (currently my Gluten Free & Vegan Cookbook) but also get VIP subscriber discounts on free from goodies delivered to your door. Join me in my journey and learn to make anything gluten free.
How does it work?
Each month I look at the most popular post on my Instagram account and pick a random 'winner' that just happened to like the post and commented. That's it, you won't even know you had entered into a non-g!veaway! I then DM the person for their address and send the box of gluten free goodies out to them the next working day.
Why do you give gluten free products away for free?
Because I'm nice like that – no seriously, it's because I hate waste and in this household that can happen a lot.
Explain yourself Rebecca.
Both my teens are autistic. Those in the know will understand that autistic people can sometimes be rather specific about what they eat; textures, tastes, smells can be a deal breaker.
Lots of times I buy a new product for Bethany to try and she'll not like it so if I bought multiples or it was a multi-pack I'll add it to the goodies box.
Why won't my son eat them? For the exact reason I just explained plus he hates the idea of gluten free food.
Why won't I eat them? Because I am dairy and egg intolerant as well as a few other foods so I can't always eat what I buy Bethany.
Another reason I do it, in fact, that main reason I do it is to say THANK YOU to my followers
Supporting small businesses
As well as preventing waste in this family, the not a g!veaway also supports small businesses by giving them a little bit of social media exposure as I always tag businesses into my posts for followers to see and follow for themselves (or even better, purchase) if they like.
Surely there's something in it for you Rebecca?
Well yes there is. Total transparency, my Instagram account has been so difficult to build a following, I'm certainly not in the tens of thousands like some gluten free bloggers and this impacts the work I get. Bigger brands with marketing budgets still think Instagram is the place to be in terms of 'influencing' whilst I suspect that's not entirely true but hey what do I know?
By building my presence on Instagram I stand a better chance of earning some pennies with collaborations – I still have to pay the bills and freebies don't put petrol in the car!
That said, this 'Not a G!veaway' generates little to no extra followers – so go figure, guess I just wasn't built for business (giggles!).
Terms & Conditions
You have to be in the UK as this is all coming out of my own pocket and can cost me anything between £5.00-10.00 in postage and packaging.
That's it as far as T&C's are concerned because it's not actually a giveaway. I'm just gifting a surprise to a follower each month.
* there may be months I do not run the 'Not a G!iveaway' due to not gathering enough goodies or being away or personal circumstances but over the last 12mths I've given away EIGHT goodies boxes!
Are you new here? Fancy reading more about Glutarama?
About Us – find out about the family, how this blog started and the various conditions we deal with.
Type 1 Diabetes and us: the full diagnosis story – my daughter Bethany's diagnosis story
Coeliac diagnosis – symptoms, impact and life going forward – Bethany's Coeliac diagnosis
10 reasons I know my son has Autism – Lewis's autism traits and special powers
I also have a few recipes!
Gluten Free Lemon Swiss Roll
A simple gluten free Lemon Swiss Roll recipe that anyone can make, don't be scared of the rolling process, it's not difficult I promise! Filled with shop bought or homemade Lemon Curd, the perfect teatime treat fit for a Queen.
Check out this recipe
Traditional Gluten Free Bread Pudding
I family recipe made with love – this gluten free bread pudding has been adapted from my Nanny's recipe to be gluten free and dairy free, I've also made it successfully as a vegan Bread Pudding with flax seed eggs.
Check out this recipe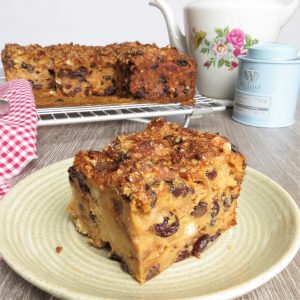 Gluten Free Arctic Roll
A shout out to the 1970's and 1980's. Anyone born in these decades will have fond memories of the Arctic Roll by Birds Eye, and now you can enjoy it once again with this gluten free sponge and, if needed, a dairy free ice cream centre featuring a raspberry swirl.
Check out this recipe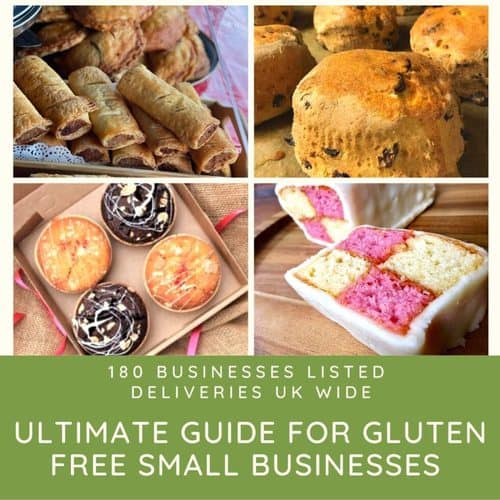 Fancy buying yourself a treat or a gift for a loved one this festive season, then go small…small businesses' that is!

Guide for Gluten Free small businesses that deliver across the UK

— Glutarama, supporting small businesses
---
Join my friendly Facebook Group
life's a drama, gluten free doesn't have to be….