Disclaimer: this post has been paid for by Nono to announce their GOLD award in the Free From Christmas Awards 2022 and promote their seasonal limited-edition calendars as well as their signature products. We also agreed on a FREE Advent Calendar to giveaway to one of you lucky readers!
I've tried to encapsulate as much of Alessandra's business foundations in this meagre little post as I possible can. I feel I've not even scratched the surface. If you want to learn more about Alessandra and Ethan's fascinating world (and it IS fascinating) I highly recommend you tune into her podcast. It's inspiring, uplifting and jaw dropping all at once.
What made you start Nono Cocoa?
"Let me tell you the story behind the delicious NoNo truffles. There is a world inside of them. My world."

Alessandra, Founder – Nono
Diagnosed with Autism at 3, Alessandra's son Ethan had a myriad of symptoms with many potential causes. Having grown up with a profound knowledge of food, ingredients and their health benefits, Alessandra set work on a snack that Ethan could tolerate sensory-wise and benefit from a health perspective too.
"Having used Functional Medicine my whole life I decided to try that for my son before turning to conventional remedies and that is when the magic began: I started experimenting with ingredients for my son's snacks and the first truffle of the NoNo family was born! I called it Macro Marz, a dark chocolate-covered, nuts-free marzipan: my son loved it!"
"Macro Marz kicked off the creation of many more truffles, each of them supplying various sorts of nutrients. From omega3 to antioxidants, vitamin C to highly absorbable Calcium. All the vital food components my son was lacking."
How did you come up with the name Nono Cocoa?
As with many children who are autistic, Ethan was very particular about what he ate. This led to his affectionate nickname Nonoboy who said "No-No!" to everything.
The Cocoa is an honorary addition to remember Cocoa, Ethan's disability support dog and life saver.
Alessandra recalls the day that Ethan spoke for the first time, all thanks to Cocoa.
"That day, he was quiet and we parents know so well what that usually means, but I was enjoying this thinking that me and Cocoa, we may have finally run him down. Then a sweet little voice emerges in familiar melodica tune that I use to call Cocoa:
'Mummy'
'Mummy…. Come'
I was holding my breath thinking I am dreaming, but Cocoa was up on her feet running to Ethan as if it was the same sound of commend I used to call Cocoa and get her attention when she is distracted.
I ran after her with shock in my eyes and I looked at Ethan's face equally surprised that I have attended his call. He pointed at the TV and I changed the DVD. We know that Ethan had a lightbulb moment then, as he discovered that all the noise that people make to talk actually has a purpose and he was willing to use that power to the extreme."
Cocoa sadly passed away but her legacy goes on. You can read the full story about her and Ethan's life together here Happy Birthday Cocoa.
Who do you cater for?
Going back to the idea that Nono Cocoa is functional food, the list of health benefits of Alessandra's chocolates is rather impressive.
All of Nono Cocoa chocolates are gluten free and avoid all 14 allergens.
All the chocolates have been well thought out in terms of ingredients, and each collection has a story to tell. For example, the beautiful Hearts and Roses collection. This was borne out of a wish that Alessandra wanted to gift her mum something heart-healthy.
"I did a lot of research on Functional Foods over the year and learned that high % cocoa is high in stearic acid, that the liver converts into heart-healthy oleic acid. That can help raise the good cholesterol (HDL) and consequently lower your bad cholesterol. This is all thanks to the saturated cocoa butter, that is not so evil after all.
Cocoa also increases blood supply to the heart as well as, the antioxidants in cocoa help with inflammation in artery. Furthermore, cocoa's epicatechins reduce blood pressure. I was so pleased to be treating my mum with what's best in nature."
To give you an example of the natural ingredients that go into these creations, I've added the ingredients for the Hearts and Roses Collection.
Flavours:
Raspberry & Beetroot – white and dark chocolate variations, with Baobab, CamuCamu providing Antioxidants and Vitamin C & E
Rose – white and dark chocolate variations, with D-mannose that supports bladder function. Roses can have a positive effect on your body, mind and skin and have been used since ancient times to combat stress
Ingredients: White Chocolate (cocoa butter, rice powder, coconut nectar) (45%), amaranth, coconut, baobab, cherries, raspberry, matcha, dry rose flowers, Camu-Camu (high in ascorbic acid), tocotrienols (vitamin E), rose oil.
Dark Chocolate (78% Cocoa solid, Cocoa Butter, Rice Powder, Coconut Nectar)
Per portion 10-15g Energy kcal* 36 kcal (3%), Total Fat* 2.6 g (4%) of which saturated* 1.4 g, Carbohydrate* 3.0 g (2%) of which sugar*1.5 g, Protein* 1.1 g (5%) Fibre* 1.1 g (5%) Salt* trace, Vitamin E** 158 %, Vitamin C**26 %, Potassium 36%
Where can people buy your products?
You can buy online directly at Nono Cocoa but these beautiful chocolates are also available via Yumbles too. Other stocklists are;
STOCKIST
What next?
Alessandra is ALWAYS looking for feedback. She loves the community surrounding her product and treats her customers as one big family. If you have any flavour ideas or wishes Alessandra is always keen to hear from you.
You never know, your idea may be the next addition to the latest Nono collection. You can reach out to Alessandra via email [email protected] or direct message via one of the Nono Cocoa social media channels (links below).
Meet Team Nono
'Team Nono' was named as we prepared for our first Allergy Trade Show and one of our fans – herself on the autism spectrum – sent a video message shouting 'go team nono'! We loved our new name and so did our supporters.
#Teamnono is made of people who consider themselves to be neurodiverse, as well as others who usually fall into the 'unemployable' category. Young people who have something important to say and stand for.
Some members of Teamnono work in production, packing, making and decorating chocolates, others are freelance artists, journalist, bloggers, illustrators and social media specialists.
We continue to look at new ways we can adapt and offer more opportunities to the differently-able in our community.
We love what we do, we love how we work and we love the fact that you love it too. Anyone buying our chocolate knows they are supporting an organisation that makes the world a better place – one chocolate at a time.

Alessandra, Founder – Nono Cocoa
Finally, huge shout out to Gabz. Alessandra describes Gabz as 'the light in #teamnono she is full of life and brings a lot of joy to the team. She is always up for any play or dress up and she does it with enthusiasm. She is autistic and now fighting cancer. We love her so much and can't wait to have her back at work soon.
Me too, get well soon Gabz xx
What award did you win recently?
Team Nono won the Gold Award for their stunning Advent Calendar with a clear message;
'The world is our home' This box of 24 unique chocolates will take you on a journey all around the globe.
The idea to unite the world for Christmas using the world's most loved – chocolate – was a natural reaction to the events of 2020 & 2021. From Brexit, the pandemic, loneliness, illness and death, extreme weather, fires, and flooding, to segregation, racism, and discrimination, the year has highlighted what we have been focusing on. We are overlooking the fact that the world is our home, and we are equally responsible for taking care of it. That way we can enjoy international flavours, culture, and traditions.
Follow on Socials & Stay in touch with Nono Cocoa
Instagram – Nono Instagram Page
Twitter – Nono Twitter Page
Facebook – Nono Facebook Page
Website – Nono Homepage
What do we think about Nono?
Those of you who are familiar with Glutarama and the background behind how this website came to be, will be able to guess why Nono Cocoa means so much to me. Those who are new here, I'll tell you a little story.
My children Bethany and Lewis are both autistic and have ADHD. Bethany is also Type 1 Diabetic and has Coeliac Disease. To find a small business that supports our families dietary needs (I am also intolerant to eggs, dairy and a few FODMAPS), and employs and advocates for people with autism meant the world to me.
Over the years I've supported Alessandra and we've become friends. I am forever in awe of her resilience and inner strength in the face of barriers and her love for Ethan is infectious. Almost as infectious as Ethan's beautiful smile and kind soul.
Not only are you supporting one of the worthiest small businesses I know, but you are are also indulging yourself in the most beautiful handmade chocolates with the most unique, out of this world flavours.
I have a particular love for the no nut marzipan truffles and the raspberry and beetroot chocolate buttons. But when I need a pick-me-up I'll treat myself and the family to a chocolate box. Each chocolate is exquisite to look at with beautiful shapes, natural pastel colours and finishing touches.
But the journey to happiness is complete when you bite into a truffle or chocolate button and experience a flavour explosion. Take the Mint & Lime Mojito or the Toasted Coconut Cube, the flavours are intense. The Spring Edition Box has a Lavender and Blueberry chocolate that will blow your mind. Finally the Mulled Wine and Cardamom and Lemon in the Advent Calendars are the perfect flavours to enjoy on a Decembers morning or evening.
Nono signature products
Exciting Nono Cocoa Giveaway for Glutarama Readers
Thank you for visiting and learning all about Nono Cocoa, Teamnono and Alessandra and Ethan's story. I hope reading this has been uplifting and inspiring and that you've learned something new.
Now for the exciting Giveaway
To enter in for a chance to win a
£30 Advent Calendar by Nono
simply comment below with you answer to the question

"what flavour chocolates would you like to see in the future?"
For other additional entries you can head over to my social media pages to comment.
If you comment on all social posts and here, that's FOUR chances to win an Advent Calendar and spread some joy this Christmas [see below for T&C's]
The competition closes at 6pm on Monday the 21st November, UK time. Any entries after this time will not count.
You must be over 18 and a resident in mainland UK to enter.
The prize winner will be randomly drawn from all valid entries and contacted by Glutarama.
The winner will be formally notified by email or direct message. I must ask for a reply within 3 days. If a reply is not received, the prize may be re-allocated.
No cash alternative or alternative prize is available.
We will not pass on your personal details to any other organisation other than Nono to arrange delivery.
Winners will be announced within 3 days of the closing date. The prize will be dispatched directly to the winner by Nono.
Entrants will be deemed to have accepted these rules and to agree to be bound by them when entering this free prize draw.
This promotion is in no way sponsored, endorsed or administered by, or associated with, Instagram, YouTube, Facebook, Meta, Twitter or any other linked social media's.
WARNING: there are some nasty people out there who are sabotaging social media giveaways and are pretending to be the promoter, even creating a clone account and reaching out to them via DM's (direct messages) I will contact you via DM but I will also tag you in the original social media post you commented on to make you aware you are my winner and that it's verified and genuine.
Join my friendly Facebook Group
life's a drama, gluten free doesn't have to be….
If you've only just happened across my blog Glutarama, then you may also be interested to know this is not the main topic I write about, the majority of my posts relate to free from recipes and food reviews, as our family are affected by Coeliac Disease, egg, dairy other intolerances it keeps me busy in the kitchen, but boy do I have fun experimenting for my family and followers.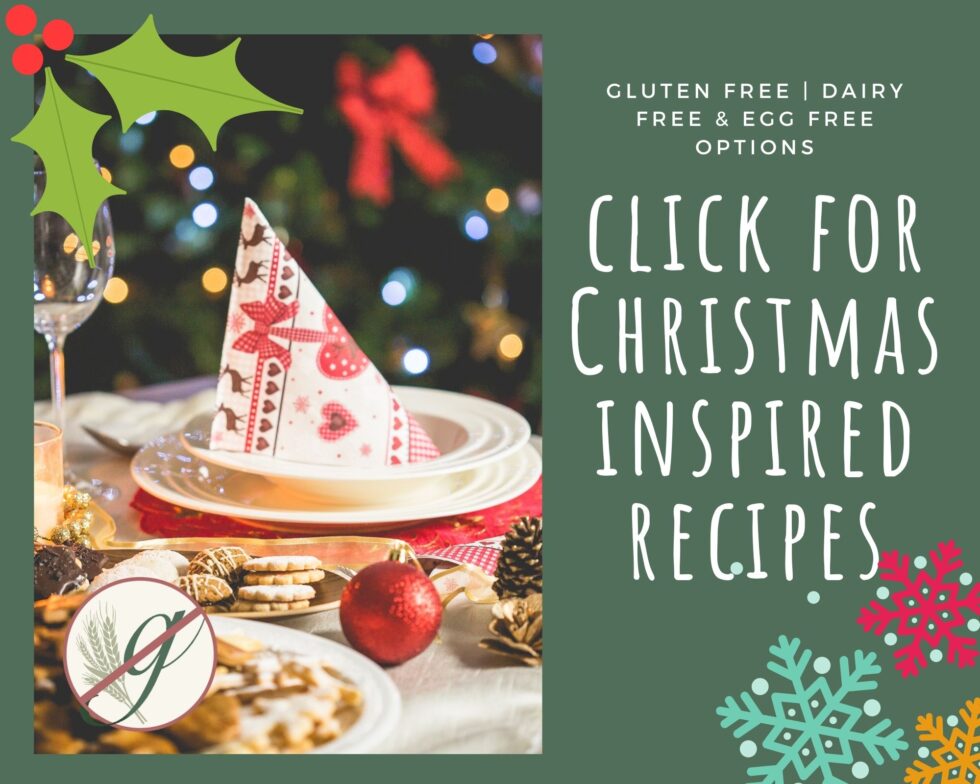 Gluten Free Christmas Gift Guide
Every Year I update this post on Glutarama's website to give you the latest gluten free gifts perfect for a loved one or to gift yourself. The guide is broken into advent calendars, gifts for the Christmas Day, hampers for gifts or to cater for a gluten free Christmas and finally I try to find something a bit special to treat yourself in the new year.