This page contain affiliate links. Please refer to my Disclosures Page for more details.
Did you know… I wrote a book? Lots of the kitchen appliances and cookie cutters feature in this handy Kitchen Essentials Shop linked to Amazon. Interested in the book too? Then head over to my Glutarama Book Shop (paperback only available in the UK unless purchased via Amazon)
The links below are to products I use and trust. I've added them to help you find the tools to recreate identical results to my recipes. The cookie cutters in particular will probably be of interest to accompany my book Back to Biscuits. By clicking on the links here you're telling Amazon that I sent you there, this is why I get a few pennies from Amazon to say thank you at no extra cost to you.
Sometime things are out of my control and products cease to trade on Amazon or are out of stock, if this happens you will see a generic image for Amazon. If you still click on this image and go on to make a purchase I will still get a penny or two for the referral. Alternatively head to Kitchen Essentials on Amazon here.
---
Biscuit/Cookie Cutters
Let's face it, if you have my book the cutters you REALLY want are the Custard Cream, Bourbon, Jammie Dodger and Party Ring Cutters – your wish is my command. BUY NOW!
---
Baking Essentials
---
Decorating Tools
---
Kitchen Electrical Tools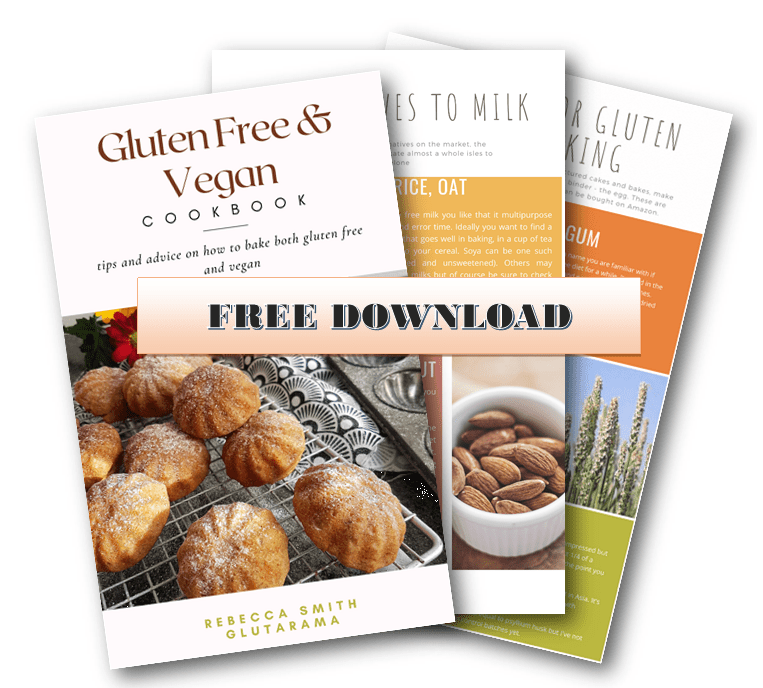 Never miss out again…
Sign up to my weekly Friday newsletter and not only get a FREE e-Book (currently my Gluten Free & Vegan Cookbook) but also get VIP subscriber discounts on free from goodies. Join me and learn to make anything gluten free.
*disclaimer: I use affiliate codes on my website, the vast majority are to Amazon. If you click on any of the links or images in the post and make a purchase my family will benefit from a small % of that purchase at no extra cost to you.

For full transparency, in 2020 I made my first £25, and in 2022 I reached my next £25 (Amazon don't transfer the money until you reach £25). I'm now up to £17.80 for 2023 so edging closer to the magical £25 mark!!

To date I have made £69.28 since I first started the scheme in 2017. It won't pay the bills, that's for sure but it does help to pay for ingredients or little treats to cheer me up!
Join my friendly Facebook Group
life's a drama, gluten free doesn't have to be….