As the end of 2020 draws closer and our thoughts turn to December festivities, I am pleased to share our experience's as part of Coeliac UK's 'Tales from a Gluten Free Christmas' campaign #gfchristmas. Visit Coeliac UK Christmas Market to find out more.
Coeliac UK have covered all your festive needs in their Christmas Market and there are some other great Tales from a Gluten Free Christmas, so if you've recently been diagnosed or are a gluten free Christmas veteran there is something here for everyone to relate to. Plus some wonderful recipes, gifts and places to eat out safely this year.
Tales from a Gluten Free Christmas: a mum's point of view
Rebecca, mum to a Coeliac (44)
Bethany was diagnosed with Coeliac Disease in the summertime at the tender age of 5. I remember explaining to her in the car on the way home from the hospital that it meant she couldn't have her favourite custard creams anymore! Of course, that's not true now and years down the line we can celebrate a much more inclusive Christmas.
I remember only too well our first gluten free Christmas. I pulled out all the stops; homemade gluten free stuffing, Christmas cake, Christmas Pudding, Mince Pies and even homemade filled fondant chocolates as Beth was also suffering with a secondary lactose intolerance.
Guess what, Bethany didn't eat a thing I'd made, not one crumb!
It turns out Bethany doesn't like dried fruit or stuffing, so I had a very gluten free Christmas, despite not having Coeliac Disease myself.
I learnt a valuable lesson that year, just because it's gluten free doesn't mean we have to, buy it, make it or eat it.
Tales from a Gluten Free Christmas: a teenage daughter's point of view
Bethany, Coeliac (16)
There is nothing inherently different about a gluten free Christmas dinner believe it or not. I may have no memory of a non-GF meal to compare with, but all in all its just vegetables and meat to me. The worst part about being coeliac is actually the look you get from others when they compliment a food you are not aloud to eat. The expression of "but thou art born weaker than I and shall never know this taste." Real annoying.
Being contaminated by something you thought was gluten free and suffering throughout boxing day is no fun either though. On the multiple occasions this has happened I have not been able to enjoy the remainder of my holiday.
Like what Beth has to say and how she says it!
You can also read about Bethany's diagnosis in Coeliac Disease and us; diagnosis onwards and the effects this initially had on Bethany in Coeliac Disease and links to Secondary Lactose Intolerance
Top Ten Tips for a happier Gluten Free Christmas
I started writing this Top Ten Tips for a Gluten Free Christmas and then thought I ought really ask my followers on Twitter for their top tips too so together we've come up with this list. Feel free to add your top tips in the comments.
Gluten Free Christmas Recipes
I couldn't tell you our Tales from a Gluten Free Christmas without giving you a peak into the Gluten Free Christmas Recipe Inspiration I have here on Glutarama so how about my Gluten Free Stollen Bites or these adorable Mini Christmas Cakes; gluten free with nut free marzipan and you cannot help but drool over this stunning Best Ever Gluten Free Trifle! For all Christmas Recipes click the link
Keep these tips and experiences handy by pinning them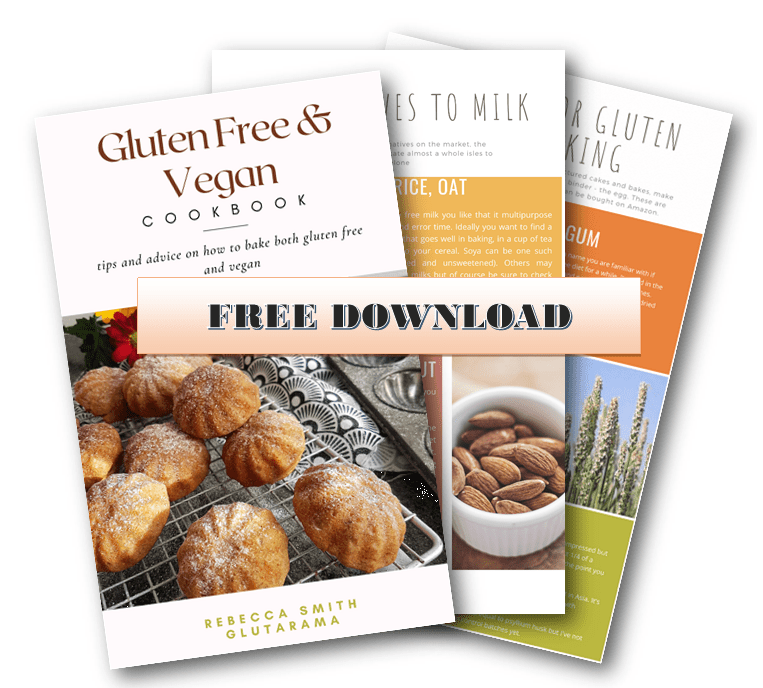 Never miss out again…
Sign up to my weekly Friday newsletter and not only get a FREE e-Book (currently my Gluten Free & Vegan Cookbook) but also get VIP subscriber discounts on free from goodies delivered to your door. Join me in my journey and learn to make anything gluten free.
I love to see your own photos of my bakes, dinners and treats head to your favourite social media account and don't forget to tag me in @glutarama
Subscribe to my email list so that you get NEW recipes straight in your mailbox every Friday PLUS a FREEBIE and access to some amazing gluten free DISCOUNTS
disclaimer: with all of my 'behind the scenes' posts the same guidelines apply, I am not a trained medical professional, I'm a mum, a bloody tired mum but a damn good one too. All the ideas, thought and opinions in these types of post relating to Type 1 Diabetes and Autism are my own unless I have referenced a professional or piece of evidence to make a point.
If you've only just happened across my blog Glutarama, then you may also be interested to know this is not the main topic I write about, the majority of my posts relate to free from recipes and reviews, as our family are affected by Coeliac Disease, egg, dairy other intolerances it keeps me busy in the kitchen, but boy do I have fun experimenting for my family and followers.
Rebecca x