Disclaimer: In the interest of being totally transparent I approached the companies featuring in this best gluten free pizza bases round up. Schär were also approached but declined to take part. All the pizzas featured were gifted to me on the understanding that I would be writing an unbiased round-up of gluten free pizzas bases available on the market specifically in the UK (some products are available overseas).
So why have you written this best gluten free pizza bases round up then Rebecca (humour me, I like to think that's what you'd be saying) Well, I'm glad you ask dear reader.
Recently the gluten free community has seen a decline in gluten free products, maybe it's temporary, maybe it's to pave the way for the latest trend that is vegan free from foods; I'm not sure. But what we have seen, is a reduction in choice when it comes to eating out or ordering gluten free pizza.
With Dominos removing gluten free bases from their websites and sadly saying goodbye to 75 Pizza Express and 25 Pizza Hut venues we're finding choice is being taken from us.
So, I got a strop on and had a think about this and spent a good few hours researching what we DO HAVE in the way of choice when it comes to gluten free pizza bases. I'm delighted to report that we have a few, no, lots of choice!
I knew that the draw to a takeaway pizza is how quick and easy it is. That in mind I decided not to focus on pizza bases you have to make from scratch. Incidentally, if you are interested in making a pizza base from scratch you could always make my very own Seriously Good Stuffed Crust Pizza – gluten and dairy free. I digress…
As I was saying, I have focused on the quick and easy options so this round up includes ready-made gluten free pizza bases (all of which are also vegan pizza bases) and ready to bake pizza doughs; these are doughs that are bought fresh and frozen until a time that you fancy pizza for dinner.
I did not include pizza dough dry mixes, of which there are many, as I felt that these were stepping out of the can't cook, won't cook camp … and before you get defensive and say 'I beg your pardon Rebecca, I'm a perfectly good cook', I count myself as one of the won't cooks on many occasions when life and it's drama's mean I have ZERO energy or inclination to start making a homemade gluten free pizza from scratch.
However, if you would be interested in a similar round up focusing entirely on pizza base mixes then please do comment below. Or if you are in fact a business selling such a product, feel free to email me on [email protected] and we can have a chat.
So that's the background on why, lets get onto the interesting bit shall we; what are the best gluten free pizza bases?
Introducing you to some of the best gluten free pizza bases on the market
Before we start just let me set the scene; lots of pizza bases, pouring rainy days when I needed to photograph, tight purse strings and picky-eaters meant that to appease the Glutarama Judges I needed to cover all bases. To top every pizza with identical toppings would have been better so we could taste the bases equally. Life doesn't work that way, so some are totally dairy free and vegan and others are not. I made sure I ate all pizzas and just had the mint tea and probiotics on standby if the other judges insisted on cow-cheese!
…but first let us find out a bit more about each brand shall we.
B-Free are based in Dublin Ireland and have offices overseas in the USA too. The website features products available in the UK, Ireland, Australia, Sweden and Norway. Currently they sell; sweet potato wraps, sliced bread, pittas, multigrain wraps, pizza bases and pitta pockets (Australia only).
BFree exists to inspire and empower living free! When we opened our doors in 2011, our goal was to bring customers gluten and wheat free alternatives for their everyday favourite baked goods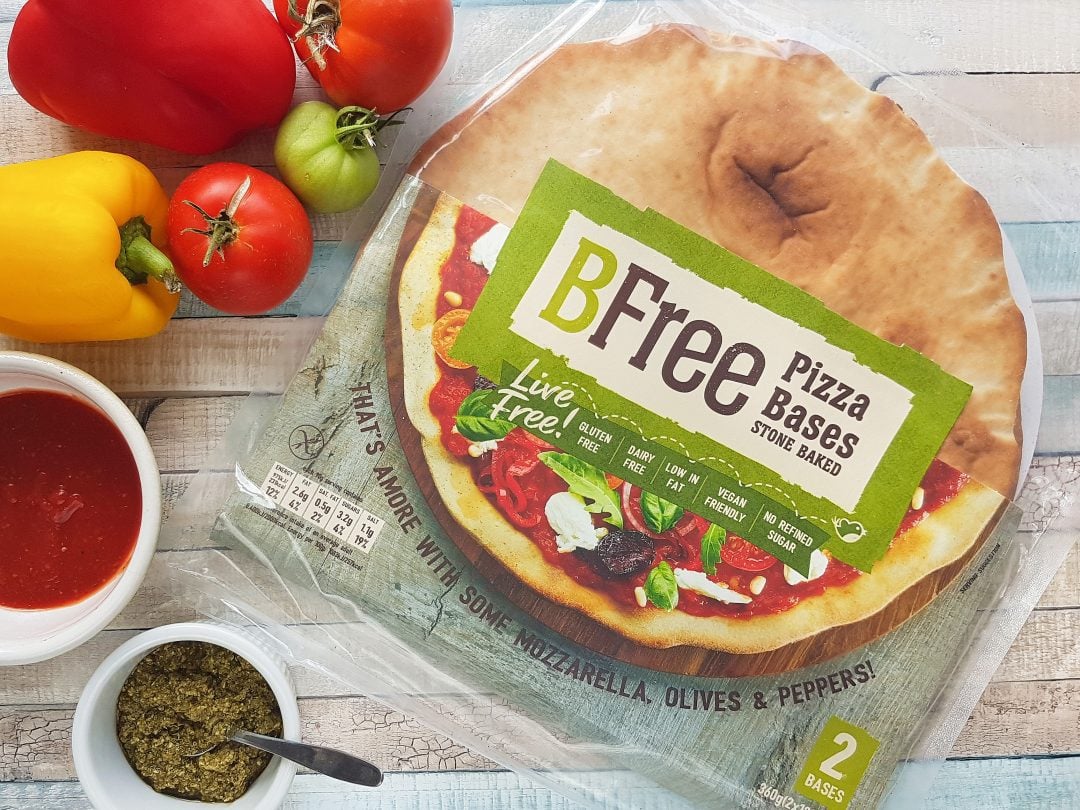 Calvin's Free From Foods is the bakery child of Sabine Klaus-Carter after her son Calvin was born with multiple food allergies. You can read about Sabine's family story by clicking on the link. Recently Calvin's Free From Foods was shortlisted for an award in this year's Food Matters Live 2020 Awards and a week after hearing this wonderful news, Sabine and her team were awarded Highly Commended in the Gluten Free awards category at Britain's Best Loaf by British Bakers.
The list of what he could not have became really long but the list of safe foods also became more varied and creative. We kept on finding more interesting foods than we never even knew existed. We learnt so much about nutrition and how foods can heal that this turned into a very exciting journey. So out of this, Calvin's Good Foods was born.
Delivita may be a new name to you unless you are a true connoisseur of pizza and have a pizza oven. The Formisano family built a beautifully crafted pizza oven empire and have a dedicated section on the website for their Dough to Go range which is naturally vegan but they have extended their range to gluten free pizza bases, charcoal activated and turmeric doughs (both latter options not gluten free)
We've always been passionate about handmade pizzas, flatbreads and simply fresh food, cooked authentically. Our family is Italian, so food and family are at the heart of every occasion, especially pizza!
The Incredible Bakery is another wonderful tale of a family who refuse to give in to their child's multiple allergies and celebrate the world of free from. Valeria and James now pride themselves on a website packed full with free from bakes and goodies including the pizza dough and flatbreads featured in this round-up. I thoroughly recommend heading over the their website to browse the box collections including a vegan and gluten free cream tea and breakfast box with cinnamon and raisin buns.
Their son's challenging dietary requirements became the catalyst for what has become the award-winning Northamptonshire-based Incredible Bakery Company. In April 2019, the Cinnamon & Raisin Boule was awarded winner of 'Britain's Best Loaf 2019- Gluten Free' at the Farm Shop and Deli Show at the NEC Birmingham
The Venice Bakery have a fascinating history that predates all others in this round-up. It was the Palmari brothers who founded the bakery in the 1930's but the family saw the first gluten free baking in 2005 after one of the decedents of the brothers, Jimmy DeSisto, saw an opportunity too good to miss;
Jimmy teamed with Dr. Karima Hirani, a practitioner of holistic medicine at the University of Southern California, his alma mater. At her request, he created a gluten-free pizza crust for her patients with autism who had responded well to a gluten-free diet. He learned all about Celiac disease, gluten intolerance and several autoimmune diseases so that those patients could enjoy pizza again too.
To top it all off Venice Bakery won Gold in the Free From Food Awards in 2020 for their Cauliflower Pizza Crust Base (I helped to judge this one too!)
The White Rabbit Alternative Pizza Company have the best background story as the two brains behind the pizza met in a pub called the White Rabbit where they both worked (I need to find that pub, awesome name!) With Teo's life-long experience in pizzeria's back in Italy and Nick's business mind, the pair had already earned the title; best pizza restaurant in Oxfordshire, but after endless requests for vegan and gluten free pizza they knew they needed to feed the market. We first saw White Rabbit Pizza's in store in 2017 and they've gone from strength to strength since.
We believe pizza has the power to bring people together and that's exactly what we're all about. We've crafted a range of gluten free, vegetarian and vegan pizzas that are outrageously tasty in their own right. We want everyone back together around the table to enjoy one of life's simple pleasures.
White Rabbit are another Free From Food Awards Gold winner from when they entered in 2019 and have Great Taste awards too.
How did you choose who to include in this round up for the Best Gluten Free Pizza Bases?
Let me get one thing clear, all the brands included were marvellous and totally open to the idea of being added to the round-up. Many other companies were approached; 2 stopped communication and I never got the goods, 3 ignored my proposal and 1 (as mentioned above) declined.
I chose to mention Schar by name as I know only too well that there will be comments asking why I didn't include them, being such a prominent brand, and so I wanted to be transparent. The other unnamed brands are sadly small businesses, and I would have LOVED to have given them some online traffic.
However, to name them now de-values the excellent customer service I received from the brands who are included.
How did I find these brands? I googled like my life depended on it, used my little grey cells to recall brands I've been made aware of in the past and sought recommendations via my Glutarama Facebook Page
The taste test; who makes the best gluten free pizza bases?
I made the decision early on that I was not going to rate each brand out of 10 or give then 1-5 stars as all the brands are equally as good but for different reasons. I also have experience of being a Free From Foods Award judge and know that the circumstances in which I tested these products was not fair.
Due to Covid-19 restrictions I could not do what I had originally planned and invite family over to help us with the taste testing, and there was no way on this earth that the four of us could test 9 pizzas in one go. Therefore, this was carried out over several days (often dependant on the weather as you can't photograph on wet and grey days – a little insight into my world of blogging).
What you are about to read is our thoughts on each pizza base, how it cooked, smelt, tasted and if it held up to being eaten cold and reheated.
For ingredients and stocklists refer to the websites or the handy table I've created below.
B-Free, Stone Baked Pizza Bases
These bases come in a pack of 2 and as you can see, they have something not many gluten free bases can boast – a tan! They say you eat with your eyes and a golden pizza crust is a great place to start. This was also the only pizza base to come in a unique shape which, thinking about it, is a great way to identify a pizza if it's on a party table with other non-gluten free items.
We felt the base was easy to bite into and lovely to chew, not crumbly nor overly chewy. The golden colour and sourdough was a great addition to the flavour and the base didn't go soggy with toppings.
It was actually rather good cold and a great contender for a cold picnic pizza and on reheating the crust didn't totally lose its crisp and the pizza was still lovely to eat after a 30 sec zap in the microwave.
What was handy with these bases was that they are long-life so can be stored in the cupboard, once opened you'll need to use both bases or seal back in the packet and freeze/chill the second.
BFree Gluten Free Pizza Crusts
I wanted to add these flatbreads as a great option for people on their own, or if you want a kiddies or fun size pizza base. Sabine's flatbreads are incredibly light and fluffy. Yes, before we go any further, they do taste of coconut, but it is delicate and not overpowering.
Like above, these are a beautifully brown colour to begin with so no need to bake for ages, in fact, making life even easier you could grill these with your choice of toppings.
These are surprisingly filling; I mean REALLY filling so you'd only need one per person for lunch or picnic pizza. As they are so light you don't get the pizza crust vibe with these flatbreads, no crispy edges or familiar chewy crusts but I think this gives you more of an excuse to focus on the awesome toppings you could add instead. Great for lunchboxes too I'd say for anyone struggling with inspiration.
These come in packs of 5 flatbreads in a really handy resealable bag (I don't have plastic wrap or sandwich bags in the house anymore, so this is really useful)
Enjoy 10% DISCOUNT by using the code GLUTARAMA10 in the coupon code box in your Shopping Cart to receive this offer.
https://calvinsfreefromfoods.co.uk/products/the-original-coconut-flat-bread-rolls-1
Delivita, Dough to go Gluten Free Pizza Bases
I think the bases from Delivita were the biggest ones we received. They don't have sizes on the website but they seemed larger than the average large pizza at 12 inches diameter.
The base may have been the palest gluten free base and whilst fragile had a lovely bouncy give in the structure when gently squeezed with your thumb and forefinger.
In my fan oven the base did colour a little but I imagine this base (and probably the other bases) works well in a pizza oven with the real flames caramelising the crust and toppings. I topped this one with my homemade copy-cat Dominoes BBQ sauce which the family can't tell the difference in flavour frankly.
Despite the uncooked base being fragile, once cooked this base held its own, didn't go soggy with the toppings or floppy when you picked a slice up (nobody wants their toppings to slide off onto their lap!) The crust did go too hard to eat easily when cold but I'd have to check, do Italians eat cold pizza? If heating up in the microwave I'd flick some water over the slices first to help rehydrate them and the pizza does regain the ability to be eaten reheated.
These arrived individually wrapped and in a chilled box. The bases can be put in the freezer for up to 6mths or kept at room temperature until it's use by date.
I believe you also get 6 foil trays with your 6 pizza bases which is super handy as my pizza trays were not big enough.
https://www.delivita.co.uk/collections/dough-to-go
This was the only un-made pizza base but as it was not a dry mix I wanted to add it to the round-up, plus I was intrigued as I think (call me a liar in the comments) that this is the only ready-made gluten free and vegan pizza dough out there?
I loved how this was delivered, it felt really special to have 6 individual little boxes of dough and all packaging is plastic free in this instance.
The goods came frozen/chilled and I was able to transfer them to the freezer immediately.
When it came to using the dough I took one carton out and defrosted on the kitchen window sill for about 3hrs, although it says it can take up to 6hrs. The dough needs to be reworked briefly on a well floured surface and I was surprised at how glutenous it appeared. The smells from the dough were amazing. Proper rich and deep yeasty smells.
I rolled the dough out to approximately 8 inches and tidied the edges by pinching any uneven bits and tucking them under to form a higher sided crust.
Once cooked the crust didn't have the golden look I had expected. I wonder if that's because my brain thought it was dealing with a gluten pizza dough and my expectations were unrealistic. I will brush the edges next time with some soy milk so this will solve that issue.
This pizza had a lovely crispy crust (albeit a bit pale on this occasion) and you could taste that it was a fresh pizza dough which we didn't get from the other pizza bases for obvious reasons.
Whilst it was a bit tough to eat cold, I feel this pizza reheated just like a 'normal' pizza so handy if you take it to work and have a kitchen available to you.
Enjoy FREE DELIVERY plus receive a free pack of Burger rolls on all orders of £30 or more. Use HELLO2020 in the coupon code box in your Shopping Cart to receive this offer.
https://incrediblebakerycompany.co.uk – pizza dough no longer available 2022 – instead use a flatbread?
Another flatbread now but different. These golden flatbreads were a lovely punch of colour and smelt unique to other pizza bases. The gram flour and linseed are the stars of this alternative pizza base and for that reason they may be less favoured by little ones but prove me wrong (I do have the most fickle, picky, not so little, eaters on the planet!)
Personally, I loved the flavour, and the texture was great too. It kind of made me think I was eating a big puffy taco shell…I love taco shells!
I'd say this could be another contender for a quick pizza-under-the-grill job. The directions are to warm in a hot oven for 2mins but with toppings you would need longer however, too long and the structure of the flatbread rebels and can go too crispy.
Available in a choice of pack sizes; 2, 4 and 10 and can be chilled or frozen, I chose to freeze mine and a single bread took less than 1hr to defrost before I could use it.
Enjoy FREE DELIVERY plus receive a free pack of Burger rolls on all orders of £30 or more. Use HELLO2020 in the coupon code box in your Shopping Cart to receive this offer.
https://incrediblebakerycompany.co.uk/flat-bread-wrap-pack-of-4/
These Venice Bakery bases come in three sizes medium, large and extra-large measuring at 10, 12 and 14 inches. I didn't receive the extra-large version which was a relief, it would have been too big for my family during this round up, but I will certainly be buying it in the future for Friday Pizza nights so we can all tuck into it.
These are the only bases to arrive shrink wrapped and as they are so thin, they take up no space whatsoever in the fridge of freezer. These are the second bases to come with a golden colour to them already which as I've mentioned above is a lovely thing to behold on a gluten free pizza.
If you love true thin crust Italian pizza, then these will be right up your street. They are lovely and crispy around the crust, hold up to lots of pizza toppings and these were in fact my daughters' favourite as she not a bread-loving person so thicker bases are not her thing.
The bases have lots of authentic olive oil in them too so not at all dry. This made them a great cold pizza to eat so ideal for picnics and packer lunches or cold buffets. As with all the other pizzas so far these were fine on reheating too.
Venice Bakery, Gluten Free Seasoned Pizza Bases
These are identical bases to the ones above in texture, storage and reheating but they are the only pizza bases we trialled that are flavoured. The are seasoned with garlic and Italian herbs so a double-intense flavour if you load them as normal or make a simple margarita pizza so's not to mask the base flavour.
I personally found these were nice to cook and eat on their own cut into smaller strips like snacks.
The last of the Venice Bakery bases to trial were these Cauliflower Pizza Bases. I've mentioned above that I'd already tried this one when I helped to judge the Free From Food Awards in January this year. I was new to cauliflower pizza bases then and have to admit to turning my nose up to them – boy was I wrong. Therefore, I already knew I was going to like it.
This is a lovely pizza base with a deep earthy flavour, a little drier than the other Venice Bakery pizza bases but that's not a problem, it holds together just fine and can withstand lots of toppings but I prefer not to overload as I want the base to shine through.
This is another base that I will happily eat on its own, maybe cooked a little longer to make it extra crispy and cut into smaller triangles like tortilla chips. Another contender for delicious cold pizza but reheat this base in the microwave and you do loose the crispness and get a slightly more chewy pizza.
https://www.venicebakery.co/consumer-shop.html
Last one, nearly there! This is the White Rabbit 'Nudie' pizza base and it's the best looking pizza base in my opinion as it looks like a 'normal' pizza base and has a familiar bounce to it when you squeeze it with your thumb and forefinger. You get two in a pack but not wrapped separately, great for reducing plastic, but not so great if you only wanted one pizza.
We all liked this pizza base as it had a great texture and lovely crust. It wasn't at all crumbly or fragile, we could have happily played frisbee with it (we didn't do that). There is a downside, it's remarkably difficult to source. The White Rabbit loaded pizza range is available in all the stores listed above in the quick reference guide, but these nudies only seem to be stocked by smaller independents. I've added the links here to Farmdrop and Planet Organic to save you the time of having to search for them yourselves.
https://www.whiterabbitpizza.co.uk/pizza/the-nudies/
Our final thoughts on the Best Gluten Free Pizza Bases
What we loved….
We loved the fact that all these pizza bases were so different. I could have approached these businesses and ended up with 9 identical looking and tasting pizza bases but no, there is so much choice out there, The fun bit is finding out for yourselves which one suits your tastes but hopefully this round up with images has helped sift out the best ones for you to try.
We loved the fact that all the pizza bases had long lives and were freezable, great for keeping stocked up and baking when the pizza cravings strike.
What we would change….
I think Calvin's Free From have nailed the packaging. I'm not sure how costly or viable this would be for other brands but to have a resealable bag is excellent. I'm reducing my plastic waste and don't have clingfilm or plastic sandwich bags in the house so if we were to open a double pack it would be difficult to store the second base for another day.
Our top tips…
If the pizza base is ghostly pale in colour don't assume it will go golden on cooking, our top tip here would be to brush the crust with egg ideally but if this is not possible use a milk or milk substitute (or like I do in my homemade Gluten Free Stuffed Crust Pizza, use a paprika and soya milk wash)
Read on for my Copy-cat Domino's Pizza Tomato and BBQ sauce recipes….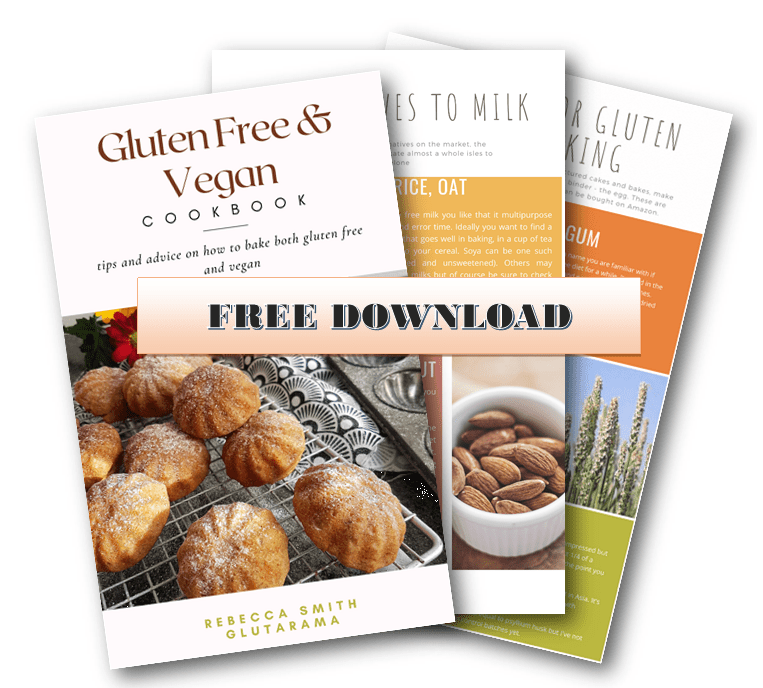 Never miss out again…
Sign up to my weekly Friday newsletter and not only get a FREE e-Book (currently my Gluten Free & Vegan Cookbook) but also get VIP subscriber discounts on free from goodies delivered to your door. Join me in my journey and learn to make anything gluten free.
Domino's Pizza Copy-Cat BBQ and Tomato Sauce Recipes
Copy-Cat Domino's Pizza Sauce (Tomato & BBQ)
These copycat Dominos pizza homemade sauces add the perfect fake-away touch to any homemade pizza, whether gluten free or not. This recipe makes enough gluten free BBQ sauce and tomato sauce for two pizzas each.
Ingredients
Copycat Dominos BBQ sauce
30

g

tomato puree

30

g

passata

1

tbsp

black treacle

2

tsp

smoked paprika

½

tsp

onion powder

½

tsp

garlic (powder, puree or clove)

¼

tsp

Colman's Mustard Powder

¼

tsp

oregano
Copycat Dominos Tomato sauce
60

g

tomato puree

4

tbsp

water

1

tsp

garlic (powder, puree or clove)

1

tsp

oregano

½

tsp

salt

½

tsp

caster sugar
Instructions
Simply add the ingredients for your chosen flavour pizza sauce to a medium bowl and stir to combine.

No need to cook the sauce in advance, the cooking is done in the pizza baking process.

Simple add the sauce to your pre-made pizza base (or dough base if making fresh) and add your favourite toppings.
Nutrition
Nutrition Facts
Copy-Cat Domino's Pizza Sauce (Tomato & BBQ)
Amount per Serving
% Daily Value*
* Percent Daily Values are based on a 2000 calorie diet.
Have you tried this recipe?
Let me know how it was & I will be super grateful. Take a picture & tag me @glutarama on your social media posts – I love seeing your photos more than you will ever know x
If you liked my round up for the best gluten free pizza bases, then don't forget to Pin!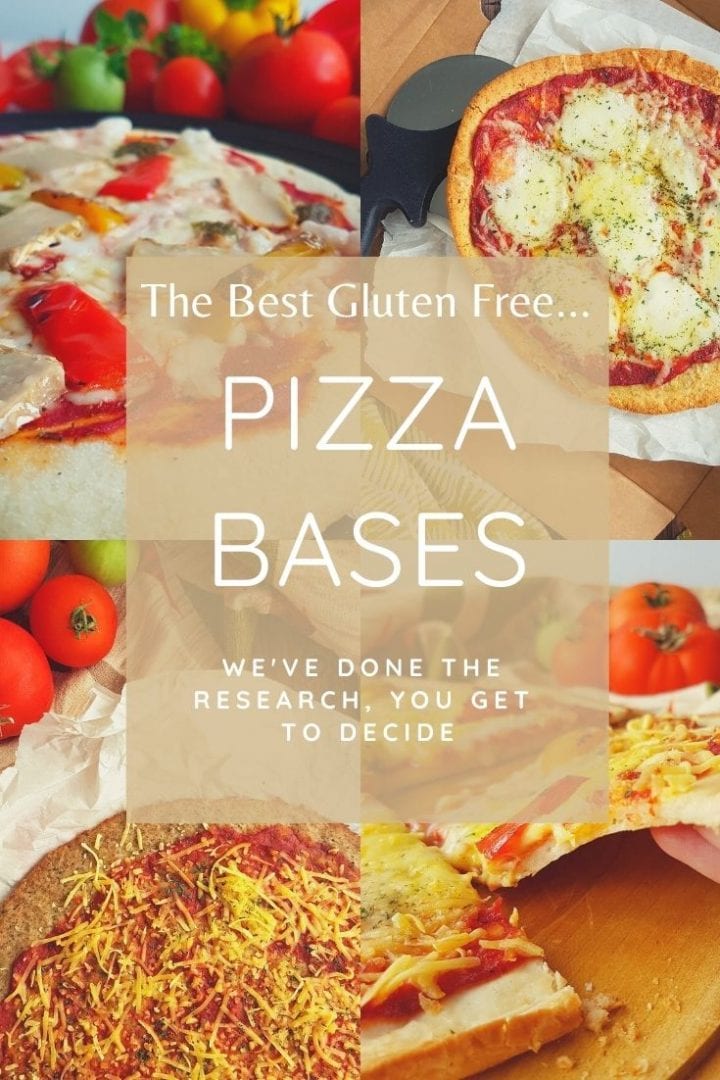 If you've only just happened across my blog Glutarama, then you may also be interested to know this is not the main topic I write about, the majority of my posts relate to free from recipes and food reviews, as our family are affected by Coeliac Disease, egg, dairy other intolerances it keeps me busy in the kitchen, but boy do I have fun experimenting for my family and followers.
I love to see your own photos of my bakes, dinners and treats head to your favourite social media account and don't forget to tag me in @glutarama
Subscribe to my email list so that you get NEW recipes straight in your mailbox every Friday PLUS a FREEBIE and access to some amazing gluten free DISCOUNTS
*disclaimer: I use affiliate codes on my website, the vast majority are to Amazon. If you click on any of the links or images in the post and make a purchase my family will benefit from a small % of that purchase at no extra cost to you, in fact, for full transparency, in 2020 I made my first £25, and recently in 2022 I reached my next £25 (Amazon don't transfer the money until you reach £25). As you can see, it won't make me a millionaire but it will treat me to a few coffees, Lord knows I need the caffeine!