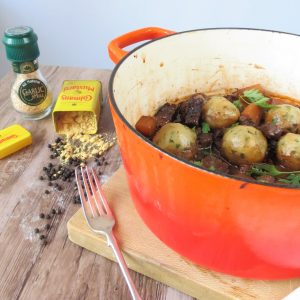 Beef Stew and Dumplings has to be the epitome of winter comfort food, depending on the cut of beef you use it doesn't have to be expensive either. Everything you need for a delicious and nutritious meal is in this stew; meat, root vegetables and your carbs in the form of delicious soft dumplings. Add a chunk of crusty gluten free bread and you have perfection on a plate.
Cuisine:
Free From - gluten and dairy
Keyword:
Beef Stew, Dairy Free, Dumplings, Gluten Free, Slow Cooked
700

g

stewing beef

1

large onion

roughly chopped

3

large carrots

washed and roughly chopped

300

g

swede

peeled and cubed

2

parsnips

washed and chopped

300

ml

boiled water

1

gluten free stock cube

I use Knorr Rich Beef Stock Pots

300

ml

red wine

1

tsp

thyme

dried or fresh

1

tsp

mustard powder

or English mustard if you don't have powder

1

tsp

garlic powder

or 1 clove of garlic

1

tbsp

tomato puree

1

tbsp

chopped fresh parsley

Salt and pepper to taste
Boil the kettle and add 300ml boiling water to a jug and allow the stock cube/stock pot to dissolve, set to one side.

In a heavy casserole pot (I have a good quality cast iron pot) brown off your beef over on a high heat on the stove. If you like you can add a little oil to prevent the meat sticking to the pot, I personally don't bother. I add the beef a quarter of a pack at a time and remove once browned onto a side plate; this prevents the beef from steaming in its own juices and keeps the beef beautifully browned.

Once all the beef has been browned, you'll want to deglaze your casserole pot (which may look like it will never be clean again at this point). To do this pour the 300ml of beef stock into the casserole pot and using a wooden spoon work at the stubborn bits of beef and dried meat juices. You'll find they come away quite easily and you'll be left with a rich dark stock.

Add the browned beef back to the casserole pot and add all the remaining ingredients including the wine. Pop the lid on and now you have the choice to continue to cook on the stove for a quick turn-around Beef Stew and Dumplings or pop into the oven for a slow baked beef stew which will give you a more tender finish to the meat.

For both versions you now have time to make your gluten free dumplings, the recipe for this can be found in the link in the notes and body of the text. Both oven and stove top stews will require you to add the dumplings for the last 20 minutes.

If you chose the stove version you'll need to cook on a low to medium heat for 40 minutes. Remember to stir occasionally so the stew doesn't stick to the bottom of the pot. Finally, pop the dumplings in and cook with the lid on for a further 20 minutes.

The oven baked stew can be in for up to 3hrs on a very low heat, you may want to stir once in a while; again to make sure it's not burning to the sides and also to check if it needs a little top up of water. You have a choice with your dumplings if you cook this way, you can keep the lid on for the 20 minutes or take the lid off for the last 10 minutes giving the dumpling the chance to brown on top.
For my gluten free and dairy free dumplings recipe follow the link, there is also a recipe on the same page to make you own home made gluten free suet, leaving you plenty to store in the fridge for another day.
Nutrition Facts
Beef Stew and Dumplings | gluten free and dairy free
Amount Per Serving
Calories 433
Calories from Fat 81
% Daily Value*
Fat 9g14%
Cholesterol 108mg36%
Sodium 396mg17%
Potassium 1424mg41%
Carbohydrates 30g10%
Protein 41g82%
Vitamin A 7745IU155%
Vitamin C 38.7mg47%
Calcium 121mg12%
Iron 5.1mg28%
* Percent Daily Values are based on a 2000 calorie diet.