When was the last time you had Beef Stew and Dumplings? It's been a while for us and I'm not sure why, it's such a delicious hearty meal to have and there's no need to mess about with other elements to the meal, a simple bowl of stew, dumplings and a crusty piece of bread is all you need.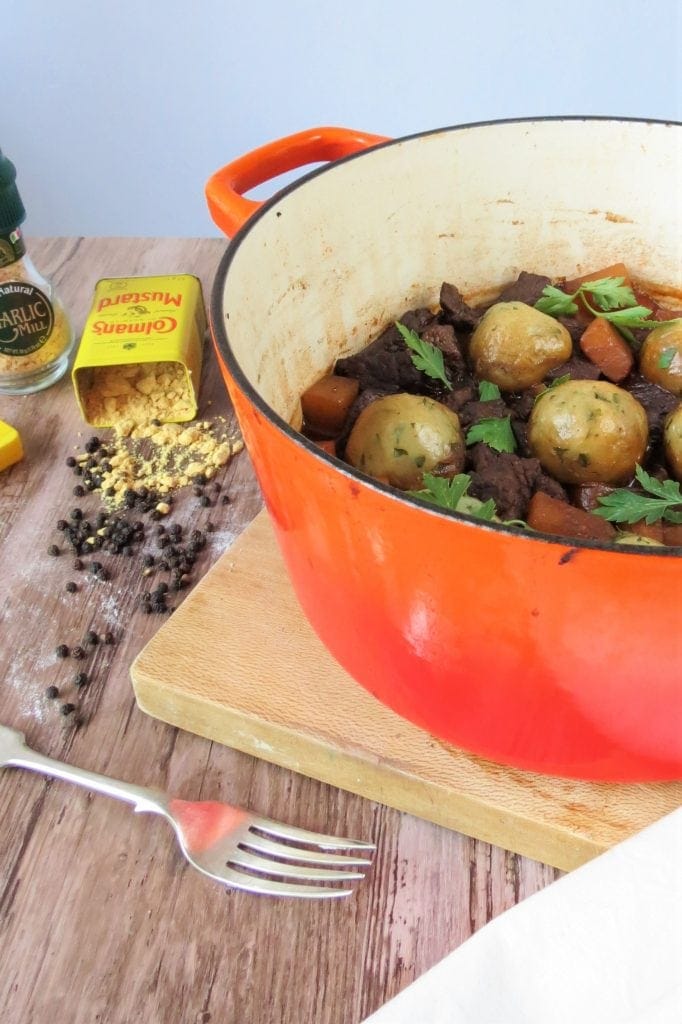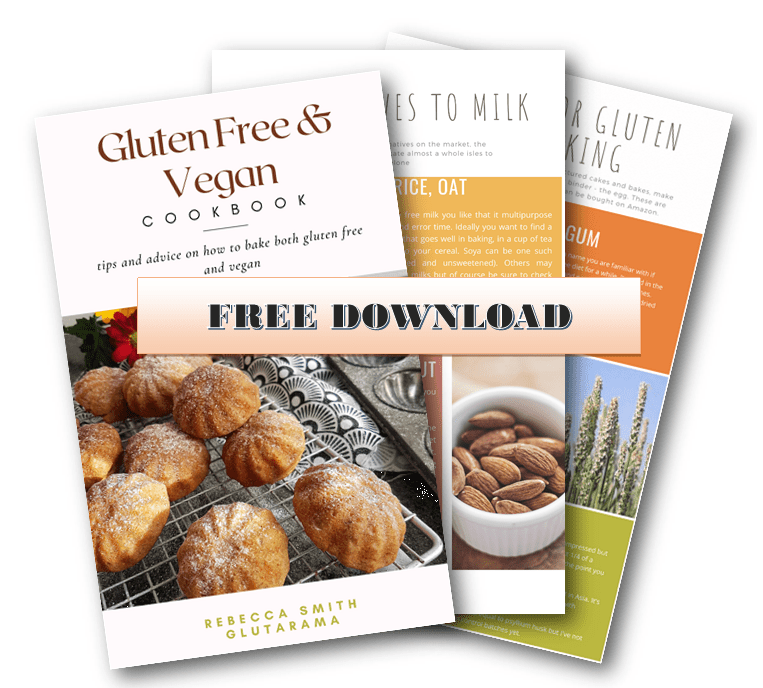 Never miss out again…
Sign up to my weekly Friday newsletter and not only get a FREE e-Book (currently my Gluten Free & Vegan Cookbook) but also get VIP subscriber discounts on free from goodies. Join me and learn to make anything gluten free.
I've written up the recipe for my Gluten Free Dumplings using Homemade Suet already and recently retook the photos. I'm pleased to say that these recent photos are far more pleasing to the eye. If you want to make the dumplings using my recipe with my home made gluten free suet then follow the link. I can't begin to tell you how easy it is to make and perfect for other meals and bakes requiring suet such as steak and kidney pudding or jam roly poly.
This stew is versatile, I've made it on the stove top in under an hour and in the oven for hours and hours to make it super tender. Whatever works for you and your lifestyle.
Different ways to serve my Gluten Free Beef Stew and Dumplings
I don't know about you but when I'm in the mood for stew I'm in full comfort food mode so I don't want too much fuss when it comes to serving the dish. A simple crust of bread to soak up the gravy will do. My family all adore creamy mashed potato with their stew and despite their being vegetables in this stew it's lovely to add a rainbow of colour to your plate. One other idea would be to make a large gluten free Yorkshire pudding and fill the middle with your stew.
Gluten Free Dumplings
Using my recipe for gluten free suet, these gluten free dumplings are ultra easy to make and the perfect accompaniment to a healthy hearty family stew
Check out this recipe
Other gluten free recipes you'll love if you like my Gluten Free Beef Stew and Dumplings
I have an amazing collection of stews and casseroles from around the world to share with you. First off there's this Slow Cooked Chicken Italian by Fab Food 4 All which captures all the powerful flavours of the Mediterranean. How about this Instant Pot Goulash by Recipes from a Pantry, I haven't had a Hungarian Goulash for years and Bintu's recipe has inspired me to re-visit old memories. I love to see pulses and legumes in stews and casseroles and this Spanish Beans with Tomatoes recipe by Veggie Desserts is right up my street, not only do beans pad out meals nutritionally, they also make a cheaper hearty meal. Last but by no means least, is this Vegan Oca Peanut Stew with Kale by Tin and Thyme. Hands up who's used oca before? Nope me neither, but I'm going to source some now to make this delicious stew. On my website I also have these delicious dishes; Gluten Free Sausage Casserole, Sausage Roll with Chutney and Mustard and Sausage Pasta Bake, Creamy Gluten and Dairy Free Chicken Pink Peppercorn Kievs and finally my Gluten Free BBQ Pulled Pork; simple to make and everyone's favourite.
Cheats Sausage Casserole
A super quick and simple sausage casserole using a tin of soup, tin of beans, a packet of sausages and a few other simple ingredients. This is a great recipe for the family as it's always a children's favourite too. Versatile in the fact that you can not only make this gluten free, but also dairy free and vegan too with the right safe ingredients.
Check out this recipe
Giant Gluten Free Sausage Dinner Roll
Need a quick and simple recipe for mid week family dinners, then this Giant Sausage Dinner Roll is perfect. Super quick and easy suet pastry (using my gluten free suet recipe). A packet of gluten free sausages and veggies to bulk it out – perfect comfort food everyone will enjoy.
Check out this recipe
Easy Gluten Free Beef Lasagne
An easy Gluten Free Beef Lasagne made with dairy free options for the béchamel sauce. Made from a recipe I developed when I was 15 years old and tweaked to be gluten free later in life. The recipe also has a handy tip on how to get the best lasagne pasta with no inedible crunchy bits (a common downside to gluten free lasagne sheets).
Check out this recipe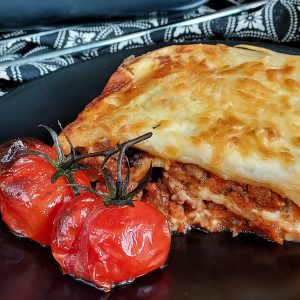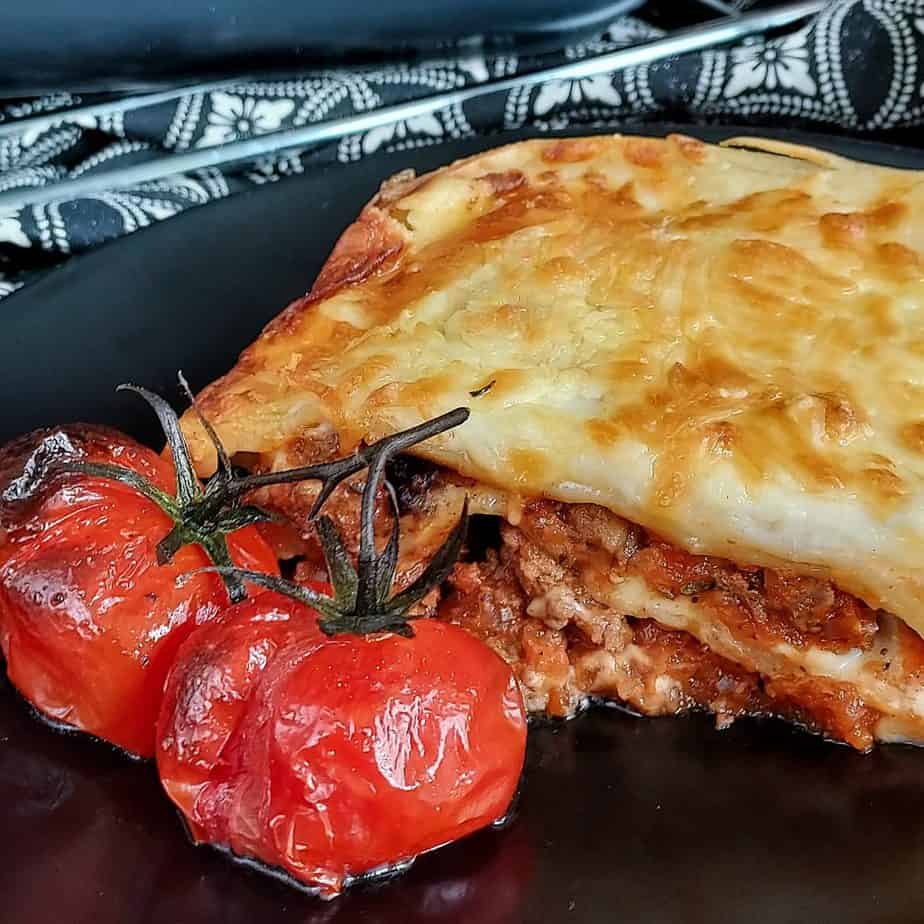 Gluten Free Beef Stew and Dumplings Recipe
If you make it and like the recipe I would be eternally grateful if you popped back and commented leaving a star rating as this will tell search engines that this recipe is worth checking out and others will get to find it in searches.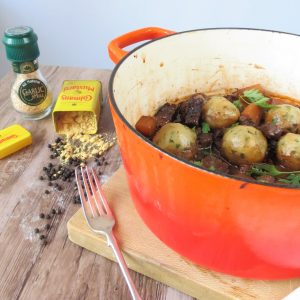 Gluten Free Beef Stew and Dumplings
Beef Stew and Dumplings has to be the epitome of winter comfort food, depending on the cut of beef you use it doesn't have to be expensive either. Everything you need for a delicious and nutritious meal is in this stew; meat, root vegetables and your carbs in the form of delicious soft dumplings. Add a chunk of crusty gluten free bread and you have perfection on a plate.
Ingredients
700

g

stewing beef

1

large onion

roughly chopped

3

large carrot(s)

washed and roughly chopped

300

g

swede

peeled and cubed

2

parsnips

washed and chopped

300

ml

boiled water

1

gluten free stock cube

I use Knorr Rich Beef Stock Pots

300

ml

red wine

1

tsp

thyme

dried or fresh

1

tsp

Colman's Mustard Powder

or English mustard if you don't have powder

1

tsp

garlic (powder, puree or clove)

or 1 clove of garlic

1

tbsp

tomato puree

1

tbsp

chopped fresh parsley

salt & pepper to taste
Instructions
Boil the kettle and add 300ml boiling water to a jug and allow the stock cube/stock pot to dissolve, set to one side.

In a heavy casserole pot (I have a good quality cast iron pot) brown off your beef over on a high heat on the stove. If you like you can add a little oil to prevent the meat sticking to the pot, I personally don't bother. I add the beef a quarter of a pack at a time and remove once browned onto a side plate; this prevents the beef from steaming in its own juices and keeps the beef beautifully browned.

Once all the beef has been browned, you'll want to deglaze your casserole pot (which may look like it will never be clean again at this point). To do this pour the 300ml of beef stock into the casserole pot and using a wooden spoon work at the stubborn bits of beef and dried meat juices. You'll find they come away quite easily and you'll be left with a rich dark stock.

Add the browned beef back to the casserole pot and add all the remaining ingredients including the wine. Pop the lid on and now you have the choice to continue to cook on the stove for a quick turn-around Beef Stew and Dumplings or pop into the oven for a slow baked beef stew which will give you a more tender finish to the meat.

For both versions you now have time to make your gluten free dumplings, the recipe for this can be found in the link in the notes and body of the text. Both oven and stove top stews will require you to add the dumplings for the last 20 minutes.

If you chose the stove version you'll need to cook on a low to medium heat for 40 minutes. Remember to stir occasionally so the stew doesn't stick to the bottom of the pot. Finally, pop the dumplings in and cook with the lid on for a further 20 minutes.

The oven baked stew can be in for up to 3hrs on a very low heat, you may want to stir once in a while; again to make sure it's not burning to the sides and also to check if it needs a little top up of water. You have a choice with your dumplings if you cook this way, you can keep the lid on for the 20 minutes or take the lid off for the last 10 minutes giving the dumpling the chance to brown on top.
Notes
For my gluten free and dairy free dumplings recipe follow the link, there is also a recipe on the same page to make you own home made gluten free suet, leaving you plenty to store in the fridge for another day.
Nutrition
Nutrition Facts
Gluten Free Beef Stew and Dumplings
Amount per Serving
% Daily Value*
* Percent Daily Values are based on a 2000 calorie diet.
Have you tried this recipe?
Let me know how it was & I will be super grateful. Take a picture & tag me @glutarama on your social media posts – I love seeing your photos more than you will ever know x
I love to see your own photos of my bakes, dinners and treats head to your favourite social media account and don't forget to tag me in @glutarama
Subscribe to my email list so that you get NEW recipes straight in your mailbox every Friday PLUS a FREEBIE and access to some amazing gluten free DISCOUNTS

And one last thing! I've linked my Beef Stew and Dumplings with these other awesome bloggers pages, go check them out
Cook Blog Share | That Friday Linky | Blog Crush
*disclaimer: I use affiliate codes on my website, the vast majority are to Amazon. If you click on any of the links or images in the post and make a purchase my family will benefit from a small % of that purchase at no extra cost to you.

For full transparency, in 2020 I made my first £25, and in 2022 I reached my next £25 (Amazon don't transfer the money until you reach £25). I'm now up to £17.80 for 2023 so edging closer to the magical £25 mark!!

To date I have made £69.28 since I first started the scheme in 2017. It won't pay the bills, that's for sure but it does help to pay for ingredients or little treats to cheer me up!