The ever popular Battenburg Cake is a bake that I made yonks ago, in fact, before I was Glutarama. I've been meaning to remake some of my old bakes for two reasons, firstly they need re-photographing, some of my photos from the early days are awful to say the least. Secondly, I'm missing making them, my time seems to be taken up creating new recipes and pushing myself to be more creative and more inclusive to everyone's dietary needs. I'm thinking it's time I revisit some old posts and inject a bit of life into them.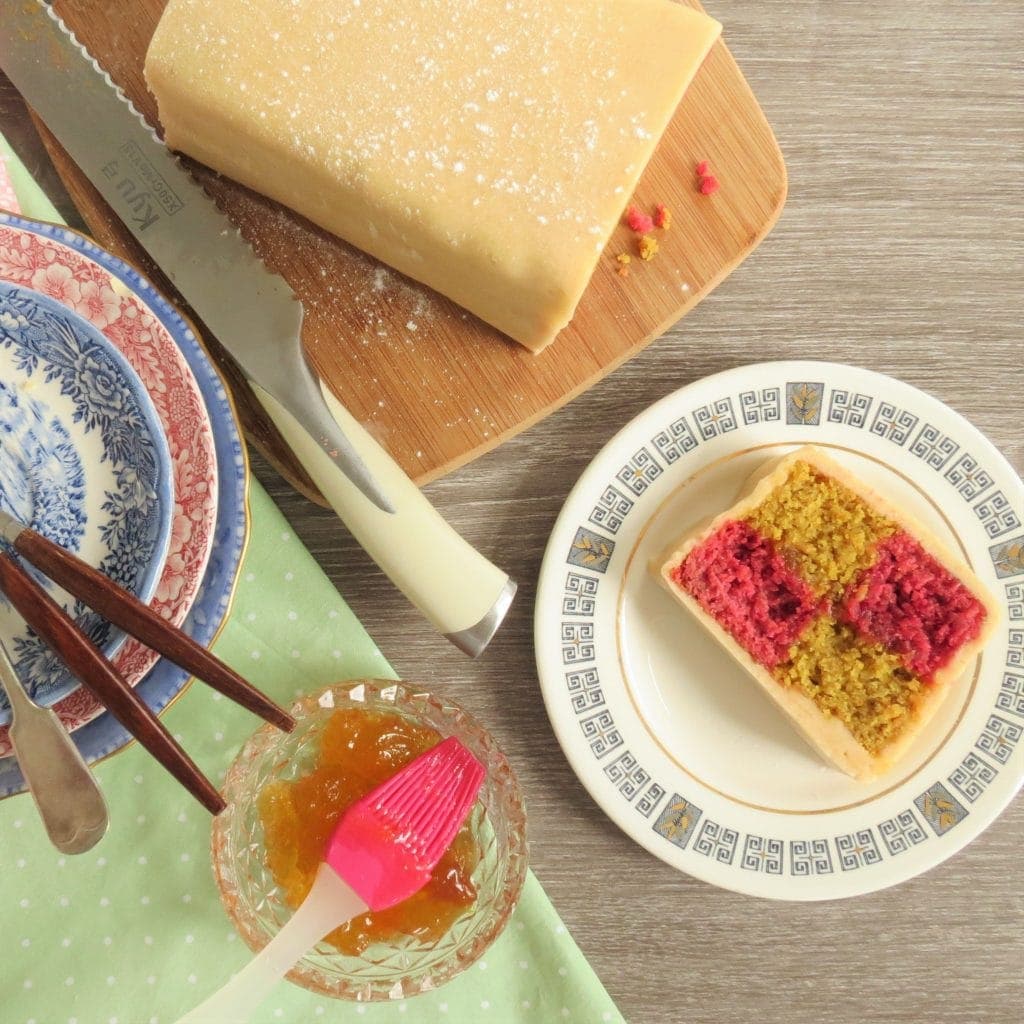 Making my first ever Battenburg was hilarious in the making and constructing! I didn't have the baking equipment necessary to bake the different colour sponges so made a make-shift cake tin, as you can see it wasn't a disaster, but neither was it a huge success! I am now the proud owner of a Silverwood Cake Tin that can be made up to create all sorts of fabulous shapes and sizes, well, squares and rectangles at least. If you do consider buying one, I would also recommend getting the extra inserts you tin will go from many shape options to loads of shape options!
I recall on my first attempt that the sponge wasn't quite square and I ended up making a bit of a hidden jigsaw puzzle in the centre of the finished cake! Do you know what? It really doesn't matter too much if that is the case (I just made sure I got the dodgy slice at teatime!)
Vegan Battenburg Cake Option
I've made this Battenburg recipe time and time again and am now confident to make it vegan too, in fact the images are my most recent gluten free, dairy free and vegan Battenburg Cake, just to prove it can be done. I simply switch the eggs for flaxseed eggs but to be fair, three substitute eggs is normally chia overload so if making it vegan make two flaxseed eggs as directed below.
How to make a flax egg

to make 1 flax egg you need the following ingredients:
– 1tbsp ground flax seed
– 3tbsp water
– 1tsp psyllium husk (optional but does add elasticity to baking)

simply add all ingredients to a glass and stir before measuring out the other recipe ingredients, by the time you come to use your 'egg' mixture it will have thickened to a frog-spawn consistency (thicker if you added psyllium husk)

Then just add to your baking as you would an egg. For 2 eggs double the ingredients but note that recipes that require more than two eggs may fail due to lack of support in the structure.
In hindsight I may have been a bit heavy-handed with the food colouring this time but hey, what's a neon Battenburg between friends right? …. ACTUALLY, this seems to be a reoccurring issue because my Gluten Free Angel Cake was't low colour either (remember Rebecca; less is more, less is more)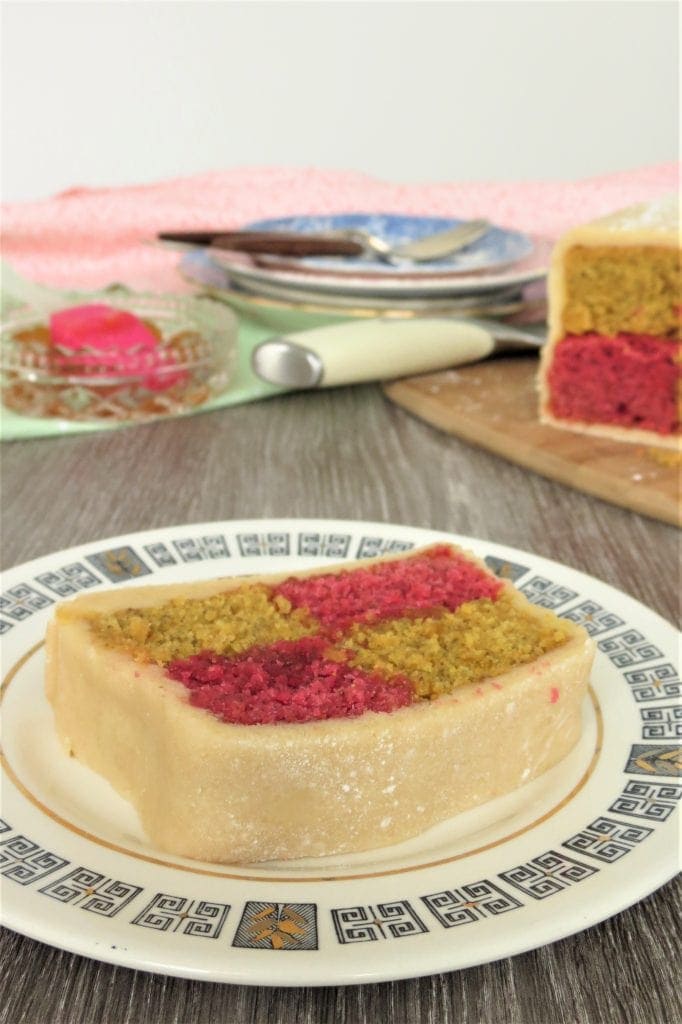 Never miss out again…
Sign up to my weekly Friday newsletter and not only get a FREE e-Book (currently my Gluten Free & Vegan Cookbook) but also get VIP subscriber discounts on free from goodies delivered to your door.
Easy Gluten Free Battenburg Cake Recipe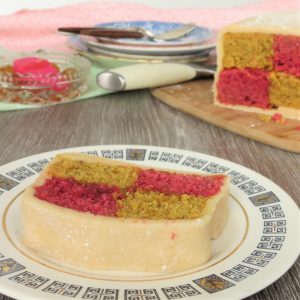 Easy Free From Battenburg Cake
This Battenburg Cake will knock your socks off, a gluten free, dairy free, egg free traditional chequer board cake. It'll be the showstopper for any tea table.
Cuisine:
Free From – gluten and vegan
Keyword:
Battenburg, easy, simple
Ingredients
200

g

caster sugar

200

g

pure dairy free spread

1

tsp

vanilla

200

g

self raising gluten free flour

2

tsp

baking powder

3

eggs

I used 2 tsp ground chia mixed with 100ml water

few drops

pink colouring

few drops

yellow colouring

2

tsp

Jam

apricot works really well

500

g

marzipan

white or yellow to your preference
Instructions
Cream together the butter and sugar

Change to a whisk and add the vanilla extract and three eggs (egg replacement)

Fold in sifted flour (try sifting from a height, it adds air to the mixture)

Take 50% of the mixture (I work it out to be approx 340g) add pink colouring and add to your prepared tin

The remaining 50% you can colour to your liking with the yellow colouring, then add to the prepared tin.

Bake at 180°C/350°F/Gas 4 for 25-30 mins

Once cooked remove and allow to cool completely

Roll out your marzipan to approx 30x40cm, brush this with some of the jam

Trim your cakes down to size and brush each top with jam.

Build your chequered Battenburg Cake on top of the rolled marzipan

Lift the sides of the marzipan and smooth to the edges of the sponge making sure the marzipan sticks firmly, use jam as glue.

Turn the Battenburg over so the sealed side is now hidden at the bottom of the cake. Trim the edges to achieve that unmistakable Battenburg trademark look.
Nutrition Facts
Easy Free From Battenburg Cake
Amount Per Serving
Calories 543
Calories from Fat 279
% Daily Value*
Fat 31g48%
Cholesterol 49mg16%
Sodium 168mg7%
Potassium 258mg7%
Carbohydrates 60g20%
Protein 9g18%
Vitamin A 78IU2%
Vitamin C 1mg1%
Calcium 92mg9%
Iron 2mg11%
* Percent Daily Values are based on a 2000 calorie diet.
One last thing; Battenburg Cake Disaster
Don't laugh, this was my first ever attempt at making Battenburg, It can be done without a Silverwood Cake Tin…just expect to be a bit more of a puzzle solver if you choose to do it this way!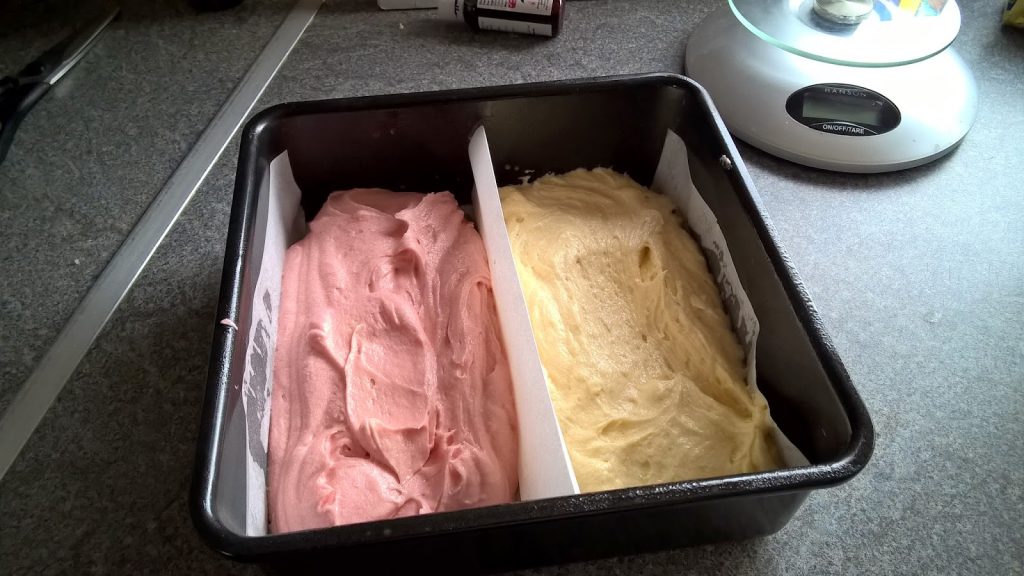 This is what it looked like after 35 mins of cooking, as you can see it's sunken overcooked (or caramelised as I like to say) and the pink won the battle for territory!
I also love the fact that you can see my scrapbook in the background, I used a supermarket magazine recipe originally (I totally forget which) but over time scribbled my own notes and adjustments until I was happy with the gluten free version – that scrapbook is still somewhere in the house…I think?

I really love to read your comments and feedback and will always comment back. Do drop a line in the comment section if you liked this post I would love to hear your thoughts, if you share photos of your delicious creations, please do tag me or use the hashtag #Glutarama on Facebook, Twitter and Instagram. Subscribe to my email list so that you get all my reviews and recipes straight in your mailbox.
*disclaimer: I use affiliate codes on my website, the vast majority are to Amazon. If you click on any of the links or images in the post and make a purchase my family will benefit from a small % of that purchase at no extra cost to you, in fact, for full transparency, in 2020 I've made my first £25, so it won't make me a millionaire but it will treat me to a few coffees, Lord knows I need the caffeine!