I made these Fruit and Nut Chocolate Truffles a while ago with some ingredients I needed to use up, the sell by dates were close or had gone over and frankly I needed more room in the kitchen cupboards for more exciting new ingredients I wanted to try out. I've made these several times since but have only just gotten around to blogging about it now (hangs head in shame) Life kind of got in the way and I won't say things are better now because I have a nasty way of jinxing things if I do that … but they are! But I didn't say that … DOH!
Anyhoo, these Fruit and Nut Chocolate Truffles are once again quick and simple to make, my favourite recipes always are. YES! I'm a lazy baker, there, I said it. To be fair this attitude is born out of the fact I often have to dump and run to the aid of Lewis or Bethany or, of late it's also been other family members, so quick and easy suit me just fine thank you very much.
Before you get to the recipe bit, I want to tell you about our free from gang, just in case you're not met us, we're a group of food and family bloggers, some of us write specifically about free from foods and others have an interest in it and/or a catalogue of recipes and free from knowledge. If you're on Twitter check out our previous hastags, there must be in excess of 1K recipes out there now that we've worked on for the free from community;
#FreeFromBBQ | #FreeFromPicnic | #FreeFromPancakes | #FreeFromEaster
FreeFromChristmas | #FreeFromHalloween | #FreeFromHarvest
Presenting my gorgeous Free From Gang; be my #FreeFromValentine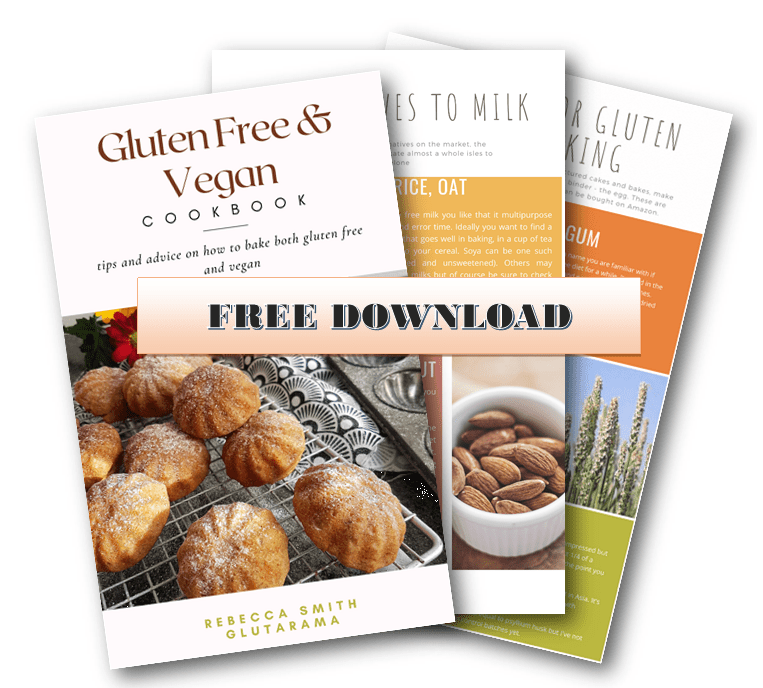 Never miss out again…
Sign up to my weekly Friday newsletter and not only get a FREE e-Book (currently my Gluten Free & Vegan Cookbook) but also get VIP subscriber discounts on free from goodies delivered to your door. Join me in my journey and learn to make anything gluten free.
Fruit and Nut Chocolate Truffle Recipe
Fruit and Nut Chocolate Truffles
So simple to make yet guaranteed to impress, these make a perfect teatime treat or better still a gift for a loved one, and as these are gluten free, dairy free, egg free and vegan, they're a treat for all the family.
Ingredients
75

g

hazelnuts

60

g

prunes

60

g

raisins

60

g

solid coconut oil

1

tbsp

cacao powder

cocoa powder can be used as an alternative

1/2

tsp

vanilla extract

100

g

dark chocolate

at least 70% coco solids
Instructions
Using a blender (or I've even used my smoothie maker in the past) blitz the hazelnuts first until you have a fine breadcrumb consistency.

Add the prunes, raisins, coconut oil, vanilla and cacao powder and blitz once again until all the ingredients are thoroughly combined

Your mixture should be easy to handle and roll into 10 balls, if not simply pop in the fridge for 10-15 mins to harden a little making it easier to work with.

Once rolled into 10 balls, drop into your bowl of melted dark chocolate and coat fully, transfer onto a greased baking sheet and chill for at least 30 mins.
Notes
These keep for a week or more in the fridge and don't mind being out of the fridge either if you prefer a room temperature treat.
Nutrition
Nutrition Facts
Fruit and Nut Chocolate Truffles
Amount per Serving
% Daily Value*
* Percent Daily Values are based on a 2000 calorie diet.
Have you tried this recipe?
Let me know how it was & I will be super grateful. Take a picture & tag me @glutarama on your social media posts – I love seeing your photos more than you will ever know x
Fruit and Nut Chocolate Truffles – Don't lose it pin it!
I love to see your own photos of my bakes, dinners and treats head to your favourite social media account and don't forget to tag me in @glutarama
Subscribe to my email list so that you get NEW recipes straight in your mailbox every Friday PLUS a FREEBIE and access to some amazing gluten free DISCOUNTS
And one last thing! I've linked my Gluten Free Pumpkin Biscuit with these other awesome Foodies websites, go check them out
Cook Blog Share | Fiesta Friday | Friday Favourites | Handmade Monday
*disclaimer: I use affiliate codes on my website, the vast majority are to Amazon. If you click on any of the links or images in the post and make a purchase my family will benefit from a small % of that purchase at no extra cost to you, in fact, for full transparency, in 2020 I made my first £25, and recently in 2022 I reached my next £25 (Amazon don't transfer the money until you reach £25). As you can see, it won't make me a millionaire but it will treat me to a few coffees, Lord knows I need the caffeine!