For those of you who have been here before you'll think this is a bit of deja vu, rest assured, there's no glitch in the Matrix, this is a different Bliss Ball inspired the original recipe; Free From Fairies Strawberry Bliss Balls, same principle, same ratios (sort of) but different ingredients. These gluten and dairy free bliss balls are made with blueberries and something told me that cashews and almonds would make an excellent combination and I was right, these little to no sugar mini treats have a delicate marzipan taste to them which is one of my favourite flavours. Give these a go, I promise you won't be disappointed.
What other fruits can I use other than blueberries?
Blueberries are a less juicier fruit so to make any of these following bliss balls you'll need to use more of the dry ingredients (i.e. coconut flour/buckwheat) so I'd recommend adding one table spoon at a time until you get the right consistency for rolling. Other fruits you might like to try are;
Raspberries
Cherries
Black Currants
Red Currants
Loganberries
Blueberries
Strawberries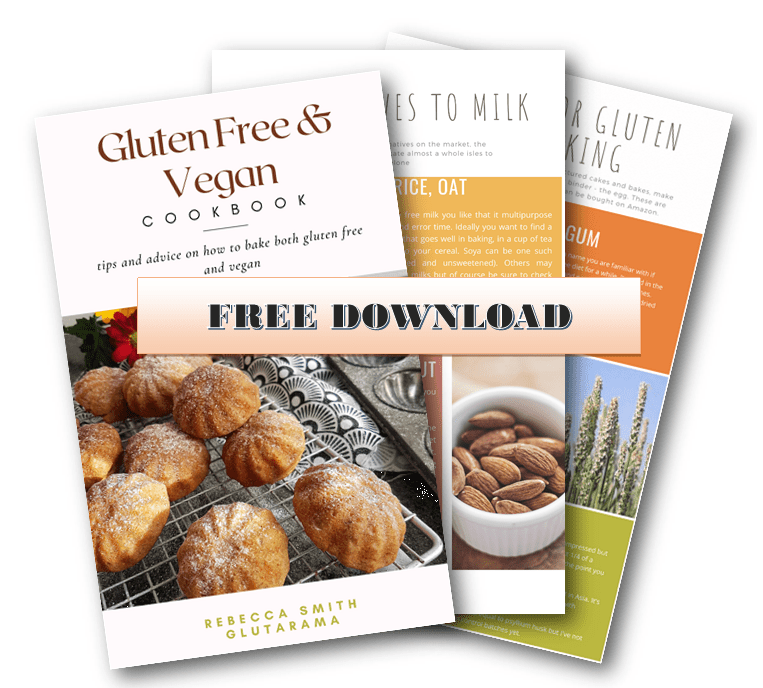 Never miss out again…
Sign up to my weekly Friday newsletter and not only get a FREE e-Book (currently my Gluten Free & Vegan Cookbook) but also get VIP subscriber discounts on free from goodies delivered to your door. Join me in my journey and learn to make anything gluten free.
Different ways to decorate these Healthy Bliss Balls
To mix things up a bit I decided to coat half the Blueberry Bliss Balls in fruit powders. I happened to have some Arctic Powder that I bought from the Free From Festival a year ago so thought coating in the loganberry powder would add an extra zing to the flavour and an impressive colour contrast too. The other half of the bliss balls were coated in fine desiccated coconut. Please be weary when buying this in the stores as not all coconut products; desiccated, powdered, flaked, can be guaranteed gluten free. I've added an affiliate link to amazon via the image for one that is safe for Coeliac readers.
How about something a bit naughty, I'm all for naughty! Why not coat your bliss balls in a dark chocolate. Hey! Cocoa beans are one of your 5-a-day too aren't they?
Other recipe inspiration if you fancy these Blueberry Bliss Balls
If you loved the idea of making these blueberry bliss balls and bliss balls are your new go-to healthy snack, then you'll want to try these flavours too; Strawberry Bliss Balls and Raspberry Bliss Balls. However, if you have a sweeter tooth and need a bigger boost in afternoon energy then I highly recommend my Easy Ginger Bliss Balls
Dairy Free Blueberry Bliss Balls Recipe
If you make it and like the recipe I would be eternally grateful if you popped back and commented leaving a star rating as this will tell search engines that this recipe is worth checking out and others will get to find it in searches.
Dairy Free Blueberry Bliss Balls
A quick and simple healthy snack, these blueberry bliss balls are the perfect energy pick-me-up as they are packed with nutrients and minerals.
Ingredients
100

g

blueberries

50

g

cashews

50

g

ground almonds

3

tbsp

coconut flour

you can use gluten free flour or buckwheat too

1

tbsp

coconut sugar

you can swap for granulated sugar or leave out to make refined sugar free

desiccated coconut

for coating
Instructions
Simply add the first three ingredients to a blander and whizz until the mixture is grainy, the mixture will be wet at this stage.

Add the coconut flour and repeat blending until incorporated and mixture comes together into a ball.

Using a teaspoon take small spoons of mixture and roll into a ball, a little smaller than a walnut, place onto a plate and repeat 9x or until you have used up all the mixture.
To coat
Roll in a plate of fine desiccated coconut.

Pop on in the fridge for at least 30mins to chill
Notes
Once chilled I pop these little bites into an airtight Tupperware container in the fridge, this prevents the balls taking on odours from the fridge and keeps them firm. Ideally, as this is fresh fruit, these need to be eaten within 5-7 days
Nutrition
Nutrition Facts
Dairy Free Blueberry Bliss Balls
Amount per Serving
% Daily Value*
* Percent Daily Values are based on a 2000 calorie diet.
Have you tried this recipe?
Let me know how it was & I will be super grateful. Take a picture & tag me @glutarama on your social media posts – I love seeing your photos more than you will ever know x
Pin my vegan Blueberry Bliss Balls recipe for later
I love to see your own photos of my bakes, dinners and treats head to your favourite social media account and don't forget to tag me in @glutarama
Subscribe to my email list so that you get NEW recipes straight in your mailbox every Friday PLUS a FREEBIE and access to some amazing gluten free DISCOUNTS
And one last thing! I've linked my recipe with these other awesome Foodies websites, go check them out
*disclaimer: I use affiliate codes on my website, the vast majority are to Amazon. If you click on any of the links or images in the post and make a purchase my family will benefit from a small % of that purchase at no extra cost to you, in fact, for full transparency, in 2020 I made my first £25, and recently in 2022 I reached my next £25 (Amazon don't transfer the money until you reach £25). As you can see, it won't make me a millionaire but it will treat me to a few coffees, Lord knows I need the caffeine!