This page contain affiliate links. Please refer to my Disclosures Page for more details.
Also, before you hit 'Jump to Recipe' just check my contents section 'Skip to the Good Bit' below. I may answer a query you have about this recipe straight away in the post.
If you are a regular reader you will be aware of my recent dairy free ice cream revelation and so now I present to you my Blackberry and Gin Ice Cream. We have bushes and bushes of blackberry brambles near our house. We are so lucky to be in the outskirts of town and have a community orchard nearby. One of my favourite things about this time of year is the fruits of mother nature's labour being ripe and ready for the picking. But when is the best time to pick blackberries, what can you make with blackberries and how do you avoid berries with those little worms in them? Lucky you, I have the answer to all three and my delicious blackberry ice cream waiting for you so read on.
When is the best time to pick blackberries?
If I wrote late August/September, I'd be wrong. This used to be the case but as summers get warmer, we're finding brambles laden with plump juicy fruit in early August too. Here in my part of the world I've been able to collect blackberries since the 10th August. But my kids are used to me sending them out annually into September to collect a few berries if I fancy making an impromptu blackberry and apple crumble.
The ripening of the bramble berries also depends on where they grow. A full sun position and you can guarantee you'll be able to harvest early in August, slightly more in the shade and you're looking at September even through to October in colder parts.
Is there a trick to picking the best blackberries?
Yes, there is and I'll explain why in a way that I hope doesn't make you want to vomit on the spot! I think we can all agree that when picking blackberries, you want the plumpest, ripest, sweetest of berries. Indeed, this is the ultimate British wild berry is it not? However, there are a few things I should point out to some one less adept in the art of blackberry picking.
Do not pick berries below waist height – animals (cats, dogs, foxes, deer) all inhabit the world below waist height in the wild and we don't want to be harvesting berries that have come into contact with any animal or their bodily functions!
Do not pick green or red blackberries. These are not ripe and will make your tummy rebel against you if consumed.
Do not pick overly ripe berries – these are the ones that fall from the stem when you touch them and bleed juice onto your fingers. I know it's tempting but these berries have already been taken (I'll come onto that in a minute)
Pick the shiny berries that give a little resistance to you picking them, the little bobbles of the berry will be tightly formed and not lose its shape if gently squeezed.
I tend to find taking Tupperware is the best carrier to pop your harvest into, bags are fine but you don't want to bruise the fruit on the way home.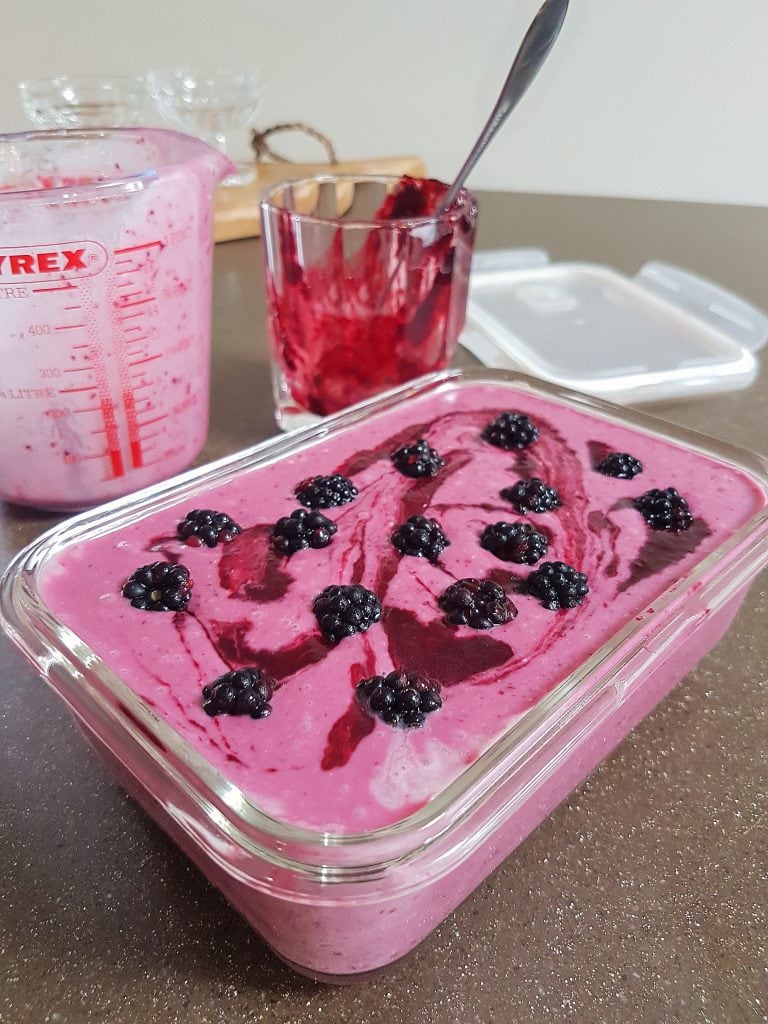 How do I clean and prepare my blackberries
The best way to clean your blackberries is to pop them into a glass bowl and cover with tap water, not too cold, ideally room temperature in fact. Then gently run your hands through the berries to dislodge any dirt dust or worms – yes, I said worms! If you followed my tips above when picking your blackberries you should hopefully not encounter any little white maggot-looking worms as they tend to make their homes in the lovely plump super-ripe berries. Sadly, harvesting off the land with no pesticides, you are bound to encounter the odd little unwanted critter. These tiny worms are in fact the larvae of fruit flies, those little annoying flies we get buzzing around the over ripe fruit in the bowl or a glass of wine!
In truth, these are perfectly harmless and if you eat them it will cause you no harm at all. However, given the choice I think we all agree we'd rather not!
If you have just been sick and are thinking there's no fricking way your making this ice cream now, do not despair, you can buy frozen blackberries in the supermarkets or at your greengrocers. These will likely have been grown in controlled environments and will not be inhabited!
Let's get onto the recipe shall we?….
Can I use an ice cream maker to make Blackberry and Gin Ice Cream?
Yes you can use an ice cream maker to make this Blackberry Ice Cream, but don't you find those machines noisy and as bit of a hassle? Don't get me wrong, I have an ice cream maker and it's really good at making ice cream for the family in no time at all. But I've waited 3 years to make this perfect dairy free ice cream so I can certainly wait 24hrs for the best dairy free ice cream ever. Yes! I did just write that thus cementing my guarantee to you that this is THAT good!
If you're not convinced and you still want to make this recipe in an ice cream maker just remember that to achieve the ripple effect you will still need to swirl the reduced blackberry sauce into the ice cream and freeze for at least 1hr.
Can I make this with a different alcohol or no alcohol?
Absolutely, you can make this alcohol free. You can also add more if you like! I find the gin in this recipe adds an extra bite but you could add liqueurs too such as Creme de Mure (blackberry Liqueur) or Crème de Cassis (blackcurrent Liqueur)
How to make vegan condensed milk
Making dairy free and vegan condensed milk is very simple so please don't be wary of making your own condensed milk with this easy two ingredient recipe and method;
Empty a 400ml tin of coconut milk into a medium saucepan, add the caster sugar and stir to combine. Place on a high heat and stir until bubbling. Turn heat down to a gentle rolling boil and leave for 15minutes. Don't leave unattended and stir occasionally, the condensed milk will halve in volume and go a wallpaper paste colour! Remove from the heat, pour into a glass heatproof jug and cool to room temperature, this will take about an hour.
You now have a 250ml volume of dairy free condensed milk that you can use with a variety of recipes. I have made this using 200g of caster sugar in some of these examples but now feel that you can get away with 50g less sugar unless you plan to continue to reduce the liquid to make a toffee sauce in which case you need all 200g of sugar.
Other recipes you can make with my vegan condensed milk
Other recipes that are similar and I know you'll love
If you're reading this recipe because you're a fan of cherries then you'll surely be tempted by my Gluten Free Blackberry Crumble Fool that's also dairy free too, then there's my Deliciously Easy Black Forest Cherry Chocolate Ice cream or how about my delicious Gluten Free Gooseberry Crumble but add blackberries instead. Finally what could be more quintessentially summery than the Boozy Gluten Free Summer Pudding using seasonal fruits – maybe minus the booze but that bit's optional!
These Wholemeal Blackberry and Banana Muffins by Mandy at Sneaky Veg are not gluten free but I know that swapping the flour for a gluten free plain flour and adding gluten free oats will be just fine, maybe a little dash of dairy free milk will be necessary to loosen the muffin mixture since gluten free flours have a higher absorbance rate.
If you're a fan of jams and jellies you'll love this Easy Blackberry and Apple Jelly by Fab Food 4 All
Finally how about this sweet twist on the humble Yorkshire Pudding with these Sweet Autumn Dessert Yorkshires by Kate over at Gluten Free Alchemist
Never miss out again…
Sign up to my Friday newsletter and receive not one, but THREE FREEBIES.
GF and Vegan e-Book
conversion charts
3 simple guides to allergies, intolerances & autoimmune.
Join me and learn to make anything gluten free.
Homemade Dairy Free Blackberry and Gin Ice Cream Recipe
If you make it and like the recipe I would be eternally grateful if you popped back and commented leaving a star rating as this will tell search engines that this recipe is worth checking out and others will get to find it in searches.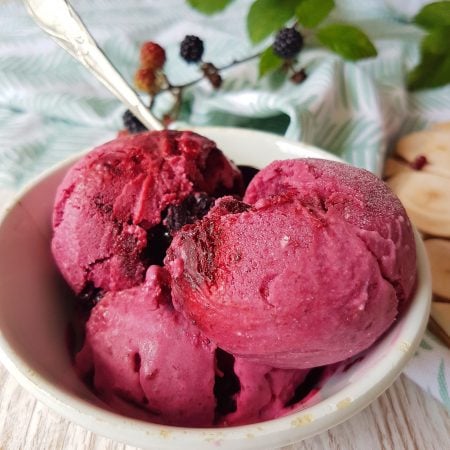 Homemade Dairy Free Blackberry and Gin Ice Cream
This simple, no churn Blackberry and Gin Ice Cream is a creamy rich ice cream, the perfect end to a heavy meal or accompaniment to a chocolate dessert even to add a flash of colour. Made gluten free, dairy free and vegan, you will have to make two batches if you plan to share!
Ingredients
For the condensed milk
400

ml

tin coconut milk needs to be 60% or over in coconut extract

use the highest coconut extract percentage you can find 60%+

150

g

caster sugar
For the Blackberry ice cream
200

ml

soya cream or usual dairy free alternative

30

g

dairy free butter (melted)

try to use a solid dairy free butter, I use a flora block

300

g

blackberries

keep some of the best-looking ones back for decoration

4

tbsp

caster sugar

2

tbsp

gin
Instructions
To make the condensed milk
Empty the tin of coconut milk into a medium saucepan

Add the caster sugar and stir to combine

Place on a high heat and stir until bubbling

Turn heat down to a gentle rolling boil and leave for 15minutes

Don't leave unattended and stir occasionally, the condensed milk will halve in volume and go a wallpaper paste colour!

Remove from the heat, pour into a glass heatproof jug and cool to room temperature, this will take about an hour.
To make the Blackberry ice cream
After rinsing your blackberries, add to a saucepan with a splash of water and heat gently until the berries have broken down and are bubbling gently.

Place a large sieve over a bowl and carefully pour the stewed blackberries into the sieve, using a metal spoon stir and press the stewed fruit gently through the sieve until you are left with the seeds and unwanted pulp.

Return the sieved fruit to the saucepan, add the 4 tbsps of sugar and heat to boiling point, turn heat down and stir gently until the blackberry puree has thickened to the consistency of a thin honey. Now set the puree aside to cool.

In a large bowl whisk together the soya milk, melted butter and gin to fully incorporate.

Add the cooled condensed milk and stir to combine.

Add half the cooled blackberry puree and mix, this is when your ice cream will take on its stunning colour.

Using a suitable container (I have used Igluu glass containers as they fit 1ltr perfectly) pour in the ice cream.
To decorate
Using a teaspoon take spoonful's of the remaining blackberry fruit puree and add dollops to your ice cream and use the handle of the teaspoon (I use a chopstick!) to create the swirled ripple effect.

Finally decorate with the berries you kept back.

Add the lid or a tin foil cover secured with an elastic band and put in the freezer overnight.

To serve simply heat your ice cream scoop in boiling water and scoop away, no need to take this out of the freezer in advance, this ice cream scoops perfectly!
Nutrition
Nutrition Facts
Homemade Dairy Free Blackberry and Gin Ice Cream
Amount per Serving
% Daily Value*
* Percent Daily Values are based on a 2000 calorie diet.
Have you tried this recipe?
Let me know how it was & I will be super grateful. Take a picture & tag me @glutarama on your social media posts – I love seeing your photos more than you will ever know x
I love to see your own photos of my bakes, dinners and treats head to your favourite social media account and don't forget to tag me in @glutarama
Subscribe to my email list so that you get NEW recipes straight in your mailbox every Friday PLUS a FREEBIE and access to some amazing gluten free DISCOUNTS
*disclaimer: I use affiliate codes on my website, the vast majority are to Amazon. If you click on any of the links or images in the post and make a purchase my family will benefit from a small % of that purchase at no extra cost to you.

For full transparency, in 2020 I made my first £25, and in 2022 I reached my next £25 (Amazon don't transfer the money until you reach £25). Recently I got paid a whopping £27.10 for 2023.

So to date I have made £78.58 since I first started the scheme in 2017. It won't pay the bills, that's for sure but it does help to pay for ingredients or little treats to cheer me up!