This recipe for Raspberry Bliss Balls was a result of me not being able to get strawberries, plus they were on special offer so how could I refuse! I'm very mindful of the fact that a new normal is creeping up on us. As I write this it's 2020 and kids will be going back to school soon. I could write a whole other post on how that makes me feel, maybe I will (I'll think about it).
In the meantime, I'm trying to retrain my head into a normal daily routine, the school drop-offs, pick-ups and the inevitable kitchen foraging when two hungry teens return home. I try, I try so hard to encourage my kids to eat healthily and making little snacks like this is one such plan. You really only need one or two balls and a drink as they're super filling, so this is the ideal after school snack or energy boosting nibble for me in the afternoon when my energy levels dip.
Raspberry Bliss Balls are perfect for afternoon snacks, here's why.
Raspberry nutrition facts – the berries are in fact one of the lowest in sugar despite ripe raspberries tasting lovely and sweet. As the berries are packed in fibre they make you feel filler for longer and in terms of diabetes, this slows down the absorption into the blood stream (so no good for treating a hypo but great to keep blood sugars more stable). Finally, they are full of antioxidants which are attributed to lessening inflammation and joint pain.
Cashew nutrition facts – the cashew is one of the least fatty nuts, I say nuts, cashews are a seed but many with nut allergies will react the same. For anyone on a dairy free diet, you will be interested to know that cashews are high in calcium so a great way to supplement if you are able. Did you know that the humble cashew is also packed with copper? A deficiency in copper can lead to muscle and joint pain and anaemia so another great reason to nibble those nuts!
Almond nutrition facts – like the cashew, almonds are also packed with antioxidants in the form of Vitamin E and like raspberries are full of fibre (more if you grind almonds in their skins). Therefore, almonds are also known for their benefits to stabilising blood sugar control. The nuts also have high magnesium levels in fact 2 oz of almonds provides nearly half the RDA, which is great for me as I take magnesium supplements for my pre-menopausal symptoms (it really works in terms of sweats, fat ankles and murderous mood swings!)
Buckwheat nutrition facts – don't panic! Buckwheat is not a wheat in the fact that it's not of the grass family, it's actually a plant and a delicately beautiful one at that. So Buckwheat is gluten free and safe to eat if you have Coeliac Disease. Buckwheat is wholegrain and so yep, you guessed it, full of fibre so another ingredient that will keep you feeling fuller for longer.
Different ways to decorate these Healthy Bliss Balls
To mix things up a bit I decided to coat half the Raspberry Bliss Balls in fruit powders. I happened to have some Arctic Powder that I bought from the Free From Festival a year ago so thought coating in the loganberry powder would add an extra zing to the flavour and an impressive colour contrast too. The other half of the bliss balls were coated in fine desiccated coconut. Please be weary when buying this in the stores as not all coconut products; desiccated, powdered, flaked, can be guaranteed gluten free. I've added an affiliate link to amazon via the image for one that is safe for Coeliac readers.
How about something a bit naughty, I'm all for naughty! Why not coat your bliss balls in a dark chocolate. Hey! Cocoa beans are one of your 5-a-day too aren't they?
What other fruits can I use other than raspberries?
Raspberries are one the juicier fruits I've used to make these bliss balls so if you plan to use another, less water-based fruit then you'll need to use less buckwheat so I'd recommend adding one table spoon at a time until you get the right consistency for rolling. Other fruits you might like to try are;
Blackberries
Cherries
Black Currants
Red Currants
Loganberries
Blueberries
Strawberries
Can I make these Bliss Balls nut free?
Good question, in the world of bliss balls you tend to get two types. The first is the fresh fruit and nuts blend and the second in the dried fruits and nuts blend. I have made the latter but instead of using nuts I've used seeds but for many this may still be an allergen. If you are interested in me developing a nut free version on these or any of my bliss ball recipes please do comment below and I will do my best for you.
Other recipe inspiration if you fancy these Raspberry Bliss Balls
If bliss balls are your new go-to healthy snack, then you'll want to try these flavours too; Strawberry Bliss Balls and Blueberry Bliss Balls. However, if you have a sweeter tooth and need a bigger boost in afternoon energy then I highly recommend my Easy Ginger Bliss Balls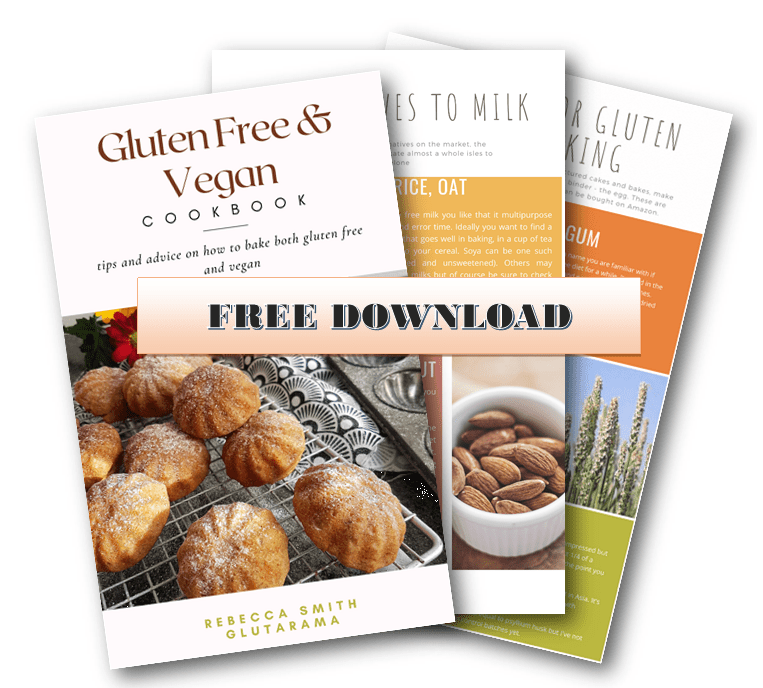 Never miss out again…
Sign up to my weekly Friday newsletter and not only get a FREE e-Book (currently my Gluten Free & Vegan Cookbook) but also get VIP subscriber discounts on free from goodies delivered to your door. Join me in my journey and learn to make anything gluten free.
Dairy Free Raspberry Bliss Balls Recipe
If you make it and like the recipe I would be eternally grateful if you popped back and commented leaving a star rating as this will tell search engines that this recipe is worth checking out and others will get to find it in searches.
Dairy Free Raspberry Bliss Balls
These simple to make Raspberry Bliss Balls are an excellent healthy snack for post workout, afternoon dips in energy or after school snacks. Naturally gluten and dairy free and packed with vitamins, minerals and fibre.
Ingredients
100

g

raspberries

100

g

ground almonds

50

g

cashews

3

tbsp

buckwheat flour

1

tbsp

golden caster sugar

or leave out if you wanted refined sugar free
To coat
2

tbsp

desiccated coconut

see notes for other ideas
Instructions
Add the raspberries, ground almonds and cashews to your blender and pulse until the cashews have been broken down.

The mixture will be quite wet at this stage, don't worry. Add the buckwheat flour and sugar if you plan to use it and continue to pulse.

The mixture should now come together in one large ball, this means it's ready to roll.

Take large marble-sized pieces of bliss ball mixture and roll in the palms of your hands, there no escaping it, you will get messy.

Depending on the size of your balls you should easily get 12 bliss balls.

Once all 12 have been rolled drop each one individually into a bowl of fine desiccated coconut and roll to coat, place on a plate and repeat until all balls are coated.

Pop the plate into the fridge for 1 hour to allow the bliss balls to harden a little. These balls will not go solid as there is no added fat so they will remain soft to the bite.
Notes
Other decoration ideas are to roll your bliss balls in a freeze/air dried fruit powder or for a special treat why not coat in dark chocolate. 100g of 70% dark dairy free chocolate will be enough to cover all 12 balls.
Nutrition
Nutrition Facts
Dairy Free Raspberry Bliss Balls
Amount per Serving
% Daily Value*
* Percent Daily Values are based on a 2000 calorie diet.
Have you tried this recipe?
Let me know how it was & I will be super grateful. Take a picture & tag me @glutarama on your social media posts – I love seeing your photos more than you will ever know x
Pin my Raspberry Bliss Balls recipe for later
I love to see your own photos of my bakes, dinners and treats head to your favourite social media account and don't forget to tag me in @glutarama
Subscribe to my email list so that you get NEW recipes straight in your mailbox every Friday PLUS a FREEBIE and access to some amazing gluten free DISCOUNTS
And one last thing! I've linked my latest recipe with these other awesome Foodies websites, go check them out
disclaimer: I've started using affiliate codes on my website again (needs must). If you click on any of the links in the post and make a purchase my family will benefit from a small % of that purchase at no extra cost to you.