I've not had a Kiev for, well, I can't remember the last time I had a Kiev so when I came up with this recipe for Creamy Chicken Pink Peppercorn Kievs I was super excited. A fellow blogger had made me aware of an exciting challenge set by British Turkey and Red Tractor #RedTractorPoultryChallenge, it was a challenge to create a delicious recipe using at least three Red Tractor vegetable products and a British Poultry product. Well using these products was not going to be the challenge in itself, I use Red Tractor products all the time from our local supermarket. The challenge was to create something, well, something a bit more challenging!
I saw this as the perfect opportunity to try my hand at kievs. I've not had kievs for ages now and don't think I've even seen creamy peppercorn kievs in the free from isles so I kind of craved these even more so! Because we're a dairy free gluten free family I had the additional challenge to make my creamy peppercorn kievs free from both these ingredients too. Boy do I love to make things difficult for myself!
The issue I had to get around was getting the pink peppercorn creamy sauce into my Creamy Chicken Pink Peppercorn Kievs, you see with normal garlic butter kievs you combine the butter, garlic and parsley and chill them in a sausage shape, cut out coins and stuff the chicken breast. I decided the only way to stuff my sauce into the chicken was icecubes!
Check out the recipe below, this may seem a bit of a faff but trust me, it is so simple as long as you prep in advance and make your cream-cubes a few hours before. Lewis wanted to help with the coating process so I let him coat a couple of the kievs, which goes to prove that if my 10 year old son can do it, so can you.
Talking about coating in breadcrumbs (see what I did there, seamless link) you may also appreciate a couple of other recipes I've created that make excellent family meals and they can also be frozen and cooked at a later date so fantastic for batch cooking. Pop over and have a look at my Corned Beef Hash Cakes and my Fennel Fish Cakes, both are also potato free too if that is a dietary issue in your family.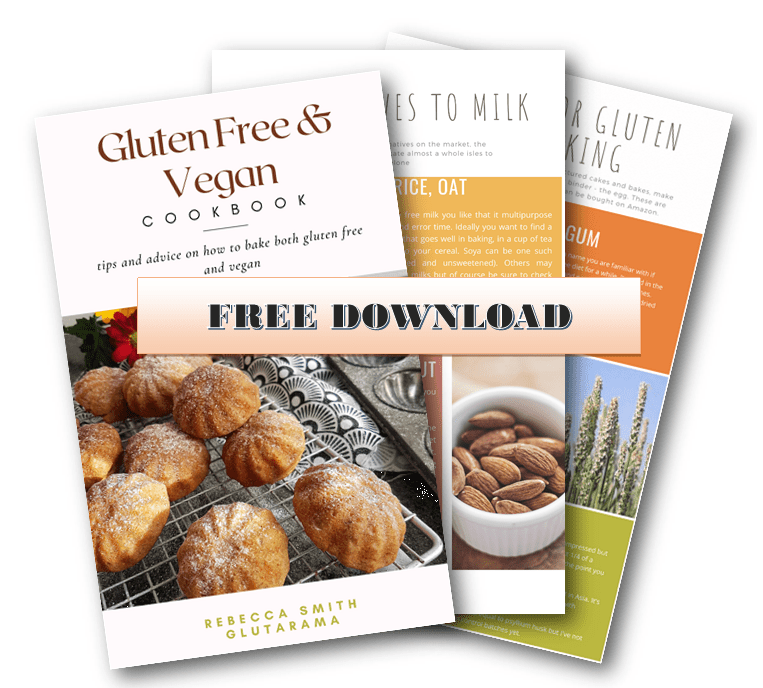 Never miss out again…
Sign up to my weekly Friday newsletter and not only get a FREE e-Book (currently my Gluten Free & Vegan Cookbook) but also get VIP subscriber discounts on free from goodies delivered to your door. Join me in my journey and learn to make anything gluten free.
Chicken Pink Peppercorn Kievs Recipe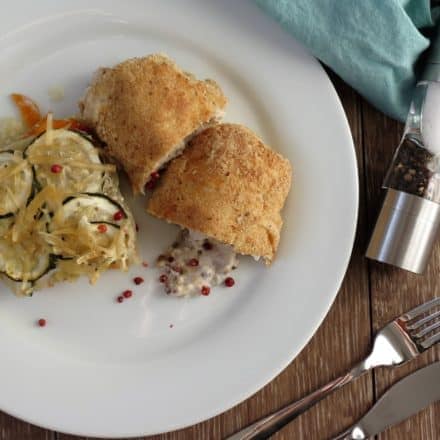 Creamy Pink Peppercorn Chicken Kievs with Veggie Layer Bake
A recipe inspired by the #RedTractorChallenge and my craving for creamy peppercorn Kiev's! Trust me, this looks masterclass but it's simple as long as you prep in advance. These are made both gluten free and dairy free but if you can have dairy then cream is a must.
Ingredients
To make the pink peppercorn cream
2

tbsp

pink peppercorns

1

tsp

white wine vinegar

1/2

tsp

salt

100

ml

boiling water

150

ml

soya cream or usual dairy free alternative
To make the kiev
4

large

chicken breasts

3

slices

gluten free bread

blitzed into fine bread crumbs

3

tbsp

rice flour

2

egg(s)

salt & pepper to taste
To make the veggie layer bake
1

red onion

finely chopped

2

courgette/zucchini(s)

finely sliced

4

carrot(s)

finely sliced

2

large potatos

I used large jacket potatoes finely sliced

100

ml

soya cream or usual dairy free alternative

100

ml

dairy free milk

1

clove

garlic (powder, puree or clove)

salt & pepper to taste

vegan hard cheese to grate ontop
Instructions
To make the pepper cream sauce
First you need to plump the pink peppercorns. To do this simply add the vinegar, salt and boiling water to the pink peppercorns in a small jug, leave for 1 hour until the peppercorns have plumped up.

Once plump, add the peppercorns to a small saucepan with the cream and heat with a teaspoon of rice flour to thicken. You'll only need to heat for 5mins. Add salt to taste.

Pour cream sauce into an ice cube tray and freeze for at least 90 mins
To make the veggie layer bake
Peel and prep all the veg, I used my blender to slice the courgette, carrot and potato, making sure I used the thinnest slice setting for the potato so everything cooked evenly.

Layer the veg in a greased oven proof dish, making each layer thick enough to benefit from the colours when you slice into it. Continue to layer until you have used all the veg with a sprinkling of red onion between each layer.

In a jug add the soya cream, soya milk, a crushed clove of garlic, salt and pepper. Pour over the veggie bake and cover with foil.

Start to cook the veggie bake in the oven it needs 40-50 mins in an oven at 180C/160C fan in total but you remove the foil for the last 10 minutes and grate vegan cheese over the top to brown.
Make your kievs
Whilst your veggie bake is cooking start to prep you kievs. trim the chicken from any excess fat. In the largest end, insert a sharp knife and make an incision keep expanding the incision until you have a fair sized pocket inside the chicken breast. Pop 3-4 cream cubes into the breast and repeat until all your chicken has been stuffed.

To coat you need to cover the chicken breast with rice flour, dip in the beaten egg and coat in breadcrumbs, repeat so that you get a double coating to each kiev.

Heat a frying pan and flash fry each kiev on its top to aid it with a good healthy brown colour. Remove from frying pan and add to a roasting dish. Place in the oven with the veggie bake for 20-25 mins until golden brown. Some cream will escape, don't worry if this happens, it's a good indicator that your kievs are cooked through.

after 20-25 minutes you kievs and veggie bake will be ready, serve and enjoy!
Nutrition
Nutrition Facts
Creamy Pink Peppercorn Chicken Kievs with Veggie Layer Bake
Amount per Serving
% Daily Value*
* Percent Daily Values are based on a 2000 calorie diet.
Have you tried this recipe?
Let me know how it was & I will be super grateful. Take a picture & tag me @glutarama on your social media posts – I love seeing your photos more than you will ever know x
Don't forget it, pin it!
Click to save my Creamy Chicken Pink Peppercorn Kievs

I love to see your own photos of my bakes, dinners and treats head to your favourite social media account and don't forget to tag me in @glutarama
Subscribe to my email list so that you get NEW recipes straight in your mailbox every Friday PLUS a FREEBIE and access to some amazing gluten free DISCOUNTS
*disclaimer: I use affiliate codes on my website, the vast majority are to Amazon. If you click on any of the links or images in the post and make a purchase my family will benefit from a small % of that purchase at no extra cost to you, in fact, for full transparency, in 2020 I made my first £25, and recently in 2022 I reached my next £25 (Amazon don't transfer the money until you reach £25). As you can see, it won't make me a millionaire but it will treat me to a few coffees, Lord knows I need the caffeine!