In this vlog I (eventually) tell you all about Beth's Type 1 Diabetes diagnosis! Let's just say it's been an eventful day, hang on one cotton picking minute! It's like that almost every week…I kid you not, no wonder I look so bloody awful in the video!
This was all back in 2008 and a long time has passed but, as a parent, the day of diagnosis sticks in your mind. It's a bit like when mum's gather for the first time and you have the inevitable pregnancy and labour stories. I guarantee anyone reading this, who has been through the same experience, will be able to draw upon similarities and see huge differences too. I'd love this vlog to open up that discussion so people newly diagnosed can take comfort that they're not alone in their experience and others worried that a loved one may be diabetic can identify issues that are concerning them. Feel free to comment below, on the Youtube clip or both.
If you are worried about someone close and you think they may be showing sign of diabetes, please do not wait, get them to your GP to have a simple finger prick test and then if necessary a blood test. I've added links below to signs and symptoms of diabetes so take the time to check them out and get that diagnosis. Don't leave it like we did, we nearly lost Beth that night.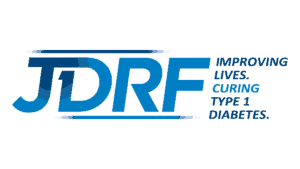 Click logo to find out more information on Type 1 Diabetes [image by JDRF UK]
Click logo for signs and symptoms [image by NHS]
If you found this post on diagnosis useful then you may find these posts useful too…
Type 1 Diabetes and us: diagnosis story
A day in the life of a type 1 diabetic – written by Bethany herself
Autoimmune, Allery or Intolerance?…
Sign up to my weekly Friday newsletter and not only get THREE FREE mini guides to explain the differences but also get VIP subscriber discounts on free from goodies delivered to your door.