This page contain affiliate links. Please refer to my Disclosures Page for more details.
These English Lavender Madeleines are mixing French and English into one delicious bite sized bake. I love to research old and traditional bakes and I always forget the history behind Madeleines. This is probably due to the fact that the origin of the Madeleine is a bit of a mystery. Some believe it originates in Lorraine in France and is linked to the household of a Duke where a cook named Madeleine was instrumental in the baking of the treats. Another version links the little cakes to the French Royal household and a third describes a little girl called Madeleine on pilgrimage from Spain who came across the cakes on her journey and returned to Spain with the French recipe.
Whichever story you believe, the Madeleine is a popular snack in France to this day still and the English have adopted the recipe and made it their own.
Is English lavender edible?
Quite simply the answer is yes! Lavender is after all a herb and as you read on you will find out when to pick your lavender, how to prepare it, how to store it and what you can bake with English Lavender. Other lavenders are not so great for consumption, so stick to the common well-known English Lavender that you see growing on long elegant stems.
When can you harvest English Lavender?
When does English Lavender bloom and when can you harvest it depends on where you are in the world. Generally lavender blooms in abundance in the UK in July and continues to flower throughout August and into September. The best time to harvest your lavender depends on what you want to use it for [see below].
If you do not have a lavender bush in your garden or nearby then I have added a link at the bottom of this post for you to purchase a bag from Amazon, for transparency it is an affiliate link so I will get a few pennies at no cost to yourself but every little helps to fund my website.
How to prepare English Lavender for eating
Baking with Lavender flowers
When the flowers are newly opened (and bees are busy collecting pollen) you can collect the tiny flower heads for salads, decoration or add into baking as they are. Gently wash the flowers in cold water and allow to dry before adding to baking. This will give you little flecks of purple lavender throughout your dish.
Cooking with Lavender powder (ground Lavender)
When the flowers have gone over, and the dainty bell flowers have dried, you can harvest these for making into a lavender powder. This is great for adding to baking and buttercreams and icing for a hint of colour and the full lavender fragrance experience (only a small amount of powder is needed). To prepare ground lavender simply wash the dried flowers thoroughly and tip onto kitchen towels to dry completely. Once bone dry add to a blender and blitz until you have a fine powder.
For more information on preparing lavender leaves and storing your lavender check out my English Lavender Shortbread recipe. Incidentally, I also have a traditional French Madeleine recipe on the website
Can I make English Lavender Madeleines dairy free?
Yes you can make this shortbread dairy free quite simply by adding a dairy free margarine or 'butter' alternative. I tend to use Pure in my baking in the UK but Flora and Vitalite work equally as well. The only issue with a dairy free madeleine is that you can't cook the butter to brush the madeleine tin and get that authentic 'nutty' butter taste and golden colour.
Can I make English Lavender Madeleines vegan?
I'll be honest and say that I've not yet tried (no more Madeleines for me!) but if you comment below stating you'd like me to develop an egg free/vegan version then I am happy to set to work on it.
Different ways to decorate English Lavender Madeleines
In this version of my Madeleine recipe I have simply dusted each Madeleine with icing sugar. Other ideas to decorate are;
Dipping ½ the Madeleine into white chocolate (or dairy free alternative)
Icing the tops and decorating with fresh lavender flowers
Dipping ½ the Madeleine into lavender infused icing and dusting with ground lavender
Other recipes that use English Lavender
There are a few lavender bakes out there on the world wide web, this Blackberry Lavender Cake looks lovely but you'd need to switch the all purpose flour to gluten free plain flour and this is definitely not a dairy free cake!
How about a these Lavender Lemon Bars. Again, a switch would be necessary to make them gluten free and these are not possible to make egg free however these are dairy free too.
Lastly how about my English Lavender Shortbread recipe mentioned above, the perfect teatime treat or to go with a cuppa with friends.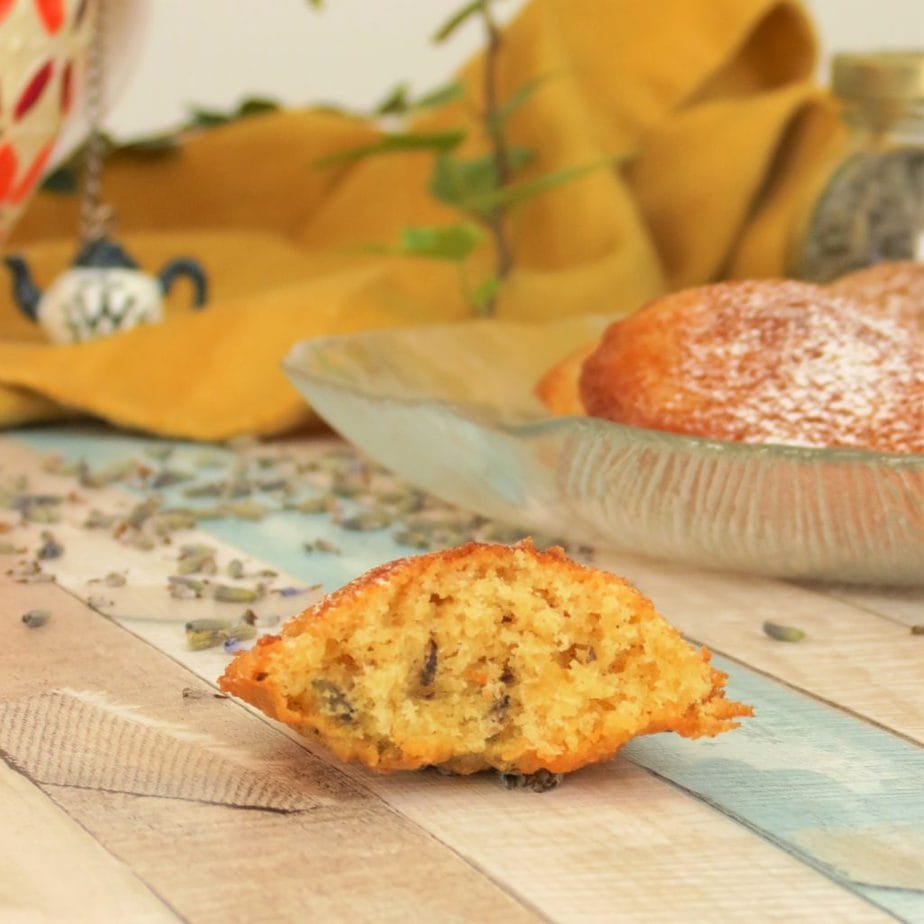 Gluten Free English Lavender Madeleines Recipe
If you make it and like the recipe I would be eternally grateful if you popped back and commented leaving a star rating as this will tell search engines that this recipe is worth checking out and others will get to find it in searches.
Gluten Free English Lavender Madeleines
A fusion of English and French cuisine this English Lavender Madeleines recipe is simple to make and uses your own harvest of lavender to add to that extra sense of satisfaction. Both gluten free and dairy free and this is a recipe everyone can enjoy for teatime this summer.
Ingredients
Madeleines
50

g

gluten free self-raising flour

50

g

caster sugar

50

g

melted dairy free butter (I use Flora plant based butter)

or butter

1

egg(s)

½

tsp

lavender flowers
To prepare the tin
10

g

butter or butter alternative (I use Flora plant butter)

Pinch

of ground lavender

[see notes]
Instructions
Make lavender infused 'butter'
Heat up the dairy free spread in a small saucepan with a generous pinch of ground lavender until it bubbles.

Set aside to cool.

(if you want a real authentic nutty taste you melt a knob of butter in a pan until it just starts to change colour to a golden brown, however this is pretty much impossible to achieve using a dairy free spread)
Make the Madeleine batter
Melt the 50g butter or butter alternative and set aside to cool a little

Whisk together the eggs and sugar in a bowl until frothy and light.

Add your cooled butter and whisk again until thoroughly incorporated

Add the flour and lavender powder and lightly fold in with the whisk

Leave the mixture for 1.5hrs at room temperature with a tea towel to cover … be patient!

Brush the Madeleine tin liberally with the cooled melted lavender infused 'butter' dust tray with flour and tap off excess.

If after 1.5hrs your Madeleine batter has thickened to more than a dropping consistency, then add a splash of water or dairy free milk to loosen [see notes]

Fill the Madeleine tin to the top of each mould.

Set your oven to 180°C | 160°C fan | 350°F | Gas 4

Bake for 10mins and enjoy the wonderful smells that omit from your oven!

Remove from oven once Madeleines are peaked like little mountains and gently tap out of tin onto a cooling rack.

Enjoy still warm or cooled.
Notes
To prepare ground lavender simply wash the dried flowers thoroughly and tip onto kitchen towels to dry completely. Once bone dry add to a blender and blitz until you have a fine powder.
Gluten free flour thickens more than normal flour due to the different grains used. For example, a flour using a rice flour blend will swell as you'd expect when you boil rice.
Nutrition
Nutrition Facts
Gluten Free English Lavender Madeleines
Amount per Serving
% Daily Value*
* Percent Daily Values are based on a 2000 calorie diet.
Have you tried this recipe?
Let me know how it was & I will be super grateful. Take a picture & tag me @glutarama on your social media posts – I love seeing your photos more than you will ever know x
I love to see your own photos of my bakes, dinners and treats head to your favourite social media account and don't forget to tag me in @glutarama
Subscribe to my email list so that you get NEW recipes straight in your mailbox every Friday PLUS a FREEBIE and access to some amazing gluten free DISCOUNTS
*disclaimer: I use affiliate codes on my website, the vast majority are to Amazon. If you click on any of the links or images in the post and make a purchase my family will benefit from a small % of that purchase at no extra cost to you, in fact, for full transparency, in 2020 I made my first £25, and recently in 2022 I reached my next £25 (Amazon don't transfer the money until you reach £25). As you can see, it won't make me a millionaire but it will treat me to a few coffees, Lord knows I need the caffeine!
Join my friendly Facebook Group
life's a drama, gluten free doesn't have to be….