My recipe for English Lavender Shortbread was born out of a visit to my grandparents' house a few years ago now. The family gathered to work on their mature garden and give it a jolly good tidy up. My sister saw fit to heavily prune the English Lavender whilst it was in full bloom (she's not a gardener!) After yelping and asking her what she thought she was doing I decided to save what I could of the dainty purple flowers and leaves and set my nephew the task of bagging up the best bits.
Once home my daughter took a good deal of the harvest and made little felt pillows filled with the beautifully scented herb so that we could gift my gran with fragrance from her garden.
I set to work on preparing the lavender so I could store it for cooking.
So is English lavender edible? Quite simply the answer is yes! Lavender is after all a herb and as you read on you will find out when to pick your lavender, how to prepare it, how to store it and what you can bake with English Lavender. Other lavenders are not so great for consumption, so stick to the common well known English Lavender that you see growing on long elegant stems.
When can you harvest English Lavender?
When does English Lavender bloom and when can you harvest it depends on where you are in the world. Generally lavender blooms in abundance in the UK around July and continues to flower throughout August and into September. It's worth noting that while all lavenders are technically a herb, some are better for oil extraction, some are great for perfume parcels and others are perfect for eating in baking, savoury dishes and even salads.
The best time to harvest your lavender depends on what you want to use it for.
If you do not have a lavender bush in your garden or nearby then I have added a link to a 250g bag of dried edible lavender from Amazon, for transparency it is an affiliate link so I will get a few pennies at no cost to yourself but every little helps to fund my website.
How to prepare Lavender for eating
Baking with Lavender flowers
When the flowers are newly opened (and bees are busy collecting pollen) you can collect the tiny flower heads for salads, decoration or add into baking as they are. Gently wash the flowers in cold water and allow to dry before adding to baking. This will give you little flecks of purple lavender throughout your dish.
Cooking with Lavender powder (ground Lavender)
When the flowers have gone over, and the dainty bell flowers have dried, you can harvest these for making into a lavender powder. This is great for adding to baking and buttercreams and icing for a hint of colour and the full lavender fragrance experience (only a small amount of powder is needed). To prepare ground lavender simply wash the dried flowers thoroughly and tip onto kitchen towels to dry completely. Once bone dry add to a blender and blitz until you have a fine powder.
Adding Lavender leaves to salads
The leaves can be picked off the woody stem and added to salad. Pick only the greenest of leaves avoiding any woody, curled leaves. Wash thoroughly under a cold tap in a sieve and add straight to your salad.
How to store edible Lavender
If using edible fresh lavender flowers, then you will want to harvest these and use immediately for full effect. Flowers can be harvested fresh and dried out on a windowsill after washing them for a couple of days to store keep their flower shape. These can then be added to a sealed jar or Tupperware tub and kept out of sunlight for up to 12mths.
If making ground lavender the same applies and your lavender powder can be kept in an airtight container for up to 12mths in a cupboard before it loses its fragrance.
Leaves for salads must be use immediately but I believe you can store them in a Tupperware container in the freezer. I do this with all my home-grown garden herbs and have fresh oregano, basil, parsley, thyme, sage and chives in containers in the freezer to use all year round.
Can I make Lavender Shortbread dairy free?
Yes you can make this shortbread dairy free quite simply by adding a dairy free margarine or 'butter' alternative. I tend to use Pure in my baking in the UK but Flora and Vitalite work equally as well. As this recipe has no need for egg it is also vegan.
Different ways to decorate English Lavender Shortbread
In this version of my English Lavender recipe I have dipped each biscuit into lavender infused icing and sprinkled with a little of the lavender powder. Other ideas to decorate are;
Dipping or drizzling with white chocolate (or dairy free alternative)
Icing the tops and decorating with fresh lavender flowers
Sandwiching two biscuits together with lavender infused icing
Other recipes that use English Lavender
You will love these English Lavender Madeleines I make, with just a delicate hint of lavender these merge French and English classics.
There are a few lavender bakes out there on the world wide web, this Lemon Lavender Pound Cake looks lovely but you'd need to switch the all purpose flour to gluten free plain flower and possibly add a little more liquid to offset the absorbency of the GF flour.
How about a delicately infused Lavender Lemonade. I've seen some lavender lemonades go bright pinky-purple if you use lavender powder but here the lavender is extracted in hot water and sugar so you get a clearer more elegant version.
Lastly how about this Blueberry Lavender Jam recipe combining two summertime flavours into one pot of deliciousness.
As always you can search my gluten free, dairy free and vegan recipes by following the links.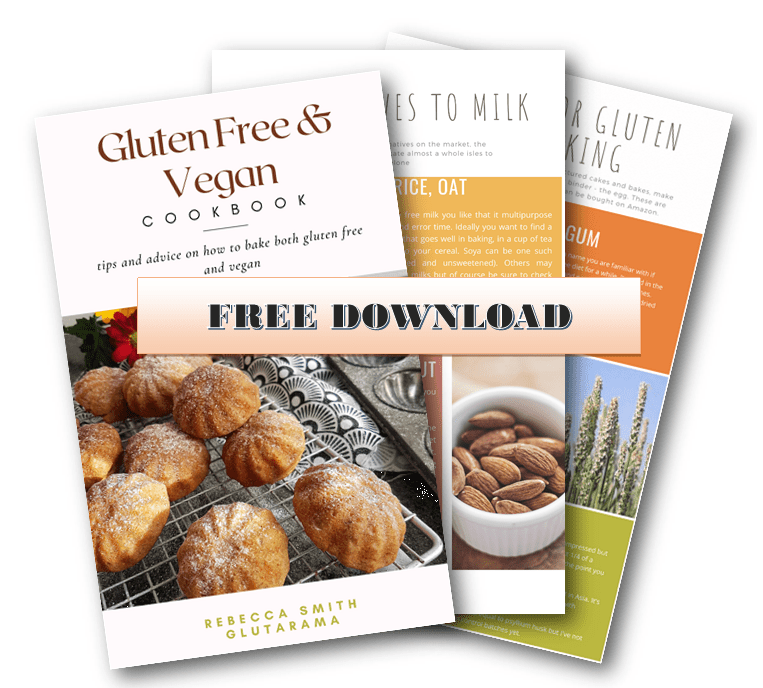 Never miss out again…
Sign up to my weekly Friday newsletter and not only get a FREE e-Book (currently my Gluten Free & Vegan Cookbook) but also get VIP subscriber discounts on free from goodies delivered to your door. Join me in my journey and learn to make anything gluten free.
English Lavender Shortbread Recipe
English Lavender Shortbread
You cannot get more English Summertime than this English Lavender Shortbread recipe. Simple to make and using your own harvest of lavender to add to that sense of satisfaction. Both gluten free and dairy free and vegan too this is a recipe everyone can enjoy for teatime this summer.
Ingredients
Shortbread
175

g

gluten free plain flour

50

g

cornflour

50

g

caster sugar

140

g

dairy free spread

1

tbsp

ground lavender

see preparation above or in notes

1

tsp

psyllium husk

can use xanthan gum but I find psyllium works better to stabilise the biscuit
Icing
3

tbsp

icing sugar

2

tbsp

soya milk

or dairy free milk of your choice

½

tsp

ground lavender
Instructions
Preheat the oven to 200°C/180°C fan

Add spread and sugar to a bowl and beat until light.

Sieve in flour, cornflour, psyllium husk and lavender powder and mix thoroughly to combine.

You should get a firm dough that you can roll into a ball.

Wrap dough and pop into the fridge for 30mins to rest

Remove from fridge, knead gently for a minute, and roll out on a well-floured surface.

Use a biscuit cutter of your choice – I used an 8cm fluted cutter

Pop onto a prepared baking sheet and into the oven for 10-15 minutes

When the shortbread is firm to the touch remove and allow to cool for 5 minutes before moving to a cooling rack

Once completely cooled make your icing and dip one half of the biscuit into it. Add back to cooling rack and sprinkle a tiny bit of powder or dried flowers to the icing whist wet.

Allow icing to harden and enjoy.
Notes
To prepare ground lavender simply wash the dried flowers thoroughly and tip onto kitchen towels to dry completely. Once bone dry add to a blender and blitz until you have a fine powder.
Nutrition
Nutrition Facts
English Lavender Shortbread
Amount per Serving
% Daily Value*
* Percent Daily Values are based on a 2000 calorie diet.
Have you tried this recipe?
Let me know how it was & I will be super grateful
Pin my English Lavender Shortbread recipe for later
I really love to read your comments and feedback and will always comment back. Do drop a line in the comment section if you like my English Lavender Shortbread and don't forget to rate the recipe too using the 5* system. If you try this recipe, I would love to see your creations, take a picture and do tag me using the hashtag #Glutarama on Facebook, Twitter and Instagram. Subscribe to my email list so that you get the recipe straight in your mailbox.
And one last thing! I've linked my English Lavender Shortbread with these other awesome Foodies websites, go check them out
Cook Blog Share | Baking Crumbs | Fiesta Friday
disclaimer: I've started using affiliate codes on my website again (needs must). If you click on any of the links in the post and make a purchase my family will benefit from a small % of that purchase at no extra cost to you.