This gluten free summer pudding was a bit of a last minute creation, it's an idea I've had in my mind for ages (especially the boozy bit!) but this weekend the family was invited to my brother-in-law's for dinner and I said I'd provide my own pudding. I knew treacle sponge and custard was going to be on the cards as this is my sister-in-law's all-time favourite (is it me or are there a lot of hyphens in this paragraph?) I also knew the children were going to have a luxury ice cream of some description. I decided that I WANTED a fancy pudding too, and what better pudding to have than a traditional English dessert.
'No time like the present' I thought and tah-dah, my Boozy Gluten Free Summer Pudding was born.
I already had a crop of blackberries that Bethany and Lewis had foraged from down the street, and I ALWAYS have cherries in the house, I adore cherries. The other half of the blackberries had gone into my Blackberry Crumble Fool but the remaining ones were going to be perfect for the job.
I have a cherry stone pitter thingy that pops the stones out of each cherry with relative ease, so I'd really recommend getting one if you don't have one already, getting stones out of cherries with a knife takes time and patience, the first I have very little and the latter I have none (unless it's my children I need to be patience with, in which case I'm a bloody saint!).
I added booze because a) I wanted the pudding to be extra special and b) even bloody saints need a tipple now and again!
The recipe uses four little pudding moulds for a more authentic shape but to be fair these puddings are robust and could cope with being made in ramekin dishes or even small glass tumblers. As long as you oil the vessel well before adding the bread outer layer you'll be fine.
Other Gluten Free Summertime Desserts
Before we get to the recipe I'd love to draw your attention to these other bloggers and their summer inspired recipes and summer time top tips. That's right, the Free From Gang (that's #FreeFromGang) are at it again and this time we're collaborating on a #FreeFromSummer;
Then you have my personal recipes perfect for this summer, whatever the weather; The Best Homemade Blackberry and Gin Ice Cream, English Lavender Shortbread – a summertime treat, Gooseberry Fool Crumble; gluten free and dairy free.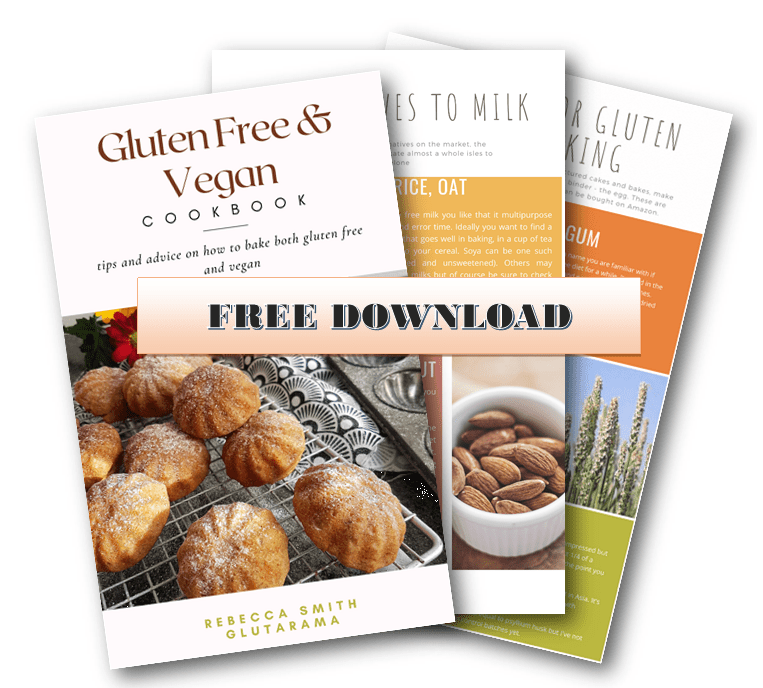 Never miss out again…
Sign up to my weekly Friday newsletter and not only get a FREE e-Book (currently my Gluten Free & Vegan Cookbook) but also get VIP subscriber discounts on free from goodies delivered to your door. Join me in my journey and learn to make anything gluten free.
One last note, of course you can use any combination of summer fruits in this English dessert; redcurrants, blackcurrants, raspberries even strawberries. Just remember the resulting colour will vary depending on the fruits you choose. I was thrilled with the fact that on this occasion these gluten free summer puddings came out with mottled colouring almost like a purple animal print; quite funky really (my kids would moan If they read this, 'FUNKY! Really mum').
Gluten Free Summer Pudding Recipe
Boozy Gluten Free Summer Pudding
A straight forward, no fuss Summers Pudding dessert using up seasonal red fruits and berries. Simple to make gluten free, dairy free and vegan if you wish, and for that extra kick add a slug of booze, because why not!
Ingredients
11-12

slices

gluten free bread

trim off the crusts

150

g

pitted cherries

150

g

blackberries

2

tbsp

sherry

brandy, kirsch or another spirit will work

1

tbsp

caster sugar

spray oil

to grease containers
Instructions
Using a circle cutter, cut out 4 circles of bread to fit the bottom of the container and set aside.

Using a circle cutter, cut out 4 circles a fraction smaller than the top of the container and set aside.

Continue to cut the remaining bread into two rectangles (I cut top to bottom to create two long sided rectangles) You'll need 8 rectangles in total.

(How are your building skills) Don't throw away the trimmings just yet, you may need them for patching.

In a saucepan, or jug if microwaving, add the fruit, sugar and booze. Heat until fruit has softened. No need to boil.

Strain the fruit into a large enough bowl to dip your bread.

Oil the pudding containers and soak your circles in the fruit juices until all the bread has turned colour. Pop a circle into each container.

Repeat soaking with your bread rectangles and line each pudding container. If you're lucky (like me) two rectangles will do the job and there's no need to patch. [look at notes below to see what you can do with any left over bread pieces/crusts]

Spoon the fruit into each bread casing and after soaking the last four larger circles of bread seal the fruit inside (I admit to adding a tiny bit more booze before sealing my fruit in, naughty I know!)

Cover the whole pudding in clingfilm and pop in the fri

dge overnight, this will continue the process of the fruit juices soaking into the bread and set the pudding.

When ready to eat gently release the side of the summers pudding with a knife and turn out onto a plate, serve with cream, yogurt or dairy free alternatives and if you're fancy like me pop some fruit on the top to make it extra pretty!
Notes
I always bag up any bread off cuts and crusts and either freeze and keep adding to the bag, or if I have enough, use straight away in a bread pudding recipe
Nutrition
Nutrition Facts
Boozy Gluten Free Summer Pudding
Amount per Serving
% Daily Value*
* Percent Daily Values are based on a 2000 calorie diet.
Have you tried this recipe?
Let me know how it was & I will be super grateful. Take a picture & tag me @glutarama on your social media posts – I love seeing your photos more than you will ever know x
I love to see your own photos of my bakes, dinners and treats head to your favourite social media account and don't forget to tag me in @glutarama
Subscribe to my email list so that you get NEW recipes straight in your mailbox every Friday PLUS a FREEBIE and access to some amazing gluten free DISCOUNTS
Don't lose my Boozy Gluten Free Summer Pudding, pin it!
And one last thing! I've linked my Boozy Gluten Free Summer Pudding with these other awesome bloggers pages, go check them out
disclaimer: I've started using affiliate codes on my website again (needs must). If you click on any of the links in the post and make a purchase my family will benefit from a small % of that purchase at no extra cost to yourself.