I tried about 5 Gluten Free Madeleines recipe variations before I finally got them right, the trick is to be patient, these little beauties love to relax before being baked! I love the fact that they have a laid back French attitude! I eventually settled for a recipe by Michel Roux Jr. and adapted it with a few tweaks to be a Gluten Free version.
I remember making a batch of these for a couple of friends I was having over, one of the friends happened to be Mel, from Le Coin de Mel…in hindsight I could have baked a less stressful bake given the fact that Mel is French and was well rehearsed in the art of making Madeleines.
On the plus side she offered to photograph them for me, so you'll be forgiven for thinking that these are my high quality images but nope this was all Mel's handy work!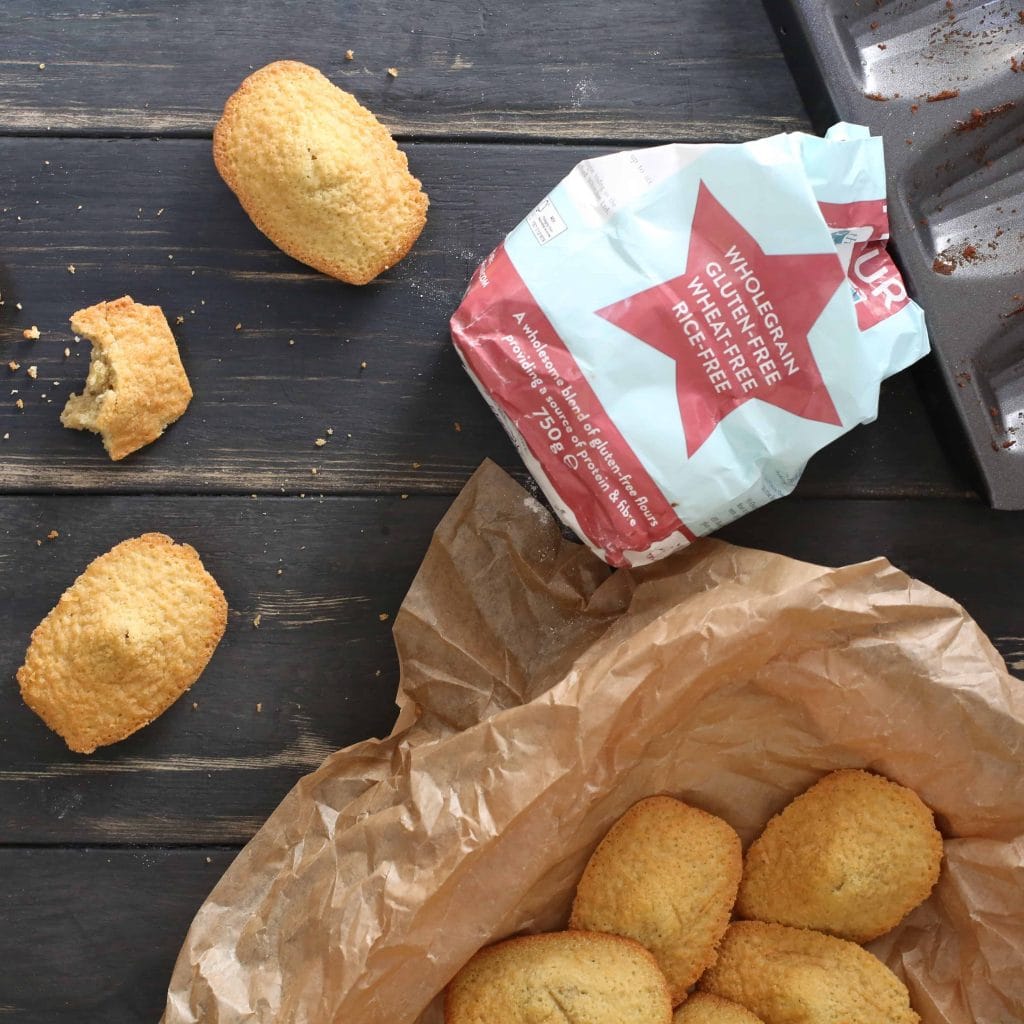 One super tip Mel gave me was to rest your Madeleines batter for an hour and a half – yes really, that long, so I'm going to attempt mine again with a longer resting period, these were only rested 30mins.
UPDATE: Oh-my-goodness, you MUST rest them for as long as Mel recommends, they are so much better. the rise is better, the crumb and aeration is better. I would take more up-to-date photo's but I love Mel's photos so much I don't want to replace them. Maybe nest time I bake them I'll just add one of my new photos so you can see the difference. Watch this space!
How many Madeleines does this recipe make?
This recipe is for 12-14 Madeleines but be warned, when your back is turned they have a habit of mysteriously disappearing from the cooling rack so I've learnt to make double, sometimes triple the amount just so that I get a look in too! Sadly these do not keep well but given the previous sentence I can't imagine you'd have any left for another day!
If you hadn't realised, you can adjust my recipes two ways.
click on the number or portions/cakes and change it to the number you want
click on the handy up-scale recipe buttons x2 / x3 to get double or triple the quantities.
The History of Madeleines
I love to research old and traditional bakes and I always forget the history behind Madeleines. This is probably due to the fact that the origin of the Madeleine is a bit of a mystery. Some believe it originates in Lorraine in France and is linked to the household of a Duke where a cook named Madeleine was instrumental in the baking of the treats.
Another version links the little cakes to the French Royal household and a third describes a little girl called Madeleine on pilgrimage from Spain who came across the cakes on her journey and returned to Spain with the French recipe.
Whichever story you believe, the Madeleine is a popular snack in France to this day still and the English have adopted the recipe and made it their own.
Can I make these Madeleines Dairy Free?
Yes you most certainly can. I'd recommend using a dairy free alternative that has the highest fat content so you can still achieve the nutty burnt butter to coat the madeleine tin. I know this is possible as I have done the very same with my Roast Banana Buns [see below for image and link]
Can I make egg free/vegan Madeleines?
I have not tried this recipe with a straight swap for a vegan alternative to eggs (I normally use a flaxseed egg) however, I have made English Lavender Madeleines – a free from treat. If you do try to make this with an egg alternative I'd love to know how you get on so please do pop back and let me know or tag me @glutarama on social media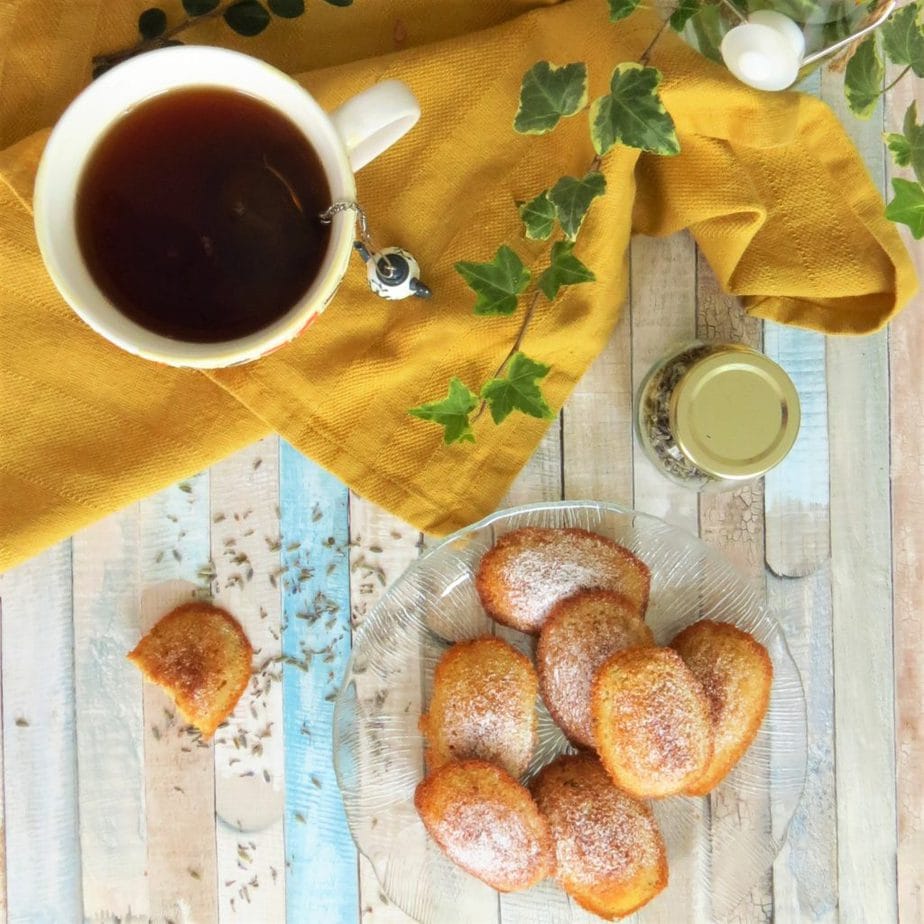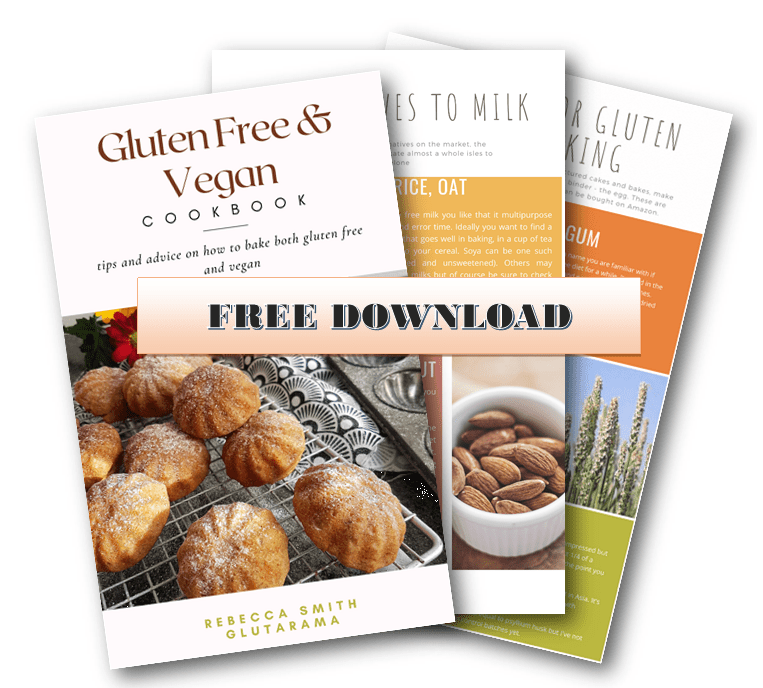 Never miss out again…
Sign up to my weekly Friday newsletter and not only get a FREE e-Book (currently my Gluten Free & Vegan Cookbook) but also get VIP subscriber discounts on free from goodies delivered to your door. Join me in my journey and learn to make anything gluten free.
Other delicious Gluten Free Baking Ideas
I've taken the liberty of adding a link to a bumper recipe collection at the bottom of this page – my 20 Gluten Free Desserts and Puddings but here are some other recipe ideas to get your teeth stuck into.
Easy Gluten Free Madeleines Recipe
If you make it and like the recipe I would be eternally grateful if you popped back and commented leaving a star rating as this will tell search engines that this recipe is worth checking out and others will get to find it in searches.
Madeleines
These Gluten Free Madeleines are deliciously tempting little cakes with a buttery coating – irresistible. Can be made dairy free if you wish. Perfect little morsels to go with a lovely cup of tea. Even better for picnics.
Ingredients
2

egg(s)

100

g

caster sugar

100

g

gluten free plain flour

1

lemon

juice and zest

1

tsp

baking powder

100

g

butter

melted and cooled
Instructions
Brush the Madeleine tin with melted butter (if you want a real authentic nutty taste you can melt a knob of butter in a pan until it just starts to change colour) dust tray with flour and tap off excess.

Whisk together the eggs and sugar in a bowl until frothy and light.

Add your cooled butter and whisk again until thoroughly incorporated

Add the flour and lightly fold in with the whisk

Finally, add the lemon juice and zest and leave the mixture for 1.5hrs … be patient!

NOTE: you can leave these in the fridge if its a hot day, or simply leave on the side in the kitchen, just remember to cover it to prevent flies…or naughty finger dipping!

Set your oven to 180°C | 160°C fan | 350°F | Gas 4

Fill the Madeleine tin to the top of each mould.

Bake for 10mins and enjoy the wonderful smells that emit from your oven!

Either allow to cool for later or eat while still warm – utter bliss!
Notes
Top Tip:
I cannot stress how important it is to leave this mixture for at least 30mins it makes a huge difference and can literally lead to the rise or fall of your Madeleine's.
Nutrition
Nutrition Facts
Madeleines
Amount per Serving
% Daily Value*
* Percent Daily Values are based on a 2000 calorie diet.
Have you tried this recipe?
Let me know how it was & I will be super grateful. Take a picture & tag me @glutarama on your social media posts – I love seeing your photos more than you will ever know x
I love to see your own photos of my bakes, dinners and treats head to your favourite social media account and don't forget to tag me in @glutarama
Subscribe to my email list so that you get NEW recipes straight in your mailbox every Friday PLUS a FREEBIE and access to some amazing gluten free DISCOUNTS
*disclaimer: I use affiliate codes on my website, the vast majority are to Amazon. If you click on any of the links or images in the post and make a purchase my family will benefit from a small % of that purchase at no extra cost to you, in fact, for full transparency, in 2020 I made my first £25, and recently in 2022 I reached my next £25 (Amazon don't transfer the money until you reach £25). As you can see, it won't make me a millionaire but it will treat me to a few coffees, Lord knows I need the caffeine!
Join my friendly Facebook Group
life's a drama, gluten free doesn't have to be….