This recipe for Ginger Bliss Balls is ridiculously easy to make (as long as you don't mind getting sticky fingers!) and so, so filling.
The idea behind this type of recipe is to tick a few boxes; it's made with unrefined sugars, it's no bake therefore a raw recipe and it's packed with nutrients and slow release carbs. This is why you see lots of recipes like this on fitness websites. It's kind of the baby sister of protein bars I guess.
What's so good about a bliss ball then?
These are ideal for post exercise for the reason I mentioned above, the slow release ingredients in the recipe are high in fibre too so great to get your blood sugars up and keep them up until you have a meal. The nuts also give you an element of calcium which those following a diary free or vegan diet 55 Ginger Bliss Balls so I am not for once second saying that these are the answer! I also think it's physically impossible to eat that many, they REALLY are so filling.
Another great thing about these raw bliss balls is that, as I keep mentioning, they are filling so you'll only need 1 maybe two with a glass of water to do the job and fill you up. the fact that they are little walnut-sized balls is perfect portion control.
Dates on their own are rich in iron, potassium, calcium, magnesium, and they are the main source of fibre in this recipe. They are also rich in calories, making them a great energy source. Plus, because they are so sweet in taste, dates are a great alternative to refined sugars, hence no need to add sugar to this recipe.
Can I use fresh ginger instead of crystallised ginger?
Yes of course you can, but be prepared to need to add more dates as the fresh ginger will not have the same 'sticky' value to add to the recipe.
I would recommend a 1 inch piece of peeled ginger root that's been chopped and then added to the food processor. This change of ingredient will make the Ginger Bliss Balls far more punchy in flavour with a real ginger kick. It will also lessen the over all sweetness of the balls so coating every ball with chocolate would be advised if you were hoping for this snack to hit the sweet spot.
Fresh ginger will also make these delicious bliss balls multi tasking treats. As many know, ginger is an anti-inflammatory and a great aid for the digestion. It also helps to lower blood sugars and reduce nausea or morning sickness.
If my daughter liked dried fruits these would be perfect for her Diabetes as she often needs a little carb-filled but slow release snack post exercises – if you want to read more about Bethany and her Type 1 Diabetes you can find information here Type 1 Diabetes and us: diagnosis story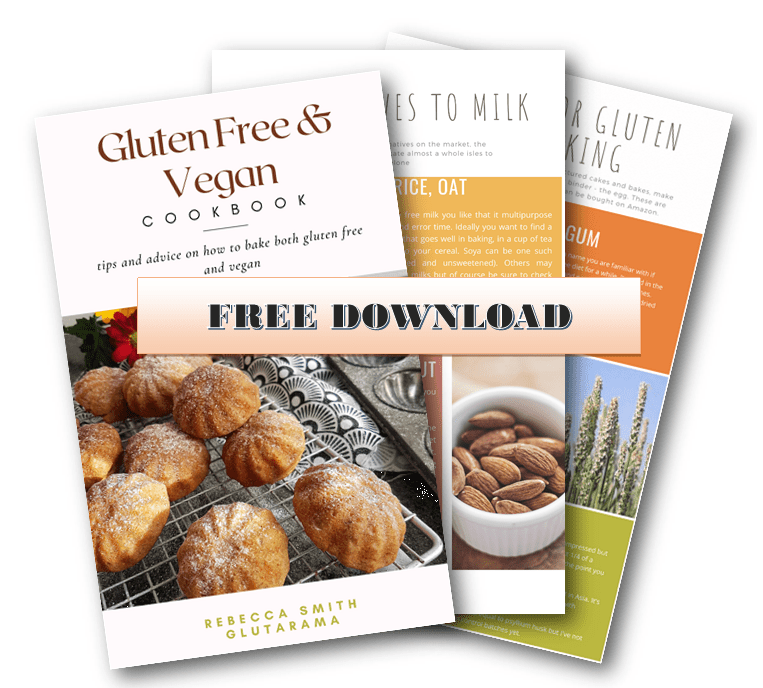 Never miss out again…
Sign up to my weekly Friday newsletter and not only get a FREE e-Book (currently my Gluten Free & Vegan Cookbook) but also get VIP subscriber discounts on free from goodies. Join me and learn to make anything gluten free.
What's the difference between cocoa and cacao powder?
You may be scratching your head and wondering what this cacao is in my Ginger bliss balls recipe. I'll admit to wondering what the difference was myself a few years back.
In basic terms. the difference between the to two coco-related foods is the production process. Cocoa is our age-old recognisable bitter dark brown powder that is use in baking and hot chocolate. Sometimes you find cocoa is sold with added ingredients such as salt sugar and sometimes preservatives.
Cacao is produced at far lower temperatures than cocoa and this is the key to this powder being sold as a super food with additional health benefits. At the end of the day, both are sugar free (usually) and both create a healthier chocolate alternative but with cacao you are more likely to receive additional minerals, namely iron, potassium and magnesium and is has higher levels of fibre too.
If you love the idea for these gluten free ginger bliss balls then I reckon you'd be interested to find out that there are other delicious no bake recipes on this website to suit all needs. Whether you need a post exercise fix, an afternoon pick-me-up or just a cheeky sweetie I bet I have something that will interest you here in my Top 12 No Bake Recipes – all gluten free, quick and easy.
Ginger Bliss Balls Recipe
Ginger Bliss Balls
These gluten free Ginger Bliss Balls are the perfect afternoon pick-me-up. Made from naturally free from ingredients and dairy free and vegan, these suit most special diets. Easy to make and store for 2 weeks in the fridge – if they last that long!
Ingredients
100

g

cashews

100

g

dates

70

g

ground almonds

70

g

crystallised ginger

50

g

coconut oil

40

g

buckwheat flour

or coconut flour

2

tbsp

carob powder
To coat
100

g

85% dairy free dark chocolate

or your favourite dairy free chocolate
Instructions
Add the cashews to the blender and blitz for a few seconds then pop all the remaining ingredients in a blender and blend until thoroughly combined (the mixture should start to clump together in the blender.

Check the mixture clumps by scooping out a teaspoon and squeeze into the palm of your hand. If the mixture is too dry and crumbles add a few more dates to make the mixture more sticky.

Using the teaspoon take walnut sizes clumps of mixture and roll into balls and place on a tray or plate

Once all the mixture has been balled, heat the chocolate in the microwave, careful not to burn.

Dip the balls into the chocolate and place on a piece of baking paper or other non stick mat.

I tend to leave some un-coated in chocolate, it's a personal preference and gives me a choice when I go to the fridge depending on how sweet a tooth I have at the time!

Pop in the fridge for at least 30mins

They're ready!
Notes
I really LOVE ginger so if like me you want your Ginger Bliss Balls to pack a punch you could try the same recipe with an inch of peeled and chopped fresh ginger. This will reduce the sugar levels too.
If you don't have buckwheat in your cupboards, plain GF will do or corn, tapicoa, rice coconut…don't be scared to play with the recipe. I have tried with both buckwheat and coconut and both work just as well.
Nutrition
Nutrition Facts
Ginger Bliss Balls
Amount per Serving
% Daily Value*
* Percent Daily Values are based on a 2000 calorie diet.
Have you tried this recipe?
Let me know how it was & I will be super grateful. Take a picture & tag me @glutarama on your social media posts – I love seeing your photos more than you will ever know x
I love to see your own photos of my bakes, dinners and treats head to your favourite social media account and don't forget to tag me in @glutarama
Subscribe to my email list so that you get NEW recipes straight in your mailbox every Friday PLUS a FREEBIE and access to some amazing gluten free DISCOUNTS
*disclaimer: I use affiliate codes on my website, the vast majority are to Amazon. If you click on any of the links or images in the post and make a purchase my family will benefit from a small % of that purchase at no extra cost to you.

For full transparency, in 2020 I made my first £25, and in 2022 I reached my next £25 (Amazon don't transfer the money until you reach £25). I'm now up to £17.80 for 2023 so edging closer to the magical £25 mark!!

To date I have made £69.28 since I first started the scheme in 2017. It won't pay the bills, that's for sure but it does help to pay for ingredients or little treats to cheer me up!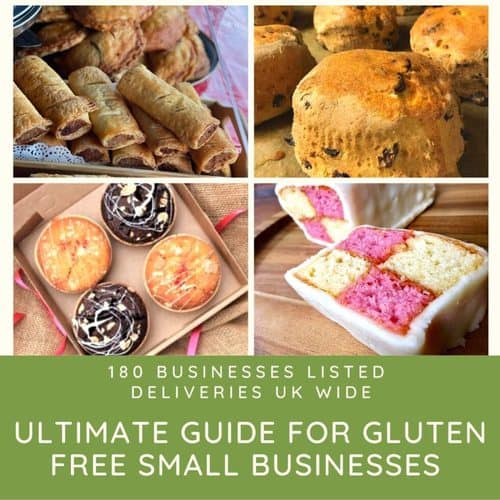 Fancy buying yourself a treat or a gift for a loved one this festive season, then go small…small businesses' that is!

Guide for Gluten Free small businesses that deliver across the UK

— Glutarama, supporting small businesses
---