This small but perfect round up of 12 No Bake Recipes is ideal for hot summer days. I don't know about you, but there is no way I want to be baking in my kitchen on a hot summers or spring day. Shame really given the fact I'm a free from recipe developer that specialises in gluten free cakes and bakes!
I actually did some research on the no-bake subject and so many people are currently asking Google; What can I bake without oven or What food can you make without cooking? I'll admit to frowning over the first question, bake-without-oven. Surely that's not actually possible?
But, even I have to admit defeat at these times and seek refuge in simple delicious no bake recipes to keep my sweet tooth happy and keep my energy levels up. On that note, is it just me who seems to suffer with 3pm energy wipe-outs? I used to chuckle at older relatives not being able to keep their eyes open in the afternoons and vowed that would never be me. Move over older relative, I need to nap on this sofa too thank you very much!
Okay, it's not gotten that bad yet (yet) but with one of these delicious treats waiting for me in the fridge to accompany my afternoon coffee I should be able to beat off the afternoon naps for a while longer, there's still life in this ole girl!
No Bake Recipes for Energy Boosting Snacks and Treats
The first few treats for you to feast your eyes upon are super indulgent-looking chocolaty treats. The trick is that most of them actually have very few naughty ingredients in them. The secret to the sweetness is they they are all made using dried fruits so packed with unrefined fructose rather than glucose. They are also slower burning, handy to know for those in the same boat as my daughter who has Type 1 Diabetes (you can read more about that here if you fancy it: Type 1 Diabetes and us: the full diagnosis story)
Scroll down the recipe extracts below and click on anything that takes your fancy…
Raw Cherry Chocolate Squares
Deliciously simple to make and the perfect afternoon pick-me-up snack for that energy lull or a post school or workout treat. Gluten free, dairy free and vegan this cherry chocolate treat is always a winner.
Check out this recipe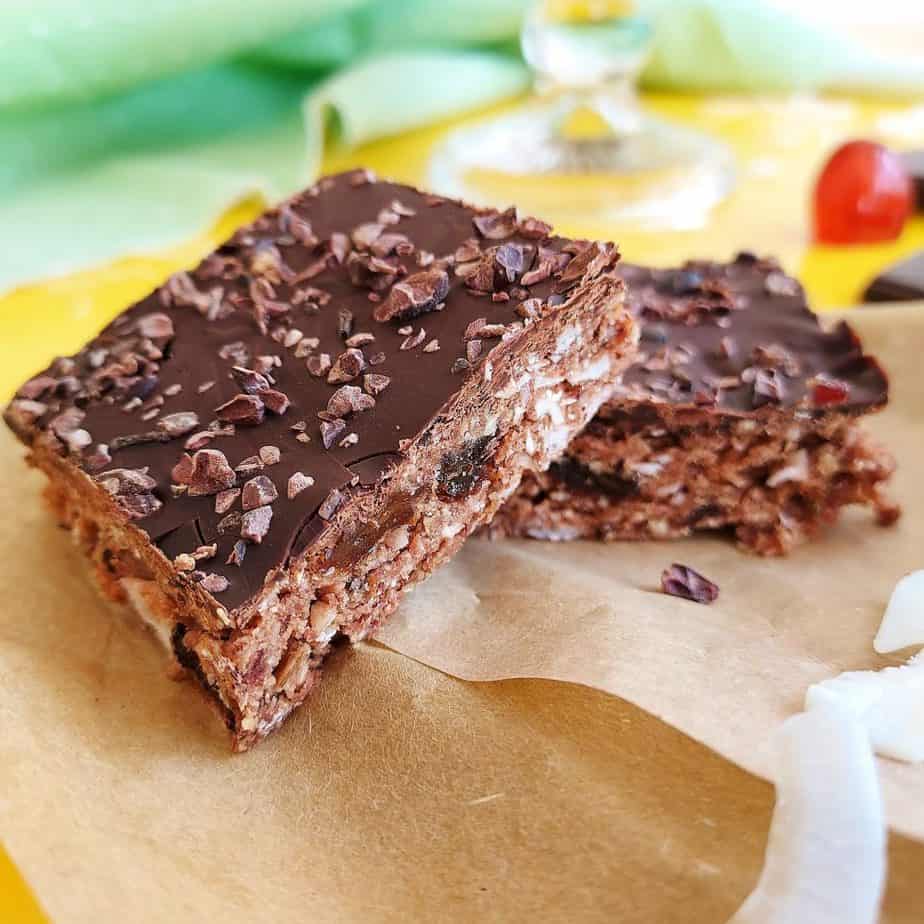 Gluten Free Chocolate Sausage or Salami
A ridiculously simple recipe with the most impressive looking results, this gluten free chocolate sausage (or salami) is made in minutes and can keep in the fridge for ages (apparently, mine never last that long!)
Check out this recipe
Gluten Free Raw Cookie Dough Truffles
This is so simple yet incredibly effective. Everyone is bound to be impressed with these delicious sweet treats that are gluten free, and can easily be made dairy free and vegan just by swapping out the butter.
Check out this recipe
Raw Chocolate Snack Squares
Deliciously simple to make, these Raw Chocolate Snack Squares are a no-bake alternative to the chocolate brownie. Great for having on stand-by during those hotter months when you can't stand to be in the hot kitchen but crave a gluten free treat to boost those energy levels.
Check out this recipe
Fruit and Nut Chocolate Truffles
So simple to make yet guaranteed to impress, these make a perfect teatime treat or better still a gift for a loved one, and as these are gluten free, dairy free, egg free and vegan, they're a treat for all the family.
Check out this recipe
Ginger Bliss Balls
These gluten free Ginger Bliss Balls are the perfect afternoon pick-me-up. Made from naturally free from ingredients and dairy free and vegan, these suit most special diets. Easy to make and store for 2 weeks in the fridge – if they last that long!
Check out this recipe
Apricot Cacao and Prune Slice
Not as difficult as it looks, these Apricot Cacao and Prune Slices are actually really simple to make yet impressive enough to gift. A great alternative to baked goods, these can be kept in the fridge and used to snack on for up to a month.
Check out this recipe
Never miss out again…
Sign up to my weekly Friday newsletter and not only get a FREE e-Book (currently my Gluten Free & Vegan Cookbook) but also get VIP subscriber discounts on free from goodies delivered to your door. Join me in my journey and learn to make anything gluten free.
Make a no-bake gift for someone
Here's a fun idea. How about making four or more of the recipes featured above and instead of using a square brownie tin. make them in mini muffin cases or a mini muffin tin. Then you can sort them into collections of no bake treats in little gift boxes for friends and family, they could even make excellent wedding favours for guests who have dietary requirement (obviously check with those guests for allergies – I'm not accepting any responsibility for reactions, no sir-ee!)
The next two no bake recipes are for the more healthy minded of you who crave a mid-afternoon energy boost but would rather not pump your veins full of sugar (refined or otherwise). My Raspberry and Blueberry Bliss Balls are soft and creamy in texture with natural sugars from the fruits and an optional boost of sugar but only if you want.
This makes them perfectly versatile fruity treats to get you through the afternoons whether you're needing the energy for the school run, the last push in the office or keeping focused when working from home.
Raspberry Bliss Balls
These simple to make Raspberry Bliss Balls are an excellent healthy snack for post workout, afternoon dips in energy or after school snacks. Naturally gluten and dairy free and packed with vitamins, minerals and fibre.
Check out this recipe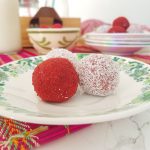 Blueberry Bliss Balls
A quick and simple healthy snack, these blueberry bliss balls are the perfect energy pick-me-up as they are packed with nutrients and minerals.
Check out this recipe
No Bake Dessert Inspiration
The final three recipes in this round up feature two oh-so-simple Fools with a delicious gluten free crumble topping and a lemon cheesecake if you have a little bit more time on your hands.
The fools can be made any time of year, assuming you have a stash of frozen berries, and if not there is always canned gooseberries to the rescue. Why not change the fruit altogether and opt for an apple pie filling or a cherry pie filling straight from the tin. Even if you make these for guests the assembled fools will still look the business and give the impression you spent time making them.
Lemon Cheesecake
This is a seriously lemony lemon cheesecake, be prepared to have your palette cleansed and your sense awakened!
Check out this recipe
Gooseberry Fool Crumble
A deliciously light and rich summer fruit dessert using a popular summer berry that reminds me of my childhood. This can be made so easily, no fuss and both gluten free and dairy free plus vegan. This Gooseberry Fool Crumble is so creamy that you'll be forgiven for thinking its full of dairy cream despite being free from.
Check out this recipe
Blackberry Crumble Fool; gluten free and dairy free
Such a simple little dessert to whip up in no time at all, the perfect match for seasonal fruits of all kinds and easily adapted to be gluten free, dairy free, vegan or not, your choice! This happens to be a top dessert choice around the blackberry picking season.
Check out this recipe
Do you have any go-to no bake recipes that you love and that keep the energy levels up? I'd love to hear about them. Maybe you have something you use to rely on but after finding out you couldn't eat a certain food you've failed to find a suitable replacement?
Let me know, because I do so love a challenge and have often made readers favourite recipes in the past so they can once again enjoy them.
Other recipe round ups you may be interested in…
20 Heavenly Summertime Gluten Free Desserts to make at home
30 of the Best Homemade Gluten Free Cake Recipes
Pancake Day! Enjoy a Happy Free From Shrove Tuesday
20 Gluten Free Festive Desserts and Toppings for Christmas Puddings
Ingredients and Simple Recipes for a Gluten Free Veganuary
The Best Gluten Free Pizza Bases you can buy
I really love to read your comments and feedback and will always comment back. Do drop a line in the comment section if you liked this post I would love to hear your thoughts, if you share photos of your delicious creations, please do tag me or use the hashtag #Glutarama on Facebook, Twitter and Instagram.
Subscribe to my email list so that you get all my reviews and recipes straight in your mailbox PLUS a FREEBIE and access to some amazing gluten free DISCOUNTS
Don't lose this delicious recipe in the great world wide web – pin it!
Fancy buying yourself a treat or a gift for a loved one this festive season, then go small…small businesses' that is!

Guide for Gluten Free small businesses that deliver across the UK

— Glutarama, supporting small businesses
---
*disclaimer: I use affiliate codes on my website, the vast majority are to Amazon. If you click on any of the links or images in the post and make a purchase my family will benefit from a small % of that purchase at no extra cost to you, in fact, for full transparency, in 2020 I made my first £25, and in 2021 I've clocked up £10 – so it won't make me a millionaire but it will treat me to a few coffees, Lord knows I need the caffeine!