This page contain affiliate links. Please refer to my Disclosures Page for more details.
Also, before you hit 'Jump to Recipe' just check my contents section 'Skip to the Good Bit' below. I may answer a query you have about this recipe straight away in the post.
This small but perfectly formed round up of my top easy Gluten Free No Bake Recipes is ideal for those days you can't stand to be in the kitchen. I don't know about you, but there is no way I want to be baking in my kitchen on a hot summers or spring day. Shame really given the fact I'm a free from recipe developer that specialises in gluten free cakes and bakes!
I actually did some research on the 'no-bake on hot days' subject, and so many people asked Google; What can I bake without oven or What food can you make without cooking? I'll admit to frowning over the first question, bake-without-oven. Surely that's not actually possible?
But now, as I pop back here from time to time to add more recipes, I find that people are Googling these topics all year round. It a sad state of affairs but we are in difficult time (2023) where people cannot afford to turn the oven on.
I can't guarantee these recipes are cheap but they're easy and safe to eat.
No Bake Recipes for Energy Boosting Snacks and Treats
The first few treats for you to feast your eyes upon are super indulgent-looking chocolaty treats. The trick is that most of them actually have very few naughty ingredients in them. The secret to the sweetness is they they are all made using dried fruits so packed with unrefined fructose rather than glucose. They are also slower burning, handy to know for those in the same boat as my daughter who has Type 1 Diabetes (you can read more about that here if you fancy it: Type 1 Diabetes and us: the full diagnosis story)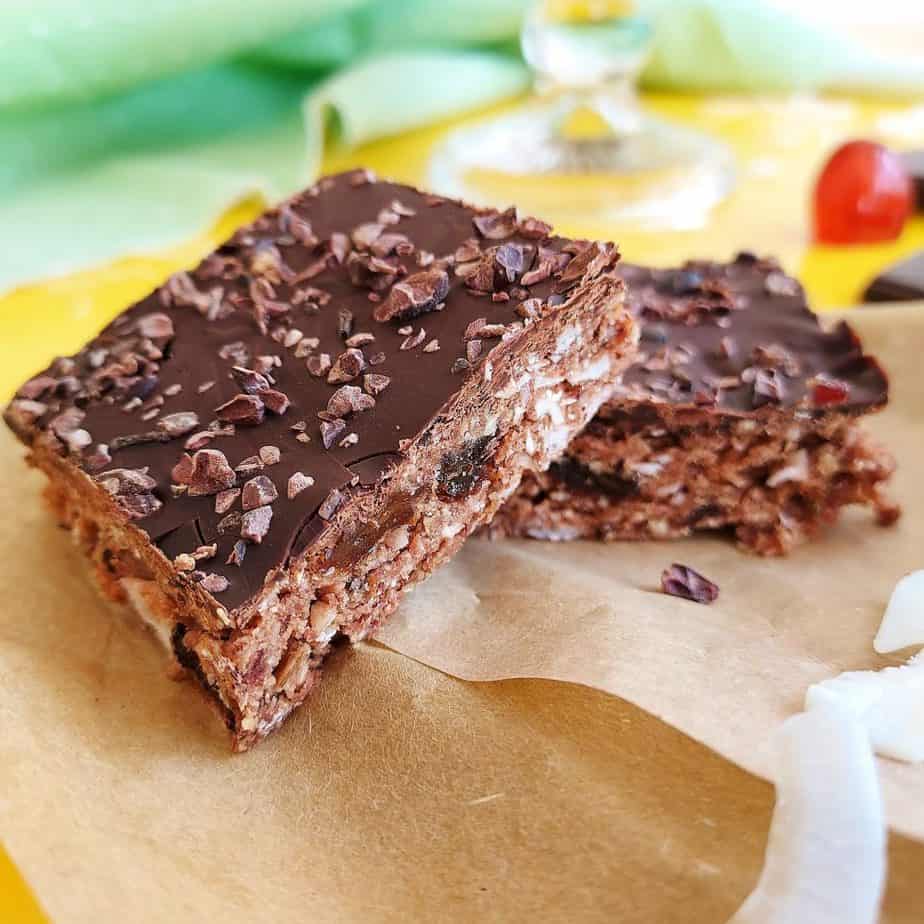 Scroll down the recipe extracts below and click on anything that takes your fancy…
Make a no-bake gift for someone
Here's a fun idea. How about making four or more of the recipes featured above and instead of using a square brownie tin. make them in mini muffin cases or a mini muffin tin. Then you can sort them into collections of no bake treats in little gift boxes for friends and family, they could even make excellent wedding favours for guests who have dietary requirement (obviously check with those guests for allergies – I'm not accepting any responsibility for reactions, no sir-ee!)
The next two no bake recipes are for the more healthy minded of you who crave a mid-afternoon energy boost but would rather not pump your veins full of sugar (refined or otherwise). My Raspberry and Blueberry Bliss Balls are soft and creamy in texture with natural sugars from the fruits and an optional boost of sugar but only if you want.
This makes them perfectly versatile fruity treats to get you through the afternoons whether you're needing the energy for the school run, the last push in the office or keeping focused when working from home.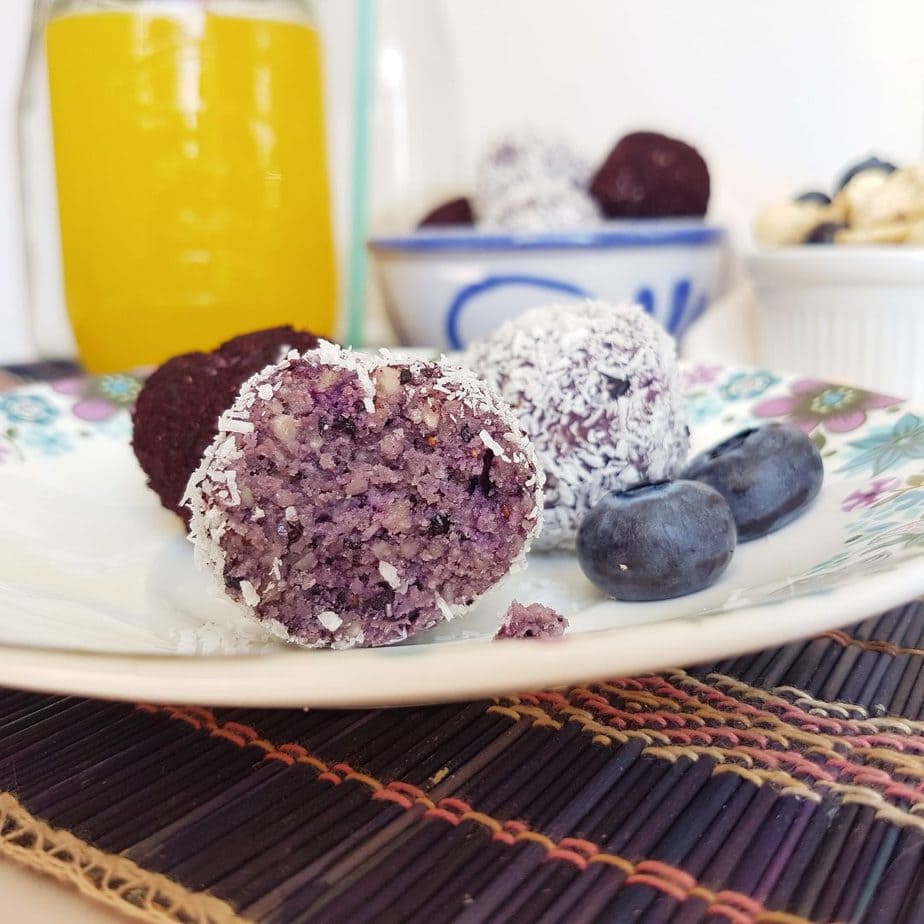 No Bake Fruit Fool Dessert Inspiration
The fools can be made any time of year, assuming you have a stash of frozen berries, and if not there is always canned gooseberries to the rescue. Why not change the fruit altogether and opt for an apple pie filling or a cherry pie filling straight from the tin. Even if you make these for guests the assembled fools will still look the business and give the impression you spent time making them.
Indulgent No Bake Chocolate Desserts
This is a recipe collection I plan to increase so make sure you're signed up to my newsletter so you never miss a recipe.
Super Simple No Bake Cheesecakes
Once you master the basics for a cheesecake there really is no stopping you. Not only have I got gluten free no bake cheesecake recipes on my website, I also have lots of dairy free and vegan cheesecake recipes too. In my posts I go into detail on what are the best plant based creams too if this is relevant and answer any other questions you might have about the ingredients or method.
Do you have any go-to no bake recipes that you love and that keep the energy levels up? I'd love to hear about them. Maybe you have something you use to rely on but after finding out you couldn't eat a certain food you've failed to find a suitable replacement?
Let me know, because I do so love a challenge and have often made readers favourite recipes in the past so they can once again enjoy them.
Other recipe round ups you may be interested in…
20 Heavenly Summertime Gluten Free Desserts to make at home
30 of the Best Homemade Gluten Free Cake Recipes
Pancake Day! Enjoy a Happy Free From Shrove Tuesday
20 Gluten Free Festive Desserts and Toppings for Christmas Puddings
Ingredients and Simple Recipes for a Gluten Free Veganuary
I love to see your own photos of my bakes, dinners and treats head to your favourite social media account and don't forget to tag me in @glutarama
Subscribe to my email list so that you get NEW recipes straight in your mailbox every Friday PLUS a FREEBIE and access to some amazing gluten free DISCOUNTS
*disclaimer: I use affiliate codes on my website, the vast majority are to Amazon. If you click on any of the links or images in the post and make a purchase my family will benefit from a small % of that purchase at no extra cost to you.

For full transparency, in 2020 I made my first £25, and in 2022 I reached my next £25 (Amazon don't transfer the money until you reach £25). Recently I got paid a whopping £27.10 for 2023.

So to date I have made £78.58 since I first started the scheme in 2017. It won't pay the bills, that's for sure but it does help to pay for ingredients or little treats to cheer me up!