I can't believe I'd never tried these before until now, these little beauties are so cute and fun to make. Warning! if, like me you decide to make multiple coloured macaroons, you need to be in the best of baking moods and patient because it can be a bit of a fiddle plus you need multiples of the equipment and that only means one thing …. loads of washing up (when, oh when will I be blessed with a dishwasher!) This recipe isn't my own, I searched and found a straight forward one on the Delicious Magazine website. For my first attempt I'm pretty chuffed with these, yes they could have been a better colour and yes I was impatient and put one batch in way too early causing them to crack but you live and learn….can't wait to do my next batch!

Never miss out again…
Sign up to my Friday newsletter and receive not one, but THREE FREEBIES.
GF and Vegan e-Book
conversion charts
3 simple guides to allergies, intolerances & autoimmune.
Join me and learn to make anything gluten free.
Other teatime treats you might like to try
I have so many delicious gluten free tea time treats now, it's difficult to know which ones to share here, but I'll have a go. How about these Gluten Free Cream Horns – a real teatime treat, or what about my recipe for Easy Gluten Free Apple Turnovers with a hint of cinnamon and finally, I'm sure you'll love this recipe for Deliciously Moist Homemade Gluten Free Malt Loaf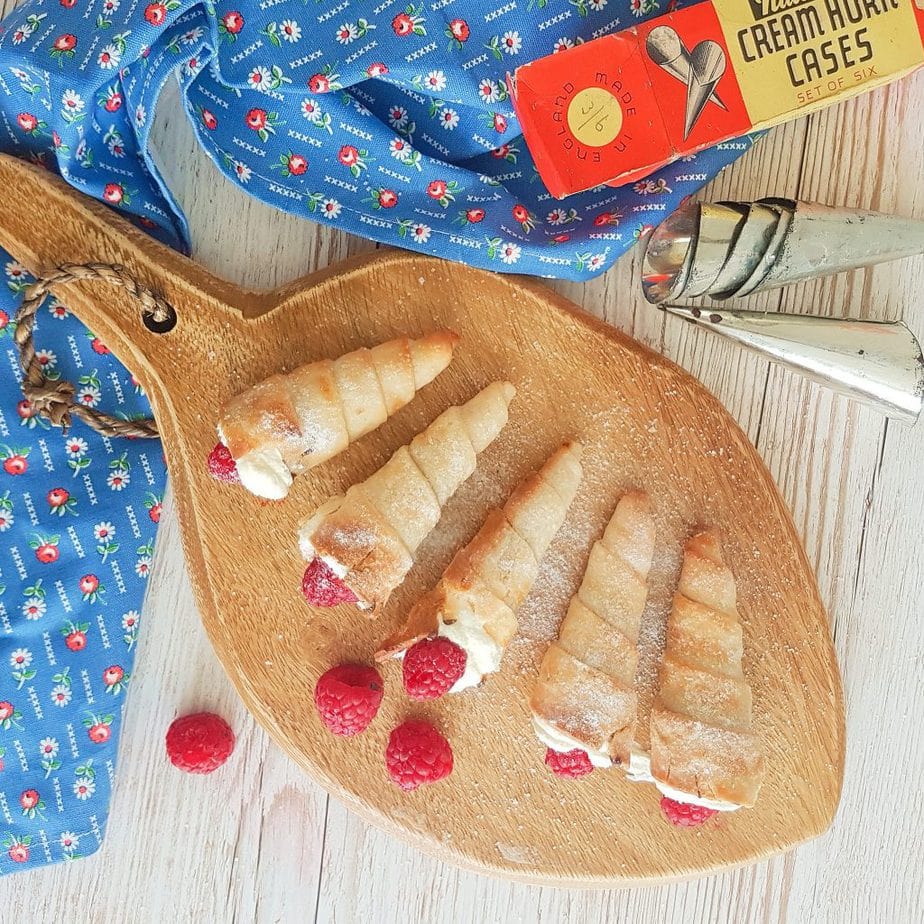 Simple Macaroons Recipe
Macaroons
A simple Macaroon recipe that you'll come back to time and time again. These also make the perfect gift.
Ingredients
175

g

icing/confectioners sugar

125

g

ground almonds

3

large egg(s)

75

g

caster sugar
For the filling
150

g

butter

softened

75

g

icing/confectioners sugar
Instructions
Preheat the oven to 150°C | 130°C Fan | 300°F | Gas 2.

Whizz the icing sugar and ground almonds in a food processor to a very fine mixture, then sift into a bowl.

In a separate bowl, whisk the egg whites with a pinch of salt to soft peaks, then gradually whisk in the caster sugar until thick and glossy. (At this point you can stir in flavour extract, such as peppermint or lemon, and corresponding colouring such as blue or yellow, to your meringue mixture, depending on what kind of macaroons you want. Or divide the meringue among different bowls if you want to make more than one colour.)

Fold half the almond and icing sugar mixture into the meringue and mix well. Add the remaining half, making sure you use a spatula to cut and fold the mixture until it is shiny and has a thick, ribbon-like consistency as it falls from the spatula. Spoon into a piping bag fitted with a 1cm plain nozzle.

Line 2 baking sheets with baking paper. Pipe small rounds of the macaroon mixture, about 3cm across, onto the baking sheets. Give the baking sheets a sharp tap on the work surface to ensure a good 'foot'. Leave to stand at room temperature for 10-15 minutes to form a slight skin. This is important – you should be able to touch them lightly without any mixture sticking to your finger. Bake for 15 minutes. Remove from the oven and cool.

Meanwhile, make the filling. In a bowl, beat the butter until light and fluffy, then beat in the icing sugar. Use to sandwich pairs of macaroons together.
Notes
I actually added less icing sugar and a generous dollop of Nutella to make a creamy chocolaty filling.
Nutrition
Nutrition Facts
Macaroons
Amount per Serving
% Daily Value*
* Percent Daily Values are based on a 2000 calorie diet.
Have you tried this recipe?
Let me know how it was & I will be super grateful. Take a picture & tag me @glutarama on your social media posts – I love seeing your photos more than you will ever know x
I love to see your own photos of my bakes, dinners and treats head to your favourite social media account and don't forget to tag me in @glutarama
Subscribe to my email list so that you get NEW recipes straight in your mailbox every Friday PLUS a FREEBIE and access to some amazing gluten free DISCOUNTS