What goes well with Rhubarb? Ginger of course! Not tried it, well let me tempt you with this Rhubarb & Ginger Crumble Cake. I can't help but smile when I see rhubarb on the shelves in the shops, you'll probably start to see the unmistakable pink stalks in store soon if you haven't already? I'm one of the lucky ones who has their own personal supplier in the form of my father-in-law who picks me some from his allotment every year. Rhubarb doesn't mind being frozen so I always cut it into inch lengths and bag portions up for freezing, that way I can have rhubarb all year round.
Nutritional Facts about Rhubarb
I had no idea rhubarb was so good for you until I did a bit of research; did you know that the stalks contain impressive levels of several B vitamins, vitamin C, vitamin K, antioxidants and minerals. I knew the leaves were toxic but never understood why; basically the leaves hold high levels of Oxalic Acid, which is highly toxic to humans. Also we'd not have the rhubarb plant here in the UK had it not been for Marco Polo who brought the plant to Europe, and it finally set root in America thanks to Ben Franklin! And guess what? It's not even a fruit, it's a vegetable, which kind of makes sense given the seed rule but still, I don't fancy it with my Sunday Roast!
Can Rhubarb & Ginger Crumble Cake be vegan too?
I've made this many times now and am thrilled to say that it works well as a vegan cake too. I've recently remade this bake and re-shot these photos and will admit to putting it off for far too long. I'd been putting if off because I didn't want to find that it didn't work well both gluten, egg and dairy free. I don't know what I would have done if I couldn't eat this cake again. But hey! I need to have more faith in my vegan baking skills, I've got the knack now so who needs dairy and eggs – not I!
What other delicious and easy recipes use Rhubarb?
well I'm so glad you asked. How about the good old fashioned Apple and Rhubarb Crumble or what about making your own preserve with rhubarb like Kitchen Talk and travels Rhubarb, Strawberry and Ginger Jam that's three amazing flavours in one! Then you could try Gluten Free Alchemists Rhubarb Curd on her almond biscuits. The possibilities are endless. But for me…this bake will always be my favourite (alongside Rhubarb Crumble of course!)
Never miss out again…
Sign up to my Friday newsletter and receive not one, but THREE FREEBIES.
GF and Vegan e-Book
conversion charts
3 simple guides to allergies, intolerances & autoimmune.
Join me and learn to make anything gluten free.
Gluten Free Rhubarb and Ginger Crumble Recipe (dairy free, vegan options)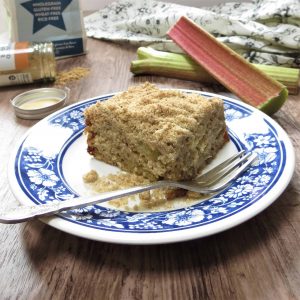 Rhubarb & Ginger Crumble Cake
A deliciously light sponge with a rhubarb layer, topped with a lightly spiced ginger crumble. Gluten free and easily make dairy free and egg free too.
Ingredients
Cake Base
170

g

unsalted butter or dairy free alternative (I use Flora plant butter)

only use 150g if using dairy free spread

170

g

Caster Sugar

170

g

Gluten Free Self Raising Flour

3

egg(s)

3tbsp flax seed & 130ml water

2

tsp

Vanilla Extract

200

g

diced rhubarb

1

tsp

psyllium husk powder (optional)

not imperative but will help stabilise sponge structure if making vegan version
Crumble Topping
125

g

gluten free self raising flour

80

g

unsalted butter or dairy free alternative (I use Flora plant butter)

50

g

Caster Sugar

add more if you prefer a sweeter crumble

2

tsp

Ground Ginger
Instructions
Preheat the oven to 180C/Gas 4

If making vegan version, make your flax eggs now, beat to incorporate. If using psyllium husk add this too and leave to stand for 5mins to thinken.

Line the bottom and grease the sides of a 20cm/20cm (8") square tin.

Add the butter and sugar to a large bowl or mixer and beat until light and fluffy.

Add the eggs or flax seed 'eggs' and vanilla extract.

Sift the flour into the bowl and mix to combine, then take 100g of the rhubarb and fold this into the cake batter.

Pour the batter into the tin and smooth to the edges.

Scatter the remaining 100g of rhubarb over the batter.

To make the crumble add the ingredients into a separate bowl and using your finger tips work into a breadcrumb mixture.

Add the crumble mixture to the top of the bake making sure to have an even cover.

Pop into the oven for 60mins

Remove from oven when crumble is golden brown and a skewer comes out clean

Allow to cool for 20mins before taking out of the tin – this helps the crumble to set.

Can be enjoyed warmed up with custard or cream or equally as tasty eaten cold.
Notes
Check on your bake after 45-50mins you may need to cover with foil for this last part of the bake to prevent the crumble from colouring too much.
Nutrition
Nutrition Facts
Rhubarb & Ginger Crumble Cake
Amount per Serving
% Daily Value*
* Percent Daily Values are based on a 2000 calorie diet.
Have you tried this recipe?
Let me know how it was & I will be super grateful. Take a picture & tag me @glutarama on your social media posts – I love seeing your photos more than you will ever know x
I've linked up this recipe with the lovely Angie over at Fiesta Friday and Stacey for Meal Plan Monday over on Southern Bite
Don't lose this recipe for Rhubarb & Ginger Crumble Cake, pin it!
I love to see your own photos of my bakes, dinners and treats head to your favourite social media account and don't forget to tag me in @glutarama
Subscribe to my email list so that you get NEW recipes straight in your mailbox every Friday PLUS a FREEBIE and access to some amazing gluten free DISCOUNTS
*disclaimer: I use affiliate codes on my website, the vast majority are to Amazon. If you click on any of the links or images in the post and make a purchase my family will benefit from a small % of that purchase at no extra cost to you.

For full transparency, in 2020 I made my first £25, and in 2022 I reached my next £25 (Amazon don't transfer the money until you reach £25). Recently I got paid a whopping £27.10 for 2023.

So to date I have made £78.58 since I first started the scheme in 2017. It won't pay the bills, that's for sure but it does help to pay for ingredients or little treats to cheer me up!
Never miss out again…
Sign up to my Friday newsletter and receive not one, but THREE FREEBIES.
GF and Vegan e-Book
conversion charts
3 simple guides to allergies, intolerances & autoimmune.
Join me and learn to make anything gluten free.