What goes well with Rhubarb? Ginger of course! Not tried it, well let me tempt you with this Rhubarb & Ginger Crumble Cake. I can't help but smile when I see rhubarb on the shelves in the shops, you'll probably start to see the unmistakable pink stalks in store soon if you haven't already? I'm one of the lucky ones who has their own personal supplier in the form of my father-in-law who picks me some from his allotment every year. Rhubarb doesn't mind being frozen so I always cut it into inch lengths and bag portions up for freezing, that way I can have rhubarb all year round.
I had no idea rhubarb was so good for you until I did a bit of research; did you know that the stalks contain impressive levels of several B vitamins, vitamin C, vitamin K, antioxidants and minerals. I knew the leaves were toxic but never understood why; basically the leaves hold high levels of Oxalic Acid, which is highly toxic to humans. Also we'd not have the rhubarb plant here in the UK had it not been for Marco Polo who brought the plant to Europe, and it finally set root in America thanks to Ben Franklin! And guess what? It's not even a fruit, it's a vegetable, which kind of makes sense given the seed rule but still, I don't fancy it with my Sunday Roast!
I've made this many times now and am thrilled to say that it works well as a vegan cake too. I've recently remade this bake and re-shot these photos and will admit to putting it off for far too long. I'd been putting if off because I didn't want to find that it didn't work well both gluten, egg and dairy free. I don't know what I would have done if I couldn't eat this cake again. But hey! I need to have more faith in my vegan baking skills, I've got the knack now so who needs dairy and eggs – not I!
In the past my Rhubarb & Ginger Cake has been topped with a divine ginger crumble mix that uses Delicious Alchemy's Oaty Cookie Mix  the cookie mix  adds a far crunchier topping. Other bakes made with this mix are my Raw Chocolate Truffle (cake pops) and my Bailey's Baked Cheesecake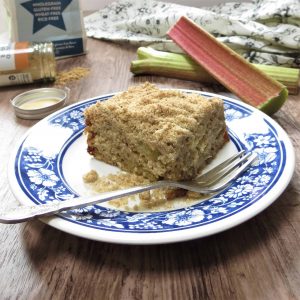 Rhubarb & Ginger Crumble Cake
Cuisine:
Free From - gluten, dairy, wheat, soya, egg
Keyword:
Cake, Ginger, Gluten Free, Rhubarb, Vegan
Ingredients
Cake Base
170

g

Unsalted Butter/dairy free spread

only use 150g if using dairy free spread

170

g

Caster Sugar

170

g

Gluten Free Self Raising Flour

3

Eggs

3tbsp flax seed & 130ml water

2

tsp

Vanilla Extract

200

g

Diced Rhubarb
Crumble Topping
200

g

Self Raising Flour

or Packet Delicious Alchemy Oaty Cookie Mix

2

tsp

Ground Ginger

60

g

Unsalted Butter/dairy free spread

50g if using packet mix
Instructions
Preheat the oven to 180C/Gas 4

Line the bottom and grease the sides of a 20cm/20cm square tin.

Add the butter and sugar to a large bowl or mixer and beat until light and fluffy.

Add the eggs or flax seed 'eggs' and beat to incorporate, add the vanilla extract.

Sift the flour into the bowl and mix to combine, then take 100g of the rhubarb and fold this into the cake batter.

pour the batter into the tin and smooth to the edges.

Scatter the remaining 100g of rhubarb over the batter.

To make the crumble add the ingredients into a separate bowl and using your finger tips work into a breadcrumb mixture.

Add the crumble mixture to the top of the bake making sure to have an even cover.

Pop into the oven for 60mins

Remove from oven when crumble is golden brown and a skewer comes out clean

Allow to cool for 20mins before taking out of the tin.

Can be enjoyed warm with custard or cream or equally as tasty eaten cold.
Recipe Notes
Check on your bake after 45-50mins you may need to cover with foil for this last part of the bake to prevent the crumble from colouring too much.
Don't loose this recipe for Rhubarb & Ginger Crumble Cake, pin it!
And one last thing! I've linked with these other awesome bloggers pages, go check them out
Cook Blog Share | Free From Fridays | Brilliant Blog Posts | Baking Crumbs | Recipe of the Week