This gluten free Rhubarb Crumble is the first gluten free crumble I made. Rhubarb is our favourite version of this British classic pudding. To be fair, we love any fruit crumble. We love it so much I can sometimes decide at the last minute to make a crumble for supper. THIS crumble recipe was the BEST EVER CRUMBLE MIXTURE. Unlike so many times before, I remembered to write this one down back in 2015 when I first made it. I've used these crumble ingredient ratios ever since.
Sure I might omit the ginger for an apple crumble and add a bit of cinnamon instead. I've even been known to add a pinch of clove to a pear crumble to spice it up. The fact remains that this is the basic fruit crumble recipe I return to for a classic crumble dessert.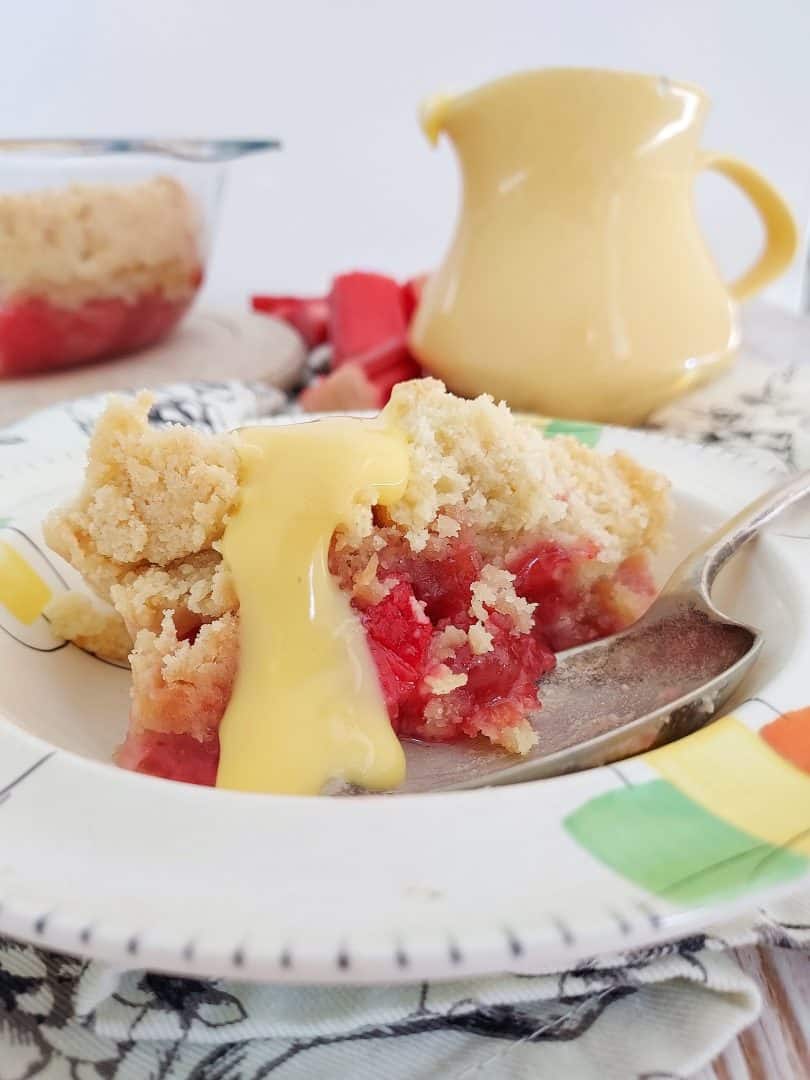 What is a crumble mix made of?
The classic crumble mixture is made of flour, butter, sugar and nothing more. The process is to add the flour and butter to a large bowl and, using your finger tips, rub the fat into the flour to make breadcrumbs, then stir in the sugar to taste. However, every household that has a history of baking has it's own personal touch on what a crumble should include.
This family favourite recipe has all of the above with the addition of ground nuts and ginger to accompany the rhubarb. Other crumbles on this website feature oats instead of almonds. Sometime I switch out the caster sugar for a demerara to add a caramelised flavour (see my Toffee Apple Crumble; gluten free and dairy free)
Crumble Troubleshooting
My crumble is too powdery – this can very much depend on the flour blend you're using. I use a white gluten free flour blend for my crumbles. The reason being the family prefer it over the more nutritious wholegrain versions that have buckwheat in them. Here in the UK we have Doves Freee From flour so this is my preferred choice.
If you find yourself in the situation whereby your crumble appears too powdery, then do this test first before you go adding more fat;
If the crumble mixture doesn't hold together and falls apart add a further 50g of butter or dairy free alternative.
The crumble isn't sweet enough – I always perform a pinch and taste test when making crumble. If I'm using a sweet fruit base then I'm inclined to leave the recipe as it is. However, if using more tart or sour fruits, you may feel a sweeter crumble is better to balance the flavour. Simply pinch a bit of the crumble and taste to see if you think it's sweet enough. If not add a little more sugar to taste.
This crumble mixture isn't crumbly – so in this recipe, as I am dairy free, I've used a Flora vegan block of fat instead of butter. You made find a variation in the crumble depending on the fat you choose to use. Using a soft margarine or dairy free spread may result in a clumpy 'wetter' mixture. Alternatively if your butter or solid fat black has begun to melt this can have the same effect.
If you find yourself with a crumble that's misbehaving and not crumbling then fear not. Add a little more flour one tablespoon at a time. Work with your fingers until you get a satisfying light crumble that resembles breadcrumbs.
I'd suggest washing your hands with cold water too. Even better use a pastry cutter like I do so you don't get crumble under your nails (so irritating that!)
What is forced Rhubarb?
I have my own young rhubarb plant at home, it's not ready for harvest yet as I've only planted it in the last year. You never harvest the first crop (this goodness must go back into the plant). Rhubarb season is around June and July. Alternatively, early in the year we have a magical product that is lovely, grown by candlelight this is the Yorkshire Forced Rhubarb.
Here's an excerpt from the website Living North but if you wish to read the whole article click the link below
Rhubarb was originally forced to provide an extra fruit in the winter when fresh fruit was difficult to come by. Purpose-built forcing sheds were first built in Yorkshire in the 1880s, but the practice really came into its own during the First and Second World Wars, when thousands of tons of the plant were produced […] During this period there were around 200 producers of forced rhubarb in the triangle, but now there are just 12.

Living North – Yorkshire Forced Rhubarb
How to prepare rhubarb?
If you are lucky enough to be using forced rhubarb then very little preparation is necessary. The stalks are long, straight and supple, making them easy to dice.
However, when using the later store bought version you will probably find that the thin green ends need to be removed. Finally, if the stalks are drier and a little woody in places, you may wish to take a peeler and shave these parts off before chopping and using in recipes.
Never miss out again…
Sign up to my Friday newsletter and receive not one, but THREE FREEBIES.
GF and Vegan e-Book
conversion charts
3 simple guides to allergies, intolerances & autoimmune.
Join me and learn to make anything gluten free.
Can I use tinned rhubarb for a crumble?
Yes you absolutely can use canned rhubarb to bake with. There are a couple of cons if using the tinned version. The first is that the texture is very different, almost slimy so this may put you off using it. The second (and more significant con for me) is that the tinned version can be a rather unappealing green/grey colour. As you can see from my photos, the fresh rhubarb, particularly forced rhubarb, is a beautiful blush colour.
if using tinned rhubarb there is no need to stew or chop, just open the tin and pour into your pudding dish ready to top with crumble. For that reason this is an excellent option if you want rhubarb crumble on the spur of the moment.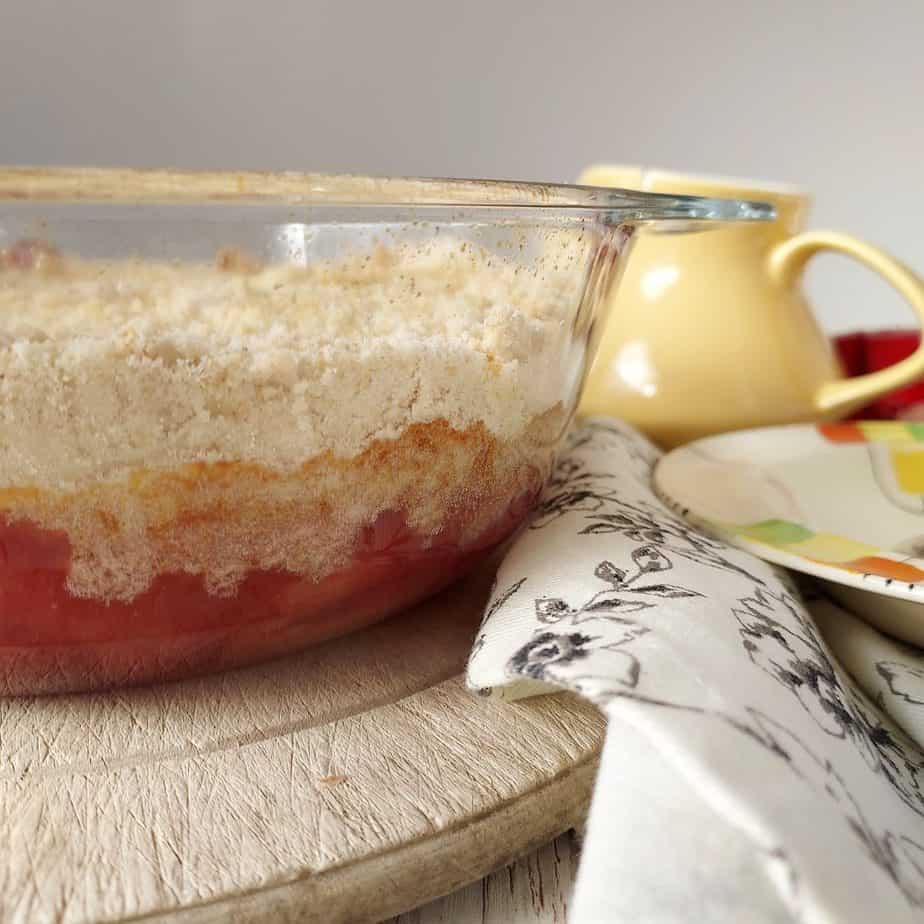 Do you have to stew rhubarb first?
To stew or not to stew, that is the question? I prefer to heat my rhubarb a little before topping with the crumble mixture. If find that if you don't, you run the risk of the rhubarb sweating too much. This can make your crumble soggy. Alternatively, the rhubarb doesn't break down at all, and you have to chop your way through semi-raw rhubarb.
There's a difference between softening the fruit and stewing it. So given the choice I'd recommend following the recipe method and simply softening the rhubarb. This way you are also in control of the liquid content in the end result – ergo no soggy crumble her thank you very much!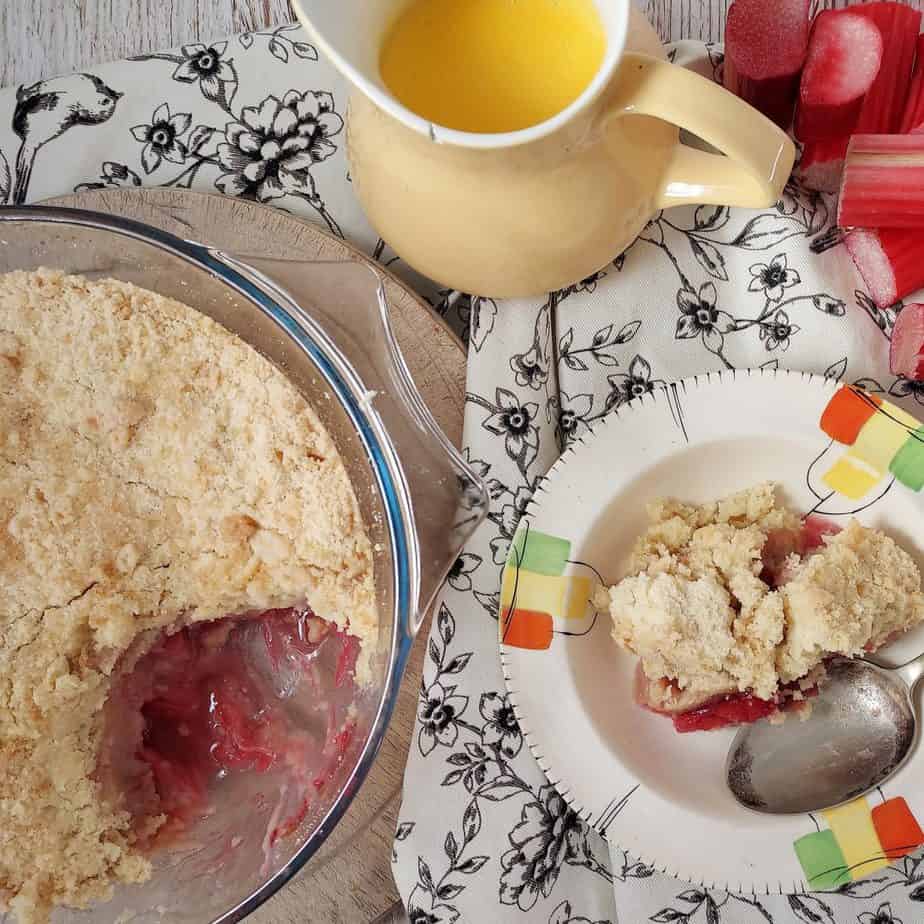 Can I make this Rhubarb Crumble dairy free?
This recipe is geared towards being a dairy free Rhubarb Crumble already. So yes, you can make this crumble dairy free as well as gluten free. That said, if you're here because you only follow a gluten free diet then by all means use the real stuff – I would if I could!
Can I swap the ground almonds to make this nut free?
This crumble mixture is obviously not nut allergy friendly. If you wish to make the crumble nut free you'll be thrilled to learn that you can omit the almonds. No need to replace them with another ingredient or add more flour. You should still be able to achieve a lovely crumbly mixture without the addition of nuts.
Liked this Gluten Free Rhubarb Crumble, then you'll love these recipes;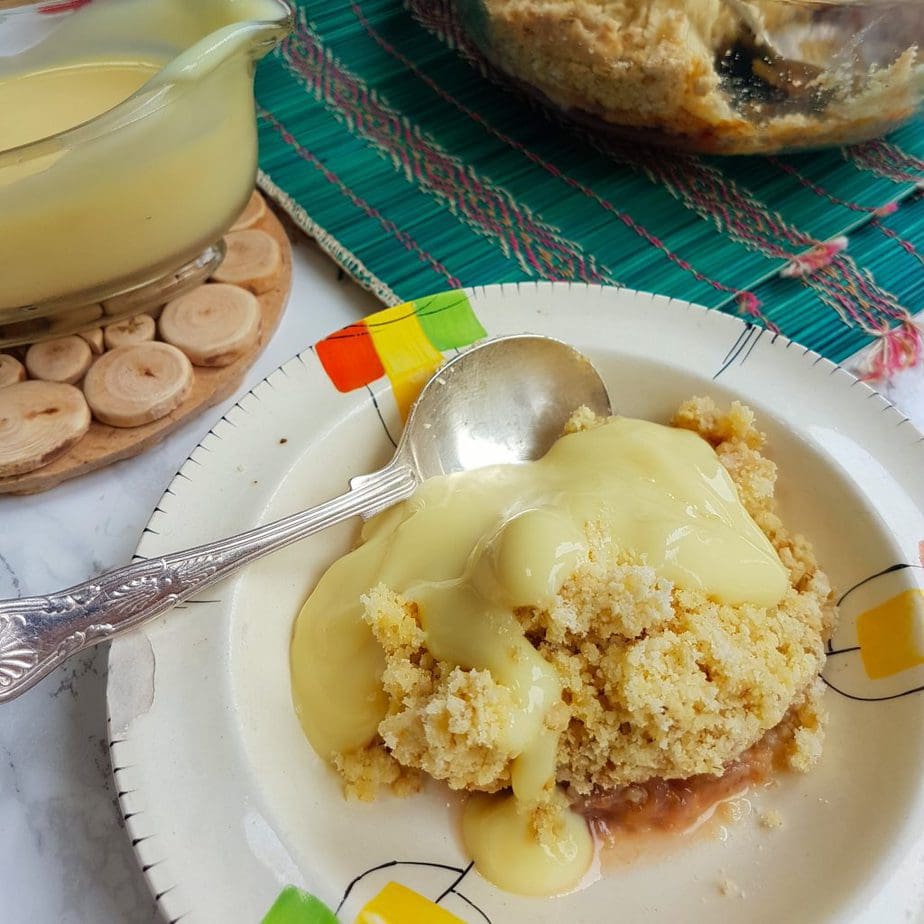 Gluten Free Apple and Blackberry Crumble
What is not to love with this gluten free apple and blackberry crumble. Even better when you use foraged fruit from hedgerows, free fruit always tastes better! Can even be enjoyed all year round if you have freeze the apple and blackberries when in season. Easily to make dairy free and vegan too.
Check out this recipe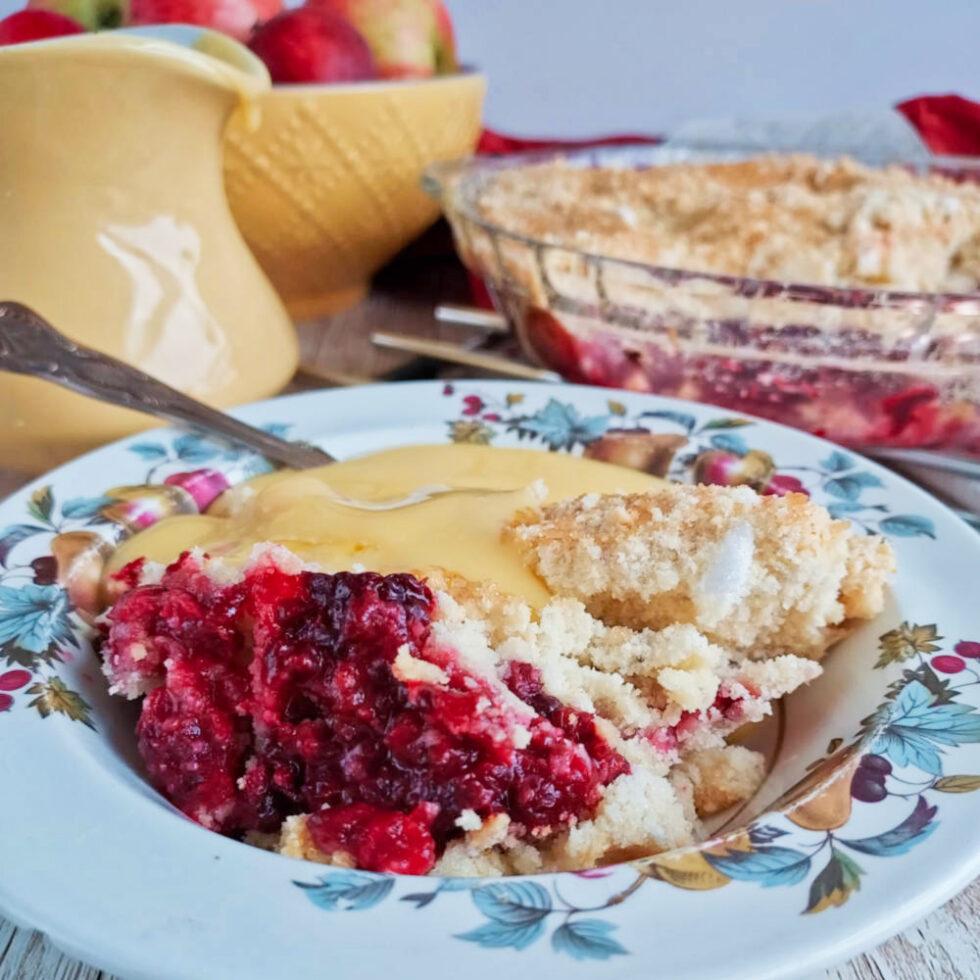 Easy Gluten Free Rhubarb Crumble
If you make it and like the recipe I would be eternally grateful if you popped back and commented leaving a star rating as this will tell search engines that this recipe is worth checking out and others will get to find it in searches.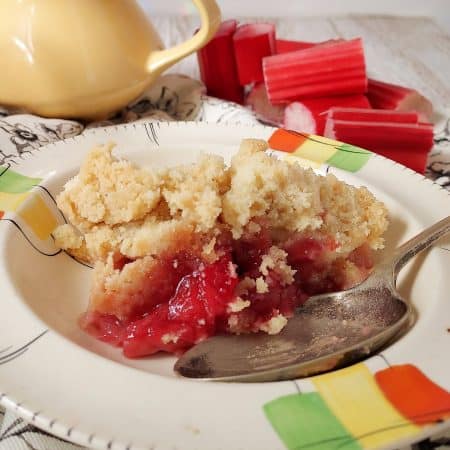 Easy Gluten Free Rhubarb Crumble
A firm family favourite of ours, this gluten free rhubarb crumble can be enjoyed all year round if you have tinned rhubarb or you can freeze fresh rhubarb when it's in season. Easily made dairy free and vegan too.
Ingredients
400

g

rhubarb

approx. 5 large stalks cut into inch long pieces

100

g

demerara sugar

or caster sugar but demerara has a caramel flavour to it.

3

tbsp

water
For the crumble topping
250

g

gluten free plain flour

100

g

butter or butter alternative (I use Flora plant butter)

I use Flora vegan blocks

100

g

caster sugar

50

g

ground almonds

this is optional and can be left out

1

tsp

ground ginger

optional and can be left out.
Instructions
Add the rhubarb pieces and sugar to a saucepan, to this add 3tbsp water and heat gently until the rhubarb softens, this will take about 5-8 mins on a medium heat.

Once cooked remove the rhubarb with a slotted spoon (keep the juices in the saucepan) and transfer to your oven proof dish.

With the sweet juices you have left in the saucepan, turn the heat up and reduce for 2-3 mins, then pour the thickened syrup over the stewed rhubarb and leave too cool.
To make the crumble topping
Add the flour to a large bowl and to this add the butter, start to cut through the mixture with a round knife until it resembles breadcrumbs. I actually use a pastry cutter – it makes life so much easier!

If including them, add the ground almonds to the crumble mixture.

Finally add the caster sugar and ginger and mix thoroughly.

TIP: if you prefer a less crumbly crumble then add a further 50g of butter or dairy free alternative. The test to see if a crumble will work is to grab and handful and crush it in your fist, if the crumble sticks together it will work as a crumble topping.

Top the cooled rhubarb with the crumble mixture and cook in an oven 180°C | 160°C fan | 350°F | Gas 4 for 35-40 mins keep and eye on it to prevent the crumble from catching (browning too much).

Serve hot with lashings of custard or cream – also super scrummy cold with cream!
Nutrition
Nutrition Facts
Easy Gluten Free Rhubarb Crumble
Amount per Serving
% Daily Value*
* Percent Daily Values are based on a 2000 calorie diet.
Have you tried this recipe?
Let me know how it was & I will be super grateful. Take a picture & tag me @glutarama on your social media posts – I love seeing your photos more than you will ever know x
I love to see your own photos of my bakes, dinners and treats head to your favourite social media account and don't forget to tag me in @glutarama
Subscribe to my email list so that you get NEW recipes straight in your mailbox every Friday PLUS a FREEBIE and access to some amazing gluten free DISCOUNTS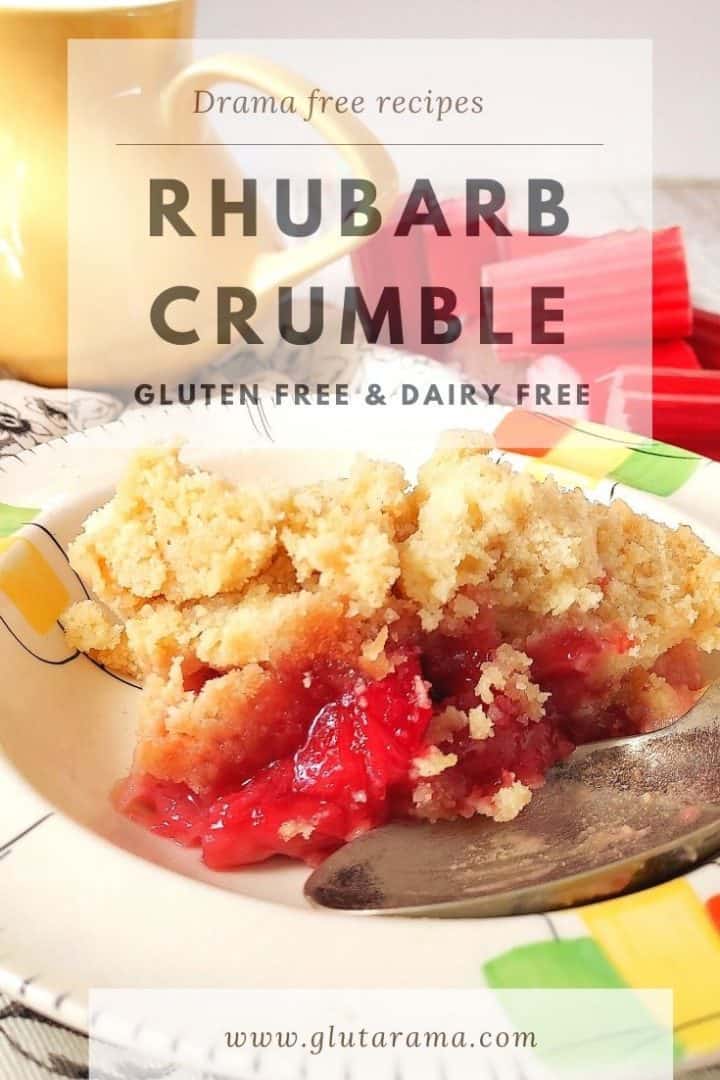 *disclaimer: I use affiliate codes on my website, the vast majority are to Amazon. If you click on any of the links or images in the post and make a purchase my family will benefit from a small % of that purchase at no extra cost to you.

For full transparency, in 2020 I made my first £25, and in 2022 I reached my next £25 (Amazon don't transfer the money until you reach £25). Recently I got paid a whopping £27.10 for 2023.

So to date I have made £78.58 since I first started the scheme in 2017. It won't pay the bills, that's for sure but it does help to pay for ingredients or little treats to cheer me up!