Question: are Double Deckers Gluten Free?
Answer: They are now!
I loved Double Deckers, they were my go-to guilty treat when I was having a down day, since going dairy free I've missed them; not anymore, I've made my own! That's right you heard me, made my own gluten and dairy free Double Deckers!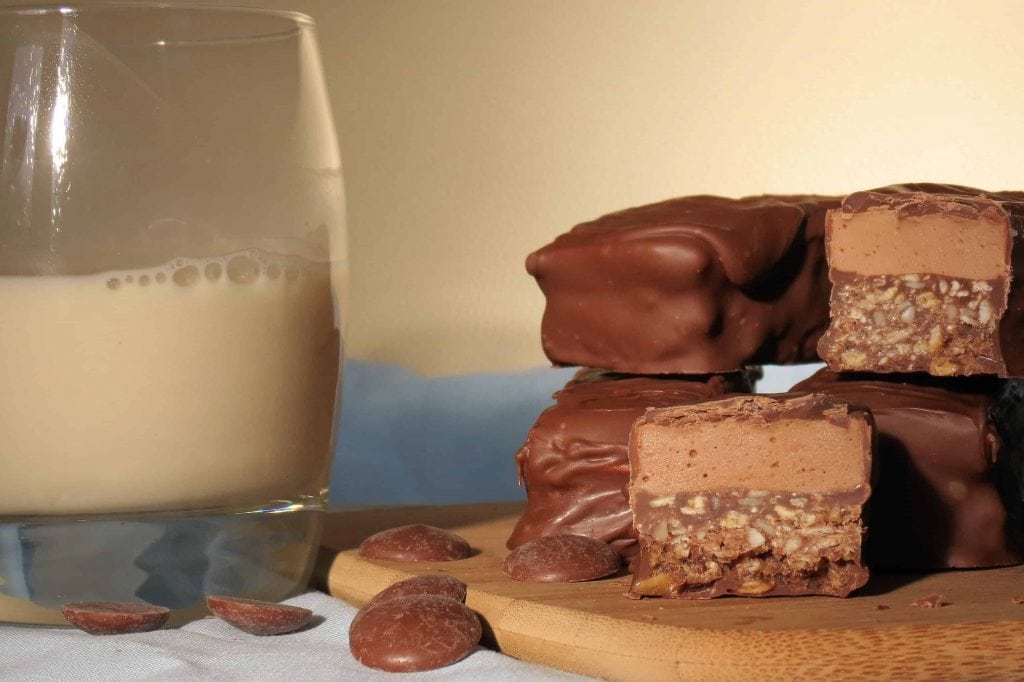 Can I use any type of granola to make my Double Deckers?
I originally developed this recipe after a pleasant accident. I'd made Chewy Granola Bites for a little teatime treat one day and as I nibbled one I couldn't help think that it reminded me of something, something I used to love – DOUBLE DECKERS! I can tell you I was rather excited as these are my all time favourite chocolate bars by Cadbury's. I've tried different variations in development and since (it depends what we have in the cereal cupboard). I find a general gluten free granola, not too sweet and with the big 'bits' taken out such as nuts, berries and raisins, works just fine, then add the crisped rice for those little added crunch effects.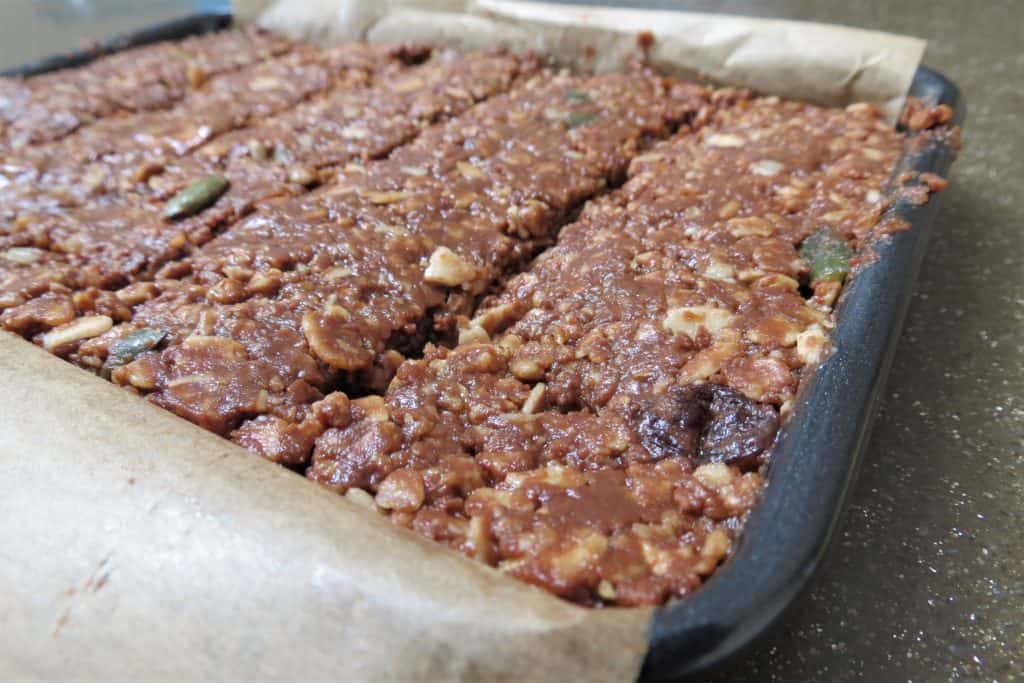 Are Double Deckers easy to make?
These are a wee bit fiddly to make, I won't lie but my goodness you'll be so glad you gave it a go. A few tips I will share with you. Never entertain making these on a warm day, it will spell disaster. To work with these you'll need cool hands and a cool head. Prep is key, make sure you line the baking trays well so you don't get stuck – literally! Enjoy it, okay your's may not look as pretty as mine, but I have days when I make these and they don't look like my photos either. It really does depend on how much time I allow myself to coat them evenly at the end – I just make sure that I have fun doing it. Remember; Life's a drama, gluten free doesn't have to be!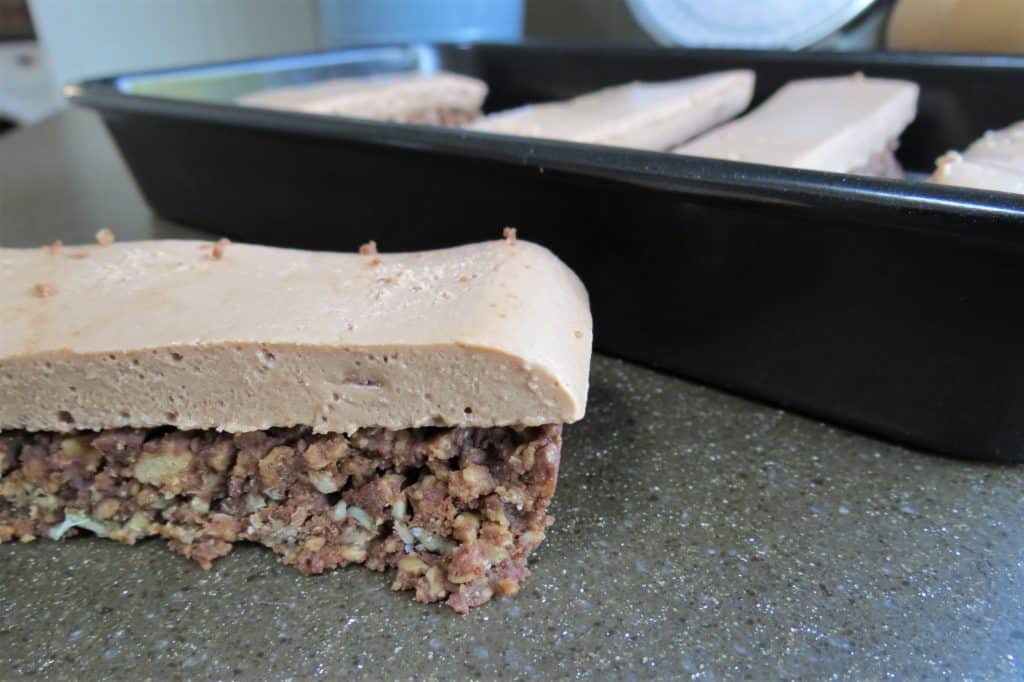 What other chocolate bars can I attempt?
Well since you ask, how about trying out my gluten and dairy free version of the amazing Cherry Ripe Chocolate Bar, packed with cherries and coconut, it's not from these parts in the UK, but I'm told they're really popular in Australia…I can see why, we can't get enough of them!
I don't plan to stop here either, I have ideas to work on such as a Twix bar, Bounty Bar and a Mars Bar too to name a few. Don't be shy, tell me in the comments what you'd like me to develop into a free from recipe. The Cherry Ripe bars were as a direct result of a reader telling me he missed them so I set to work and he is now one happy reader!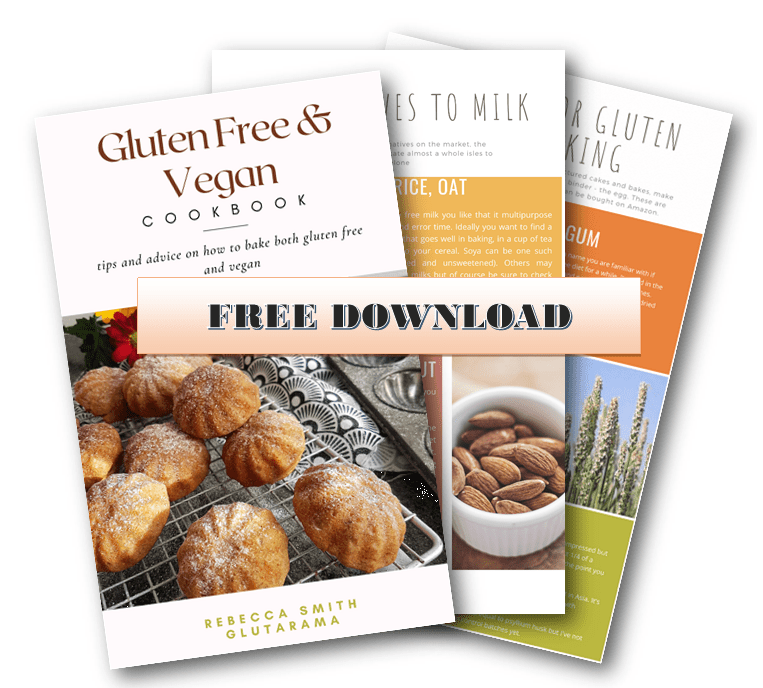 Never miss out again…
Sign up to my weekly Friday newsletter and not only get a FREE e-Book (currently my Gluten Free & Vegan Cookbook) but also get VIP subscriber discounts on free from goodies. Join me and learn to make anything gluten free.
Some other delicious chocolate recipe inspiration you might like to try
Gluten and Dairy Free Double Decker Recipe
If you make it and like the recipe I would be eternally grateful if you popped back and commented leaving a star rating as this will tell search engines that this recipe is worth checking out and others will get to find it in searches.
Gluten & Dairy Free Double Deckers
Oh how I've missed Double Deckers since going dairy free, I knew I had to make them myself one day and I'm pretty darn impressed with the end result, even if I do say so myself!
Ingredients
To make the base
200

g

granola

(or 50% less / 100g gluten free oats)

50

g

gluten free puffed rice

150

g

dairy free 'milk' chocolate

I used Tesco's freefrom in all cases
To make the nougat
200

g

marshmallows

use vegan marshmallows to make this vegan

50

g

dairy free 'milk' chocolate
To coat the chocolate bar
150

g

dairy free 'milk' chocolate
Instructions
Pick out any excessively large nutty bits and nibble…enjoy!

In a large bowl empty the granola and bash with the end of a rolling pin – not too much, we don't want granola dust!

In a smaller bowl melt the 150g of freefrom chocolate and pour over the granola, mix to combine.

In another bowl add the marshmallows and 50g of freefrom chocolate and melt this in the microwave for 1min or under depending on the wattage.

Pour the chocolatey marshmallow mixture into a small baking tin greased and lined with baking paper. I use the tiny ones you can get from Sainsbury's that measure approx 13x19cm. Pop this in the fridge.

Meanwhile pour the chocolatey granola mix into a second identical sized tin (these do come in packs of two) that's been greased and lined with baking paper, smooth the granola mix down and make cuts to determine the size of your 5 Double Deckers (this makes cutting them when set so much easier). Pop this tray into the fridge to set.

Once fully set remove both trays, cut the granola bars into 5 using the indentation you've already made.

Cut equal size bars into the nougat and place a strip of nougat on top of each granola bar. Pop back in the fridge.

Melt the remaining freefrom chocolate and remove the bars from the fridge. This bit gets messy, dip each end of the bar into the chocolate in a stirring motion, then roll the bar in the chocolate to coat each long side.

Once all bars are fully coated return to the fridge to set…lick bowl of chocolate! Congratulations! you made it in one piece and now you can sit back and…in Bethany's case…enjoy your first ever Double Decker!
Nutrition
Nutrition Facts
Gluten & Dairy Free Double Deckers
Amount per Serving
% Daily Value*
* Percent Daily Values are based on a 2000 calorie diet.
Have you tried this recipe?
Let me know how it was & I will be super grateful. Take a picture & tag me @glutarama on your social media posts – I love seeing your photos more than you will ever know x
I love to see your own photos of my bakes, dinners and treats head to your favourite social media account and don't forget to tag me in @glutarama
Subscribe to my email list so that you get NEW recipes straight in your mailbox every Friday PLUS a FREEBIE and access to some amazing gluten free DISCOUNTS
Don't lose it, pin my Double Decker Homemade Chocolate Bars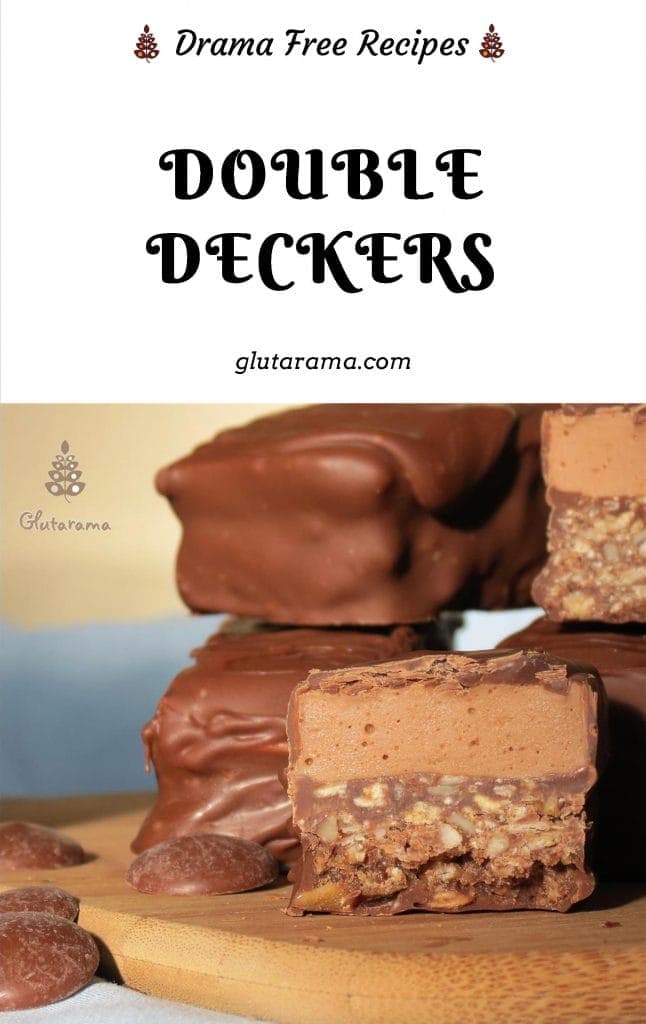 *disclaimer: I use affiliate codes on my website, the vast majority are to Amazon. If you click on any of the links or images in the post and make a purchase my family will benefit from a small % of that purchase at no extra cost to you.

For full transparency, in 2020 I made my first £25, and in 2022 I reached my next £25 (Amazon don't transfer the money until you reach £25). I'm now up to £17.80 for 2023 so edging closer to the magical £25 mark!!

To date I have made £69.28 since I first started the scheme in 2017. It won't pay the bills, that's for sure but it does help to pay for ingredients or little treats to cheer me up!