I loved Double Deckers, they were my go-to guilty treat when I was having a down day, since going dairy free I've missed them; not anymore, I've made my own! That's right you heard me, made my own gluten and dairy free Double Deckers!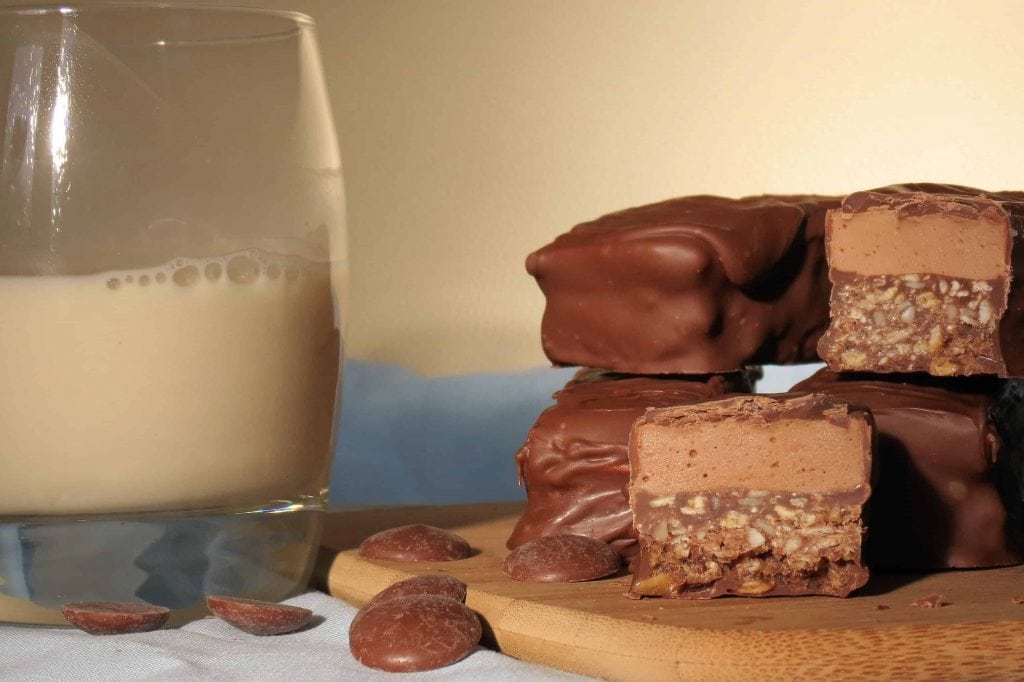 Now if I'm totally honest with you I could tweak this recipe to make it even better, I think that by adding gluten free puffed rise to the granola, you'll get an even more authentic crunch to the base, give it a go and let me know below if my suspicions are correct…and of course with any of my recipes, if you bake your own, I'd love to see the photos…maybe I can start a Tony Hart Gallery of readers bakes…showing my age there, if you don't know who Tony Hart is Google it! Check out Morph while you're at it…I digress (as usual!)
These are a wee bit fiddly to make, I won't lie but my goodness you'll be so glad you gave it a go. For those eagle-eyed people out there you'll notice I took my final photos as the sun set…hence the heavenly inviting glow…note to self…take selfies in sunset light only!!!
Oh! and while we're on the subject of delicious how about trying out my gluten and dairy free version of the amazing Cherry Ripe Chocolate Bar, packed with cherries and coconut, it's not from these parts in the UK, but I'm told they're really popular in Australia…I can see why, we can't get enough of them!
Gluten & Dairy Free Double Deckers
Oh how I've missed Double Deckers since going dairy free, I knew I had to make them myself one day and I'm pretty darn impressed with the end result, even if I do say so myself!
Cuisine:
Free From - gluten, dairy, wheat, soya, egg
Keyword:
Chocolate Bar, Dairy Free, Double Deckers, Gluten Free, Vegan
Ingredients
To make the base
200

g

granola or (100g gluten free oats)

50

g

puffed rice

150

g

dairy free 'milk' chocolate

I used Tesco's freefrom in all cases
To make the nougat
200

g

marshmallows

50

g

dairy free 'milk' chocolate
To coat the chocolate bar
150

g

dairy free 'milk' chocolate
Instructions
Pick out any excessively large nutty bits and nibble...enjoy!

In a large bowl empty the granola and bash with the end of a rolling pin - not too much, we don't want granola dust!

In a smaller bowl melt the 150g of freefrom chocolate and pour over the granola, mix to combine.

In another bowl add the marshmallows and 50g of freefrom chocolate and melt this in the microwave for 1min or under depending on the wattage.

Pour the chocolatey marshmallow mixture into a small baking tin greased and lined with baking paper. I use the tiny ones you can get from Sainsbury's that measure approx 13x19cm. Pop this in the fridge.

Meanwhile pour the chocolatey granola mix into a second identical sized tin (these do come in packs of two) that's been greased and lined with baking paper, smooth the granola mix down and make cuts to determine the size of your 5 Double Deckers (this makes cutting them when set so much easier). Pop this tray into the fridge to set.

Once fully set remove both trays, cut the granola bars into 5 using the indentation you've already made.

Cut equal size bars into the nougat and place a strip of nougat on top of each granola bar. Pop back in the fridge.

Melt the remaining freefrom chocolate and remove the bars from the fridge. This bit gets messy, dip each end of the bar into the chocolate in a stirring motion, then roll the bar in the chocolate to coat each long side.

Once all bars are fully coated return to the fridge to set...lick bowl of chocolate! Congratulations! you made it in one piece and now you can sit back and...in Bethany's case...enjoy your first ever Double Decker!
Nutrition Facts
Gluten & Dairy Free Double Deckers
Amount Per Serving
Calories 676
Calories from Fat 225
% Daily Value*
Fat 25g38%
Sodium 32mg1%
Potassium 11mg0%
Carbohydrates 113g38%
Protein 9g18%
Vitamin C 3.8mg5%
Calcium 107mg11%
Iron 9.7mg54%
* Percent Daily Values are based on a 2000 calorie diet.
Don't lose it, pin my Double Decker Homemade Chocolate Bars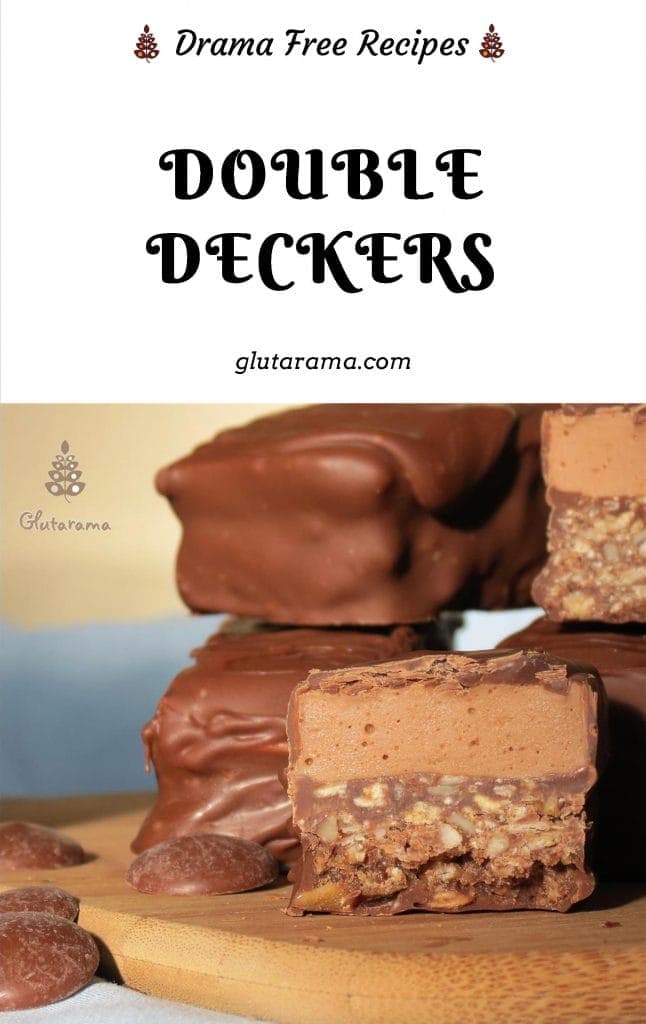 Cook Blog Share | That Friday Linky | Blog Crush | Cook Once Eat Twice 
 Baking Crumbs | Tickle My Tastebuds Tuesday | Fiesta Friday
disclaimer: I've started using affiliate codes on my website again (needs must). If you click on any of the links in the post and make a purchase my family will benefit from a small % of that purchase at no extra cost to you.