Gluten free Scotland I hear you say with one eyebrow gently raised. Yes indeed, and if that's you with the raised eyebrow then my friend, you can't have been to Scotland yet!
We stayed in Carrbridge, just outside Aviemore. This being our second stay at the McDonald Lochanhully Resort – for more info in general on Carrbridge you'll find this review helpful Things to do in Carrbridge by My Voyage Scotland
This was a much needed and frankly bloody good holiday. So good in fact that both Bethany and Lewis have asked if we can move there. It was the quote of the holiday when, in Ballindalloch Castle café, Bethany exclaimed 'this is the first time I've been able to eat a sandwich in public'. Not actually true but she was basically saying she'd not been able to eat in a café and have a gluten free sandwich made fresh for her, let alone with a choice of sandwich fillings.
This post could easily be as long as my thesis and as I'm still oozing with love for Gluten Free Scotland it could get all gushy so I'm going to be sensible about this and list, in order of visiting, the eating establishments that catered perfectly for Bethany's Coeliac Disease and myself. Oh and before I forget, here's a shout out to the Speyside Heather Centre who are rebuilding after a devastating fire but are still open for business and the place to go for your Clootie Dumplings that are also on offer gluten free.
Little side note; the photos, of which there are few, are mobile images taken by myself, Bethany, Lewis or possibly Brett (but he takes lots of what I would call 'nothing but far-off scenery' so maybe not). Anyway, what I'm saying is that the quality may be a bit squiffy and there will be fewer photos than I'd like simply because we were too busy enjoying the food to take photos!
Places to eat gluten free in the Cairngorms
Mountain Café, Aviemore. How could we not go to our beloved Mountain Café, I distinctly remember going 6 years ago and being thrilled by the fact that Beth could have burger in a bun and the chips! Well the meal options are even better and the cake selection was the best I've seen. I was able to enjoy this delicious vegan carrot cake too with a berry smoothie.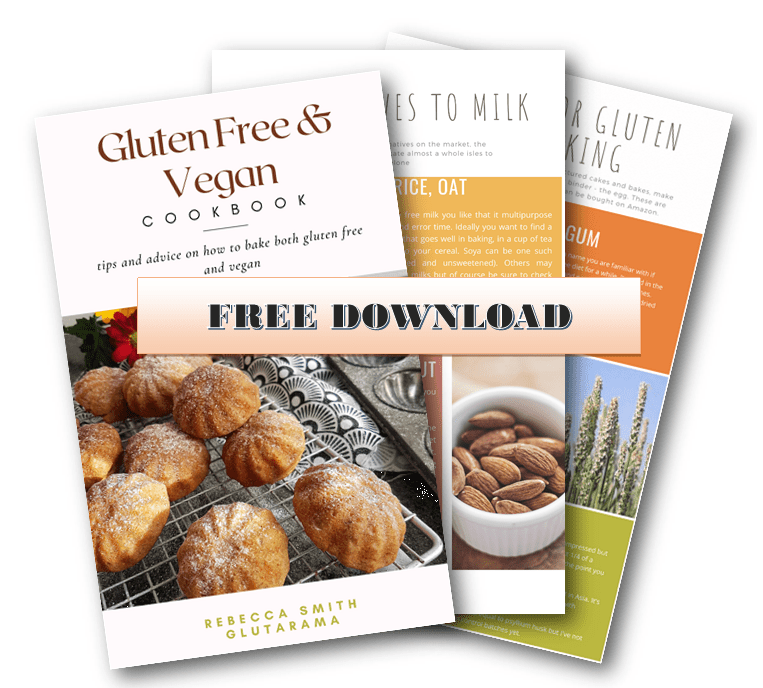 Never miss out again…
Sign up to my weekly Friday newsletter and not only get a FREE e-Book (currently my Gluten Free & Vegan Cookbook) but also get VIP subscriber discounts on free from goodies delivered to your door. Join me in my journey and learn to make anything gluten free.
Jake's Bar & Restaurant, Lochanhully Woodland Club, Carrbridge. We had two experiences of the restaurant on site where we stayed in our lovely homely wooden cabin. The first was disappointing with a Sunday lunch that Bethany could eat very little of and the only dessert being a mango sorbet. Bethany does not like mango sorbet. I was prepared to give the venue another chance on our last night and I'm glad I did. We were presented with a huge gluten/vegetarian/vegan menu and Bethany was thrilled to be offered three dessert options. She went for Eton Mess.
UPDATE 2021: Jake's is now called The Stag Lounge Bar, please check if gluten free is still served.
Steam train experience with a gluten and dairy free menu
Strathspey Railway, Aviemore. This was a real treat for us, a trip on the steam train with lunch provided. There are other options; dinner, afternoon tea and Sunday lunch. All options come with a gluten free alternative and the railway encourage people to email them with any specific dietary requirements. We enjoyed naturally gluten and dairy free homemade soups (pea or carrot and lentil) and Beth had gluten free sandwiches whilst I had sandwiches made with dairy free cheese. The staff had gone out in advance and bought this especially for little old me. How's that for service.
Highland Wildlife Park, Cairngorms National Park. Our next Gluten Free Scotland encounter was the wildlife park where I'd emailed ahead and was thrilled with the speedy response telling me there would be no issues catering for Bethany. We were not disappointed and she could even have Beetroot and Chocolate Cake, Bethany does not like beetroot cake and sadly it wasn't dairy or egg free, otherwise I'd have devoured one of the huge slices.
Cairngorm Hotel, Aviemore. Once again the gluten free menu was presented when we asked and there was plenty I could choose too. In fact Beth's choice of desserts overshadowed the 'normal' menu in my opinion.
Ballindalloch Castle, Ballindalloch. This was the moment Bethany made her sandwich announcement, which was a lovely moment for us all. I was thrilled that Bethany felt so far removed from being 'different'. After ordering we'd seen the sandwiches came with a small side salad and Pringles. Bethany's shoulders sank and she muttered; 'I bet they put Pringles on my plate'. Imagine her face when her sandwich came with no dressing and a huge handful of ready salted crisps. THAT makes all the difference, hats off to you Ballindalloch. The photo doesn't do her mood justice but she was recovering from a hypo at the time bless her.
Great day out for the Kids and gluten free fast food
Landmark Adventure Park, Carrbridge. You've got two places on site that you can eat, the main restaurant and the fast food bar in the thick of the climbing ropes and activities. We had planned to go back to the restaurant knowing that it catered for Bethany but the children saw the chips from the fast food bar and Brett enquired as to whether Beth could eat them, I sat at a picnic table waiting for ages then the three of them came back beaming with our lunches. I had sweet potato, chilli and coconut soup with crusty bread and Beth had burger in a bun and chips, just amazing.
Cawdor Castle, Cawdor. Beth had the choice of two soups and gluten free bread but opted for a cheese roll on this occasion. I had roasted parsnip soup which was delicious. It's not until now that I realise I ate a lot of soup! Sadly the only sweet option was the oh so familiar chocolate brownie, and although we didn't have cake this time the homemade brownie did look very moist and was individually wrapped.
La Taverna, Aviemore. This place is an absolute gem of a find. At the far end of Aviemore is La Taverna, an Italian restaurant that's been owned by one family for year and years. There were plenty of options that I could eat and I thoroughly enjoyed a parcel of seafood and pasta, Bethany's options were endless. Both pizzas and pasta dishes could be made gluten free and they could adapt starters so that she could have gluten free focaccia made into a bruchetta or garlic bread. Basically the staff couldn't have been more helpful and with plenty of desserts to choose from Bethany was once again thrilled with her options.
Dolphin Trip and Gluten Free Lunch
The Links Tea Room, Nairn. I couldn't end things without giving these tearooms a shout out. We only stopped for and ice cream after spending an hour out at sea on a dolphin site seeing trip. I saved the seats as per usual expecting nothing for me to tuck into and Brett came back beaming with a Swedish Glace Cornetto for me that was of course gluten and dairy free. I've since found out that they also offer an array of free from cakes and drinks inside the tea room too so well worth a visit.
There you have it! My little round up of Gluten Free Scotland, or at least the tiny part that we visited.
Other gluten free guides you may find useful
Gluten Free Guide to eating out and shopping in Loch Lomond
Plan your Gluten Free Norfolk Coast Weekend
Gluten Free Guide to eating out and shopping in Loch Lomond
I love to see your own photos of my bakes, dinners and treats head to your favourite social media account and don't forget to tag me in @glutarama
Subscribe to my email list so that you get NEW recipes straight in your mailbox every Friday PLUS a FREEBIE and access to some amazing gluten free DISCOUNTS
If you've only just happened across my blog Glutarama, then you may also be interested to know this is not the main topic I write about, the majority of my posts relate to free from recipes and food reviews, as our family are affected by Coeliac Disease, egg, dairy other intolerances it keeps me busy in the kitchen, but boy do I have fun experimenting for my family and followers.