I was so excited when the idea for my very own Gluten Free Clootie Dumpling popped into my head. I had already made a Christmas Cake and Christmas Pudding using the seasonal Delicious Alchemy Rich Fruit Cake Mix and just knew that this Clootie would work too.
Whizz forward three years and sadly Delicious Alchemy no longer produce their seasonal mix – so naturally I stepped back into the kitchen to bake, test and bake again until I was happy with the end result. So below is my very own Gluten Free, Dairy Free Scottish dish.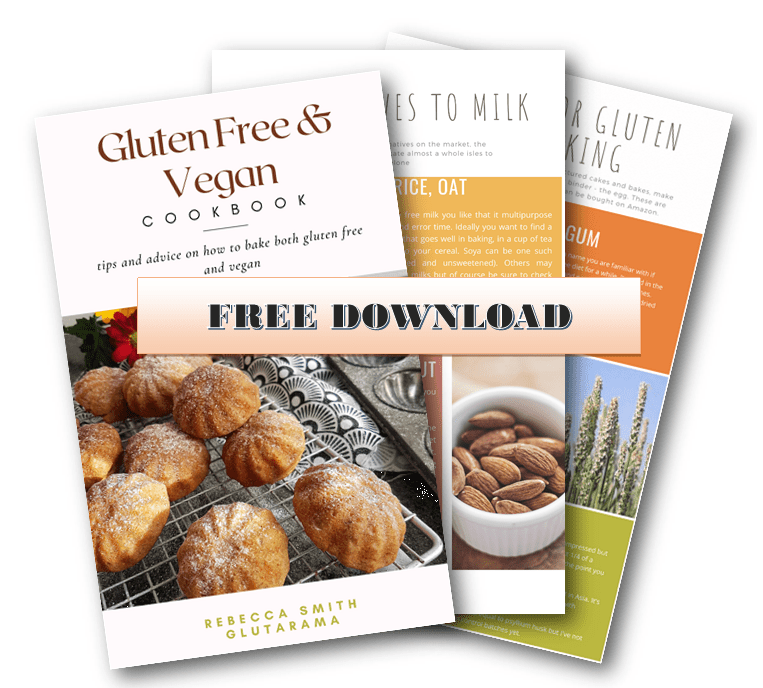 Never miss out again…
Sign up to my weekly Friday newsletter and not only get a FREE e-Book (currently my Gluten Free & Vegan Cookbook) but also get VIP subscriber discounts on free from goodies delivered to your door. Join me in my journey and learn to make anything gluten free.
What is a Clootie Dumpling?
I've tried a true Clootie Dumpling a few times now, always when we holiday in Aviemore in Scotland. It was gorgeous and I'm not ashamed to say that I scoffed it all to myself…it was a small dumpling I hasten to add! So before I made my dumpling I did a little research into the history of the Scottish traditional treat; why it's called a 'clootie' and what common ingredients there are. One fabulous website I've found which does a far better job of going into detail about the clootie dumpling is Scotsman Food and Drink but to summarise, cloot is Scottish for cloth, the recipe is older than 300 years and while recipes do vary slightly they all work out less rich than a Christmas Pudding.
Can I make this Clootie Vegan?
Yes you can using my gluten free suet recipe [see link below] and a flax seed egg, to make a vegan egg I've added the ingredients and method and the results are perfect every time. If you chose to use chia seed instead this is not a problem, I personally find flax seed less flavoursome.
How to make a flax egg

to make 1 flax egg you need the following ingredients:
– 1tbsp ground flax seed
– 3tbsp water
– 1tsp psyllium husk (optional but does add elasticity to baking)

Simply add all ingredients to a glass and stir before measuring out the other recipe ingredients, by the time you come to use your 'egg' mixture it will have thickened to a frog-spawn consistency (thicker if you added psyllium husk)

Then just add to your baking as you would an egg. For 2 eggs double the ingredients but note that recipes that require more than two eggs may fail due to lack of support in the structure.
How do you make Gluten Free Suet?
There are gluten free suet products out there but they're a rare thing and why scour the shelves in the supermarket when you can make your own for a fraction of the price and keep it store in the fridge.
My simple recipe can be found here in my Homemade Gluten Free Suet Recipe recipe, and soon you'll be able to see it in my Jam Roly Poly Pudding too, so now's a great time to follow me on social media and sign up to my newsletter so you don't miss it when I publish the recipe.
Homemade Gluten Free Suet Recipe
This super simple recipe for making your own gluten free suet is a great way to open up lots of exciting recipes you'd possible not considered before such as Jam Roly Poly, Steak & Kidney Puddings and of course the old favourite; dumplings.
Check out this recipe
Step-by-step Clootie instructions
The printable version of the recipe is below but I've added a series of images to show you step-by-step how I made my fabulous gluten free clootie dumpling;
Other Christmas pudding ideas if fruit isn't your thing
So maybe your not a fruit fan, personally I love fruit cake, fruit pie and all the fruity puddings. But if chocolate is your thing then you'll definitely want to try out my rich Gluten Free Salted Chocolate Tart or how about my epic Black Forest Gateau
If your looking for an after dinner treats that's more for the adults and less likely to fill you up, then my Bailey's recipes are certainly worth a go I have three flavours; Original, Chocolate Orange and Pumpkin Spice you can see all my Homemade Dairy Free Baileys Liqueur Recipe.
Gluten Free Stollen Bites
Following my popular Stollen recipe I was asked for a recipe for Gluten Free Stollen Bites so I've adapted my recipe so that everyone can enjoy gluten free Stollen Bites that can also be made dairy free and vegan too.
Check out this recipe
Gluten Free Lebkuchen
A delicious spicy cake-like biscuit traditionally eaten in the wintertime and Christmas period, originating in Germany and now made gluten free with dairy and egg free options too. Decorate with a little icing glaze or add a delicious filling and coat in chocolate for that added touch of luxury.
Check out this recipe
Gluten Free Ecclefechan Tarts
The humble Ecclefechan Tart is a wonderfully traditional tart originating in the small town of Ecclefechan. With simple, easy to source ingredients these tarts are a nod towards a mince pie but without the festive spices you'd expect and an egg to bind the filling together. This can make 6-8 tarts depending on the depth of your baking tin.
Check out this recipe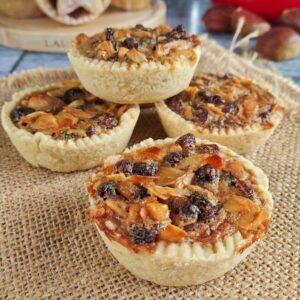 Gluten Free Christmas Pudding
A simple gluten free Christmas Pudding (or Plum Pudding) recipe. also made dairy and egg free with my own homemade gluten free suet. The perfect traditional centre piece for Christmas Day dinner. Makes a 1ltr pudding.
Check out this recipe
Gluten Free Rich Fruit Christmas Cake
A delicious gluten free rich fruit cake ideal for Christmas Cakes. This is best made way in advance and fed each week with a drizzle or three of brandy or whisky. Great for making ahead and easy to decorate with the decoration inspiration included in the post. Easily made dairy free too if you swap the butter for a plant based alternative.
Check out this recipe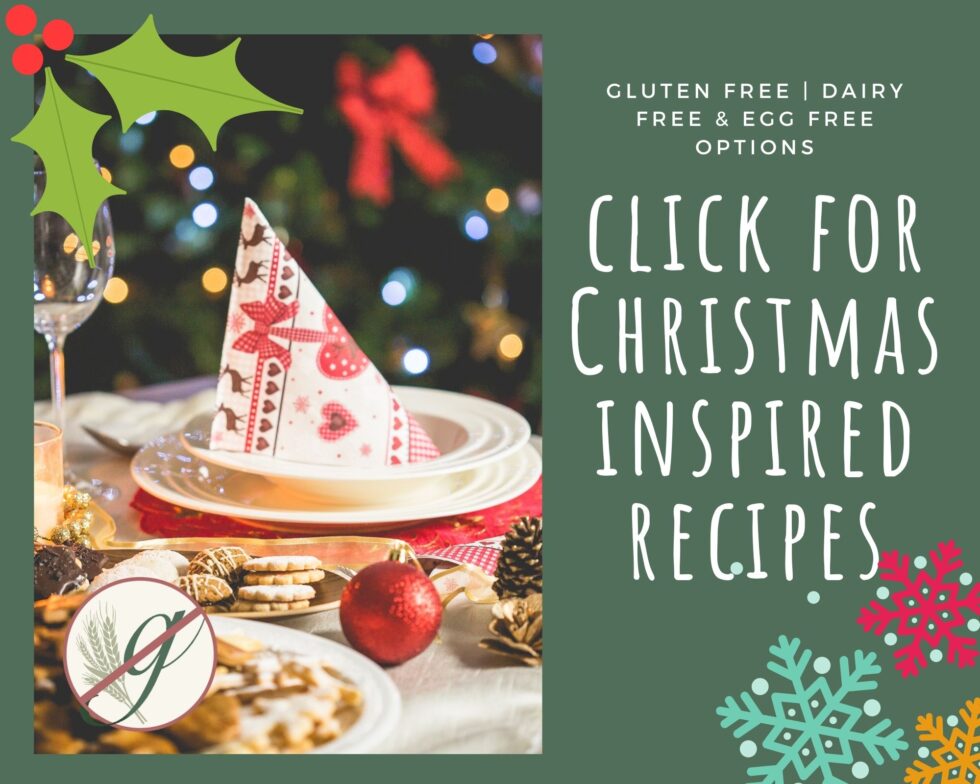 Gluten Free Christmas Gift Guide
Every Year I update this post on Glutarama's website to give you the latest gluten free gifts perfect for a loved one or to gift yourself. The guide is broken into advent calendars, gifts for the Christmas Day, hampers for gifts or to cater for a gluten free Christmas and finally I try to find something a bit special to treat yourself in the new year.
Gluten Free Clootie Dumpling Recipe
If you make it and like the recipe I would be eternally grateful if you popped back and commented leaving a star rating as this will tell search engines that this recipe is worth checking out and others will get to find it in searches.
Gluten Free Clootie Dumpling
A delicious traditional Scottish pudding that's boiled not baked or steamed. This Clootie has been made gluten free and dairy free using my own suet recipe
Ingredients
300

g

dried mixed fruit

200

g

gluten free plain flour

100

g

light brown sugar

100

g

gluten free vegetable suet

100

g

gluten free bread crumbs

1

egg(s)

100

ml

water

1

tsp

mixed spice

1

tsp

baking powder
Instructions
Throw all the ingredients into a large mixing bowl and combine.

Take an old clean tea towel, muslin or piece of cloth and dust with flour.

Place the clootie dough into the centre of the cloth and gather the corners.

Tie the corners in place, allowing a little room for expansion. I use a cable tie to secure mine if we don't have any string in the house!

Place the clootie parcel onto of an upturned plate in a large saucepan, this is to stop the dumpling from sticking to the hot bottom of the pan.

Using a recently boiled kettle pour enough liquid to just cover the dumpling. My largest saucepan isn't quite deep enough, so I never quite manage to cover the dumpling completely. Adding a lid will prevent the top from drying if this happens to you.

Boil the water for 3 hours, keep an eye on the pan as you will need to top up the water at least once.

After 3 hours remove the dumpling taking care not to scald yourself.

Remove the cloot (cloth) and place the soggy dumpling on a baking tray.

Pop the dumpling in an oven set at 190C/Gas 5 for 15 mins to harden off the skin, it will turn a more dark familiar colour now not unlike a Christmas pudding or cake.

Serve immediately with cream or custard.
Notes
This keeps really well and we were still eating it 4 days later … delicious!
Nutrition
Nutrition Facts
Gluten Free Clootie Dumpling
Amount per Serving
% Daily Value*
* Percent Daily Values are based on a 2000 calorie diet.
Have you tried this recipe?
Let me know how it was & I will be super grateful. Take a picture & tag me @glutarama on your social media posts – I love seeing your photos more than you will ever know x
I love to see your own photos of my bakes, dinners and treats head to your favourite social media account and don't forget to tag me in @glutarama
Subscribe to my email list so that you get NEW recipes straight in your mailbox every Friday PLUS a FREEBIE and access to some amazing gluten free DISCOUNTS
*disclaimer: I use affiliate codes on my website, the vast majority are to Amazon. If you click on any of the links or images in the post and make a purchase my family will benefit from a small % of that purchase at no extra cost to you, in fact, for full transparency, in 2020 I made my first £25, and recently in 2022 I reached my next £25 (Amazon don't transfer the money until you reach £25). As you can see, it won't make me a millionaire but it will treat me to a few coffees, Lord knows I need the caffeine!