Some may think that homemade Gluten Free Shortbread is too much of a challenge but I promise you it-is-not! Once you realise how very simple it actually is you'll be making it all the time. In addition to this being the best shortbread recipe you'll find, it's also dairy free and vegan too if, like me you use a butter alternative.
I have made this shortbread recipe on many occasions now and played with different flavours too, if you know me already, you'll know how much I like to play with my food – in a good way that is! Read on for some top flavour tips to liven up your shortbread if that's your thing. I also delve into some interesting facts about shortbread and where it originates from.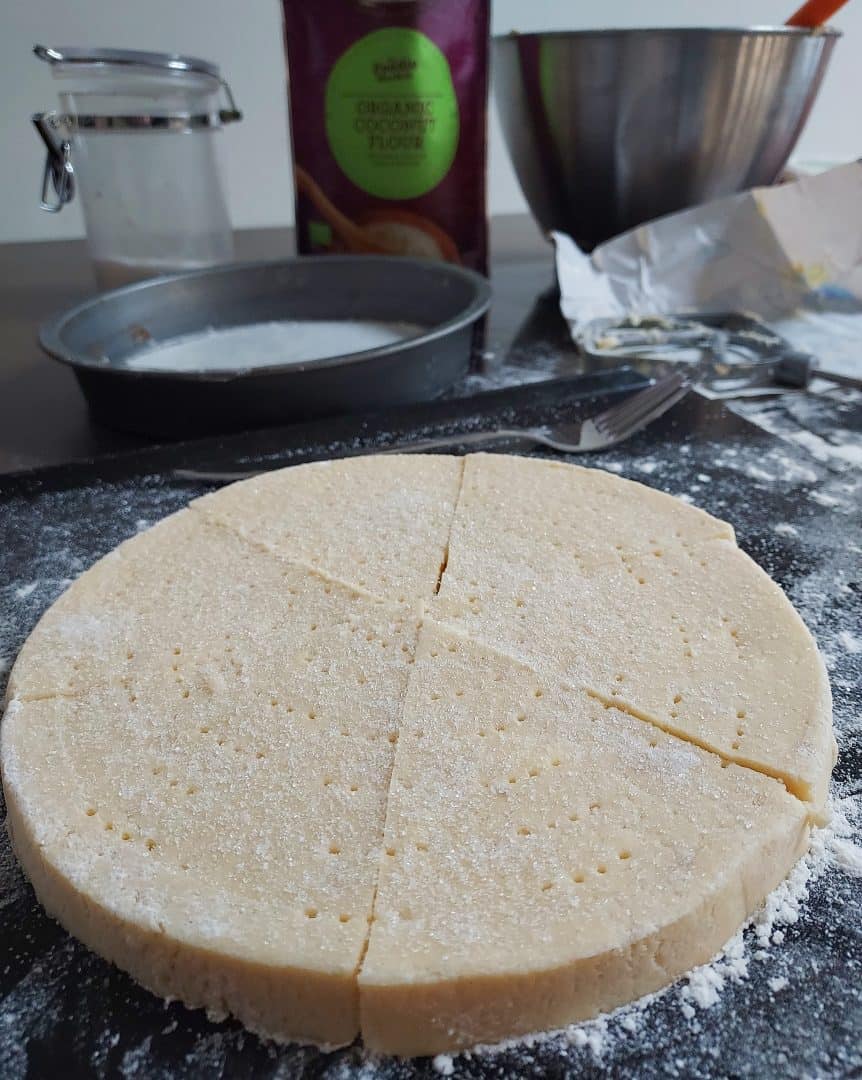 What's the difference between Shortbread and Scottish Shortbread
Researching this has had me running around in circles. Everyone's an expert and few seem to agree. It would seem that pretty much everyone agrees that there are four main ingredients; flour, starch a fat of some description and sugar.
Some sources suggest that Scottish shortbread is 'all butter' while other shortbread can be a combination of butter and lard/white fat.
I came across recipes claiming to be Scottish Shortbread but these had rice flour in them giving them more of a bite and crunch to them as opposed to the melt-in-the-mouth experience you'd expect from Scottish Shortbread.
Other sources paid closer attention to the shape and patination of the shortbread being the true indicator of it's authenticity.
What do I think? I think if you've been to Scotland like I have and eaten their Scottish Shortbread you know that is the simplicity of the recipe, the all butter flavour and the creamy melting texture that makes it traditional shortbread. The shape is just a bonus whether it be rounds, petticoats or fingers.
Why is Scotland famous for shortbread?
I'll keep this short, despite the recipe being over 800 years old.
The Scots used to enjoy a hardened biscuit made from left over bread dough with a bit of sugar thrown in. This was (and still is) called a Bannock which was baked on a stone by the fire. As time passed the addition of butter made this a more expensive treat and the short biscuit was mainly made for weddings, Christmas and Hogmanay.
As time when on the biscuit became more formal looking as ladies would enjoy a piece with their afternoon tea. The shape of the shortbread and it's frilled edges was likened to the ladies petticoats, hence Petticoat Shortbread.
Something that the ladies would have enjoyed in the 16th Century, all the way through to the 19th Century, was the addition of caraway seeds in their shortbread to add a delicate aniseed flavour. I have the recipe in my Book of Household Management by Mrs Isabelle Beeton and this does indeed have caraway seeds in it.
These days shortbread tends to be enjoyed in it's basic butter form but sometimes with the addition of chocolate chips, however I did make my own version using some home grown lavender English Lavender Shortbread – a summertime treat
Why is my Gluten Free Shortbread mixture crumbly?
Okay, so if you have followed the instructions for my gluten free classic shortbread recipe and you're faced with a bowl of crumbs, fear not. A shortbread dough is meant to be very crumbly, the test is when you scoop a handful and crush it in your fist. If the crumble mixture comes together and forms a clump of dough you are good to go. The key to making a good strong shortbread biscuit it to tease the crumble mixture into the mould or tin and press hard with your hands, knuckles (or if you've got warn hands) the rounded side of a dessert spoon.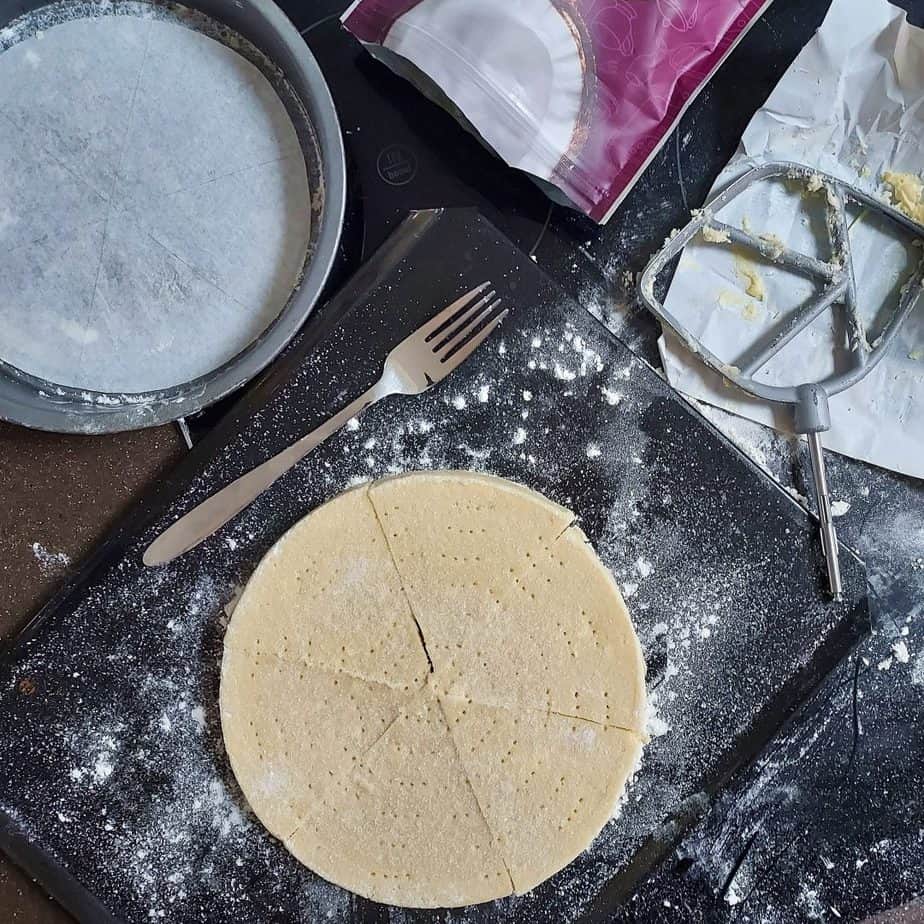 Why do you add cornflour to Shortbread?
The are two reasons why you add cornflour or corn starch to shortbread. Firstly it adds to the 'shortness' of the biscuit making it very light and melt in the mouth. Secondly it add a creamy texture and flavour to the shortbread.
Want to know a secret? I didn't use cornflour on this occasion. I use coconut flour instead. It has the same lightness in texture and a subtle hint of coconut. I hadn't realised that I'd used all my cornflour up for thickening casseroles and pie fillings so had to make a quick sub. I thought I'd share this little revelation to point out that if you were before, you needn't be scared of making shortbread it's a forgiving biscuit dough.
Why do you fork Shortbread?
The reason behind pricking or forking homemade shortbread is to encourage an even bake. Forking the shortbread will also prevent the bake from puffing up in places. Remember a shortbread is a substantially thick biscuit so to get an even bake through the middle it may need a little encouragement. Besides, as my son pointed out the other day when I made this, it makes the shortbread look nice.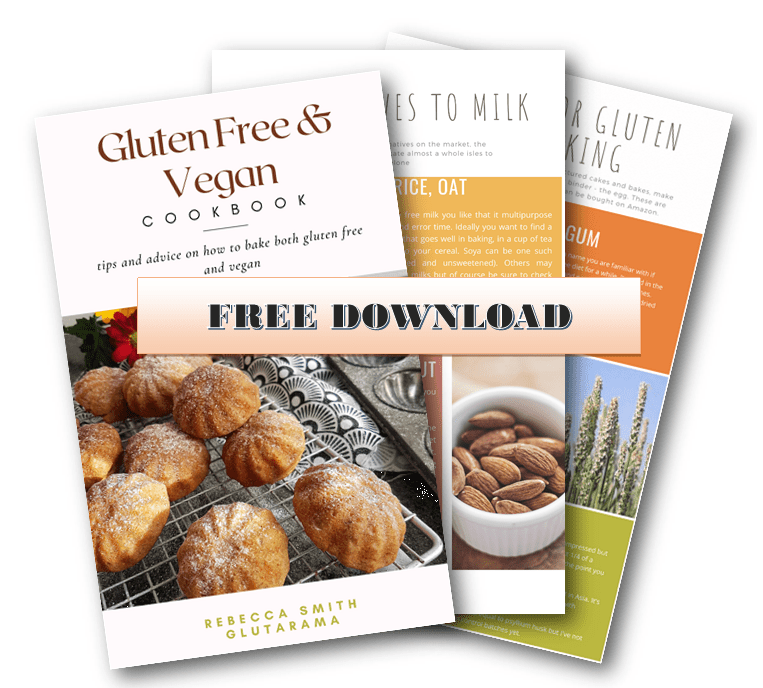 Never miss out again…
Sign up to my weekly Friday newsletter and not only get a FREE e-Book (currently my Gluten Free & Vegan Cookbook) but also get VIP subscriber discounts on free from goodies. Join me and learn to make anything gluten free.
What Shortbread Mould is better, stone or wooden?
Now I have to hold my hands up here and say I've never used a wooden shortbread mould. I used to have a beautiful stone but it cracked and I've not gotten round to replacing it yet.
Stone Shortbread Moulds – can be a bit of a love hate kitchen item. There are two schools of thought on how to use a stone. Predominantly people use a stone to bake their shortbread in rather than use it just as a mould to shape. I've heard of nightmares where people have been left chipping away at new stones to remove burnt shortbread. The idea of having to do this is heart breaking when making shortbread is in fact so simple.
I believe the best way to prepare a stone is to oil it, as you would a new wok to seal it. Then bake the stone on it's own in the oven. However my stone took a few bakes before it behaved itself. Which makes it all the more heart breaking as I'd just got it working perfectly when it met with an unfortunate accident.
Wooden Shortbread Moulds – are obviously not intended for the oven but are purely to shape the shortbread then turn out to the biscuit onto a sturdy baking tray to bake in the oven. There seems to be very few on the market these days unless you're in Australia, but I've found a lovely one here straight from Scotland – Wooden Shortbread Mould. I've also added embossed rolling pins if you fancy creating your own patterns (affiliate links).
I will be adding one (or two) to my wish list for this years birthday, that's for sure. In the meantime, I think you'll agree that my cake tin shortbread is still a beautiful sight to behold.
Enjoyed this Gluten Free Shortbread recipe? You'll love these other biscuit recipes
Gluten Free Shortbread Recipe
Gluten Free Shortbread Recipe
A delicious, melt in the mouth shortbread recipe that's not only gluten free but can be made dairy free (vegan) too. So quick to make and with common store cupboard ingredients, this traditional biscuit can be made in no time for last minute guests or shortbread cravings.
Ingredients
175

g

gluten free plain flour

50

g

cornflour/cornstarch

50

g

caster sugar

(plus extra to sprinkle)

120

g

unsalted butter or dairy free alternative (I use Flora plant butter)

or dairy free alternative, I use Flora vegan block
Instructions
Preheat the oven to 170°C | 150°C fan | 325°F | Gas 3.

To make the shortbread, simply weight out the butter, sugar, flour and cornflour in a bowl and using a rounded knife cut through mixture until it resembles fine breadcrumbs.

The mixture will seem too dry, do not worry, it's supposed to be crumbly.

For quick and easy results use a 20cm sandwich cake tin, spray with oil and line with a greaseproof disc in the bottom.

Press the crumbly mixture firmly into the tin, making sure you've gone to the edges and the dough is as flat and compacted as possible.

I use the end of a dessert spoon to smooth down the edges to ensure the mixture get right into the sides of the tin.

Gently turn out the shortbread onto a strong baking sheet, you may need to give it a gentle tap to encourage it to come out if its tin. Prick the shortbread dough with a fork evenly.

Now, using a long sharp knife cut your shortbread into the portion sizes you desire, don't be scared, just make one cutting motion into the round shortbread. Don't cut into it like your slicing bread!

This will enable you to portion the shortbread once baked.

Bake the shortbread for 35 minutes until it begins to smell delicious and just starts to turn colour.

Remove from oven, sprinkle with caster sugar and return to the oven for another 5 minutes. The shortbread should have a gentle golden tint to it.

Remove and move to a cooling rack – allow to cool completely before eating.
Nutrition
Nutrition Facts
Gluten Free Shortbread Recipe
Amount per Serving
% Daily Value*
* Percent Daily Values are based on a 2000 calorie diet.
Have you tried this recipe?
Let me know how it was & I will be super grateful. Take a picture & tag me @glutarama on your social media posts – I love seeing your photos more than you will ever know x
I love to see your own photos of my bakes, dinners and treats head to your favourite social media account and don't forget to tag me in @glutarama
Subscribe to my email list so that you get NEW recipes straight in your mailbox every Friday PLUS a FREEBIE and access to some amazing gluten free DISCOUNTS
*disclaimer: I use affiliate codes on my website, the vast majority are to Amazon. If you click on any of the links or images in the post and make a purchase my family will benefit from a small % of that purchase at no extra cost to you.

For full transparency, in 2020 I made my first £25, and in 2022 I reached my next £25 (Amazon don't transfer the money until you reach £25). I'm now up to £17.80 for 2023 so edging closer to the magical £25 mark!!

To date I have made £69.28 since I first started the scheme in 2017. It won't pay the bills, that's for sure but it does help to pay for ingredients or little treats to cheer me up!