What did you say Rebecca? Hot Cross Bun and Butter Pudding…. Oh yes, that's right you heard me; totally scrumptious gluten free and vegan Hot Cross Butter Pudding. This is my seasonal version of the awesome Bread and Butter Pudding but with the simple twist that it's; gluten free, dairy free and egg free too (depending on the gluten free hot cross buns you use).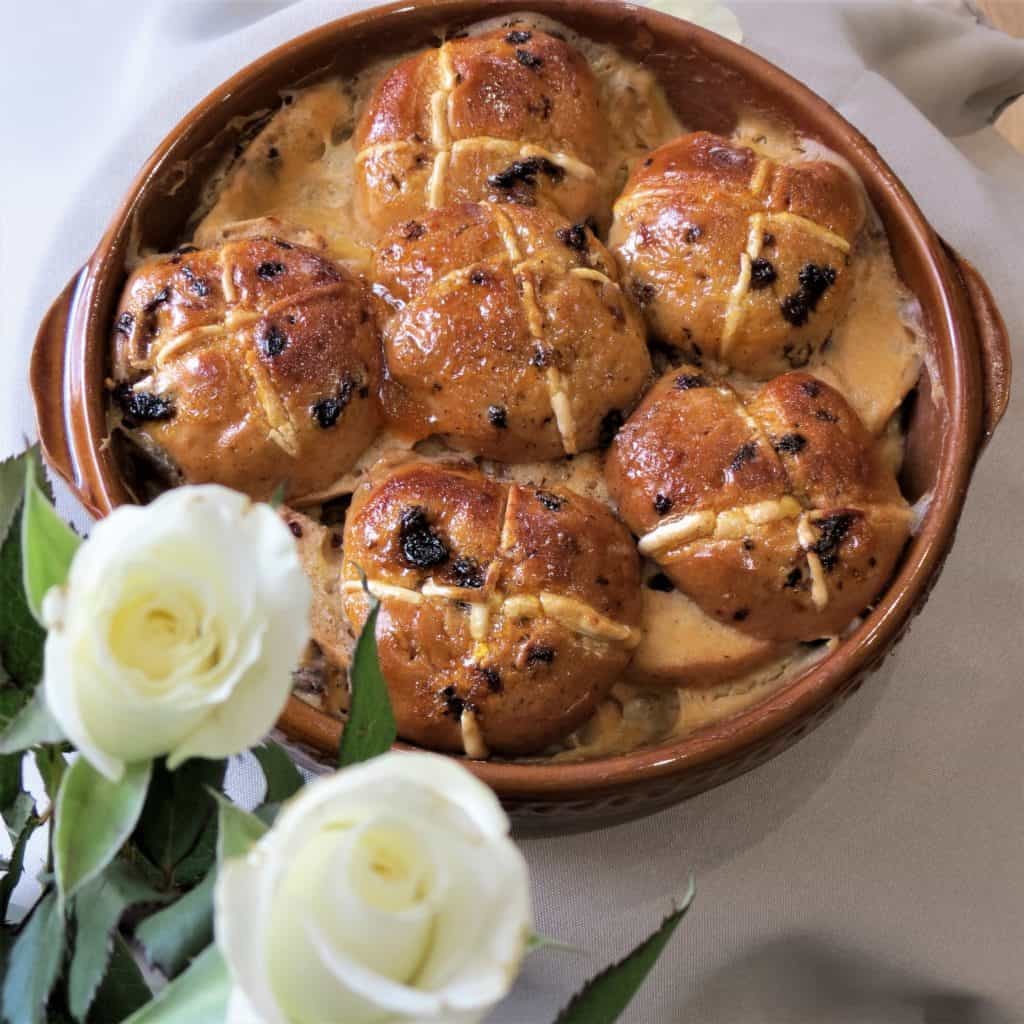 What's the history behind the Hot Cross Bun
Hot Cross Buns, Hot Cross Buns, One ha'penny, Two ha'penny, Hot Cross Buns!
If you have no daughters, Give them to your sons,
One ha'penny, Two ha'penny, Hot Cross Buns
Does that bring back memories? It does me. I definitely sung this at school either in assembly or the classroom or the playground. In fact, I seem to recall singing it to Bethany and Lewis when they were young too. So where does the Hot Cross Bun come from and what is the significance of the famous Hot Cross Bun? Well as with most old religious linked traditions – nobody is really 100% sure.
I could leave you hanging there….
…I won't, I shall educate you in the little folk law that is known about these delicious seasonal spiced buns.
One theory is that the Hot Cross Bun originates from St Albans, where Brother Thomas Rodcliffe, a 14th Century monk at St Albans Abbey, developed a similar recipe called an 'Alban Bun' and distributed the bun to the local poor on Good Friday, starting in 1361 [source: Wikipedia]
However, other websites seem to suggest that the ancient Greeks made them too. Sorry Brother Tom, you were beaten to the finishing post.
The buns can be found widely In Ireland, UK and as far abroad as New Zealand, Australia, Canada and India, so it's not clear where it originated (however, there seems to be a common colonial factor here, so maybe it started here in the UK?)
Never miss out again…
Sign up to my weekly Friday newsletter and not only get a FREE e-Book (currently my Gluten Free & Vegan Cookbook) but also get VIP subscriber discounts on free from goodies delivered to your door. Join me in my journey and learn to make anything gluten free.
Hot Cross Buns are eaten every Good Friday in Christian communities. They are symbolic of this significant day in Christian faith, when Jesus was crucified. Each bun is decorated with a cross made from flour paste (this originally was a pastry cross, but in that last few hundred years changed to something a little more palatable). The cross, as you'd expect, represents the cross on which Christ died. The spices in hot cross buns are said to represent the spices which were used to embalm Christ after his death. I'm not sure what the raisins or currants represent, I dread to think!
According to folk law, if you hang a bun on Good Friday, it will stay fresh all year. I'm not going to put this to test, especially with a gluten free one. Mind you, I could use it to throw at cold callers; who knows the damage it could cause.
They were also believed, if baked on Good Friday, to have medicinal qualities and travellers would take them on long journeys .
While this is all very lovely, as a historian I find the evidence lacking so I'm just happy to think of the humble Hot Cross Bun as a lovely Easter treat, perfectly toasted, buttered and enjoyed with a strong cup of Yorkshire Tea.
Other recipes that are similar to this Bun and Butter Pudding
I'd be silly not to link to my very own Bread & Butter Pudding a timeless family favourite, then there's my Chocolate Orange Bread & Butter Pudding which is the latter but with a delicious twist. Finally, moving off on a slight tangent the traditional Bread Pudding which is a recipe my Nanny used with my very own recipe for gluten free suet.
I'll just lean my little trumpet up against this chair and crack on with the recipe now shall I?
Hot Cross Bun and Butter Pudding Recipe
Hot Cross Bun and Butter Pudding
So simple to make, this totally free from Easter pudding will impress at the dinner table on Easter day. Gluten free, dairy free and vegan, Nobody needs to miss out this Easter.
Cuisine:
Free From – gluten and vegan
Keyword:
Dairy Free, Easter, Gluten Free, Hot Cross Buns, Vegan
Ingredients
6

free from hot cross buns

cut into 3 layers and buttered

2

tbsp

Birds Custard Powder

50

g

mixed fruit

just a sprinkling over each layer to taste

2

tbsp

sugar

I used demerera

1/4

tsp

cinnamon

1/4

tsp

nutmeg

1

pint

soya milk

or any suitable DF alternative

apricot jam

to brush bun tops
Instructions
Cut the Hot Cross Buns into three slices and butter each slice

Prepare the custard by mixing a little of the milk (or dairy free alternative) with the custard powder and 2tbsp of sugar to a paste then add the remaining milk, nutmeg and cinnamon and whisk, set aside until your ready to pour.

Grease your oven proof dish and start to add a layer the sliced buns, sprinkle a handful of mixed fruit and repeat process until all layers are added – tops of buns last so you get the full Hot Cross Bun effect!

Pour the lightly spiced custard liquid over the layered buns and cover with greased foil.

Pop into the oven for 30 mins on 200°C | 180°C fan | 400°F | Gas 6

Remove from oven after 30 minutes and take off the foil, brush bun tops liberally with apricot jam and return to oven for 10 minutes to caramelise.

Serve hot with lashings of delicious free from custard or dairy free cream.
Nutrition Facts
Hot Cross Bun and Butter Pudding
Amount Per Serving
Calories 328
Calories from Fat 144
% Daily Value*
Fat 16g25%
Cholesterol 117mg39%
Sodium 328mg14%
Potassium 109mg3%
Carbohydrates 38g13%
Protein 9g18%
Vitamin A 800IU16%
Vitamin C 4mg5%
Calcium 128mg13%
Iron 1mg6%
* Percent Daily Values are based on a 2000 calorie diet.
I really love to read your comments and feedback and will always comment back. Do drop a line in the comment section if you liked this post I would love to hear your thoughts, if you share photos of your delicious creations, please do tag me or use the hashtag #Glutarama on Facebook, Twitter and Instagram.
Subscribe to my email list so that you get all my reviews and recipes straight in your mailbox PLUS a FREEBIE and access to some amazing gluten free DISCOUNTS
Each week I link up to these awesome linkies by other wonderful bloggers and recipe developers
Cook Blog Share | Fiesta Friday | Friday Favourites | Handmade Monday | Sundays on Silverado | Full Plate Thursday | Traffic Jam Weekend Linky | What's For Dinner?
*disclaimer: I use affiliate codes on my website, the vast majority are to Amazon. If you click on any of the links or images in the post and make a purchase my family will benefit from a small % of that purchase at no extra cost to you, in fact, for full transparency, in 2020 I made my first £25, and in 2021 I've clocked up £10 – so it won't make me a millionaire but it will treat me to a few coffees, Lord knows I need the caffeine!