This round up of Autumn Gluten Free Desserts is being written as the low sun shines through the window of my office, there's a hot mocha on the desk next to my keyboard and I have my fluffy slippers on. Oh, how I love the cooler days and the feeling that autumn is well and truly upon us and winter and cosy fires will be here soon (such a romantic).
This round up of Autumn inspired recipes is 100% my favourite round-up to feature for you. I adore puddings and seasonal bakes as the nights draw in and comfort food is back on the menu. With this seasons bounty of tree fruits waiting to be harvested and more time to spend in the kitchen this is the perfect webpage to come to time and time again for the best gluten free puddings and desserts.
We are unbelievably lucky where I live to have access to a community orchard. Its bursting with apples of every description, pears, plums, damsons, sloes, cherries, blackberries, and greengages. I know! REALLY lucky. I happen to think that what we harvest from the earth ourselves tastes so much better and just knowing that you picked it yourself adds to the magic of baking.
Top Autumn fruits to bake with
I mentioned a few above but autumn or fall fruit can be harvested from September through to January.
Pears are ripe for the picking in September (possibly late August depending on the variety). Blackberries are the exception to autumn fruit being a bush berry, these make an appearance in September and can run into early October, but my family had been picking these in our area since early August.
If you plan to pick blackberries at this later time you'll be thankful of my berry harvesting tips on what berries to pick, how to clean your black berries and how to store them here in my Best Homemade Blackberry and Gin Ice Cream recipe and tips so you can enjoy late into autumn.
If you're interested in all seasonal fruit and vegetables then Eating Seasonally is a fab page for quick reference here in the UK, other countries may vary on plant species and harvest times.
GF – Gluten Free (this goes without saying!)
DF – a dairy free option in the ingredients and method
Ve- a vegan/egg free option in the ingredients and method
Autumn Gluten Free Desserts
I've broken the recipes down into sub groups;
crumbles and cobblers, pumpkin bakes, tray bakes, ultimate comfort food, and pastry bakes. So, if you like, you can skip the other recipes and go straight to the dessert and pudding type that you fancy to save time. Otherwise, if you're browsing, grab yourself a cuppa now, and I'll see you back here in 5mins to take you on a tour of my 20 Awesome Autumn Gluten Free Desserts.
Autumn Gluten Free Fruit Crumbles & Cobblers
GF | DF | Ve – 35mins
I hailed this as the best crumble topping over in this popular recipe, it is now the main crumble topping I use every time and I know it off by heart and by eye so I can whip a crumble up in no time, and often do! Technically rhubarb is not an autumn fruit, but any bounties I have I chop and freeze but tinned rhubarb is equally as good, if not quite the right colour.
GF | DF | Ve – 55mins
These cute and simple to make Mini Pear and Apricot Cobblers are the very best of autumnal comfort food but perfectly portioned. Using any fruits from the harvest time, you can whip this cobbler up in no time with gluten free ingredients and no egg or dairy so vegan too.
GF | DF | Ve – 1hr
A simple pudding that's easy to prepare and a real crowd pleaser, warning, you may never make a normal apple crumble again, and as this is vegan, dairy free and gluten free too everyone can partake in my Toffee Apple Crumble.
GF | DF | Ve – 1hr 10mins
This quick and easy to make Easy Peach Cobbler is the absolute best of autumnal comfort food. Using any fruits from the harvest time, you can whip this cobbler up in no time with gluten free ingredients and no egg or dairy so vegan too.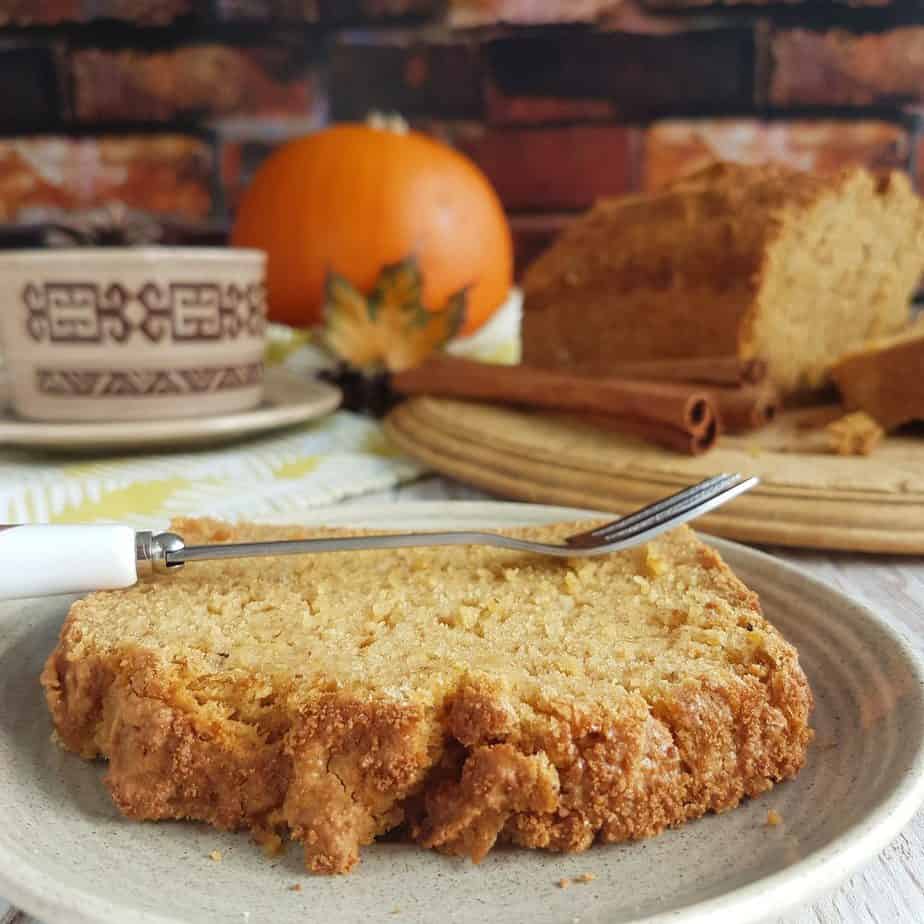 Autumn bakes using pumpkin
GF | DF – 1hr 15mins
You can't get more traditional than this. This Pumpkin Pie recipe is well over 150 years old! A firm favourite for our family, this traditional Autumn pumpkin spiced pie is enjoyed every year without fail.
GF | DF | Ve – 1hr
This has to be my all-time favourite pie; the delicate notes of pumpkin and autumnal warm spices are a match made in heaven. Add a splash of brandy and now you really are talking business. I adore pumpkin pie, so this vegan and gluten free version is my new favourite recipe.
GF | DF | Ve – 1hr 10mins
A simple way to make pumpkin bread using a ready mixed gluten free packet of brown bread mix, this recipe is quick and easy and the pumpkin bread lasts a few days too so perfect for lunchboxes or if made in advance.
GF | DF | Ve – 1hr 15mins
A deliciously light and moist Pumpkin Loaf made with gluten free flour and an egg replacement to make it dairy, egg and gluten free so almost anyone can enjoy a slice this Autumn.
GF | DF | Ve – 30mins
This deliciously simple pumpkin roll is filled with sweet pumpkin puree and pumpkin spices. So easy to make and only 4 main ingredients this is a quick bake you can make for unexpected guests and last minute get togethers at Halloween. Otherwise, it's a gorgeous, sweet pastry to enjoy any cold autumn or winters teatime or evening.
GF | DF | Ve – 50mins
A delicious gluten free version of the Little Debbie Pumpkin Delights. These Gluten Free Pumpkin Biscuits are simple to make, adorable to display and are the perfect treat this Halloween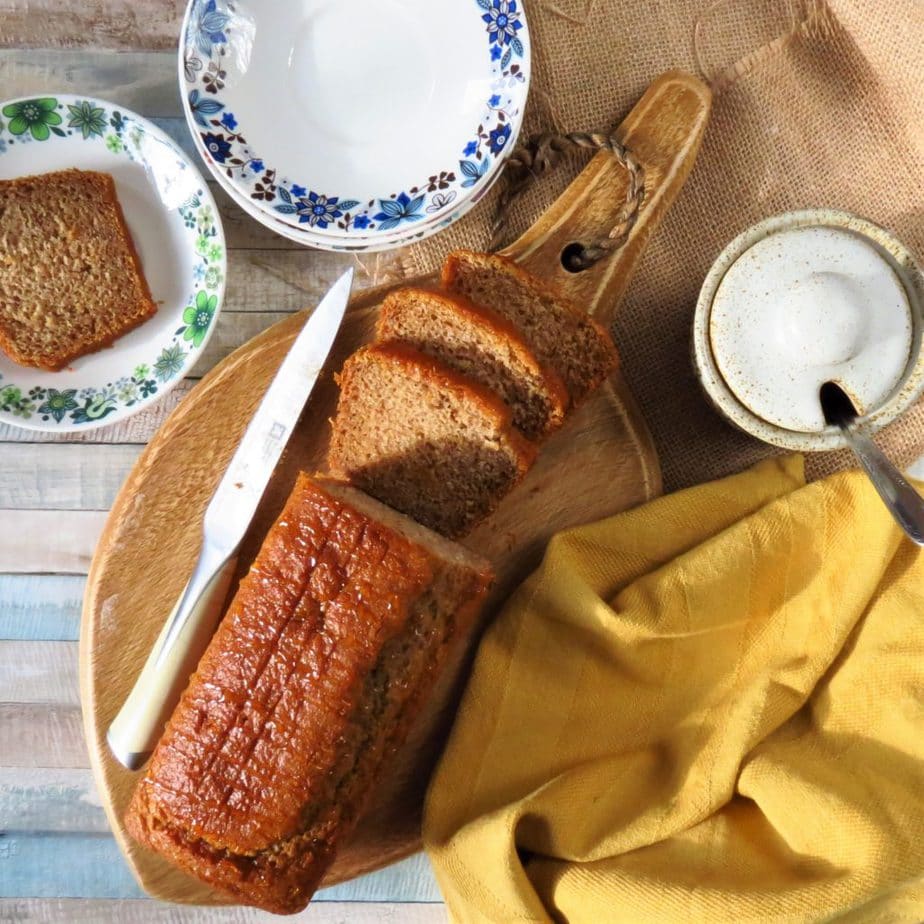 Autumn Gluten Free Tray Bakes
GF | DF – 1hr 45mins
A perfect tray bake to make for an afternoon tea, also a great way to use up apples that may be passing their best. An old recipe of mine that still needs the photos updating but the results are always the same – perfect.
GF | DF | Ve – 35mins
A simple moist bake, great for using over ripe pears. This Pear and Ginger Crumble Cake is made using gluten free ingredients and has no dairy or egg in it, so it is vegan too. A prefect autumnal bake to enjoy with a cup of tea with friends or in peace.
Rhubarb and Ginger Crumble Cake
GF | DF | Ve – 1hr 30mins
A deliciously light sponge with a rhubarb layer, topped with a lightly spiced ginger crumble. Gluten free and easily make dairy free and egg free too.
GF | DF | Ve (using vegan honey) – 1hr
A simple one bowl recipe for this beautifully moist Honey Cake. Take note: it is a very sloppy mixture…trust me, it'll be fine. This recipe makes two 2lb gluten free Honey Cakes or use a roasting tin and cut into squares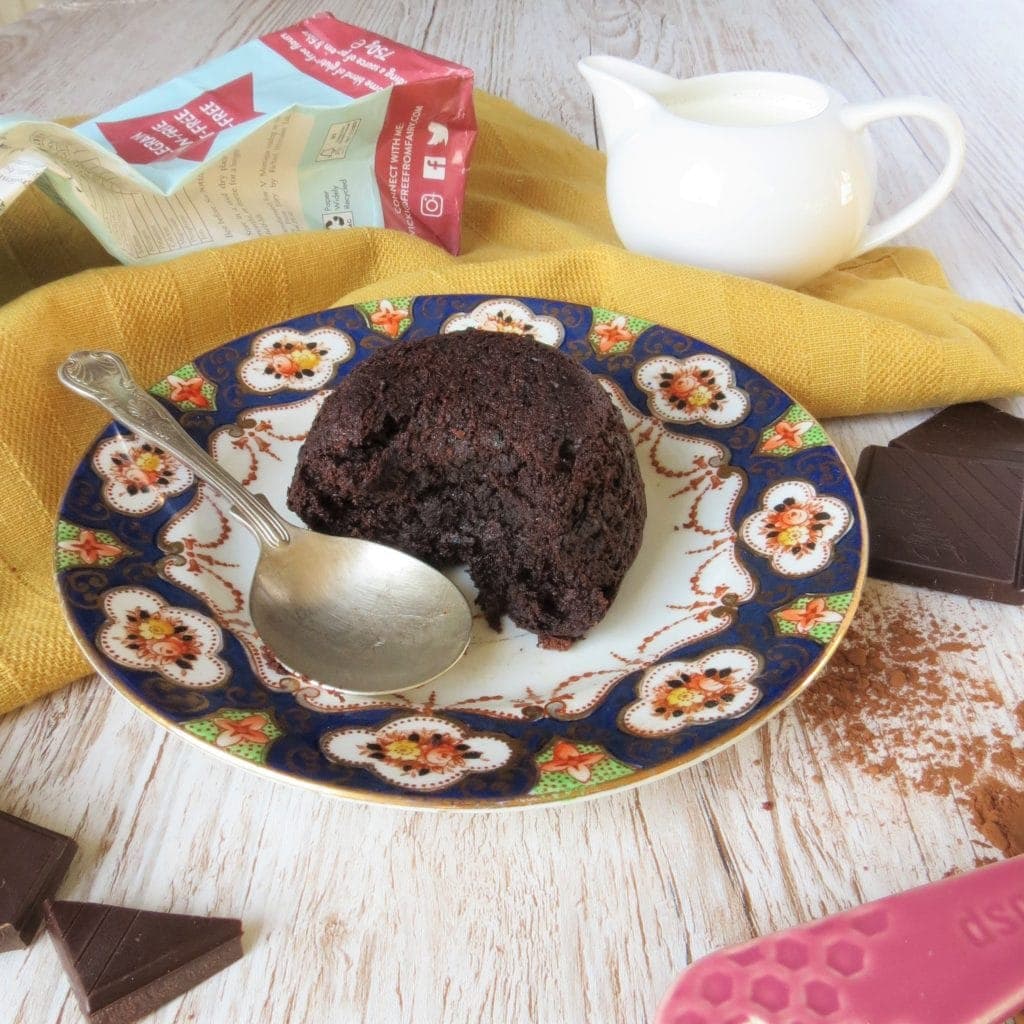 Ultimate Comfort Food for Autumn Gluten Free Desserts
GF – 2hrs
Despite is master class appearance, this beautifully rich Salted Chocolate Tart is simple to make, a chocolate lovers paradise…not for the feint hearted, this gluten free dessert is hardcore!
Chocolate Goo Pudding (Chocolate Fondant)
GF | DF | Ve – 40mins
Easily the most gooey, delicious, chocolatey Chocolate Goo Pudding you will ever make, this pudding is super simple to create, requires very few ingredients and is not only gluten free but can easily be made dairy free and vegan too.
Sticky Toffee and Date Pudding
GF | DF | Ve – 1hr
A family favourite, this Sticky Date and Toffee Pudding is sticky, moist, naughty but totally gluten free, dairy free and vegan if you choose.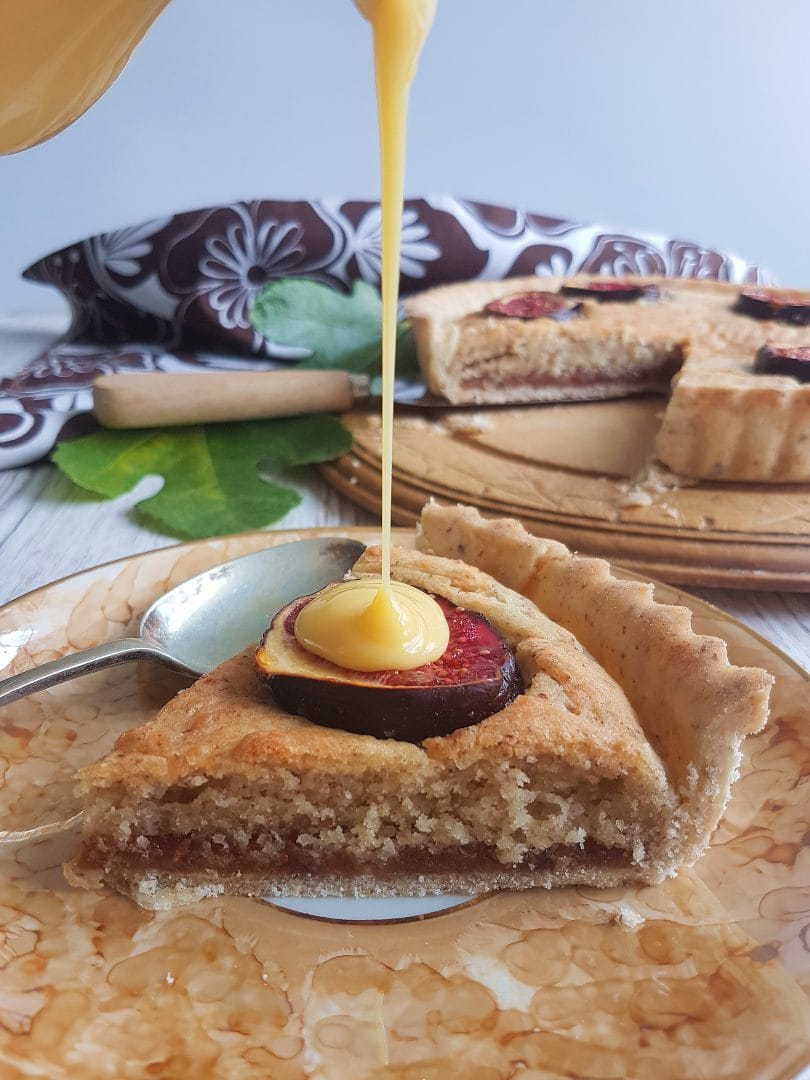 Autumn Gluten Free Pastry Recipes
GF | DF | Ve – 55mins
A deliciously simple gluten free spin on the classic Tart Tatin that is also egg and dairy free too so perfect for vegans.
Easy Gluten Free Apple Turnovers
GF | DF | Ve – 30mins
Make your own Gluten Free Apple Turnovers from scratch. Easy to make with simple ingredients these are a popular pastry in our household. No one suspects they are gluten free and dairy free, I've been told they're better than any bakery! Depending on the puff pastry you get these can easily be vegan too.
GF | DF | Ve – 1hr 15mins
This easy to make Fig Frangipane Tart is a celebration of fig season, so if you are not sure what to do with fresh figs then this is the gluten free bake for you. This is also vegan so dairy and egg free too.
What to top with?
How could I leave you topless! Here's a choice of free from toppings that perfectly accompany any gluten free pudding or dessert.
Quick and Easy Dairy Free Custard
A quick guide to making dairy free vanilla custard using safe instant custard powders. There is also guidance on how to make your very own instant custard powder for the store cupboard.
Check out this recipe
Homemade Vegan Clotted Cream
Make your own homemade thick clotted cream but dairy free and vegan. A simple recipe to make 125ml of imitation clotted cream with a tell-tale thick crust on top. Perfect for scones for a cream tea or to accompany puddings and desserts
Check out this recipe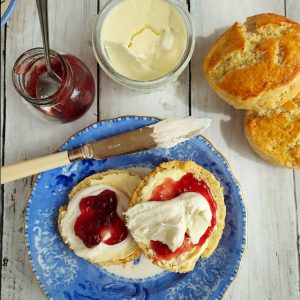 Simple Dairy Free Brandy Sauce
Easy dairy free brandy sauce accompaniment to your Christmas Pudding, mince pies or whatever other pudding you enjoy over the festive period. So simple to make in minutes or in advance to save time on Christmas Day.
Check out this recipe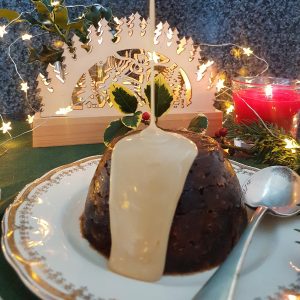 I love to see your own photos of my bakes, dinners and treats head to your favourite social media account and don't forget to tag me in @glutarama
Subscribe to my email list so that you get NEW recipes straight in your mailbox every Friday PLUS a FREEBIE and access to some amazing gluten free DISCOUNTS
*disclaimer: I use affiliate codes on my website, the vast majority are to Amazon. If you click on any of the links or images in the post and make a purchase my family will benefit from a small % of that purchase at no extra cost to you.

For full transparency, in 2020 I made my first £25, and in 2022 I reached my next £25 (Amazon don't transfer the money until you reach £25). I'm now up to £17.80 for 2023 so edging closer to the magical £25 mark!!

To date I have made £69.28 since I first started the scheme in 2017. It won't pay the bills, that's for sure but it does help to pay for ingredients or little treats to cheer me up!
Join my friendly Facebook Group
life's a drama, gluten free doesn't have to be….