I am really thrilled to share this Chinese Special Fried Rice recipe with you, not because I'm going to go all cheesy and says it's the BEST EVER Special Fried Rice (it probably isn't) or that my Special Fried Rice brings all the boys to yard, and damn right, it's better than your's … because that's probably not true either!
I am thrilled to share this Chinese Fried Rice recipe with you because my 14 year old son Lewis makes it every Monday. He's going to hate me for writing this but darling, I'm doing it because I'm so proud. Lewis has high functioning autism (was known as Asperger's), you can read about our journey here in 10 Reasons why I know my son has Autism. Getting Lewis to do certain tasks can be challenging but he has embraced this routine and last week I said I would post the recipe that was originally mine but he's developed it further.
Massive proud mummy moment!
Can this Special Fried Rice be made Vegan?
Absolutely, we use the left-over meat from the previous days Sunday Roast so this is an excellent way to make one slightly more expensive meal stretch over two days. I appreciate that many people who come to my site are vegan, but just to explain here that I cannot tolerate eggs or dairy hence the reason my baking tends to be vegan so that I can enjoy it too.
To make this a vegan special fried rice simply omit the meat and add Quorn, or Jackfruit and marinade this in the same way you would the meat.
What rice do you use to make Chinese Special Fried Rice?
This is simple, you can use any standard rice dinner rice (not Arborio rice, leave this for your Risotto). We've used easy cook rice, long grain rice, extra long grain rice! You could even cheat a little and use microwave plain rice. Use whatever you are comfortable with.
What vegetables can you add to a Chinese Special Fried Rice?
As this recipe is for not one but two young people on the spectrum (yep, Bethany is autistic too), we stick to simple veggies. It's a major breakthrough that I've managed to convince them to have peppers in it to add some much-needed colour. We use the following;
Red, yellow and green pepper (bell pepper)
Sweetcorn (frozen is perfect)
Red onion
What I personally would also love to add is;
Courgette (zucchini)
Sweet Chilli (the larger variety)
Bamboo shoots (you can buy these in tins)
Water Chestnuts (also found in tins)
What could I use instead of sesame oil?
This is certainly not a low FODMAP recipe with the addition of garlic, onion and peppers and I appreciate that you may not be able to eat sesame for allergy reasons so if this is the case do not worry, simply swap the sesame oil for your normal oil. The idea of adding oil is two-fold, to prevent the meat from sticking to the wok and also add a depth in flavour.
What Is the Difference between Teriyaki Sauce and Soy Sauce?
I am aware that you can get gluten free Teriyaki and Soy Sauce but I'll be honest that the Teriyaki is harder to come by. This is why we use soy sauce, garlic and maple syrup in this gluten free special fried rice.
Teriyaki Sauce – a simple sauce is made up of four ingredients; soy sauce, brown sugar, garlic and ginger
Soy Sauce – the base ingredient for teriyaki sauce made from fermented soy beans, wheat and salt so not normally gluten free, however gluten free soy sauce if often widely available in good stores.
If you do have gluten free Teriyaki sauce to hand then I would encourage you to use this and omit the garlic and maple syrup.
How do I make homemade Chinese 5 Spice Powder?
Chinese five spice is readily available in most supermarkets but if you fancy making your own you will need (surprise-surprise) 5 spices; Star Anise, Cinnamon, Fennel, Black Pepper and Clove. To get the quantities right I recommend you pop over to the Feasting at Home website for the quantities and method – Chinese Five Spice Recipe
How long can I keep my Chinese Special Fried Rice?
Remember that rice can be a breeding ground for harmful bacteria so if you plan to keep your rice and eat it another day you need to follow these important rules to avoid food poisoning. This advice was taken from the NHS website.
Tips on serving rice safely
Ideally, serve rice as soon as it has been cooked.
If that is not possible, cool the rice as quickly as possible (ideally within 1 hour).
Keep rice in the fridge for no more than 1 day until reheating.
When you reheat rice, always check that it's steaming hot all the way through.
Do not reheat rice more than once.
If you like my Gluten Free Chinese Special Fried Rice, you may want to check out some other quick and easy dinner ideas
If you like the sound of this Chinese Special Fried Rice, then this Mild Chilli Con Carne with hidden vegetables is another firm family favourite with hidden veggies, and we all love to get stuck into my Gluten Free BBQ Pulled Pork. For something a bit more masterclass how about these Creamy Gluten and Dairy Free Chicken Pink Peppercorn Kievs However, if you're looking for quick and simple dinners for one then you'll love my 5 Free From Simple Soups for One. Need a vegan option, then try this Vegan Mature 'Cheese' Quiche. Last but by no means least how about my recent round up The Best Gluten Free Pizza Bases you can buy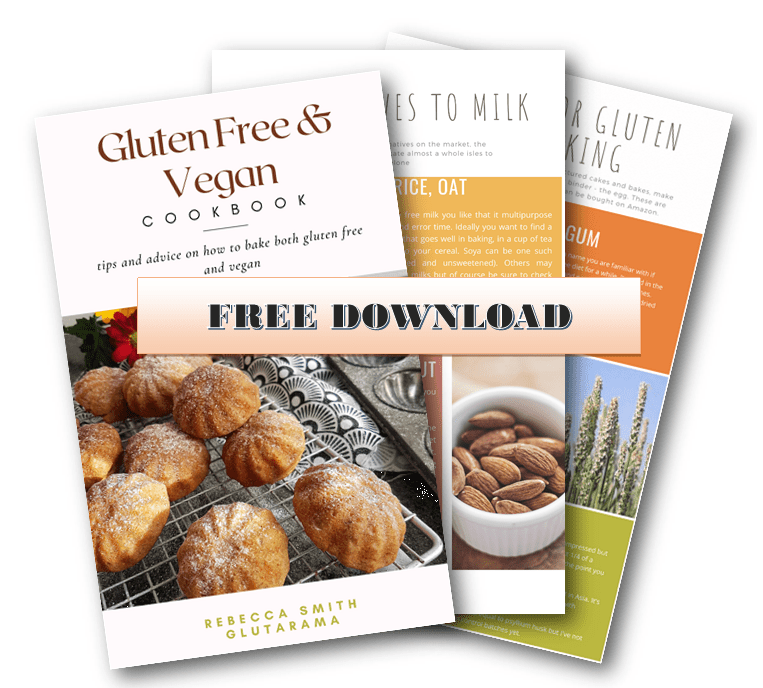 Never miss out again…
Sign up to my weekly Friday newsletter and not only get a FREE e-Book (currently my Gluten Free & Vegan Cookbook) but also get VIP subscriber discounts on free from goodies. Join me and learn to make anything gluten free.
Chinese Special Fried Rice Recipe
Chinese Special Fried Rice
This quick and easy to make Chinese Special Fried Rice is a family favourite every Monday where we use the leftover meat from the Sunday Roast to pad out our take on the popular oriental dish. Made gluten free with gluten free soy sauce.
Ingredients
Chinese 5 Spice Marinade
2

tbsp

gluten free soy sauce

2

tbsp

tomato puree

2

tbsp

water

1

tsp

garlic (powder, puree or clove)

or garlic powder

1

tsp

onion powder

1

tsp

sesame oil

or your normal oil of choice

1

tsp

maple syrup

1

tsp

Chinese 5 Spice powder
Fried Rice Ingredients
2

cups

or rice

½ cup of rice per person

Left over meat; pork

beef, chicken, lamb. All work equally well.

1

red onion

finely diced

½

red pepper

chopped

½

yellow pepper

chopped

½

green pepper

chopped

1

cup

of frozen sweetcorn
Lastly add the following
black pepper

to taste

2-3

tbsp

additional soy sauce to flavour/colour the fried rice.
Instructions
Make the Chinese 5 Spice marinade by adding all the ingredients to a bowl and whisk together to combine.

Add your leftover meat (or drained Jackfruit/Quorn) to the marinade, cover and leave on the side or in the fridge if you plan to marinade for longer.

Measure your rice rinse under running water and add water to the pan/steamer.

Top Tip: dip your index finger into the water so the tip of your finger touches to the top of the rice, the correct amount of water will come up to the 1st knuckle joint in your finger (approx. 2cm deep). This measurement works for me every time.

Cook the rice in the steamer for 7mins and leave for 10mins or boil on the hob for 7mins, cover with a lid, remove from heat and leave for 10mins, after which simply run a knife through the rice to fluff it up.

Now you can start to cut and prep the vegetables you plan to use in your fried rice.

Heat up your wok or large frying pan and add the marinade meat, cook for 5 mins until the marinade darkens and begins to reduce.

Add the onions and cook for a further 2-3mins to soften and then add the rice which should now be fluffy and light with no excess liquid.

Keep turning the rice and marinade to combine and finally add the peppers and sweetcorn (doing this last will help the vegetable to retain their vibrant colours).

At this stage you can add 2-3tbsp of soy sauce if you feel the rice needs more flavour and colour. Do this a tablespoon at a time and taste test.

Serve immediately and eat on its own or as a side dish. This is enough for 4 large bowls of Special Fried Rice.
Nutrition
Nutrition Facts
Chinese Special Fried Rice
Amount per Serving
% Daily Value*
* Percent Daily Values are based on a 2000 calorie diet.
Have you tried this recipe?
Let me know how it was & I will be super grateful. Take a picture & tag me @glutarama on your social media posts – I love seeing your photos more than you will ever know x
Don't lose this delicious Chinese Special Fried Rice recipe – pin it for later.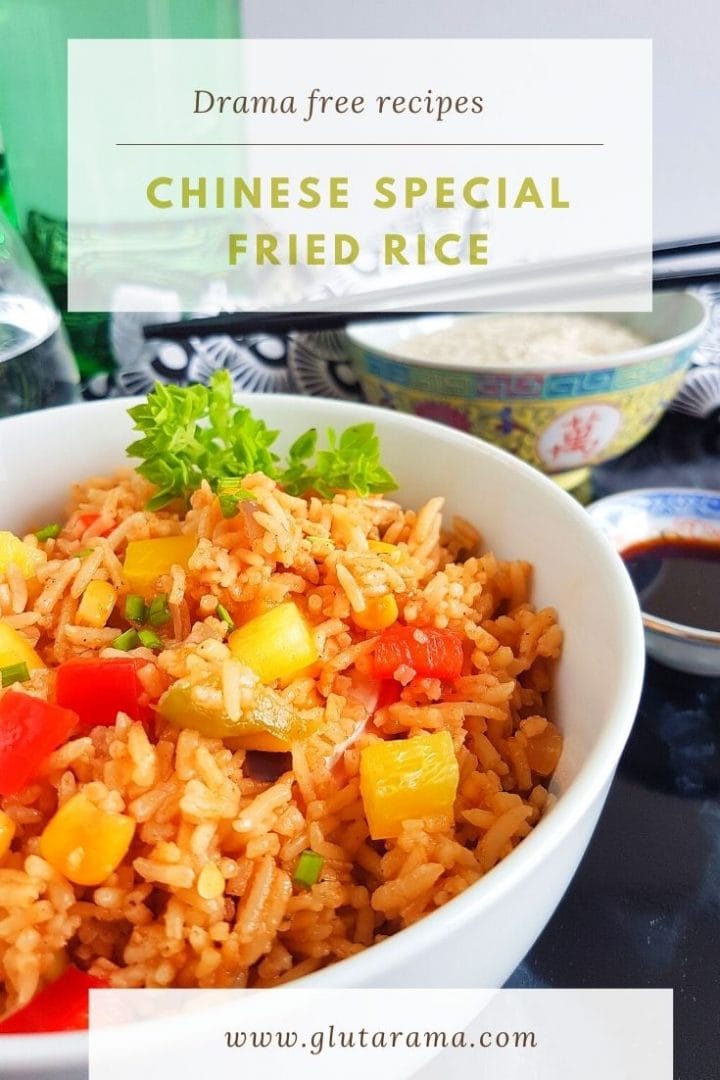 I love to see your own photos of my bakes, dinners and treats head to your favourite social media account and don't forget to tag me in @glutarama
Subscribe to my email list so that you get NEW recipes straight in your mailbox every Friday PLUS a FREEBIE and access to some amazing gluten free DISCOUNTS
And one last thing! I've linked my Chinese Special Fried Rice with these other awesome Foodies websites, go check them out
Cook Blog Share | Fiesta Friday | Friday Favourites | Handmade Monday
*disclaimer: I use affiliate codes on my website, the vast majority are to Amazon. If you click on any of the links or images in the post and make a purchase my family will benefit from a small % of that purchase at no extra cost to you.

For full transparency, in 2020 I made my first £25, and in 2022 I reached my next £25 (Amazon don't transfer the money until you reach £25). I'm now up to £17.80 for 2023 so edging closer to the magical £25 mark!!

To date I have made £69.28 since I first started the scheme in 2017. It won't pay the bills, that's for sure but it does help to pay for ingredients or little treats to cheer me up!