This page contain affiliate links. Please refer to my Disclosures Page for more details.
I cannot tell you how long I have craved a Vegan Mature 'Cheese' Quiche. Oddly enough I didn't eat much quiche when I could, it's funny how you're told you can't eat something anymore and you almost immediately crave what you can't have!
There have been a few failed attempts of mine to make an edible vegan quiche in the past. I got stuck in the thought process that the building blocks for the quiche needed to be the same. By this, I mean I couldn't get away from the thought of making a savoury custard that needed to set in the baking process.
Then I remembered that free from baking and recipes don't follow the same rules. Take gluten free bread as an example. You have to forget what you know about bread dough and instead make something that resembles a thick cake batter.
The exact reverse rule applies here You don't need to make a custard that sets, you need to make a solid filling that melts – mind blown right?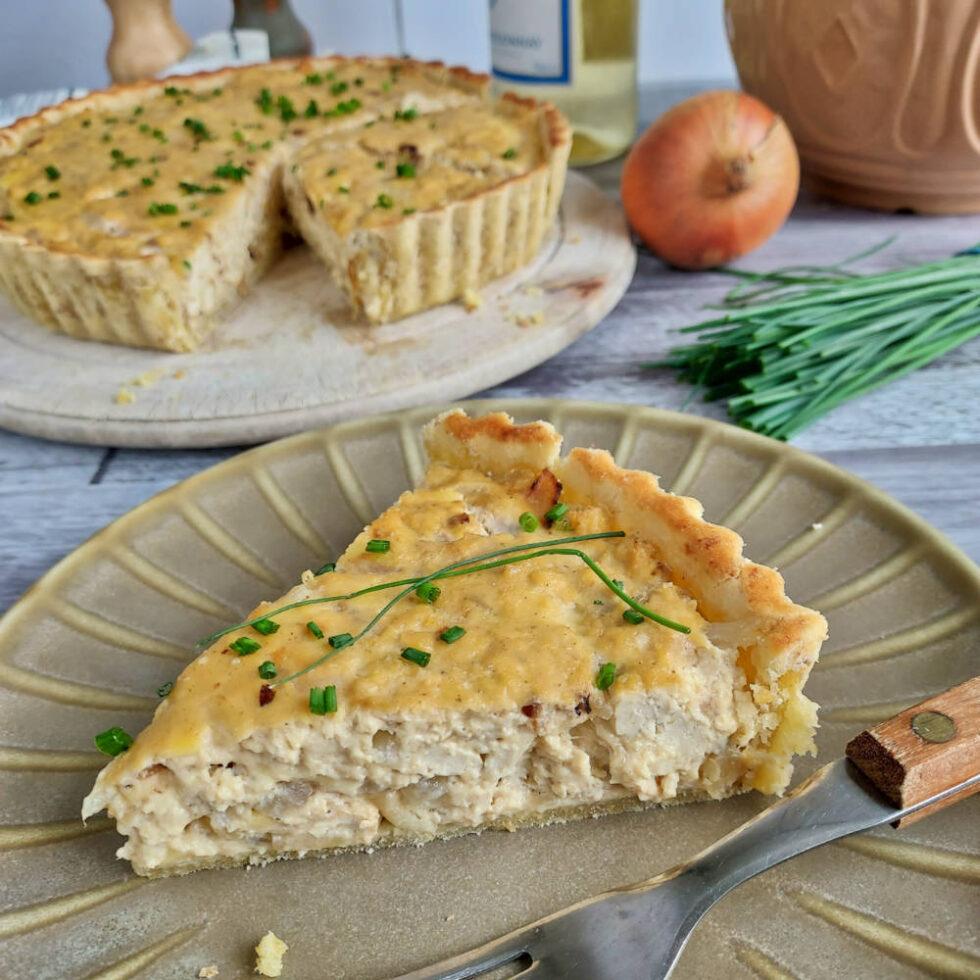 What's the difference between a Quiche and Flan?
Oh my, this took me down a rabbit hole. With lots of my recipes I love to do some research into the origins. Whilst looking for a simple way to answer the question 'what's the difference between a quiche and a flan', I ended up finding out that the quiche didn't originate in France as I had previously thought. It actually comes from Mediaeval Germany.
The original recipe was made with eggs, cream and bacon, it was the French that added the cheese to become the familiar Quiche Lorraine.
That didn't answer my question about flan or quiche though.
The jury is out on this one because popular thought is so conflicted. I'll try to break it down.
Quiche
Quiche is the term widely used in European countries for the savoury egg custard recipes with cheese in a pastry crust with sides.
Flan
Flan can be used in two ways. The word flan seems to get tagged to simple, no fuss recipes with cheaper and fewer ingredients but all the time, to me it's still a quiche! The other recipes that use flan are sweet and the 'flan' element is a sponge cake style base with sweet toppings. The latter is my personal take on what a flan is.
Tarts
Tarts are the next level, sorry to throw a third option in here to confuse you but you can also get savoury and sweet tarts and if you search cheese quiche in Google you get recipes for cheese quiche, cheese flan and cheese tart! However, technically tarts tend to be more complex recipes. For example, take a posh quiche that has got goats cheese and roasted pepper added to it. That tends to fall into the tart category.
What have we learnt? Absolutely nothing, I think you should just call it what your family have always called it and as long as it tastes great that is all that matters!
How to make a vegan mature 'cheese' quiche filling
As I mentioned in the introduction, you need to make a quiche filling that is the opposite of a raw custard that needs to set when baked. To achieve this you use mainly dry ingredients.
You need two types of tofu, silken to create the creamy texture and flavour and firm to imitate the baked egg texture. To imitate the mature 'cheese' flavours you need to crazy on flavour and add yeast flakes, mustard, Worchester** sauce and heaps of seasoning.
You end up with a bowl of crumbled tofu, flavourings, vegan cheese and caramelised onions that you then press into a blind baked pastry case.
Finally brush this crumble mixture with dairy free milk, enough to fill in the gaps and you're reading for baking. Now you don't need to wait for the quiche to set, you wait for the cheese to melt and bind all the ingredients together.
** A lovely commenter took the time to explain to me that Worchester Sauce is not in fact vegan. I'm kicking myself because I knew this as I'd done some research for an earlier recipe. In my research I found out the humble beginnings of the famous Lea & Perrins which all began with a fermented casket of anchovies!
The good news is there there is a vegan version on the market here in the UK called Henderson's Relish. It's Vegan Society approved and Coeliac friendly too.
However, if you cannot find Henderson's in your area/country. You can recreate your own using the recipe recommended by the same commenter;
1 tablespoon ketchup
1 tablespoon white wine vinegar
½ tablespoon gluten free soy sauce
Thank you to Nicki for this recipe suggestion xxx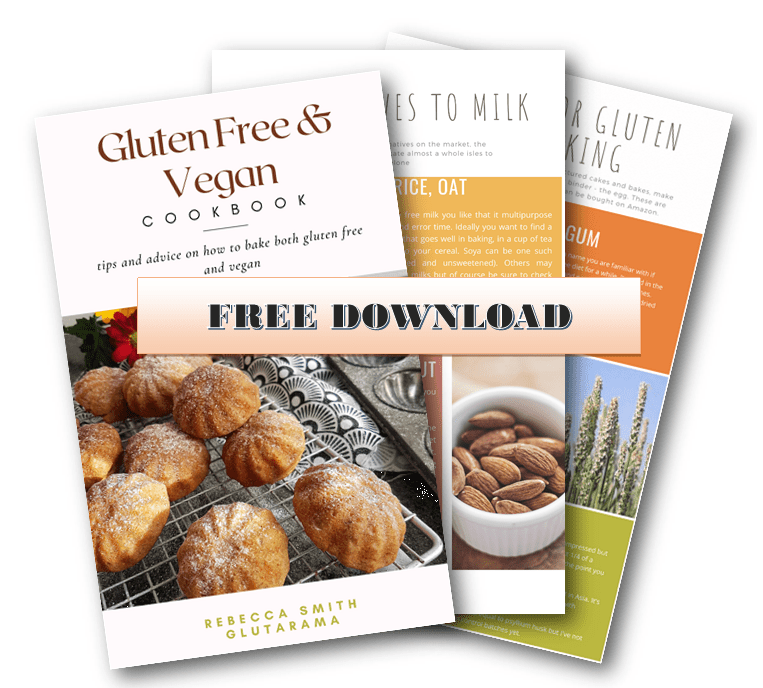 Never miss out again…
Sign up to my weekly Friday newsletter and not only get a FREE e-Book (currently my Gluten Free & Vegan Cookbook) but also get VIP subscriber discounts on free from goodies. Join me and learn to make anything gluten free.
what is the difference between tofu & silken tofu?
The best way to describe the two tofu's used in this recipe is that silken tofu often comes in a small carton, a bit like cartons of passata. You can cut the top and the silken tofu will slide out like a creamy blancmange. You can easily break it up with a spoon and the texture is smooth and creamy.
The firm tofu I use in this recipe is the extra firm kind. It's like crumbly cheese in fact, think more Wensleydale cheese if you're in the UK. However, the flavour is bland and texture crumbly and dry. Not so crumbly that it can't be cut into cubes and fried though. This makes it an excellent meat alternative to recipes and it soaks up flavour if you marinade it first.
How to make a vegan 'cheese' pastry
I wanted to make a rich flavoursome pastry case for this vegan mature 'cheese' quiche so altered my usual vegan pastry by adding 100% 'butter' alternative and leaving out the solid vegetable fat (normally I use a 80:20 blend). I also added nutritional yeast flakes to the dough to give that rich umami/cheese flavour.
You need to bake blind with this recipe to ensure the pastry is cooked through and avoid any inedible soggy bottoms. My top tips for baking blind are;
use baking beans/beads
prick the bottom of the uncooked pastry case to encourage an even bake
use grease proof paper that's been scrunched into a ball first (makes it easier to fit to the case)
place the flan tin on a baking tray so its easer for you to get in and out of the oven, especially if you're using a loose bottom tin.
How to make a flax egg

to make 1 flax egg you need the following ingredients:
– 1tbsp ground flax seed
– 3tbsp water
– 1tsp psyllium husk (optional but does add elasticity to baking)

Simply add all ingredients to a glass and stir before measuring out the other recipe ingredients, by the time you come to use your 'egg' mixture it will have thickened to a frog-spawn consistency (thicker if you added psyllium husk)

Then just add to your baking as you would an egg. For 2 eggs double the ingredients but note that recipes that require more than two eggs may fail due to lack of support in the structure.
Can I make this Vegan Mature 'Cheese' Quiche in advance?
You 100% can make this quiche in advance, in fact, I'd go as far to say this just keeps getting better with age. I pretty much have these quiche all to myself when I make them as the family aren't keen (they haven't actually tried them!) No problem, more for me! This does mean that I often make and eat over several days or half the ingredients and make individual ones in mini flan tins.
As long as they are kept in a Tupperware container in the fridge, this will happily keep for 5 days. They reheat just fine in the microwave and are equally as delicious cold as a snack.
Other flavour ideas for this egg free quiche
I've added a new recipe here for you look look at for extra flavour inspiration. This is my mini version Egg Free Buffet Quiche perfect for parties.
Egg Free Buffet Quiche
Don't worry, these mini buffet quiche are totally dairy free, egg free, vegan and gluten free! The mature 'Cheese' flavour comes from nutritional yeast and a few other tricks to get that wonderful umami flavour we all crave. Filled with different savoury flavours to cut into bite-size pieces perfect for any party table or canapé. Lots of flavour combo ideas included in this simple free from recipe.
This recipe makes 2x20cm quiche or 4x10cm quiche
Check out this recipe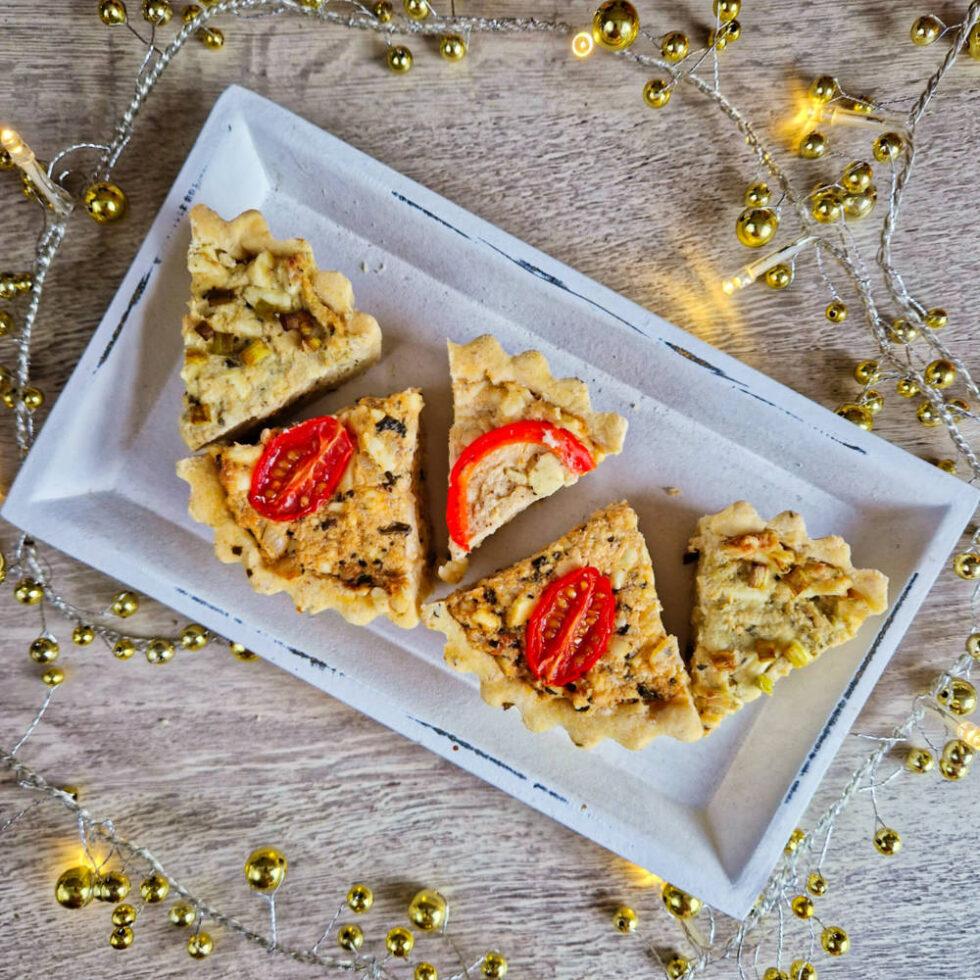 More vegan recipe inspiration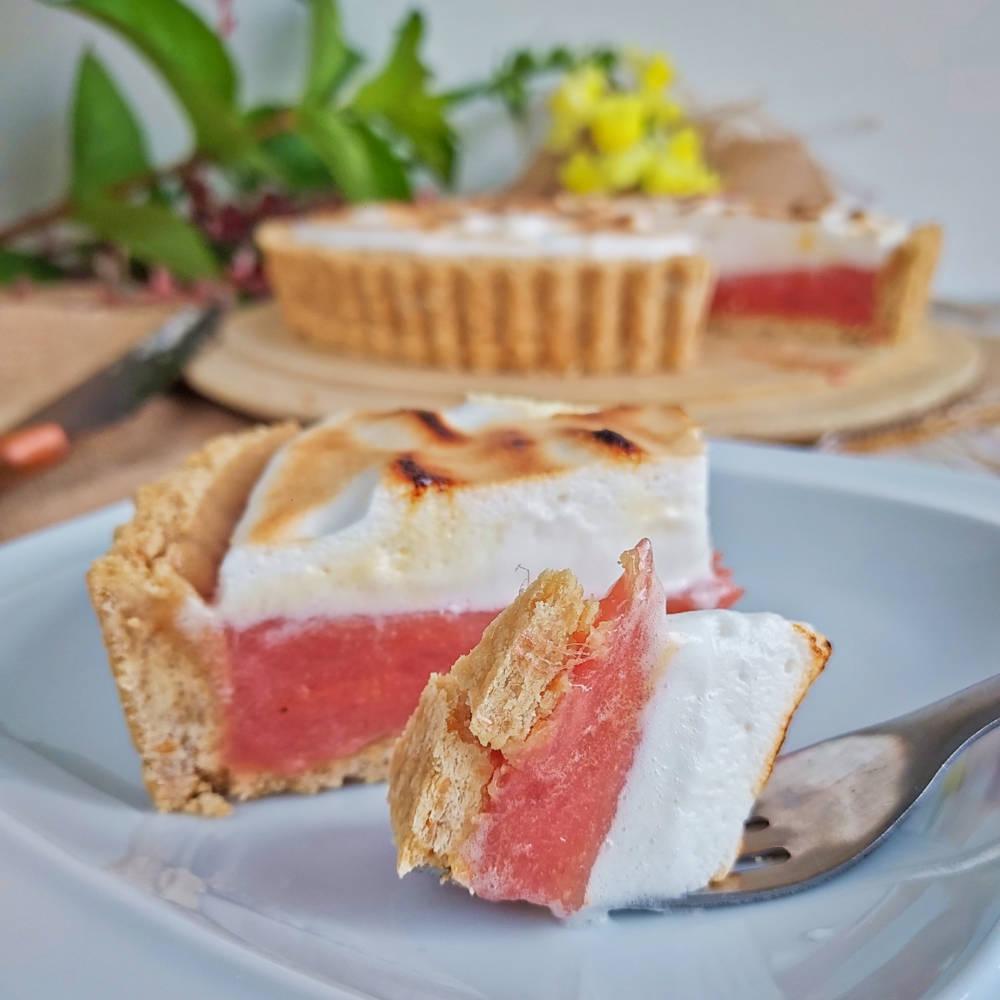 Never miss out again…
Sign up to my weekly Friday newsletter and not only get this super handy FREE conversion guide but also get VIP subscriber discounts on free from goodies delivered to your door. Join me in my journey and learn to make anything gluten free.
p.s. I have this on the back of a cupboard door in my kitchen – true story!
Vegan Mature 'Cheese' Quiche Recipe
If you make it and like the recipe I would be eternally grateful if you popped back and commented leaving a star rating as this will tell search engines that this recipe is worth checking out and others will get to find it in searches.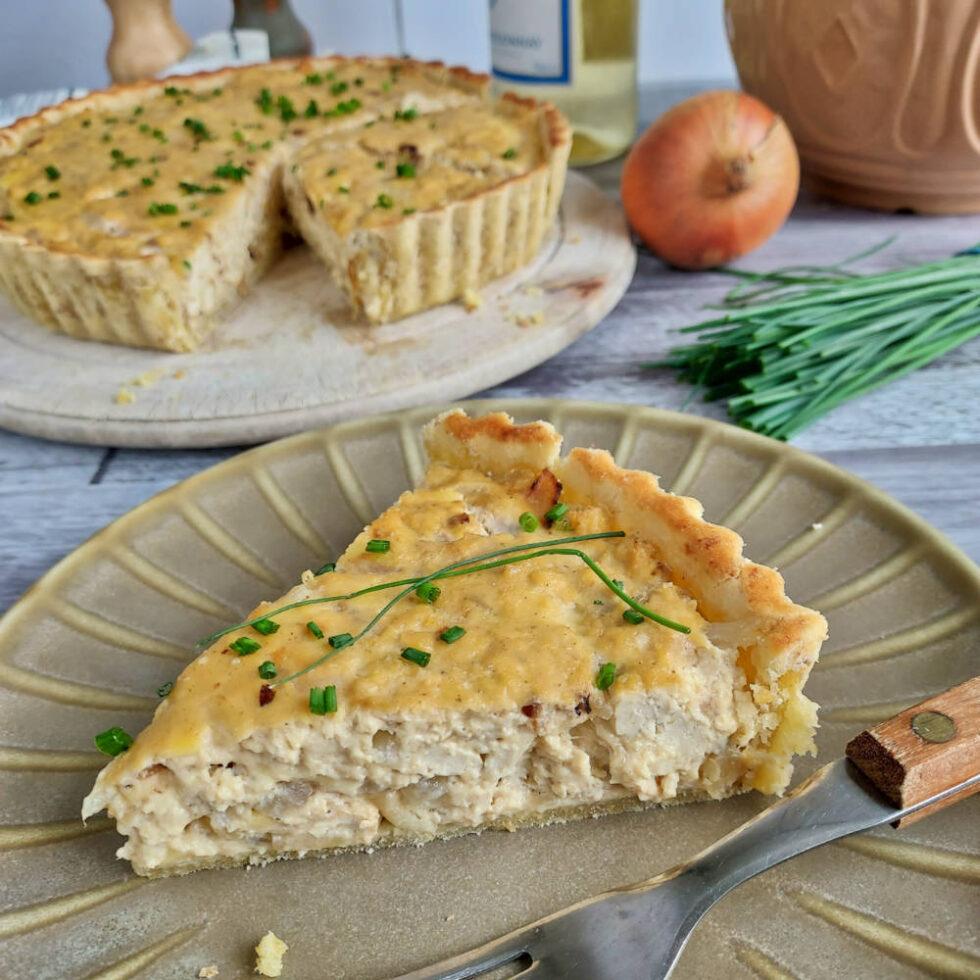 Vegan Mature 'Cheese' Quiche
Don't worry, this quiche is totally dairy free and vegan. The mature 'Cheese' flavour comes from nutritional yeast and a few other tricks to get that wonderful umami flavour we all crave. Made with a mouth-watering 'cheesy' pastry, this quiche gets better with age so feel free to make it then eat a few days later cold as part of a ploughman's on on a picnic.
Ingredients
For the pastry case
80

g

'butter'

I use Pure plant based blocks of 'butter'

150

g

gluten free plain flour

2

tbsp

nutritional yeast flakes

1

tbsp

ground flaxseed

3

tbsp

cold water

salt & pepper to taste
For the quiche filing
280

g

extra firm tofu

300

g

block of silken tofu

150

g

strong vegan cheese

I use Ilchester mature 'cheese'

2

medium

onion(s)

finely chopped

4

tbsp

nutritional yeast flakes

2

tbsp

Colman's Mustard Powder

Colman's powder is gluten free, ready made Colman's is NOT gluten free

1

tbsp

psyllium husk powder (optional)

1

tbsp

gluten free Worcestershire Sauce

make sure you use a gluten free version

3

tbsp

'milk'

I use soya milk

1

tsp

salt

1

tsp

pepper
Instructions
To make the pastry dough
In a large bowl measure the flour and 'butter' and using your fingers tips or a pastry blender, work the two together until you have a crumble mixture.

Stir the nutritional yeast flakes, seasoning and ground flaxseed into the dry crumble then add the tablespoons of water.

Next, using a rounded knife, cut through the mixture until it starts to clump together. Tip this lumpy/dry mixture onto a clean kitchen surface.

TOP TIP: no need to flour the surface, this will help with kneading.

Bring the crumbly mixture together with your hands and quickly roll into a ball. Pop into the fridge to chill, this will prevent shrinkage when it comes to baking.
Prepare the filling
In a frying pan, fry the diced onions to the colour you desire, I love to brown mine off to get a lovely caramelised flavour. Set aside to cool slightly.

In the bowl you used for your pastry, crumble up the firm tofu into thumbnail size pieces, then do the same with the 'cheese'.

Now add the yeast flakes, mustard powder, psyllium husk (this helps to bind the ingredients), Worchester Sauce and salt and pepper. Give the mixture a stir.

Next drain the silken tofu and add this to the bowl along with the warm fried onions. Give the mixture a good stir to blend all the ingredients. Set aside while you make your pastry case.
To make the pastry case
Pre heat oven to 200°C | 180°C fan | 400°F | Gas 6

Remove the dough from the fridge and give it a quick knead. Roll out onto a floured surface to prevent it sticking. You need to roll to 0.5cm thick and wide enough to line a 20cm fluted/round flan tin.

Gently line the tin. Do not worry if the pastry cracks, it probably will, mine did but you can't tell in the pictures can you!

TOP TIP: to mend cracks simply push the pastry together and with a finger dipped in water seal the crack. For larger cracks take some excess pastry and add a 'pastry plaster' to the crack just remember to use a little fingertip dab of water as a glue.

Once you've lined, trimmed and sorted out any cracks, prick the bottom with a fork to encourage an even bake.

Now cover the pastry case in baking paper and add the baking beans.

TOP TIP: screw a piece of baking paper up into a tight ball and then open back up again, this will make the paper much easier to mould to the shape of your pastry case.

Place the tin on a baking sheet and bake in the oven blind for 10 mins. Then remove from oven and take out the paper and baking beans.
To fill the quiche and bake
Begin to spoon the quiche filling into the blind baked pastry case. Using the back of the spoon, gently press the filling into all the edges.

Lastly, brush the quiche filling and the tops of the pastry crust with the 'milk' alternative of your choice. Use all the milk recommended to fill in the gaps in the quiche filling. Place back on the baking sheet and cook for 20 minutes

To get the golden caramelised finish I cook for a further 5 mins under a hot grill, being careful not to burn and rotating the tin if necessary.

Eat immediately or allow to cool and eat cold with a salad or for a picnic.
Nutrition
Nutrition Facts
Vegan Mature 'Cheese' Quiche
Amount per Serving
% Daily Value*
* Percent Daily Values are based on a 2000 calorie diet.
Have you tried this recipe?
Let me know how it was & I will be super grateful. Take a picture & tag me @glutarama on your social media posts – I love seeing your photos more than you will ever know x
I love to see your own photos of my bakes, dinners and treats head to your favourite social media account and don't forget to tag me in @glutarama
Subscribe to my email list so that you get NEW recipes straight in your mailbox every Friday PLUS a FREEBIE and access to some amazing gluten free DISCOUNTS
I'm sharing this Vegan Mature 'Cheese' Quiche with Farmersgirl Kitchen for #CookBlogShare.
*disclaimer: I use affiliate codes on my website, the vast majority are to Amazon. If you click on any of the links or images in the post and make a purchase my family will benefit from a small % of that purchase at no extra cost to you.

For full transparency, in 2020 I made my first £25, and in 2022 I reached my next £25 (Amazon don't transfer the money until you reach £25). I'm now up to £17.80 for 2023 so edging closer to the magical £25 mark!!

To date I have made £69.28 since I first started the scheme in 2017. It won't pay the bills, that's for sure but it does help to pay for ingredients or little treats to cheer me up!
Join my friendly Facebook Group
life's a drama, gluten free doesn't have to be….