The first time Beth ate this stuffed crust pizza was wonderful to watch, you had to be quick though, it was gone in a flash! It was her first ever stuffed crust and she loved it. This recipe for gluten free pizza dough is so easy and I've adapted it over time to include the stuffed crust and my all time top tip for this dish is – brush dough crust with egg and paprika (or dairy free milk for the dairy free and vegan version) I promise, it'll make all the difference to the appearance. We do after all eat with our eyes first! This dough is so versatile that if we've fancied an Italian crust that evening I've made half the dough and pressed the base out thinly, either way is equally as delicious. So are you ready for this; here's how to make the best gluten free pizza crust recipe.
Can I use this gluten free pizza dough for other recipes?
Yes indeed you can, On other occasions I have divided the dough and used half to make a smaller pizza and the other half to make cheese stuffed dough balls, simply divide the dough into 8 balls and press some of your favourite cheese into the middle, make sure the dough is well sealed so that no cheese escapes! These cook for the same period as the pizza. In the image below I used cubes of dairy free cheese but you can use grated dairy free cheese and do what I've done in the main recipe and mix the cheeses up. I find the flavours and different textures are so much more pleasing to the palette when combined.
Due to the fact that this is a delicate dough, I would not recommend using it for a gluten free calzone pizza (folded pizza). However, if you try this and succeed then please do feel free to tag me in on any posts you share on social media or comment below – I'd love to be proven wrong!
Respect the Gluten Free Pizza Dough!
This is not a pizza dough like your normal gluten filled pizza dough, it is lacking – nay devoid of any elasticity (that is after all what the gluten's job is in food, to glue it together). If you respect this gluten and dairy free pizza dough, it will love you back! This is why my recipe calls for teasing the dough to the edges of the pizza tray and doesn't involve rolling the dough and transferring. Do not do that, it will fall apart! Also, don't go all Jamie Oliver on me and think you can impress your other half by throwing the dough in the air to spin in into shape. Your other half will end up getting covered and so will you!
TOP TIP: the texture of this dough is like a fragile marshmallow, very light and soft. When it comes to teasing the edges over to seal in your cheesy stuffed crust, you'll need to treat it with lots of love. I find using a butter or pallet knife helps to gently fold the crust in on itself.
Can I make this a Vegan Stuffed Crust Pizza?
Yes! The base is already vegan, for the pizza in the photo's I added pepperoni as this was going to be eaten by myself and my daughter Bethany. Remember, I am not vegan, but I am dairy and egg free, whilst Beth is the Coeliac.
to make this a Vegan Stuffed Crust Pizza Recipe you simple add vegan toppings of your choice. Read on for some pizza topping inspiration.
Who invented the Stuffed Crust Pizza
Well, this one is a rocky subject as with a little bit of digging there seem to be two businesses fighting over who got there first! I don't want to get into a legal row so if your interested in reading more I suggest you Google Patty Scheibmeir, formerly of Pizza Hut and Anthony Mongiello of Brooklyn. One says they invented it in 1990 and the other says they invented it three years earlier in 1987. Being a recipe developer I am very aware of recipes being 'borrowed' for someone else's benefit and this has happened to me in the past so I'd be pretty upset to find that the earlier claim was indeed true! Lets just back away from this subject now … run away, run away!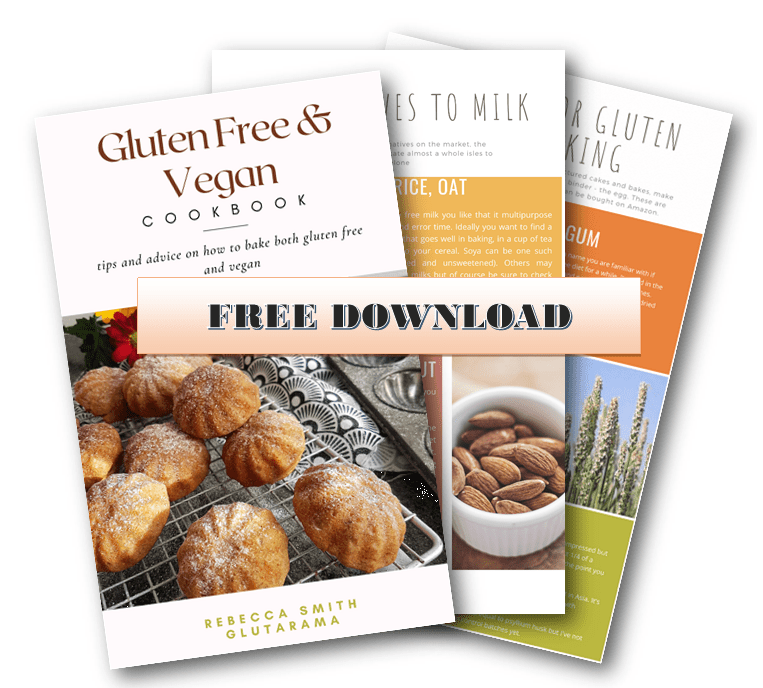 Never miss out again…
Sign up to my weekly Friday newsletter and not only get a FREE e-Book (currently my Gluten Free & Vegan Cookbook) but also get VIP subscriber discounts on free from goodies delivered to your door. Join me in my journey and learn to make anything gluten free.
Vegan Pizza Topping Suggestions
Sundried tomatoes (jarred in oil)
Olives (fresh and stoned or from a jar)
Artichoke (jarred in oil)
Peppers (bell peppers freshly cut)
Jalapenos (fresh or jarred in oil)
Spinach
Mushrooms
Red onions
Aubergine (egg plant)
Roasted Courgette (Zucchini)
Jackfruit
Meat Pizza Topping Suggestions
Pepperoni
Chorizo
Sausage (gluten free)
Chargrilled Chicken
Crispy Beef (mince fried until crispy)
Bacon pieces
Meatballs (gluten free)
Can't be bothered to make a home made gluten free pizza crust from scratch? No problem, why not zip over to my The Best Gluten Free Pizza Bases you can buy round up featuring 9 different gluten free and vegan pizza bases to take out the hard work. While you're here, if you're a cheese lover you might also like to check out my recipe for Free From Cheese Scones – one is not enough or Cheese and Pumpkin Scones…and cheesy bites!
Seriously Good Gluten Free Stuffed Crust Pizza Recipe
If you make it and like the recipe I would be eternally grateful if you popped back and commented leaving a star rating as this will tell search engines that this recipe is worth checking out and others will get to find it in searches.
Seriously Good Gluten Free Stuffed Crust Pizza
A deliciously simple Stuffed Crust Pizza that is gluten free, dairy free and egg free too – can be vegan if you choose vegan toppings. Great to share or have on your own with a glass of wine on a Friday – perfect Fakeaway Meal for one/two people
Ingredients
For the Base
300

g

Gluten Free Plain Flour

1

tbsp

dried active yeast

1

tsp

caster sugar

200

ml

warm milk

or dairy free alternative, I use soya milk

3

tbsp

Olive Oil

1

tsp

Salt
Stuffed Crust Filling
100

g

dairy free cheese

grated, I used a combination of vegan cheeses
To create a golden crust
1

tbsp

soya milk & pinch of paprika

to brush the pizza crust
Domino's Style Tomato Sauce
30

g

Tomato Puree

2

tbsp

Water

½

tsp

oregano

dried or fresh are fine

½

tsp

garlic (powder, puree or clove)

¼

tsp

caster sugar

¼

tsp

Salt
Basic Cheese Pizza Topping
100

Dairy free cheese

I used vegan applewood smoked cheese slices
Instructions
Add flour and salt to a large bowl make well in the centre. (if making in a mixer use the dough paddle)

Heat the dairy free milk in a jug in the microwave until just warm, add tbsp of yeast and sugar, whisk and leave for 10mins.

Pour the activated yeast and 'milk' liquid into the flour and combine with a knife by making simple cutting motions through the dry ingredients.

Now add the 3 tbsp oil, it will seem too much at first but keep cutting though the mixture with the knife until it comes together into a more manageable dough.

Tip out onto a well floured surface and knead until dough is smooth – don't be shy, give it a good pounding! (you obviously don't need to do this if using a mixer, have the setting on high for 5 mins to knead)

Spray a round pizza tray with oil and dust with ground rice (this makes a more authentic finished pizza base) the dough in the centre

Place the dough in the centre of the tray and begin to tease the dough to the edges of the tray.

To create a thicker crust stop once you've reached the sides, to create a stuffed crust keep teasing the dough out until you have an overhang of about 1 inch.

For stuffed crust add the grated cheese around the pizza base just in from the pizza tray edge, leave enough dough hanging off the tray to fold in over the cheese. Brush the over hanging edges of crust with water and fold the crust over to cover the cheese and gently press down to seal in.

Brush the crust with the 'milk' and paprika glaze.

To make the tomato sauce add all the ingredients; puree, water, garlic, salt, sugar and herbs to a bowl and mix to combine.

Add the tomato sauce in dollops to the pizza base and smooth to the edges of the stuffed crust – make sure to keep off the crusts (this may burn)

Add toppings of your choice in this order – Cheese > Toppings > Cheese

Brush the crust one last time with and 'milk' and paprika glaze.

Cook on 200°C/180°C fan/ 400°F/Gas 6 for 20-25mins until well risen and golden brown
Nutrition
Nutrition Facts
Seriously Good Gluten Free Stuffed Crust Pizza
Amount per Serving
% Daily Value*
* Percent Daily Values are based on a 2000 calorie diet.
Have you tried this recipe?
Let me know how it was & I will be super grateful. Take a picture & tag me @glutarama on your social media posts – I love seeing your photos more than you will ever know x
---
I love to see your own photos of my bakes, dinners and treats head to your favourite social media account and don't forget to tag me in @glutarama
Subscribe to my email list so that you get NEW recipes straight in your mailbox every Friday PLUS a FREEBIE and access to some amazing gluten free DISCOUNTS
Don't lose this Stuffed Crust Pizza recipe – Pin It!
And one last thing! I've linked my Stuffed Crust Pizza with these other awesome Foodies websites, go check them out
plus #FiestaFriday Co Host Zeba at Food For The Soul
*disclaimer: I use affiliate codes on my website, the vast majority are to Amazon. If you click on any of the links or images in the post and make a purchase my family will benefit from a small % of that purchase at no extra cost to you, in fact, for full transparency, in 2020 I made my first £25, and recently in 2022 I reached my next £25 (Amazon don't transfer the money until you reach £25). As you can see, it won't make me a millionaire but it will treat me to a few coffees, Lord knows I need the caffeine!