These Cheese and Pumpkin Scones are the next level. There's something deeply satisfying about a warm cheese scone, even better, how about cheese and pumpkin scones. Smothered in butter and washed down with a cup of tea. In my view savoury scones should be eaten soon after baking. If baking them for a picnic try filling them with butter and wrapping them in foil soon after baking and the scone will preserve it's mildly spongy texture longer.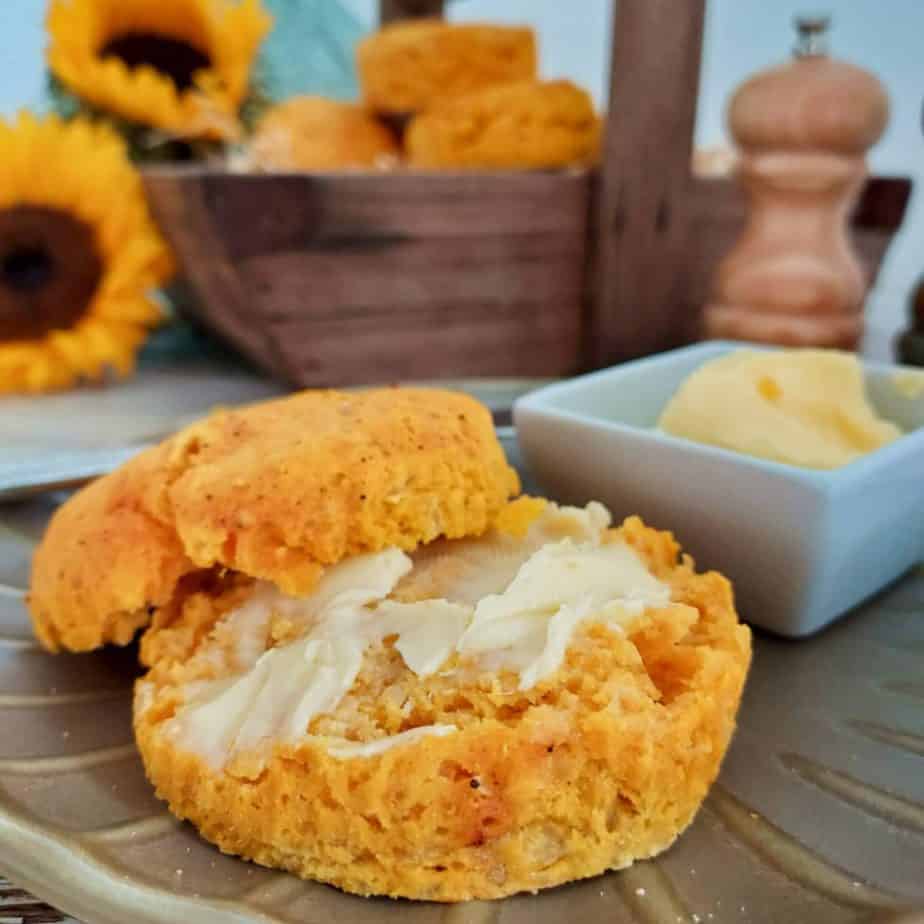 I've got lots of pumpkin recipes on this website, because we're a pumpkin carving kind of family. I hate to see food go to waste and always keep the carved flesh to put in recipes either that day or freeze the pumpkin for use later.
Can I use tinned pumpkin for these cheese and pumpkin Scones?
Of course, not everyone is a pumpkin carving mad family so what to do if you have no pumpkins to hand. Fear not, you can use tinned/canned pumpkin to make these scones. In fact, if you do you'll find your scones are elevated to an ultra orange glow in colour! In this recipe I did in fact use tinned pumpkin because I'd used up my last frozen portion to make my daughter this Simple Gluten Free Pumpkin Pie – the taste of Autumn. It's become a birthday tradition as she adores my pumpkin pie. In fact, as I type this she's just gone up stairs with a huge slice of pumpkin pie covered in squirty cream.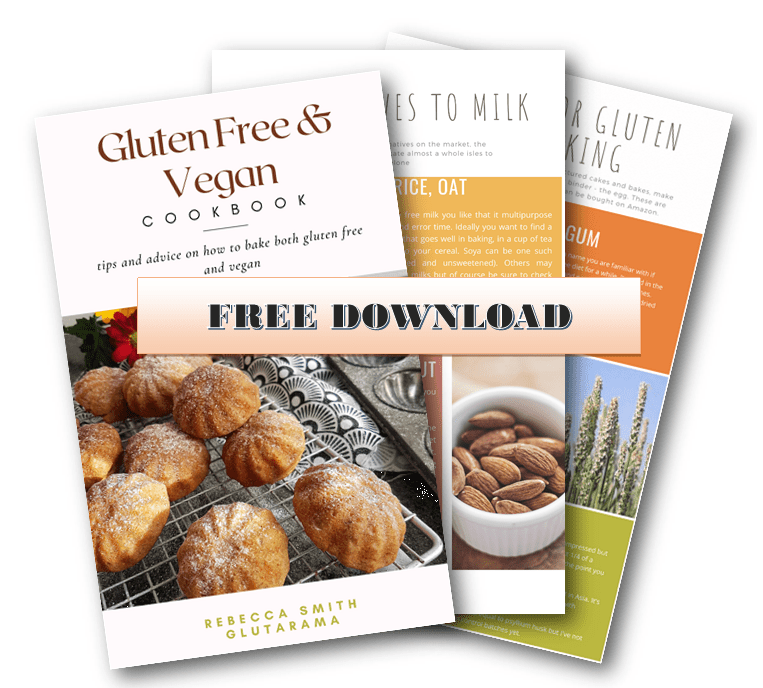 Never miss out again…
Sign up to my weekly Friday newsletter and not only get a FREE e-Book (currently my Gluten Free & Vegan Cookbook) but also get VIP subscriber discounts on free from goodies delivered to your door. Join me in my journey and learn to make anything gluten free.
How do you prepare pumpkin for baking?
Here are some tips for how to prepare a pumpkin for baking into puddings, scones and sweet treats.
Ways to prepare a pumpkin for baking
Roast pumpkin; cut pumpkin into ¼ and de-seed, place in a roasting tray and cover with foil, bake at 200°C/180°C Fan for at least 60 mins (depending on size of pumpkin). Remove and cool, once cooled scoop out the cooked soft flesh and use of freeze for later.
Boiled pumpkin; peel and cut pumpkin removing all seeds. Chop and add to a big pan of water, boil until tender. Drain pumpkin and leave over the sink to ensure all excess liquids run away. Pop into a blender and puree, as above use or freeze.
Steamed pumpkin; as above really but you steam it!
Microwaved pumpkin; Not tried this but I have it on good authority that you can peel and cut the pumpkin and microwave in a glass bowl with a drop of water.
Perfect Pumpkin Puree
The base for so many Thanksgiving, Halloween and harvest time recipes. This perfect pumpkin puree is, in my humble opinion, the best way to make puree with the richest colour, flavour and texture. Ideal mixed with my homemade pumpkin spice to turn into pumpkin pies, breads, biscuits and more.
Check out this recipe
Top Tips for making Scones
As with all my scone recipes, I recommend touching the scone dough as little as possible. I tend to do the mixing in the bowl then once turned out onto the worksurface I pat the dough into shape with my silicone spatula rather than knead and roll it.
Gluten free scones are a wee bit reluctant to rise so another top tip is to cut them as tall as possible. As you can see from the picture below, I cut my scones to about 1inch tall or more. This recipe makes 5 decent sized Cheese and Pumpkin Scones. That's using an 8cm fluted cutter with each scone cut just over 1 inch high.
Can I make these non-vegan?
These Cheese and Pumpkin Scones are made vegan. However, if you don't fancy or need to eat dairy free scones then follow these tips to use 'normal' cheese and butter without having to compromise on flavour or texture.
The recipe is naturally egg free anyway so no need to replace anything in terms of egg. The pumpkin acts as the egg replacer in this case.
You could use all manner of smoked cheeses and with a non dairy free cheese you'll be blessed with the gift that is melted cheese that behaves. In this case you'll want to grate an extra 25g of cheese to sprinkle on the tops of your scones.
As for butter, simply use your normal solid butter block in place of the vegan/dairy free butter I use in this recipe.
How best to store these pumpkin scones?
As mentioned at the beginning, any scone is always best eaten on the day. That said, these are still as delicious the next day. In fact, I'd say the smoked cheese flavour deepens the longer you leave them. I've eaten these the next day with lashings of dairy free butter or cream cheese and not needed to freshen them up by zapping them in the microwave or toasting them.
I keep my scones in Tupperware containers or metal tins, both work equally as well. Just keep them at room temperature, no need to chill.
Serving Suggestions for your Cheese and Pumpkin Scones
I mentioned above that I love mine with butter or dairy free cream cheese. The flavours of this pumpkin scone are rather robust. So, it will take toppings such as pickles, chutney or cut meats like smoked ham if not vegan or vegetarian.
Like this recipe? You'll love these
Just click an image to be whisked off to the recipe. There's over 250 FREE gluten free recipes on this website for you to enjoy so stick around!
Vegan Smoked Cheese and Pumpkin Scones Recipe
If you make it and like the recipe I would be eternally grateful if you popped back and commented leaving a star rating as this will tell search engines that this recipe is worth checking out and others will get to find it in searches.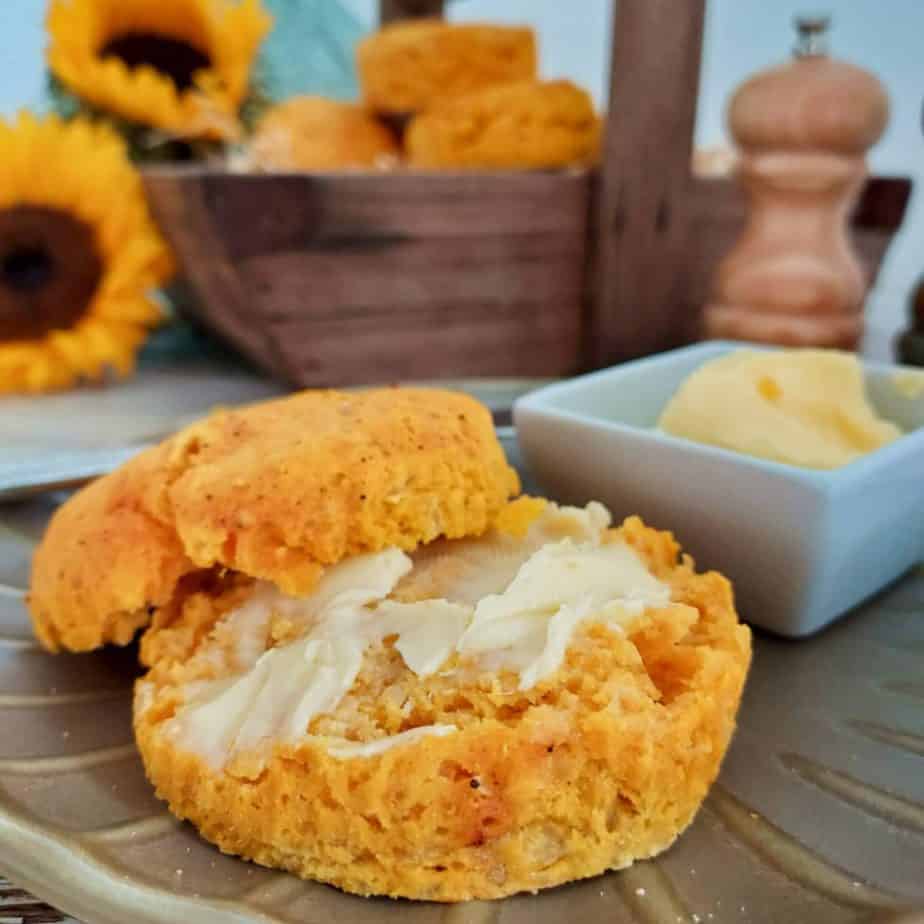 Vegan Smoked Cheese and Pumpkin Scones
The perfect recipe for using up that pumpkin flesh around Halloween, or, if you're like me and freeze your pumpkin you can enjoy these all year round! These Cheese and Pumpkin Scones are gluten free, dairy free and egg free so they are vegan too.
Ingredients
For the scone
250

g

pumpkin puree [see below]

250

g

gluten free self raising flour

40

g

butter

I use Flora Plant Butter

100

g

grated smoked dairy free cheese

I used Applesmoked vegan cheese
For the glaze
1

tsp

pumpkin puree [see below]

1

tsp

dairy free milk

I used soya milk

pinch

nutmeg

pinch

salt
Instructions
Sift the flour into a large bowl, add the butter and rub together into bread crumbs using your fingers or a pastry cutter/blender.

Add the cheese and combine (hold some back to sprinkle on top of your scones if you like)

Add the pumpkin puree then, using a rounded knife mix to combine until crumb mixture starts to bind. Use a cutting motion through the crumble mixture over and over again until the mixture comes together into a sticky dough.

Tip onto a well floured surface and pat into a thick round about 1 inch thick.

Using an 8cm cutter cut out 5 scones.

TOP TIP: if you need, add the scraps back to the mixing bowl and use the same cutting motion with the knife to bring them back together. Try not to be tempted to knead the scraps together to make your last scone.

Combine the glaze ingredients and brush liberally on top of each scone, then top with any remaining cheese if you like.

Place on a greased baking tray and put in the oven on 190°C | 170°C fan | 375°F | Gas 5 for 18-20 minutes until risen and springy to the touch.

Remove and allow to cool – these are best served slightly warm with lashings of butter.
Nutrition
Nutrition Facts
Vegan Smoked Cheese and Pumpkin Scones
Amount per Serving
% Daily Value*
* Percent Daily Values are based on a 2000 calorie diet.
Have you tried this recipe?
Let me know how it was & I will be super grateful. Take a picture & tag me @glutarama on your social media posts – I love seeing your photos more than you will ever know x
I love to see your own photos of my bakes, dinners and treats head to your favourite social media account and don't forget to tag me in @glutarama
Subscribe to my email list so that you get NEW recipes straight in your mailbox every Friday PLUS a FREEBIE and access to some amazing gluten free DISCOUNTS
---
*disclaimer: I use affiliate codes on my website, the vast majority are to Amazon. If you click on any of the links or images in the post and make a purchase my family will benefit from a small % of that purchase at no extra cost to you, in fact, for full transparency, in 2020 I made my first £25, and recently in 2022 I reached my next £25 (Amazon don't transfer the money until you reach £25). As you can see, it won't make me a millionaire but it will treat me to a few coffees, Lord knows I need the caffeine!
Join my friendly Facebook Group
life's a drama, gluten free doesn't have to be….