This page contain affiliate links. Please refer to my Disclosures Page for more details.
I simply adore pancakes and these gluten free Apple Cinnamon Pancakes are my lifesavers after no longer being able to tolerate eggs or dairy. My two always used to enjoy Pancake Day every Tuesday in our hose growing up, I'd pick them up from nursery at lunch time and they'd leave the staff green with envy when they would exclaim excitedly 'Yay! Pancake Day'!
We still have pancakes of a frequent basis as this is still one of Lewis' favourite foods, I couldn't miss out, as I myself am a huge pancake fan so it was important to me that I developed a quick and simple recipe so that I could enjoy eating pancakes with the family. That was when I created my Apple Cinnamon Pancakes and I've been a happy mummy ever since, never feeling as if I'm missing out.
Different ways to serve these Apple Cinnamon Pancakes
In the image is this post I've decided to enjoy my Apple Cinnamon Pancakes with a handful of blueberries, a drizzle of maple syrup and a splodge of dairy free ice cream. Other ways I love to eat them is with slices of banana and a dark chocolate syrup. Strawberries and dark chocolate are a delicious combination so too is making a quick stewed fruit compote out of a chopped diced apple, a few sultanas dribble of water and a pinch of cinnamon. To be fair, the possibilities are endless, get creative.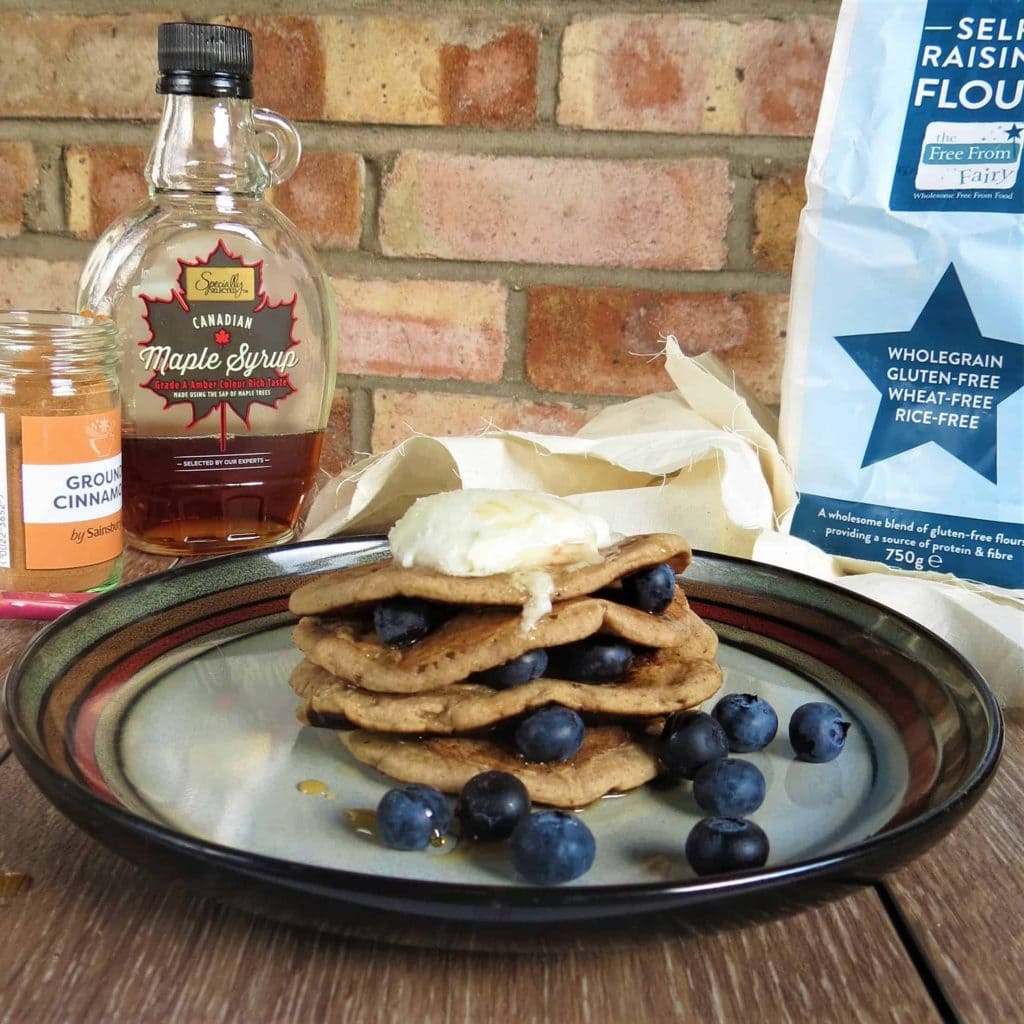 Other pancake recipes you might like to try
Can you have too many gluten free PANCAKES! Nah, everyone loves pancakes right? Collectively a gang of free from foodie bloggers have all whisked up magic in the kitchen to bring to you a delectable feast of simple, no frills pancakes for you to try out this Shrove Tuesday (or everyday for breakfast, I won't judge!)
We've got the lovely Vicki from Free From Fairy with her Pancakes in a Jar (two ways) and Nath from Intolerant Gourmand with her Perfect Free From Pancakes.
Finally you have this recipe that my daughter now makes every weekend Scotch Pancakes; gluten free and made in minutes this is not a vegan recipe but can be adapted to be dairy free in the recipe method.
Gluten Free Scotch Pancakes
These Gluten Free light and fluffy Scotch Pancakes (or Drop Scones) are so simple to make. My daughter's been making this recipe since she was 12. Whipped up and ready to eat in under 30mins – no excuse not to have for a delicious breakfast, dinner or tea! Easy to adapt and make dairy free too.
Check out this recipe
Other pancake recipes can also be found here in my Pancake Day round up, including the story behind the Traditional Pancake Day Races and why we celebrate Shrove Tuesday every year.
Now it's my turn to show you how I make my Gluten Free Apple Cinnamon Pancakes. I had the idea on Monday, tested it out all day on Tuesday, perfected it and filmed it on Thursday, so here you have it; Gluten Free, Dairy Free and Egg Free Apple Cinnamon Pancakes.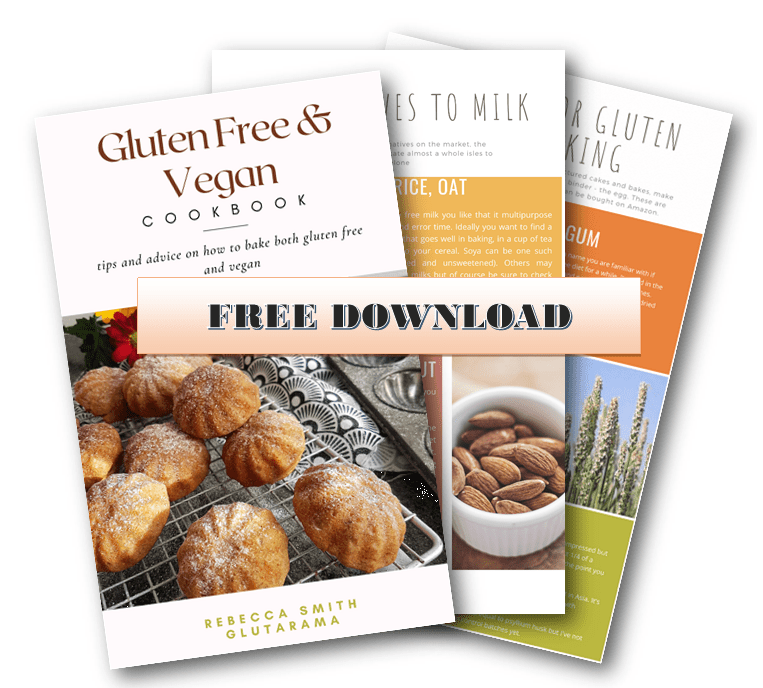 Never miss out again…
Sign up to my weekly Friday newsletter and not only get a FREE e-Book (currently my Gluten Free & Vegan Cookbook) but also get VIP subscriber discounts on free from goodies delivered to your door. Join me in my journey and learn to make anything gluten free.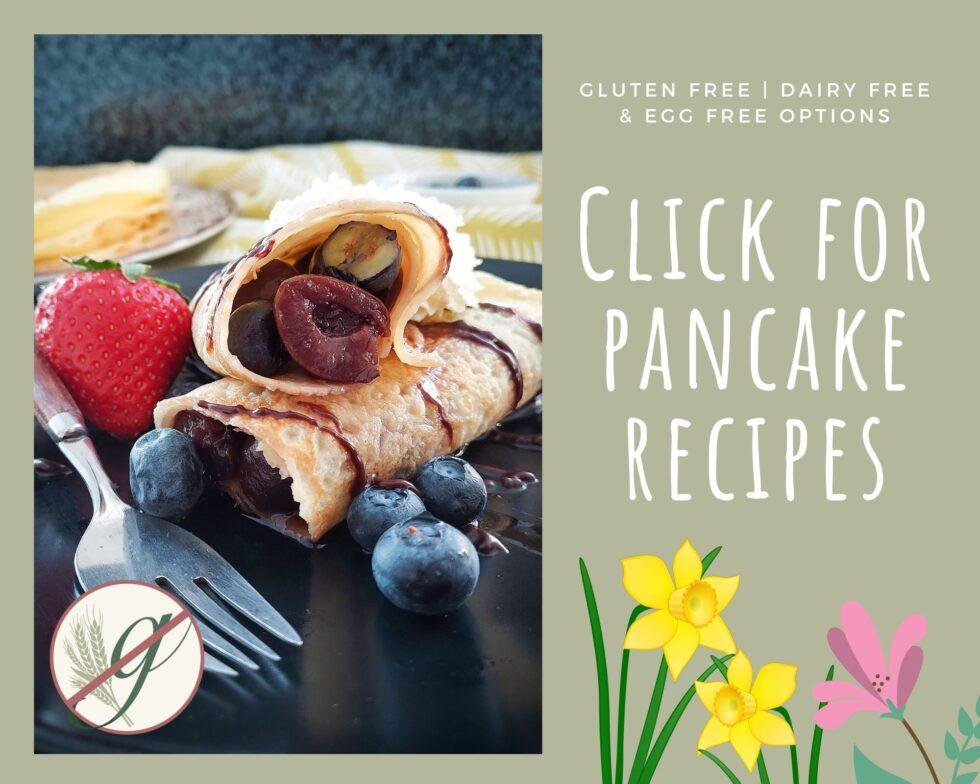 This video on how to make my Gluten Free Apple Cinnamon Pancakes makes me laugh, it's not a recent one now and I've become a little less like a block of wood on camera, but I'm keeping it here because it makes me giggle!
Gluten Free and Vegan Apple and Cinnamon Pancake Recipe
If you make it and like the recipe I would be eternally grateful if you popped back and commented leaving a star rating as this will tell search engines that this recipe is worth checking out and others will get to find it in searches.
Apple Cinnamon Pancakes | gluten free and vegan
These simple to make American style pancakes are perfect for those following a gluten free diet and are also intolerant or allergic to dairy or eggs. So versatile, they go with a whole manner of exciting toppings, let you imagination run wild.
Ingredients
50

g

apple sauce or puree

80

g

gluten free self raising flour

I used Free From Fairy SR Flour

80

ml

dairy free milk

I used almond milk

20

ml

cold water

2

tsp

maple syrup

or golden syrup/corn syrup

0.5

tsp

cinnamon
Instructions
I always have cooking apples in the freezer so was able to cook up some fresh and puree them, if you don't have any cookers to hand you can use apple pie filling or puree from a jar.

Method #1: Add all the ingredients to a blender or a smoothie mixer and whizz for 30 seconds until completely blended.

Method #2: Add all the ingredients to a mixing bowl and whisk until combined and aeriated.

Heat a good trustworthy frying/crepe pan and if necessary add a teeny bit of oil (I use coconut, but to be fair my pan doesn't need to be oiled for this type of pancake)

Pour a dollop of mixture into the centre of the pan, you're aiming for a circle the size of a drinks coaster!

Fry until the topside appears dry and all the tiny air bubbles have popped.

Flip the pancake over and fry for about 30 seconds

Repeat until all the mixture is used up; approx. 6 times
Notes
For topping ideas you can drizzle with maple syrup or another favourite sauce. I personally love a scoop of dairy free ice cream on top so it melts down the side of your pancake stack – enjoy!
Nutrition
Nutrition Facts
Apple Cinnamon Pancakes | gluten free and vegan
Amount per Serving
% Daily Value*
* Percent Daily Values are based on a 2000 calorie diet.
Have you tried this recipe?
Let me know how it was & I will be super grateful. Take a picture & tag me @glutarama on your social media posts – I love seeing your photos more than you will ever know x
I love to see your own photos of my bakes, dinners and treats head to your favourite social media account and don't forget to tag me in @glutarama
Subscribe to my email list so that you get NEW recipes straight in your mailbox every Friday PLUS a FREEBIE and access to some amazing gluten free DISCOUNTS
*disclaimer: I use affiliate codes on my website, the vast majority are to Amazon. If you click on any of the links or images in the post and make a purchase my family will benefit from a small % of that purchase at no extra cost to you, in fact, for full transparency, in 2020 I made my first £25, and recently in 2022 I reached my next £25 (Amazon don't transfer the money until you reach £25). As you can see, it won't make me a millionaire but it will treat me to a few coffees, Lord knows I need the caffeine!
---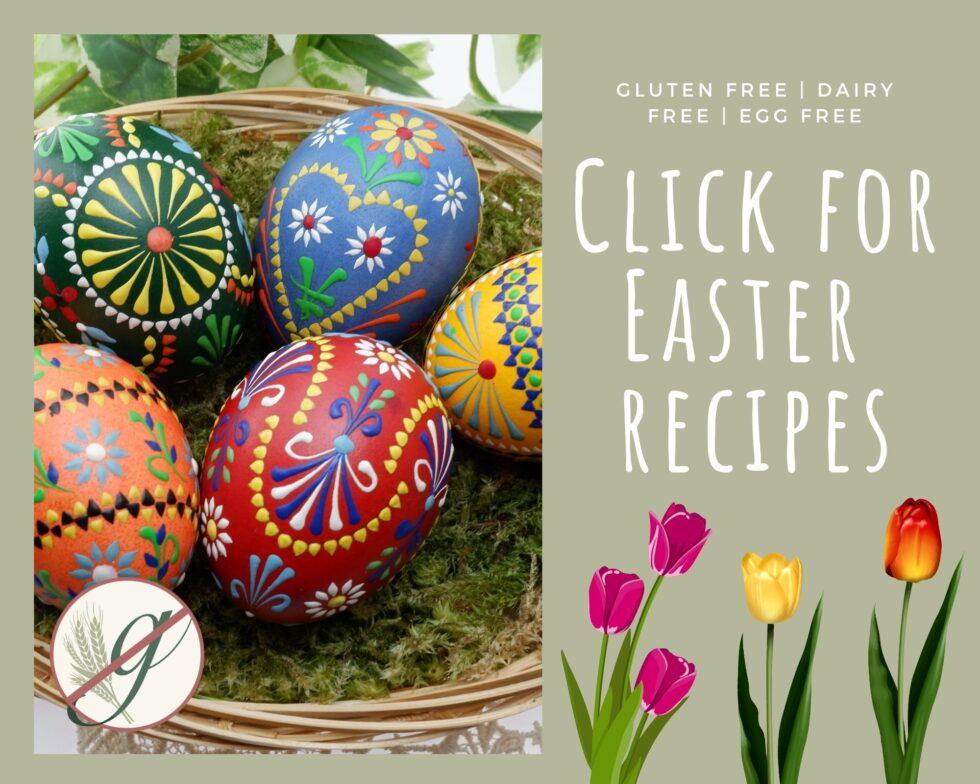 ---
Join my friendly Facebook Group
life's a drama, gluten free doesn't have to be….