This page contain affiliate links. Please refer to my Disclosures Page for more details.
Also, before you hit 'Jump to Recipe' just check my contents section 'Skip to the Good Bit' below. I may answer a query you have about this recipe straight away in the post.
The great thing about these little Gluten Free Scotch Pancakes is that they can be whipped up in a jiffy. So, should the family wake on a Sunday morning and all fancy pancakes, I can happily pop into the kitchen and throw a batter together without any hassle. This is exactly what happened last week and we enjoyed Scotch Pancakes piping hot with Maple Syrup that we'd brought all the way back from our trip to Canada this summer.
Update: I'm thrilled to say that Bethany now makes these herself each Saturday for breakfast. Such a proud mummy moment the first time she did them off her own back, in fact, it was when I was away in Manchester. I got a message on Whatsap asking for the measurements of the ingredients..she photographed and sent me images of her first Scotch Pancakes Ever! My heart almost burst with pride!
What's the difference between a Pancake and a Scotch Pancake?
This is a rabbit hole we could go down and disappear for hours! Basically, in simple terms (because we're all busy right and want the easy answer). There are a few types of pancake depending on what part of the plant you're stand on.
Crepes – French owned and often super thin and delicate, made using a pancake pan, often large in size and folded. A great example is my Easy Three Ingredient Vegan and Gluten Free Pancakes
Pancakes – The British kind, stove cooked in a large frying pan, thicker than crepes and traditionally served with sugar and lemon juice (but anything goes with topping these days). Or do as we do and fill them til they burst Easy Gluten Free Pancakes, not just for Pancake Day
American Pancakes – drinks coaster in size, aeriated so fluffy and often stacked with butter and syrup. Cooked in a pan freehand or in moulds or pancake presses.
Scotch Pancakes – also known as Drop Scones. Similar size to the American pancake but traditionally thicker in size and fluffier, almost cake-like due to a thicker batter. Served in a similar manner to the American Pancake or enjoyed cold and spread with butter.
What is the History behind Pancake Day?
Good question, so good in fact that I wrote a whole post about it here Pancake Day! Enjoy a Happy Free From Shrove Tuesday including 5 fund facts about where Shrove Tuesday or Pancake Day originates and the date for Pancake Day this year.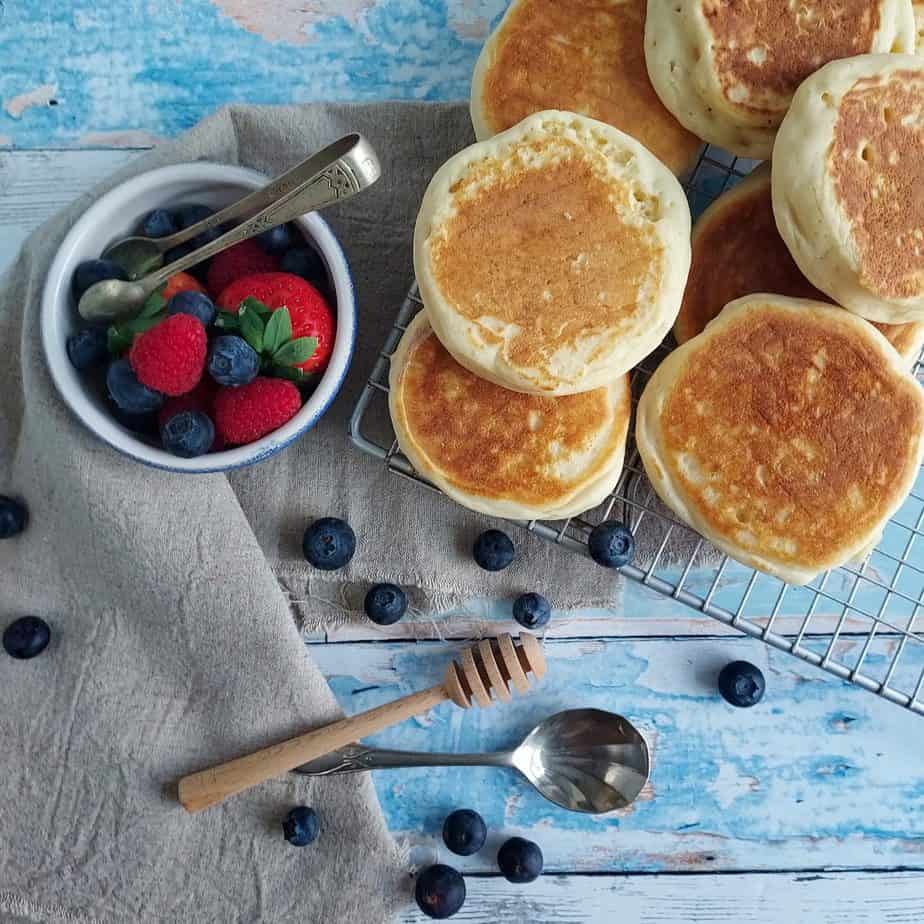 Can I make these mini pancakes dairy free?
Yes you can, simply my switching the milk for your favourite dairy free alternative, personally I sue soya milk. If you wish to make an egg free version you could follow the link below to my apple and cinnamon pancakes or you may wish to swap the egg for a flax egg.
How to make a flax egg

to make 1 flax egg you need the following ingredients:
– 1tbsp ground flax seed
– 3tbsp water
– 1tsp psyllium husk (optional but does add elasticity to baking)

Simply add all ingredients to a glass and stir before measuring out the other recipe ingredients, by the time you come to use your 'egg' mixture it will have thickened to a frog-spawn consistency (thicker if you added psyllium husk)

Then just add to your baking as you would an egg. For 2 eggs double the ingredients but note that recipes that require more than two eggs may fail due to lack of support in the structure.
Different Scotch Pancake toppings you can try
maple syrup
chocolate sauce
chocolate spread
chopped nuts – pecans, hazelnuts, almonds, walnuts
strawberries
blueberries
bananas
squirty cream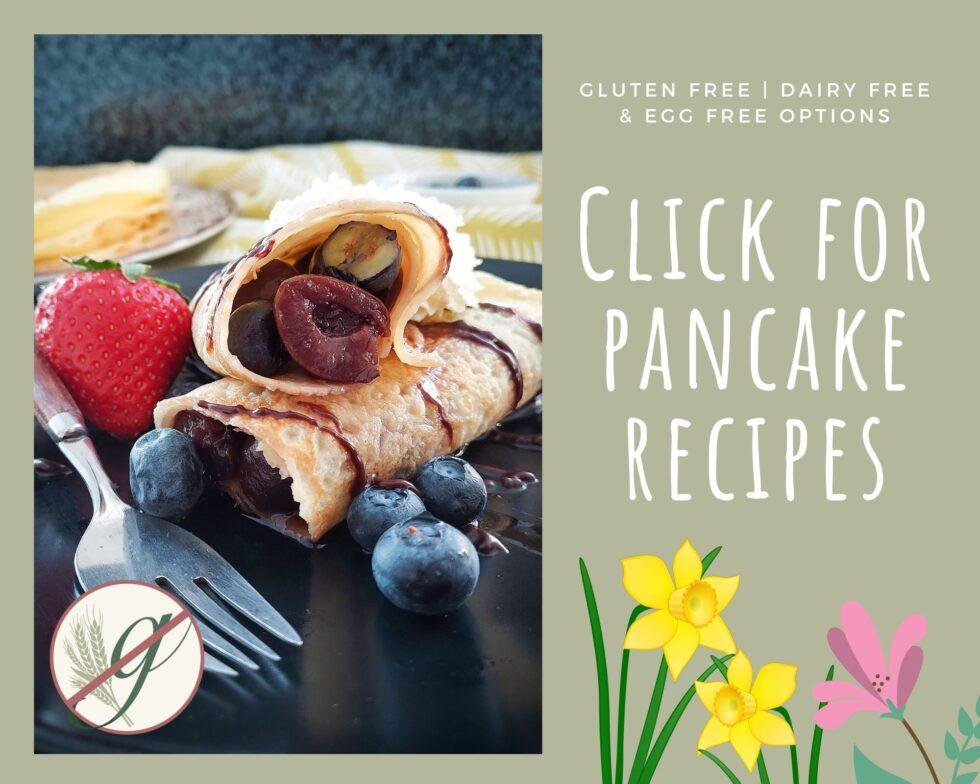 If you liked this recipe for Scotch Pancakes, I'm sure you'll love these;
These are my Apple Cinnamon Pancakes | gluten free, dairy free, vegan and my kids top weekend favourite the recipe for my Gluten Free Belgium Waffles you might also like to try these pastries for breakfast or teatime too; Easy Gluten Free Apple Turnovers with a hint of cinnamon and Danish Treacle Tarts: Gluten Free and Vegan
Never miss out again…
Sign up to my Friday newsletter and receive not one, but THREE FREEBIES.
GF and Vegan e-Book
conversion charts
3 simple guides to allergies, intolerances & autoimmune.
Join me and learn to make anything gluten free.
---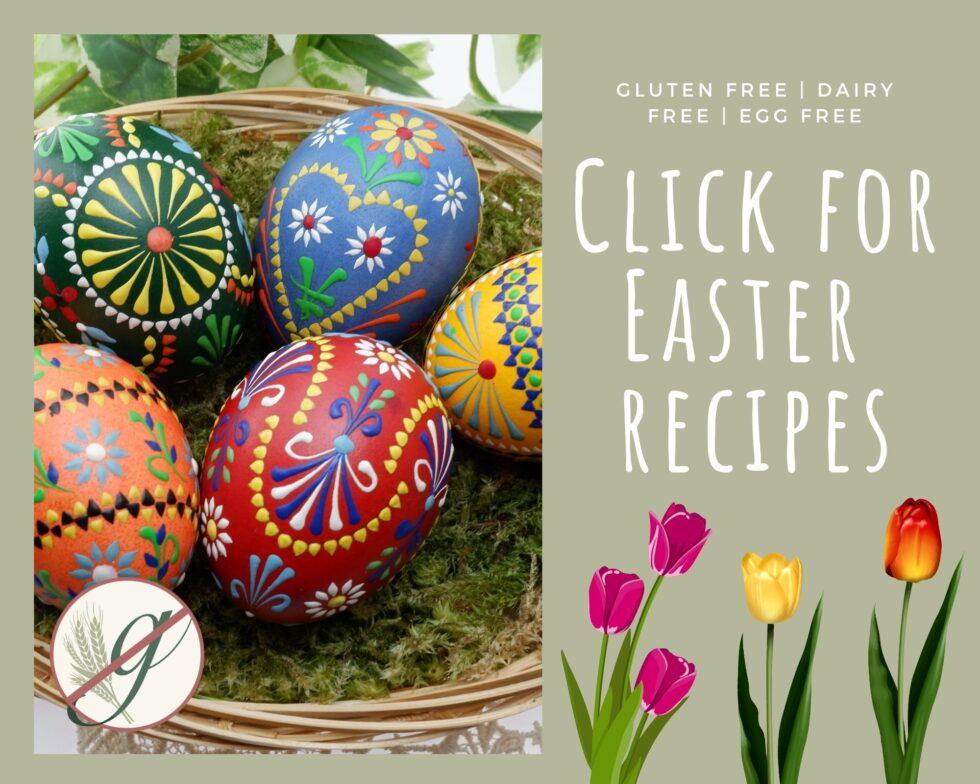 ---
Gluten Free Scotch Pancake Recipe
If you make it and like the recipe I would be eternally grateful if you popped back and commented leaving a star rating as this will tell search engines that this recipe is worth checking out and others will get to find it in searches.
Gluten Free Scotch Pancakes
These Gluten Free light and fluffy Scotch Pancakes (or Drop Scones) are so simple to make. My daughter's been making this recipe since she was 12. Whipped up and ready to eat in under 30mins – no excuse not to have for a delicious breakfast, dinner or tea! Easy to adapt and make dairy free too.
Ingredients
250

g

gluten free self raising flour

250

ml

milk or dairy free alternative

1

egg(s)

1/2

tsp

Bicarbonate of soda

1

tsp

Lemon juice

2

tsp

Caster sugar
Instructions
Crack the egg into a jug and combine the caster sugar and a tablespoon of the weighed flour using a whisk into a runny paste.

Continue to add the remaining flour and milk taking it in turns until you achieve a thick batter texture. Doing it this way in stages will prevent lumps of flour from forming.

Add the lemon and bicarbonate of soda last and allow batter to rest for at least 10 mins. The batter will feel like a loose cake batter at this stage. After 10mins the batter will have thickened and filled with little bubbles. Don't be tempted to stir it.

Heat a griddle or frying pan on a medium heat. Too hot and your first side will burn as this needs the longest to ensure an easy flip onto the other side.

No need for any fat in the pan (unless you don't trust you pan), simply spoon 2 dessert spoons of batter into the pan, if your pan is not flat bottomed you'll only achieve perfect circles in you cook one at a time.

I find that teasing the dollops of pancake mixture (using the dessert spoon) into the desired size is the best way to achieve perfect results every time.

Wait for bubbles to appear on the surface and pop, be patient, this will take about 5 mins. Once bubbles have popped you're good to turn your pancake over, the second side will need only 20-30 seconds.

Layer on a plate and enjoy with a multitude choice of toppings – enjoy!
Nutrition
Nutrition Facts
Gluten Free Scotch Pancakes
Amount per Serving
% Daily Value*
* Percent Daily Values are based on a 2000 calorie diet.
Have you tried this recipe?
Let me know how it was & I will be super grateful. Take a picture & tag me @glutarama on your social media posts – I love seeing your photos more than you will ever know x
Don't lose this recipe pin it for later…
I love to see your own photos of my bakes, dinners and treats head to your favourite social media account and don't forget to tag me in @glutarama
Subscribe to my email list so that you get NEW recipes straight in your mailbox every Friday PLUS a FREEBIE and access to some amazing gluten free DISCOUNTS
And one last thing! I've linked my Scotch Pancakes with these other awesome Foodies websites, go check them out
*disclaimer: I use affiliate codes on my website, the vast majority are to Amazon. If you click on any of the links or images in the post and make a purchase my family will benefit from a small % of that purchase at no extra cost to you.

For full transparency, in 2020 I made my first £25, and in 2022 I reached my next £25 (Amazon don't transfer the money until you reach £25). Recently I got paid a whopping £27.10 for 2023.

So to date I have made £78.58 since I first started the scheme in 2017. It won't pay the bills, that's for sure but it does help to pay for ingredients or little treats to cheer me up!
Join my friendly Facebook Group
life's a drama, gluten free doesn't have to be….