I've taken the liberty of updating this Jumble Squares; a recipe for leftover chocolate, to coincide with the post Christmas health kick. I'm sure like me you're feeling the need to consume all the sweet treats asap before getting back into a healthier routine and this is a great way to do that. Plus you get to tidy away and recycle all the chocolate boxes too so you can have that warm fuzzy feeling of being kind to the planet (something I'm sure you are more than happy about) – Yay to warm fuzzy feelings!
Originally written after Easter Holidays: So then, the kids are now back and school, the British weather has had a personality change (for the better) and many of us still have a mountain of chocolate leftover from the Easter celebrations. I have two simple recipes I tend to return to when this happens. The first I'll mention below in the other recipe suggestions section. The second is a bit more busy in ingredients but an excellent teatime treat and super filling so you only need one square washed down with a cuppa to keep those energy levels up during the inevitable afternoon lull, or even an after school snack once the kiddies are back.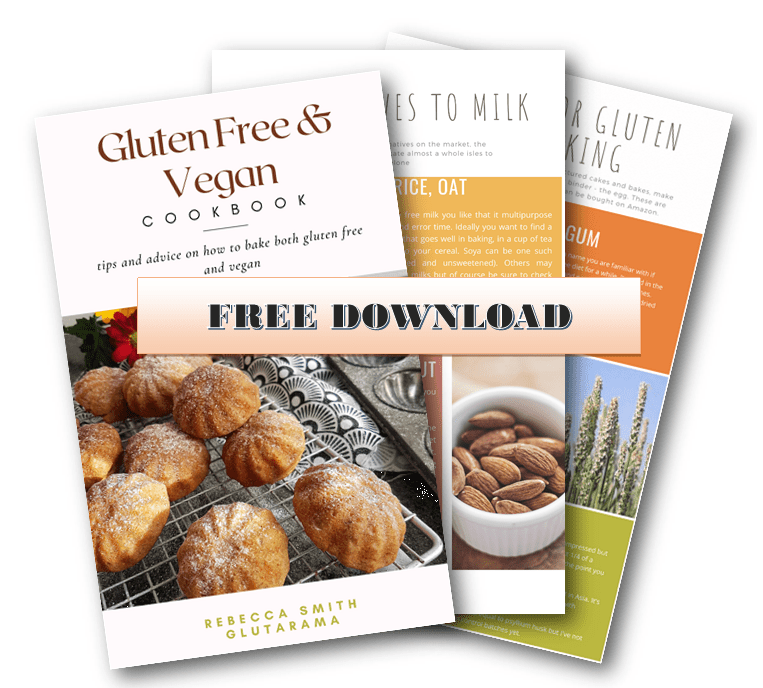 Never miss out again…
Sign up to my weekly Friday newsletter and not only get a FREE e-Book (currently my Gluten Free & Vegan Cookbook) but also get VIP subscriber discounts on free from goodies delivered to your door. Join me in my journey and learn to make anything gluten free.
Tips on how to use leftover Christmas or Easter Chocolate
My jumble squares are a simple marshmallow square base with a chocolate topping. I've been known to use this recipe to melt down a glut of Christmas chocolate leftovers, Easter eggs and even a whole box of chocolates. The latter turned into a very interesting flavour as there were lemon and coffee creams in the selection box but we all enjoyed them nonetheless. One word of advice if you plan to do this with a selection box that has fondants, the fondant will give the melted chocolate a very different consistency not unlike fudge so if you want to be able to pour it over your marshmallow squares then I'd suggest adding a little fat such as butter or coconut oil.
You still won't get the same consistency as melted chocolate but you will be able to spread the chocolate mixture with a silicone spatula. As I say, this combination is like fudge so it's perfectly easy to manipulate the mixture over your marshmallow crispie base.
Other recipes perfect for using up leftover chocolate
I have a number of recipes now that world well with chocolate leftovers. Take my Rice Crispy Treats | delicious chocolate coated doughnuts again, this is a winner with the kiddies. You could also add the chocolate leftovers to my Raw Chocolate Snack Squares with a little tweaking to the recipe, this was you get the added nutritional value of adding seeds, nuts and dried fruit. Another idea would be my Apricot Cacao Raw Squares (gluten, dairy, egg free)
If anyone wishes to try these and wants help working out the method (if your tweaking skills leave a little to be desired) then please do email me at [email protected] or comment below and I'll advise you.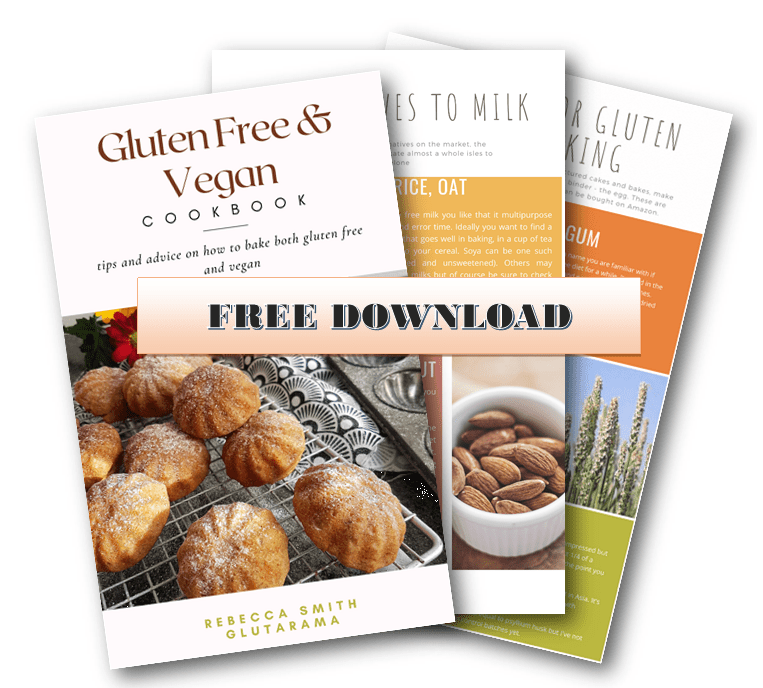 Never miss out again…
Sign up to my weekly Friday newsletter and not only get a FREE e-Book (currently my Gluten Free & Vegan Cookbook) but also get VIP subscriber discounts on free from goodies delivered to your door. Join me in my journey and learn to make anything gluten free.
Jumble Squares Recipe – how to use up leftover chocolate
Jumble Squares – Leftover Chocolate Squares
A quick and simple way to use up any celebration leftover chocolate lying around the house post Easter or Christmas. Easy to make diary free as well as gluten free.
Ingredients
200

g

marshmallows

2

tsp

butter

use dairy free if required

300

g

crisped rice cereal

300

g

leftover chocolate!

feel free to use more if you have it.
Instructions
To make the marshmallow crispy base simply melt the marshmallows gently in a saucepan (I find the melted marshmallow behaves better if do choose this method rather than the microwave)

Add the 2 teaspoons of butter and stir thoroughly to combine.

Add you crispies and with a silicone spatula mix until all the crispies are coated.

Plop into an 8″x 8″ square cake tin and using the spatula squash into the corners.

TIP: I have a glass of water handy for this bit and keep dipping the spatula in too prevent any sticking.

In a separate saucepan melt your various chocolate leftovers (as mentioned in post if your chocolate contains fondants you may need to add a little coconut oil or butter at this stage to keep the mixture malleable and easy to pour/spread

Pour or spread the chocolate mixture onto the marshmallow base and top with your favourite gluten free sprinkles. Then chill for 30 minutes before cutting into sensible sized squares…or not so sensible …they're your Jumbles!
Nutrition
Nutrition Facts
Jumble Squares – Leftover Chocolate Squares
Amount per Serving
% Daily Value*
* Percent Daily Values are based on a 2000 calorie diet.
Have you tried this recipe?
Let me know how it was & I will be super grateful. Take a picture & tag me @glutarama on your social media posts – I love seeing your photos more than you will ever know x
Don't lose it, Pin it! Jumble Squares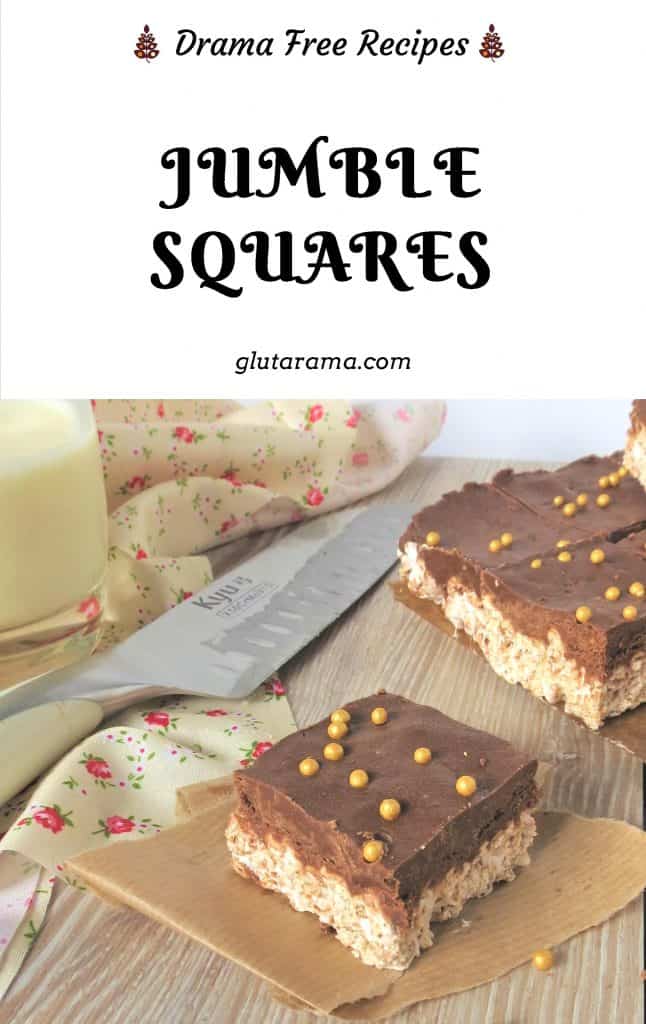 And one last thing! I've linked with these other awesome foodies pages, go check them out
Cook Blog Share | Baking Crumbs
I love to see your own photos of my bakes, dinners and treats head to your favourite social media account and don't forget to tag me in @glutarama
Subscribe to my email list so that you get NEW recipes straight in your mailbox every Friday PLUS a FREEBIE and access to some amazing gluten free DISCOUNTS
*disclaimer: I use affiliate codes on my website, the vast majority are to Amazon. If you click on any of the links or images in the post and make a purchase my family will benefit from a small % of that purchase at no extra cost to you, in fact, for full transparency, in 2020 I made my first £25, and recently in 2022 I reached my next £25 (Amazon don't transfer the money until you reach £25). As you can see, it won't make me a millionaire but it will treat me to a few coffees, Lord knows I need the caffeine!