This recipe for Gluten Free Cinnamon Buns was first published in 2015, it was good but not GREAT and I really missed having a Cinnamon Bun (or Cinnamon Roll) with a hot cup of tea so I'd made it my mission to perfect the recipe .
Will these Cinnamon Buns keep for a couple of days?
Sadly, these Cinnamon Buns are most certainly a 'make it and eat it the same day' kind of bake. They're impatient and don't like to hang around for too long so if you're planning on making these in advance the best advice I can give is hold off adding the icing finish and heat for a few seconds in the microwave and add the icing just before serving.
The best way to store them would be in an air tight Tupperware container. Then pre-make your cinnamon bun icing and add the final touches when necessary. I personally would not try to keep these for more than two days.
Otherwise, bake and enjoy on the same day, the hand portion controls in the recipe card means that you change the quantity so maybe go for making 4 cinnamon buns and use a muffin tray instead to make 4 individual rolls.
My dough seems too soft
That is the trick to these cinnamon buns being so light. It does however, make the dough a little scary to handle. When it comes to rolling out and rolling up the dough you may feel as if you're working with a marshmallow. Just make sure the work surface you are working on is well dusted with flour.
when you cut your dough into bun sized portions gently lift into the prepared baking tin or muffin tin if you wish to make individual ones. once in situ you can tease the roll back into a recognisable shape if it got squashed in transit to the tin.
What's the difference between a Cinnamon Roll and a Cinnamon bun?
I had to Google this myself as I get confused. I initially thought one was a cinnamon danish pastry, you know the kind you see in packs in the supermarkets. They have a gorgeous golden colour and no additional icing or maybe a quick drizzle of white icing?
Nope, turns out they are cinnamon swirls!
So what is the difference between a Cinnamon Bun and a Cinnamon Roll – it's all in the icing apparently. A Cinnamon Roll is bathed in a rich creamy icing whilst a Cinnamon Bun lavishes in its own buttery-sugary juices. Did I just go a bit Nigella Lawson then?
Never miss out again…
Sign up to my Friday newsletter and receive not one, but THREE FREEBIES.
GF and Vegan e-Book
conversion charts
3 simple guides to allergies, intolerances & autoimmune.
Join me and learn to make anything gluten free.
Other recipes similar to these cinnamon buns
Gluten Free Cinnamon Buns Recipe
If you make it and like the recipe I would be eternally grateful if you popped back and commented leaving a star rating as this will tell search engines that this recipe is worth checking out and others will get to find it in searches.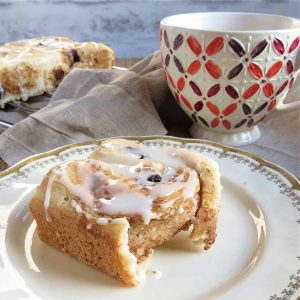 Cinnamon Buns
Deliciously spongy Cinnamon Buns, yes they take a wee while to make but my goodness they're worth the effort. Made gluten free and easily adapted to be dairy free too.
Ingredients
500

g

gluten free plain flour

35

g

caster sugar

1

tsp

salt

1.5

tbsp

oil (I use vegetable or sunflower)

(I used vegetable)

1

egg(s)

300

ml

tepid water (hand temperature)

add water gradually until you get a very soft dough, you may need 25ml or so more.
For the filling:
100

g

caster sugar

[see notes if you like more filling]

65

g

butter

2

tsp

cinnamon

100

g

currants
For the icing;
150

g

icing/confectioners sugar

30

ml

milk

(this may need adjusting depending on the desired consistency)

1

tsp

vanilla extract
Instructions
Method using yeast that needs activating
You'll need to begin with activating the yeast, to do this add the quick yeast and 7 tbsps (35g) of caster sugar to a jug and add 325ml warm water, I use boiled water from the kettle that's been allowed to cool to hand heat and stir to combine.

After 10-15mins the yeast will have activated, you'll know it's worked by the bubbles that have formed and the yeast smells that omit from the mixture.

In a large bowl add the packet of flour and salt, make a well in the centre and add the egg, oil and finally the activated yeast liquid (depending on the size of your egg you may only need to add 300ml).
Method using fast acting yeast
Begin with number 3. in the method but add the dried yeast to the bowl of flour and sugar and then in a jug whisk the 300ml warm water, oil and egg. Pour into dry ingredients gradually (you may need less liquid depending on the size of your egg) and use a spatula to make a smooth malleable dough.

Transfer to a well floured work surface and knead for a good 5-8 minutes until completely smooth. The dough is a very soft dough that should come away from the spatula mess free.

Spray the bowl you just used with oil spray and pop the dough back into the bowl, cover with a damp tea towel or cling film and leave in a warm place for 40 minutes to prove.

Whilst waiting for the dough to rise you can make the filling; simply beat together the butter, sugar and cinnamon into a thick buttery paste and set aside.

After 40 minutes the dough will have risen. Tip out onto a floured surface and knead again for 5 minutes.

Gently roll into a rectangle approx. 2cm thick (I roll onto a sheet of baking paper as this helps with the rolling process in a minute) spread with the cinnamon butter, then sprinkle the currants evenly.

To create the spiral, roll the dough length ways towards you and cut into 8 or 10 depending on your choice of baking tin. I cut into 8 for a 26x19cm tin as this is the only tin I have (probably better in a bigger tin to be fair!)

You will now need to prove this again in a warm place for 40 minutes. (trust me, I've cut corners and baked without the second prove and it doesn't work!)

Once final prove has finished place in a pre-heated oven 190°C/375°F/Gas 5 (170°C fan) for 30-35 minutes

Allow to cool completely, whilst making the icing glaze. Simply combine all ingredients and beat together. The glaze should take on an off-white, pale cream colour.

Once totally cool generously drizzle the Cinnamon Rolls with the glaze and tuck in!
Notes
As I try to make this recipe with less sugar I am reserved on the filling however, if you love a fully loaded cinnamon bun then go for it and double the filling ingredients;
200g Caster Sugar (or why not try soft brown sugar)
120g Butter
2tsp Cinnamon (I don't think you need to add more of this spice)
200g Currants
Nutrition
Nutrition Facts
Cinnamon Buns
Amount per Serving
% Daily Value*
* Percent Daily Values are based on a 2000 calorie diet.
Have you tried this recipe?
Let me know how it was & I will be super grateful. Take a picture & tag me @glutarama on your social media posts – I love seeing your photos more than you will ever know x
I love to see your own photos of my bakes, dinners and treats head to your favourite social media account and don't forget to tag me in @glutarama
Subscribe to my email list so that you get NEW recipes straight in your mailbox every Friday PLUS a FREEBIE and access to some amazing gluten free DISCOUNTS
*disclaimer: I use affiliate codes on my website, the vast majority are to Amazon. If you click on any of the links or images in the post and make a purchase my family will benefit from a small % of that purchase at no extra cost to you.

For full transparency, in 2020 I made my first £25, and in 2022 I reached my next £25 (Amazon don't transfer the money until you reach £25). Recently I got paid a whopping £27.10 for 2023.

So to date I have made £78.58 since I first started the scheme in 2017. It won't pay the bills, that's for sure but it does help to pay for ingredients or little treats to cheer me up!
Join my friendly Facebook Group
life's a drama, gluten free doesn't have to be….