My recipe for these Gluten Free Belgium Buns was an absolute must. Can you remember your first ever Belgium Buns? Can you remember your last?
I can remember my first, I must have been about 10 years old and mum used to take us three girls to swimming lessons and we could choose a cake from the cake counter in Tesco on the way. I always picked a Belgium Bun, my sister Nicola always chose a chocolate éclair and my littlest sister Joanne always picked a double chocolate muffin that looked bigger than her!
Bethany had never tried a Belgium Bun – until now that is.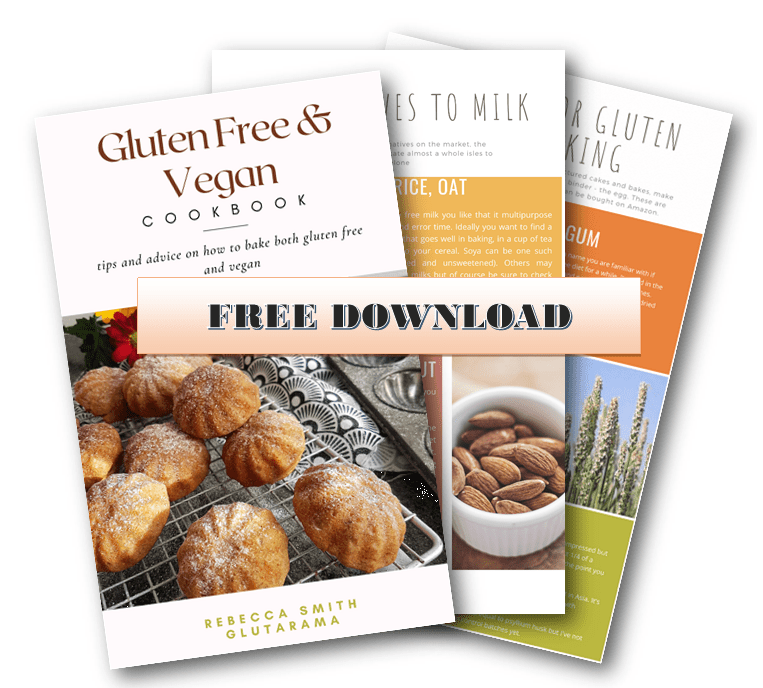 Never miss out again…
Sign up to my weekly Friday newsletter and not only get a FREE e-Book (currently my Gluten Free & Vegan Cookbook) but also get VIP subscriber discounts on free from goodies delivered to your door. Join me in my journey and learn to make anything gluten free.
How do you make vegan lemon curd?
To make (in my opinion) the best Belgium Bun you need to have a citrus curd to spread on the dough before you roll into the familiar pinwheel shape. The lemon curd part can often be overlooked with homemade versions. I promised myself I wouldn't begin to develop a gluten free recipe for Belgium Buns until I had developed a vegan lemon curd.
This recipe is therefore not only gluten free but also dairy free and egg free too. You can nip over to my vegan lemon curd recipe below or if you are not in need of a vegan curd then by all means use the standard lemon curd to use in this recipe.
Simple Homemade Vegan Lemon Curd
A simple to follow recipe for vegan lemon curd. This recipe requires no eggs or dairy and is an excellent base for other recipes such as lemon meringue pie, lemon cheesecake or just a really lovely old school lemon curd sandwich filler.
Check out this recipe
Do you need to prove these Gluten Free Belgium Buns?
Yes, you do need to prove the dough in my gluten free Belgium Buns recipe. I've tried a no-prove method and the results are disappointing and likely to crack teeth.
I've also gone for the double prove method too. Therefore these buns need to be proven again once you've filled, rolled and cut them to size.
TOP TIP: I use crumpet rings to support the buns as these look the most authentic once baked. If you don't have crumpet rings you could use a large muffin tin but it's not quite the same shape,
Why are they called Belgium Buns?
I hold my hands up here. I NEVER succumb to the easy grab and go 'facts' of Wikipedia and my research always runs far deeper. This one has me stumped. I have found testimonials from locals saying the bun is nowhere to be found in Belgium. But, I have not found any evidence to suggest where they did originate.
If you have any knowledge on this I would love to hear it so please do comment below to let me know what you know!
What's the difference between Belgium Buns and Chelsea Buns?
What's the difference? Not much to be fair! A Chelsea Bun is generally the same type of dough with raisins or currants and rolled in the same way too. You don't add a lemon curd but often sprinkle the dough with sugar before rolling.
When it comes to decorating the differences are that Belgium Buns are iced and topped with a cherry and Chelsea Buns are glazed with syrup and sprinkled with confectionary rock sugar. That said the Bath Bun also has a crunchy sugar topping – oh what a tangled web of buns!
My dough is way too soft!
Do not panic after you have made your dough. I know it looks way too soft and you think there is no way you'll be able to work with it but have faith. Gluten free flour expands when introduced to liquids. This means after the first prove your dough will, granted, be very soft, but you will be able to work with it.
Will these Belgium Buns keep well?
No. I cannot lie, these will be delicious on the day of baking but the next day they will be tough as old boots. If eating them the next day I normally heat them in the microwave for 10 seconds, this is enough time to soften the bun but not so long that the icing melts and drips everywhere.
Other gluten free favourites you may like to try
Gluten Free Belgium Buns Recipe
If you make it and like the recipe I would be eternally grateful if you popped back and commented leaving a star rating as this will tell search engines that this recipe is worth checking out and others will get to find it in searches.
Gluten Free Belgium Buns
This delicious Belgium Bun recipe is way easier then you think and the perfect teatime treat. Made gluten free, dairy free and vegan this recipe meets almost everyone's dietary needs. Don't forget the cherry for the top!
Ingredients
For the Belgium Bun
250

g

gluten free plain flour

30

g

caster sugar

7

g

dried active yeast

7g = 1 sachet

½

tsp

salt

1

tbsp

ground flaxseed

1

tbsp

oil (I use vegetable or sunflower)

I use sunflower

1

tsp

psyllium husk powder (optional)

(optional)

150

ml

dairy free milk

(add another 50g if using psyllium)
For the filling
100

g

raisins

60

g

vegan lemon curd

(see notes for homemade lemon curd)
For the icing topping & decoration
100

g

icing/confectioners sugar

1

tbsp

water

2

glace cherries

(halved)
Instructions
To make the bun dough
In a large bowl add the gluten free flour, easy action yeast, sugar, salt, flaxseed, psyllium husk if using and tablespoon of oil. Using a whisk stir the dry ingredients and oil to combine.

Change the whisk for a silicone spatula and add the milk (plus an extra 50ml if using the psyllium husk). Mix well to combine.

DO NOT PANIC – IT'S SUPPOSED TO BE WET LOOKING

Gluten free flour swells on contact with liquid so once you have thoroughly combined the ingredients, and scraped from the sides, leave the bowl covered with a damp tea towel in a warm part of the kitchen to prove for 30 minutes.

Use this time to measure out the raisins and lemon curd and grease 4 crumpet rings or large muffin tin
Fill and prove the buns
After 30 minutes is up you will find your bun dough is soft but workable by hand if gentle. Gently knead for a couple of minutes but don't over work.

On a well floured surface, roll into a long rectangle approx. 30x20cm and 1-2cm thick.

TOP TIP: I use a silicone baking mat to roll onto, this helps with the rolling stage. You could use clingfilm or foil.

Spread the lemon curd over the dough

TOP TIP: warm the curd in the microwave for 10 secs to make it more spreadable

Next sprinkle the raisins over the dough evenly.

Now quickly and gently roll the dough and cut evenly into 4 portions (halve, then halve again).

Place each dough spiral into a crumpet ring on a greased baking tray and cover with a damp tea towel in a warm place to prove for 30 minutes for the second time.

Preheat the oven to 180°C | 160°C fan | 350°F | Gas 4

Once the buns have proven for 30 minutes, pop into the preheated oven for 20-25 minutes. You want them to have a little give in them when pressed with your finger.

TOP TIP: add a pan of boiling water to the bottom of the oven (especially if you have a fan oven) as the moisture created will aid with the final rise and keep your buns moist.

Remove from oven and cool completely before decorating
Decorate the Belgium Buns
Make the thick icing (it needs to be thick else it will run everywhere)

Have patience and add dollops of the icing and using a teaspoon tease the icing to the edge of each bun.

Finally top with a glace cherry half and enjoy!
Nutrition
Nutrition Facts
Gluten Free Belgium Buns
Amount per Serving
% Daily Value*
* Percent Daily Values are based on a 2000 calorie diet.
Have you tried this recipe?
Let me know how it was & I will be super grateful. Take a picture & tag me @glutarama on your social media posts – I love seeing your photos more than you will ever know x
I love to see your own photos of my bakes, dinners and treats head to your favourite social media account and don't forget to tag me in @glutarama
Subscribe to my email list so that you get NEW recipes straight in your mailbox every Friday PLUS a FREEBIE and access to some amazing gluten free DISCOUNTS
*disclaimer: I use affiliate codes on my website, the vast majority are to Amazon. If you click on any of the links or images in the post and make a purchase my family will benefit from a small % of that purchase at no extra cost to you, in fact, for full transparency, in 2020 I made my first £25, and recently in 2022 I reached my next £25 (Amazon don't transfer the money until you reach £25). As you can see, it won't make me a millionaire but it will treat me to a few coffees, Lord knows I need the caffeine!