Traditional Bakewell Tart is one of my favourites and my daughter loves it too so I had to battle with my nemesis back in 2015 when this recipe was first developed to make it work. I failed miserably on several occasions but thanks to Free From Fairy I came up with the right ratio's for an excellent pastry. I've since adapted it slightly to be shorter and sweeter, plus I had a TOP TIP on how to make a gluten free pastry that doesn't look pale and anaemic so read on to find out what that tip is.
The history of the Bakewell Tart.
What's the difference between a Bakewell Tart and a Bakewell Pudding? Is a Cherry Bakewell the same as a Bakewell Tart? Did Bakewell Tart originate in Bakewell, England?
Sigh! There are not straight forward answers to some of these questions. Chance would be a fine thing!
As always, recipe history, and the origins of much loved traditional bakes, is a web of claims from self proclaimed experts. Even residents in Bakewell aren't entirely sure what, how or when the Bakewell Tart came into existence.
I've actually been to Bakewell many years ago before we had the kids…so over 17yrs! Of course we had to have the traditional local tart and of course it was delicious. Eating it as we walked through the quaint streets of Bakewell probably enhanced the experience.
One bakery in Bakewell has done a fair bit of research into the origins of the Bakewell Tart and naturally they bake delicious Bakewell Tarts, Bakewell Puddings and Cherry Bakewell's, so The Bakewell Tart Shop have covered all bases.
Incidentally, they do have a gluten free lunchtime menu (but sadly no gluten free Bakewell's it would seem).
What is a Bakewell Tart? It's an almond and egg mix poured into a shortcrust pastry case that's had a layer of jam added to the bottom.
What is Bakewell Pudding? It's a wetter mix to the Bakewell Tart, with no jam and poured into a puff pastry case. Traditionally served hot with custard.
What is a Cherry Bakewell? It's the Bakewell Tart I mentioned above but with a sweet white icing covering the bake and a cherry on the top.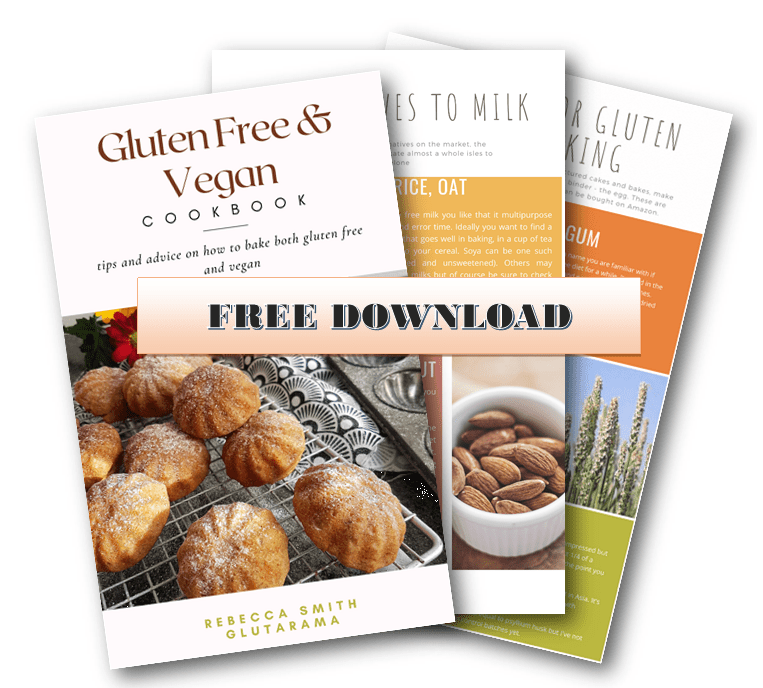 Never miss out again…
Sign up to my weekly Friday newsletter and not only get a FREE e-Book (currently my Gluten Free & Vegan Cookbook) but also get VIP subscriber discounts on free from goodies delivered to your door. Join me in my journey and learn to make anything gluten free.
Can I make this Bakewell Tart dairy free as well as gluten free?
Surprise! The Bakewell Tart pictured is dairy free. I simply use a dairy free block of 'butter'. It has to be a block of dairy free butter mind, not a dairy free spread, as you want the higher fat content and solidifying capabilities. My recommendations would be Flora Plant Butter blocks or Pure have bought out a block butter here in the UK. Other versions may be available overseas.
Can I make this Bakewell Tart vegan as well as gluten free?
Making a vegan Bakewell Tart isn't just a case of taking out the egg. There are a few tweaks necessary to get a similar consistency and structure to the frangipane filling. Therefore I wouldn't attempt to play with this recipe (sigh…)
But GREAT NEWS! I wanted to enjoy Bakewell Tart too so I went ahead and made a vegan version which you can find here (yay!) Easy Vegan Bakewell Tart made gluten free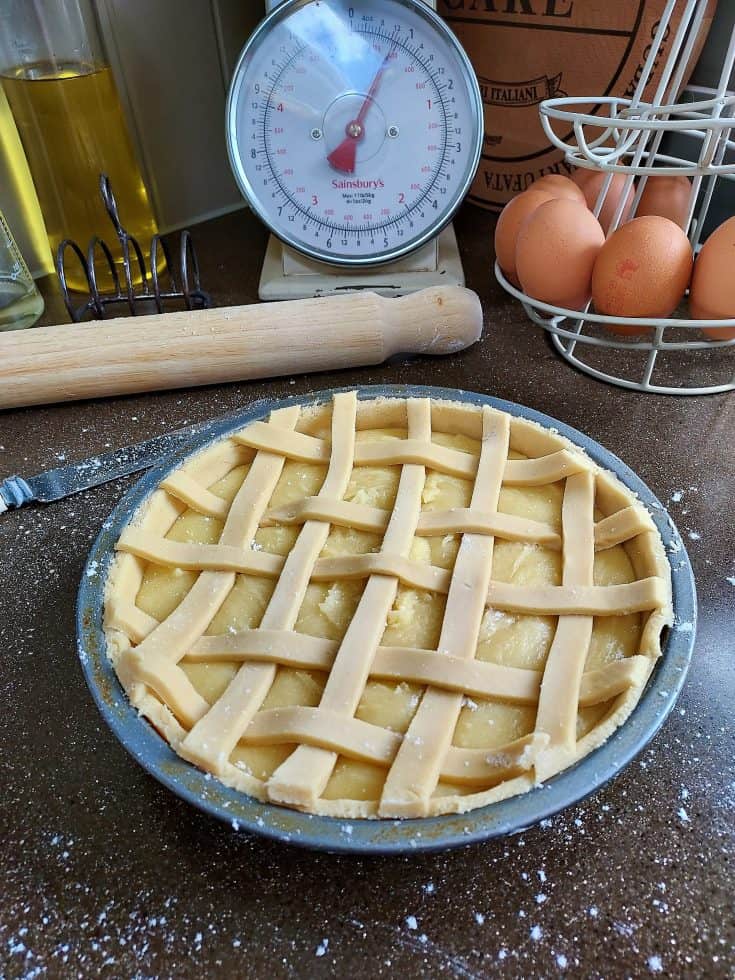 Do you have to blind bake a Bakewell Tart Pastry Case first?
I have tried both ways. Baking the pastry case blind when making a Bakewell Tart is a risky business because the tart filling takes a long time to bake. This means that you run the risk of burning your pastry case if you blind bake it first.
Traditionally Bakewell Tarts are not blind baked, possibly for that very reason.
TOP TIP: remember to prick the pastry case with a fork, try not to pierce the pastry through to the tin, you could result in some jam seeping into the underneath of the tart. I tend to line my tin with greaseproof paper just in case.
How to make a simple sweet gluten free shortcrust pastry
200g plain gluten free flour
80g butter or dairy free alternative
20g lard or vegan white fat solid (such as Trex)
50g caster sugar (use a light brown sugar if you wish to have a more golden baked pastry)
1 egg or 40ml cold water or a flax egg (1tbsp flaxseed and 3tbsp water)
Using fingertips or a pastry cutter turn the flour, butter and fat into breadcrumbs.
Add the sugar and stir.
Add the egg or water and stir until crumbs start to clump together.
Turn out onto a floured work surface and knead for 3mins until the pastry comes together.
Chill for 30mins and use as directed in the recipe.
What is the best jam to use in a Bakewell Tart?
I have seen all manner of jams used in Bakewell Tarts so don't feel afraid to use what you have in the cupboard (or fridge). Commonly, strawberry or raspberry jam is used in the traditional tarts. However, I have used apricot jam before and cherry jam makes a delicious flavour to compliment the almond flavour filling.
What is frangipane made of?
Here's where I admit that this Bakewell Tart deviates from a traditional bake. The Bakewell Tarts made in Bakewell use an egg, sugar and ground almond wet mixture to fill their pastry cases. This recipe uses a frangipane but doesn't include ground almonds.
Why did I do this? Because Bakewell Tarts can be hugely filling and very heavy. Therefore, my Bakewell Tart uses ground rice, egg, butter and a good quality almond extract to create a frangipane filling.
Other frangipane fillings can be seen using flour, butter, eggs ground almonds and sugar.
If you cannot source gluten free ground rice (many packs have may contain warnings as gluten is in the same factory) then you could opt for using the more traditional method and bake with ground almonds. Just replace them like-for-like as the amounts in the recipe below.
How do I store this bake?
This bake lasts really well. I keep it in a Tupperware container on the side, no need to refrigerate. We can still be eating the last slices three days later. If you find the frangipane has hardened a little pop it in the microwave for 10-15 seconds and you'll freshen the bake up.
It's also worth mentioning that this is delicious served as a pudding with custard so for the later slices you may want to warm them for 30 seconds and cover with your favourite custard.
Other gluten free pastry recipes to give you inspiration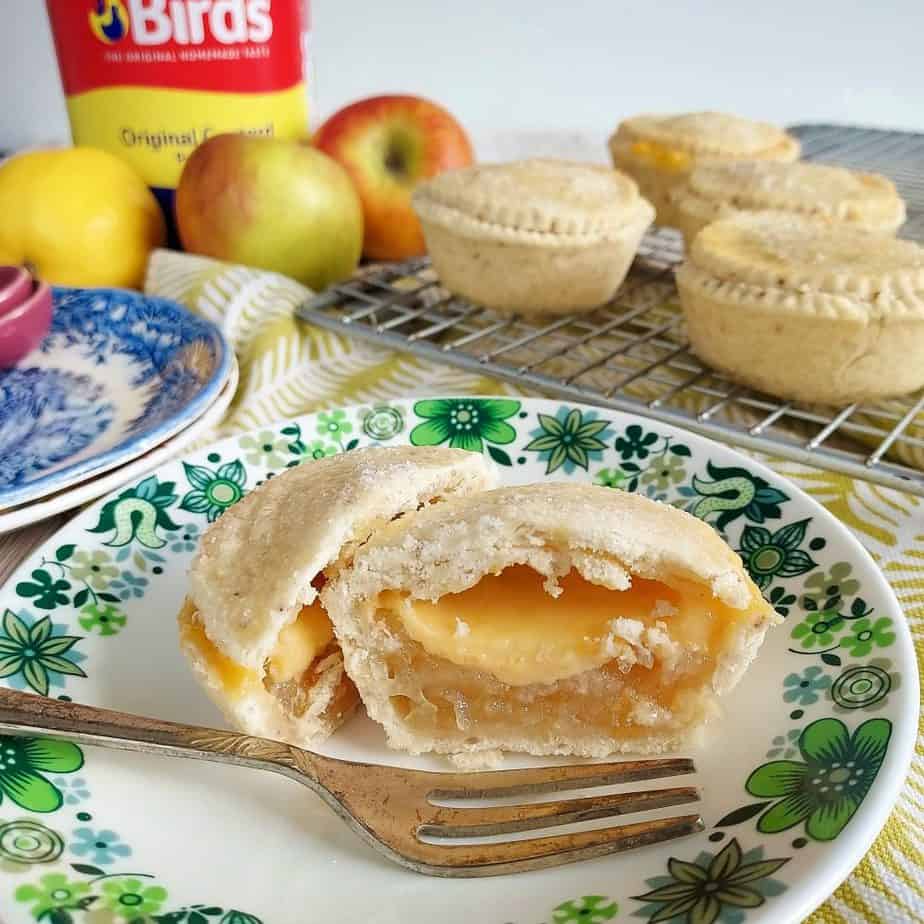 Gluten Free Lemon Frangipane
A zingy, sweet lemon frangipane bake that's simple to make with minimal washing up and stress! Can be eaten cold by the slice or serve warm with a scoop of your favourite ice cream, custard or cream. Much like its cousin the Bakewell Tart but this is crustless and easier to prepare at short notice for unexpected guests!
Check out this recipe
Simple Gluten Free Bakewell Tart Recipe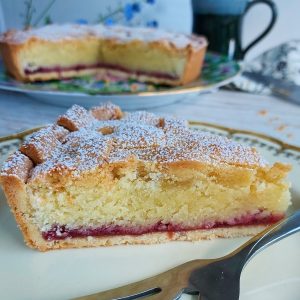 Simple Gluten Free Bakewell Tart
This simple recipe for Bakewell Tart has been on the Glutarama website since 2015, finally it has been given a facelift and written up properly so you can enjoy this traditional Bakewell recipe too.
Ingredients
Pastry Case
200

g

gluten free plain flour

80

g

butter

I use Flora vegan blocks of 'butter'.

20

g

fat (I use Trex white vegetable fat)

a vegan white solid fat, you could also use Crisp n Dry.

50

g

caster sugar

for this recipe I used light brown sugar to get a richer golden colour.

1

egg(s)

1

tsp

psyllium husk powder (optional)

optional (adds stability to the pastry)
Frangipane Filling
125

g

caster sugar

125

g

butter

dairy free if necessary

150

g

ground rice

or you could use ground almonds as suggested in the post

1

egg(s)

2

tsp

almond extract

extract is better that flavouring if you can afford it.

100

g

jam

strawberry, raspberry or cherry are ideal.
Instructions
To make the pastry
In a large bowl measure the butter, flour and sugar and using your fingertips or a pastry cutter combine to make breadcrumbs.

To the breadcrumb mixture, add a teaspoon of psyllium husk if using it, and break an egg into the middle of the bowl.

with a rounded knife cut through the mixture to incorporate the egg into the crumble mixture.

Now tip this mixture onto a kitchen surface (no need to flour the surface) bring the crumble together for 3 minutes until you have a kneadable ball of pastry dough. Make sure you have no lumps of fat left and pop the pastry into a Tupperware container and chill in the fridge while you get on with the frangipane.
To make the frangipane
In a medium saucepan measure the caster sugar and butter.

On a medium to high heat, melt the butter and sugar. Once completely melted remove from the hob and leave on the side too cool. You need the mixture too cool enough to add the egg so it won't scramble!

Once cooled to body temperature, stir in the ground rice and break an egg into the mixture. stir well to combine.

Finally add the almond extract, you should get a glossy medium thick mixture that pours off the spoon. Set aside to work on your pastry.
To build the Bakewell Tart
Preheat the oven to 190°C | 170°C fan | 375°F | Gas 5

Flour the kitchen surface and roll your pastry out to a good thickness, ½cm should be fine.

Take your 20cm cake tin (lined with a disc of greaseproof paper) and carefully line the tin with your pastry pressing gently into the corners. Trim excess pastry with a knife tight to the top of the tin.

Prick the pastry case multiple times with a fork, not too violently! try not to pierce the pastry all the way through.

Measure out 100g of the jam you have chosen to use into a jug and mix with a spoon to break it down and make it easily spreadable.

TOP TIP: If you find it's still too thick pop into the microwave for 10 seconds, this will make it very easy to spread.

Spread the jam over the bottom of the pastry case liberally making sure you go into the corners.

Now pour your frangipane mixture into the pastry case over the jam. Make sure no jam rides up the sides of the pastry. you want no jam to be visible by the end.

If you fancy a challenge, using the excess pastry you could reroll and cut thin strips of pastry to create a basket weave on the top of your Bakewell Tart.

Bake for 35-40 minutes, keeping an eye on the pastry so that it doesn't burn. The Bakewell will continue to cook after you remove from the oven so don't worry in the middle feels a little soft. Besides, you want a lovely moist centre. It's traditional to the bake.

Allow to cool completely and serve. Can be enjoyed warm with custard or ice cream or cream.
Nutrition
Nutrition Facts
Simple Gluten Free Bakewell Tart
Amount per Serving
% Daily Value*
* Percent Daily Values are based on a 2000 calorie diet.
Have you tried this recipe?
Let me know how it was & I will be super grateful. Take a picture & tag me @glutarama on your social media posts – I love seeing your photos more than you will ever know x
I love to see your own photos of my bakes, dinners and treats head to your favourite social media account and don't forget to tag me in @glutarama
Subscribe to my email list so that you get NEW recipes straight in your mailbox every Friday PLUS a FREEBIE and access to some amazing gluten free DISCOUNTS
*disclaimer: I use affiliate codes on my website, the vast majority are to Amazon. If you click on any of the links or images in the post and make a purchase my family will benefit from a small % of that purchase at no extra cost to you, in fact, for full transparency, in 2020 I made my first £25, and recently in 2022 I reached my next £25 (Amazon don't transfer the money until you reach £25). As you can see, it won't make me a millionaire but it will treat me to a few coffees, Lord knows I need the caffeine!