Let me tell you how this Simnel Cake Leftover Ice Cream was developed. If you avidly follow my website and my recipes, then first of all thank you, your support is very much appreciated. Secondly, you've probably seen my recent revamp of my popular Delicious Easter Simnel Slices made Gluten Free. The original post back in 2017 inspired this Simnel Ice Cream recipe.
Actually, the idea for this leftover cake recipe actually came to me at 2am as I sat in bed contemplating whether I should just give up trying to sleep and go downstairs. I was thinking about my Simnel bake from the day before, wondering what I could do with the shavings and leftover slices – I hate waste.
Once the idea had popped into my head and I'd mentally working out the possibilities, I was able to settle down to sleep, it's a funny world isn't it?
How to use up Leftover Rich Fruit Cake
There are three ways you can approach this recipe;
Option 1: simply turn your left over Christmas Cake, Rich Fruit Cake or Simnel Cake into this leftover Ice Cream. Crumble it up and cut bits into bite size chunks to fold through at the end of the ice cream making process.
Option 2: you can follow my Delicious Easter Simnel Slices made Gluten Free recipe in preparation for Easter and use the left over cake trimmings and marzipan to make this decedent ice cream. Therefore giving you two delicious Easter treats.
Option 3: you can buy a free from fruit cake, a packet of marzipan and crumble those into the ice cream.
Either way, I'm sure the results will be equally as delicious…but there's something to be said about being able to gloat when you've made one thing and ended up with two delicious treats.
How to make vegan condensed milk
Dairy Free and Vegan Condensed Milk Recipe
Empty a 400ml tin of coconut milk into a medium saucepan, add 150g caster sugar and stir to combine. Place on a high heat and stir until bubbling. Turn heat down to a gentle rolling boil and leave for 15 minutes. Don't leave unattended and stir occasionally, the condensed milk will halve in volume and go a wallpaper paste colour! Remove from the heat, pour into a glass heatproof jug and cool to room temperature, this will take about an hour.
For the full recipe, method and top tips head to my Easy Dairy Free Condensed Milk recipe.
---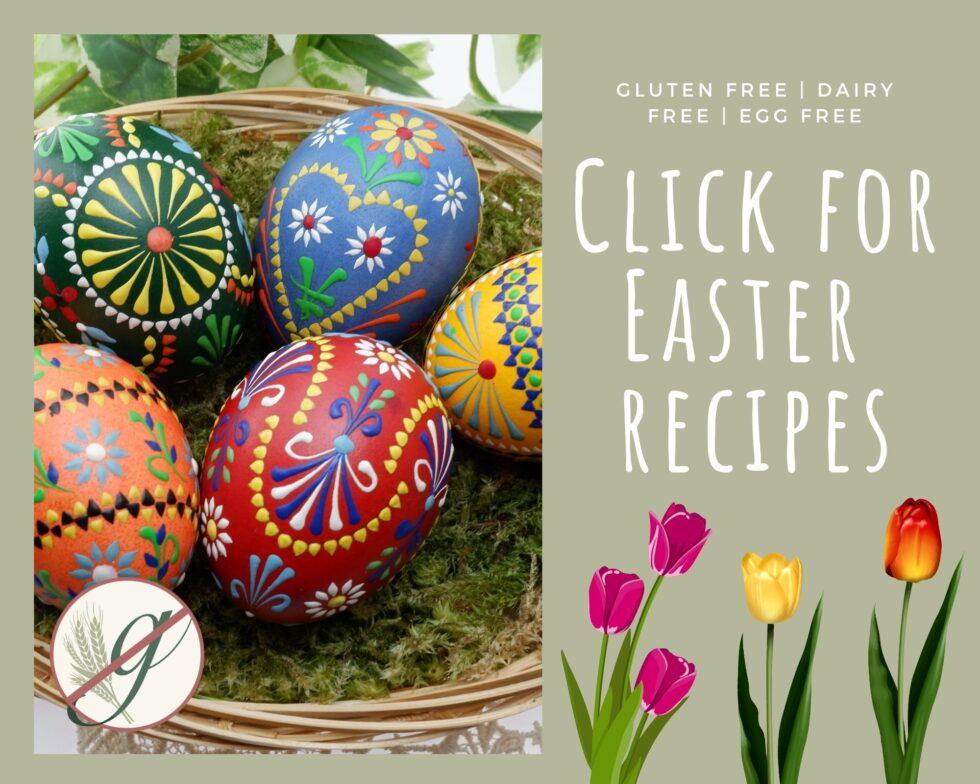 ---
How to make this ice cream with a machine
I am fortunate to have an ice cream maker brought for the family as a gift. It was from my mother-in-law, back when Bethany was diagnosed with Secondary Lactose Intolerance. It's been a God send ever since. Even more so when I discovered I was dairy intolerant.
The maker we use is not cheap but it works really well. You do need room in your freezer for the ice bucket though, so bear that in mind if you think of getting one. I'm lucky and I have room so I leave the ice bucket in the freezer all the time should ice cream take my fancy!
To make this recipe using the ice cream maker, simply add the wet ingredients then turn on to churn for 30 minutes
250ml homemade condensed milk – see method above and in recipe card.
250ml dairy free free milk – I use soya normally but almond is lovely and compliments this recipe.
100g caster sugar – doesn't have to be golden, this adds a caramel flavour to it.
30g dairy free melted butter – this has to be a solid fat butter, not a spreadable margarine
1tsp vanilla extract
Once the mix has churned for 30 minutes, fold in half the marzipan and fruit cake pieces and pour into a suitable container. I use Igluu glass containers, they hold 840ml so just enough space for this loaded ice cream. Before popping in the fridge, decorate with chunks of cake, marzipan and anything else delicious that takes your fancy.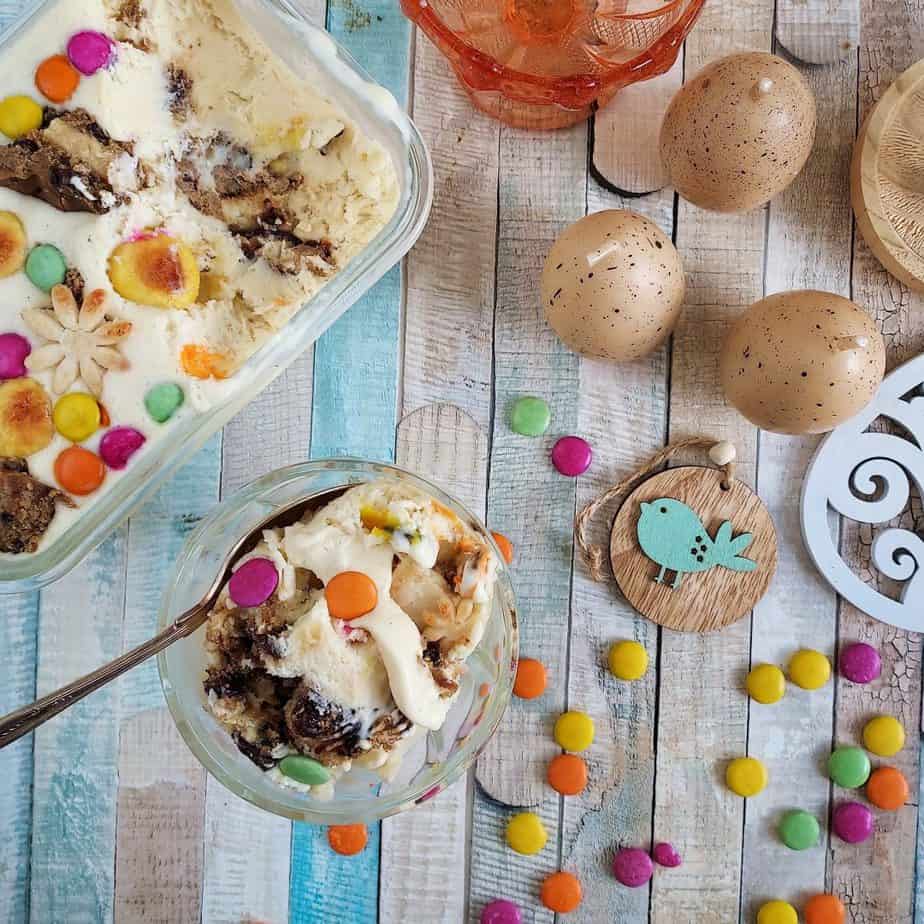 How to make this ice cream without a machine
Making this ice cream without a machine is also very simple, in fact, when I reshot these photos I'd not got enough room in the freezer for the makers ice bucket so you're looking at the hand mixed version now!
Follow the instruction to make your vegan condensed milk and allow this to cool.
In a mixing bowl whisk together the cooled condensed milk, dairy free milk, melted 'butter' and vanilla extract until the creamy mixture turns to a thick double cream consistency.
fold in half the marzipan and fruit cake chunks. Hold back the prettier bits for decoration. Pour into your freezable container. NO NOT ADD THE DECORATION YET. Unlike the machine churned version this ice cream will still be very liquid and any decoration you add now will sink, never to be seen again!
freeze the ice cream for at least 45mins before removing and adding your decoration. Return to freezer and continue to freeze for a further 45mins before serving.
Can I make this Simnel Ice Cream with dairy?
Yes you can make this with dairy products. To do so, simply use the same amount of normal condensed milk (250ml) and a full fat milk. There should be no need for the melted butter, this is added to increase fat content in the dairy free ice cream to add to its structure.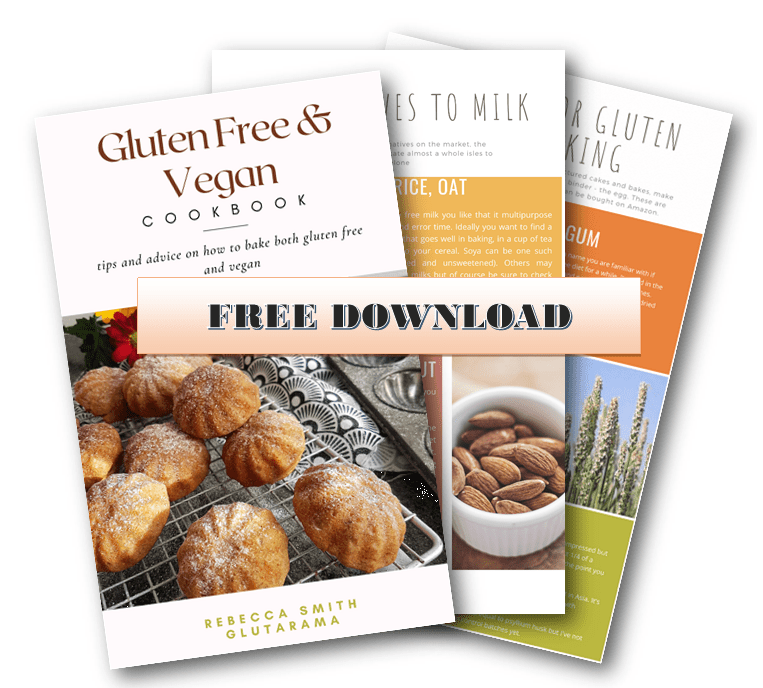 Never miss out again…
Sign up to my weekly Friday newsletter and not only get a FREE e-Book (currently my Gluten Free & Vegan Cookbook) but also get VIP subscriber discounts on free from goodies delivered to your door. Join me in my journey and learn to make anything gluten free.
Dairy Free Simnel Cake Leftover Ice Cream Recipe
If you make it and like the recipe I would be eternally grateful if you popped back and commented leaving a star rating as this will tell search engines that this recipe is worth checking out and others will get to find it in searches.
Dairy Free Simnel Cake Leftover Ice Cream
A deliciously chunky and indulgent Simnel Ice Cream, free from dairy and gluten. The perfect way to use up leftover rich fruit cake from Christmas, Easter or just your teatime baking.
Ingredients
400

ml

tin coconut milk needs to be 60% or over in coconut extract

60%+ coconut milk

150

g

golden caster sugar

or caster sugar

250

ml

almond milk

or your favourite DF alternative

100

g

Simnel Cake

cut into chunks

100

g

marzipan

rolled into balls

1

tsp

vanilla extract
Instructions
To make the vegan condensed milk
Add the coconut milk and sugar to a saucepan and heat, stir until all hte coconut milk fat and liquified.

Rapid boil the milk and sugar liquid for 20 minutes until it turns a thicker consistency and looks a creamy translucent colour.

Remove from the heat and allow to cool completely.
Method for ice cream maker version
Add the cooled condensed milk, almond milk and extract to your ice cream maker.

removing mixing paddle and fold in half the cake chunks and marzipan balls.

Tip into a freezable container and gently smooth to edges.

Decorate with the remaining cake chunks and marzipan and anything else that you fancy using.
Method for hand made version
Aa above, add all the wet ingredients to a mixing bowl and whip to a thick cream consistency.

Fold in half the fruit cake and marzipan and pour into a container.

Pop this in the freezer for 45 mins then remove and stir, if hardening, add your toppings and return to the freezer for at least another 45 mins before serving.
Nutrition
Nutrition Facts
Dairy Free Simnel Cake Leftover Ice Cream
Amount per Serving
% Daily Value*
* Percent Daily Values are based on a 2000 calorie diet.
Have you tried this recipe?
Let me know how it was & I will be super grateful. Take a picture & tag me @glutarama on your social media posts – I love seeing your photos more than you will ever know x
I love to see your own photos of my bakes, dinners and treats head to your favourite social media account and don't forget to tag me in @glutarama
Subscribe to my email list so that you get NEW recipes straight in your mailbox every Friday PLUS a FREEBIE and access to some amazing gluten free DISCOUNTS
*disclaimer: I use affiliate codes on my website, the vast majority are to Amazon. If you click on any of the links or images in the post and make a purchase my family will benefit from a small % of that purchase at no extra cost to you, in fact, for full transparency, in 2020 I made my first £25, and recently in 2022 I reached my next £25 (Amazon don't transfer the money until you reach £25). As you can see, it won't make me a millionaire but it will treat me to a few coffees, Lord knows I need the caffeine!