These no bake Rhubarb and Custard Tarts are so pretty to look at and give the impression they're harder to make than they are. I love it when a plan comes together! In fact, when I posted the updated photos on my Instagram page people cooed over them and imagined they were difficult to bake. Nope, not at all, actually these are no-bake Rhubarb and Custard Tarts so even better!
Originally, back in 1066 when I first made these (wee bit of an exaggeration) I used a Delicious Alchemy Oaty Cookie Packet Mix but the guys over a DA don't make these anymore. So when I popped back on one day to make them again, I realised I needed to not only update the photos (eek, they were bad) but I also had to tweak the recipe too.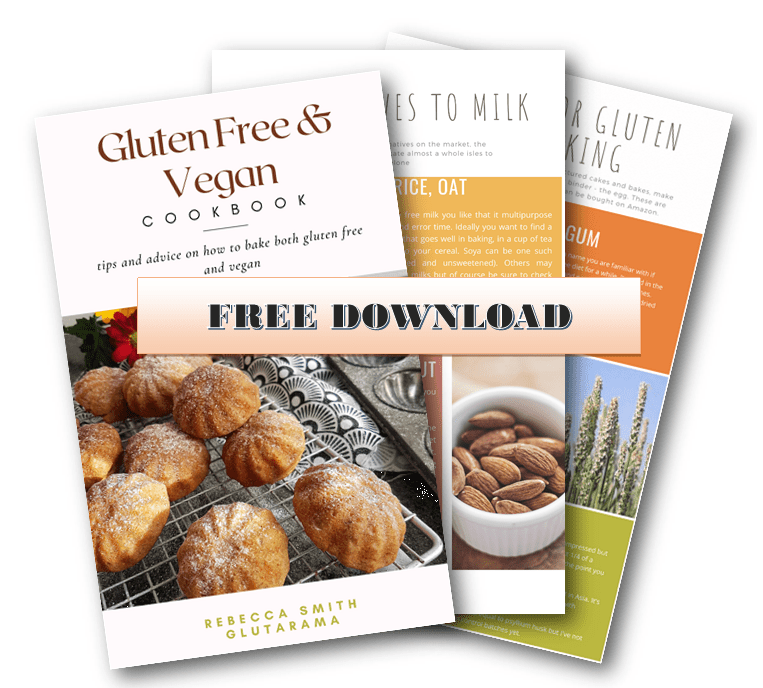 Never miss out again…
Sign up to my weekly Friday newsletter and not only get a FREE e-Book (currently my Gluten Free & Vegan Cookbook) but also get VIP subscriber discounts on free from goodies delivered to your door. Join me in my journey and learn to make anything gluten free.
Can I use tinned rhubarb to make these rhubarb and custard tarts?
Yes you absolutely can use canned rhubarb to bake with. There are a couple of cons if using the tinned version. The first is that the texture is very different, almost slimy so this may put you off using it. The second (and more significant con for me) is that the tinned version can be a rather unappealing green/grey colour. As you can see from my photos, the fresh rhubarb, particularly forced rhubarb, is a beautiful blush colour.
if using tinned rhubarb there is no need to stew or chop, just open the tin and pour into your pudding dish ready to top with crumble. For that reason this is an excellent option if you want rhubarb crumble on the spur of the moment.
How to prepare rhubarb?
If you are lucky enough to be using forced rhubarb then very little preparation is necessary. The stalks are long, straight and supple, making them easy to dice.
However, when using the later store bought version you will probably find that the thin green ends need to be removed. Finally, if the stalks are drier and a little woody in places, you may wish to take a peeler and shave these parts off before chopping and using in recipes.
What can I use instead of ginger biscuits?
Now you may be like my family who aren't overly keen on ginger biscuits (cookies). personally I love them, plus they're good for your digestion (that's what I keep telling myself). If ginger is not your thing then use a free from digestive or oaty cookie, just make sure of course that the oats are certified gluten free. No need to alter the fat rations, just swap one biscuit for another.
What's the best custard to use in these gluten free tarts?
I will always say hands down that the best custard to go to is Birds Custard Powder. It was after all made by a husband for his wife who could not eat eggs. its also milk free if you make it with a dairy free alternative to milk. I use soya milk with no problem whatsoever. Actually I find that soya milk makes the custard even more sunshine yellow and gorgeous-looking.
The product does have a may contain for milk though due to manufacturing processes so if you have CMPA then be aware of this, there is a dairy free version available on Amazon (affiliate link) if you'd rather.
Bird's custard powder brings you custard just the way you like it and there's no feeling quite like making your own!

Our heritage stretches back to 1837 when Bird's custard powder was invented by Alfred Bird, and it is still loved by generations today.

Bird's is best known for the original custard powder, that gives you the power to create homemade custard perfect for you and your family.

Birds Custard
Other gluten free fruit recipe inspiration
Easy Gluten Free Rhubarb and Custard Tarts Recipe
If you make it and like the recipe I would be eternally grateful if you popped back and commented leaving a star rating as this will tell search engines that this recipe is worth checking out and others will get to find it in searches.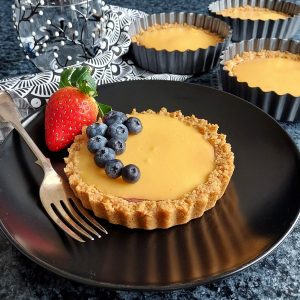 Easy Gluten Free Rhubarb and Custard Tarts
These Rhubarb and Custard Tarts are no bake and so simple to make yet impressive to present as a delicious dessert or afternoon tea treat. Made gluten free, dairy free and vegan too.
Ingredients
150

g

rhubarb

cut into chunks

1

tsp

water

50

g

caster sugar
For the tart base
300

g

gluten free ginger biscuits

or a non ginger version if you'd prefer

75

g

melted butter

I use Flora vegan blocks
For the custard topping
2

tbsp

Bird's original custard powder

1

tbsp

caster sugar

200

ml

milk

or dairy free alternative, I use soya milk
Instructions
Place the chopped rhubarb in a saucepan with a table spoon of water, heat gently for 10mins preferably with a lid on, until the rhubarb breaks down.

Add 50g of sugar (of more if you prefer less sharp fruit) to the stewed rhubarb and rapid boil for 5mins stirring constantly to reduce the liquid content.

Set aside to cool completely.

In the meantime make the biscuit base up, simply crush the biscuits in a blender until you have fine crumbs and add the 'butter' to combine.

I used my loose bottom mini tart tins, alternatively you could use one medium fluted tart tin.

Spoon some biscuit crumble mixture into the tin and using the back of a spoon flatten and mould up the side of the tin to create a crust. This may take a little bit of patience to get the crust walls thick enough.

Pop the tarts into the fridge to chill and harden for 10 mins.

Remove from the fridge and spoon equal quantities of the stewed rhubarb into each biscuit case.

Make up the Birds Custard mixing to a paste with a little milk and the sugar first to prevent lumps, heat for 1-2mins depending on your microwave and spoon over the top of the rhubarb mixture.

Pop into the fridge for at least an hour to allow base to harden and custard to set.

To serve gently remove from the fluted tins and serve on their own, with cream or icecream.
Nutrition
Nutrition Facts
Easy Gluten Free Rhubarb and Custard Tarts
Amount per Serving
% Daily Value*
* Percent Daily Values are based on a 2000 calorie diet.
Have you tried this recipe?
Let me know how it was & I will be super grateful. Take a picture & tag me @glutarama on your social media posts – I love seeing your photos more than you will ever know x
I love to see your own photos of my bakes, dinners and treats head to your favourite social media account and don't forget to tag me in @glutarama
Subscribe to my email list so that you get NEW recipes straight in your mailbox every Friday PLUS a FREEBIE and access to some amazing gluten free DISCOUNTS
*disclaimer: I use affiliate codes on my website, the vast majority are to Amazon. If you click on any of the links or images in the post and make a purchase my family will benefit from a small % of that purchase at no extra cost to you, in fact, for full transparency, in 2020 I made my first £25, and recently in 2022 I reached my next £25 (Amazon don't transfer the money until you reach £25). As you can see, it won't make me a millionaire but it will treat me to a few coffees, Lord knows I need the caffeine!