This Small Simnel Cake recipe came about when I began to update my other Traditional Easter recipes. I realised that I'd not developed a specifically vegan and gluten free Simnel Cake. Most of my recipes stand up to being tweaked to be egg free. On those occasions all you need do is follow my no fail flaxseed egg method. But a flaxseed has it's limitations and my larger Simnel Cake recipe uses the rich fruit cake recipe I use for Christmas Cakes. There are 5, yes FIVE eggs in that cake and flax is good but to replace 5 eggs is a tall order.
So this recipe was developed with vegan and egg free in mind and whilst I was developing I also thought it would beneficial to have a less costly amount of ingredients too so instead of buying separate currants, raisins and sultanas I've opted to use a simple mixed fruit mix.
How to make a flax egg

to make 1 flax egg you need the following ingredients:
– 1tbsp ground flax seed
– 3tbsp water
– 1tsp psyllium husk (optional but does add elasticity to baking)

Simply add all ingredients to a glass and stir before measuring out the other recipe ingredients, by the time you come to use your 'egg' mixture it will have thickened to a frog-spawn consistency (thicker if you added psyllium husk)

Then just add to your baking as you would an egg. For 2 eggs double the ingredients but note that recipes that require more than two eggs may fail due to lack of support in the structure.
What is the meaning of a Simnel cake?
Simnel Cake was originally meant as a celebration of Mothering Sunday or Simnel Sunday as it is known in some parts of the world. Mothers Day in the UK moves about like Pancake Day and Easter as it is dictated by the dates of lent. Mothering Sunday is always the 4th Sunday of lent. To make a cake and celebrate mothers meant a brief breaking of the lent fasting.
The marzipan balls that decorate the top of the cake symbolise the 12 disciples. However, you only add 11, Judas lost his marzipan rights.
What does the word Simnel mean?
I knew that the word Simnel had something to do with the cake ingredients but wasn't sure if it was to do with the marzipan layer, I was wrong! It took a while to get to the bottom of it, most dictionary definitions just referred to the links to the cake but Merriam-Webster had the best definition. So the word Simnel in fact refers to the word originating from the Latin simila which was use for the finest of white flours. This explains the connection to it being a celebrated cake with the finest of ingredients at a time when lent was being observed. In other words a bit of a indulgent treat.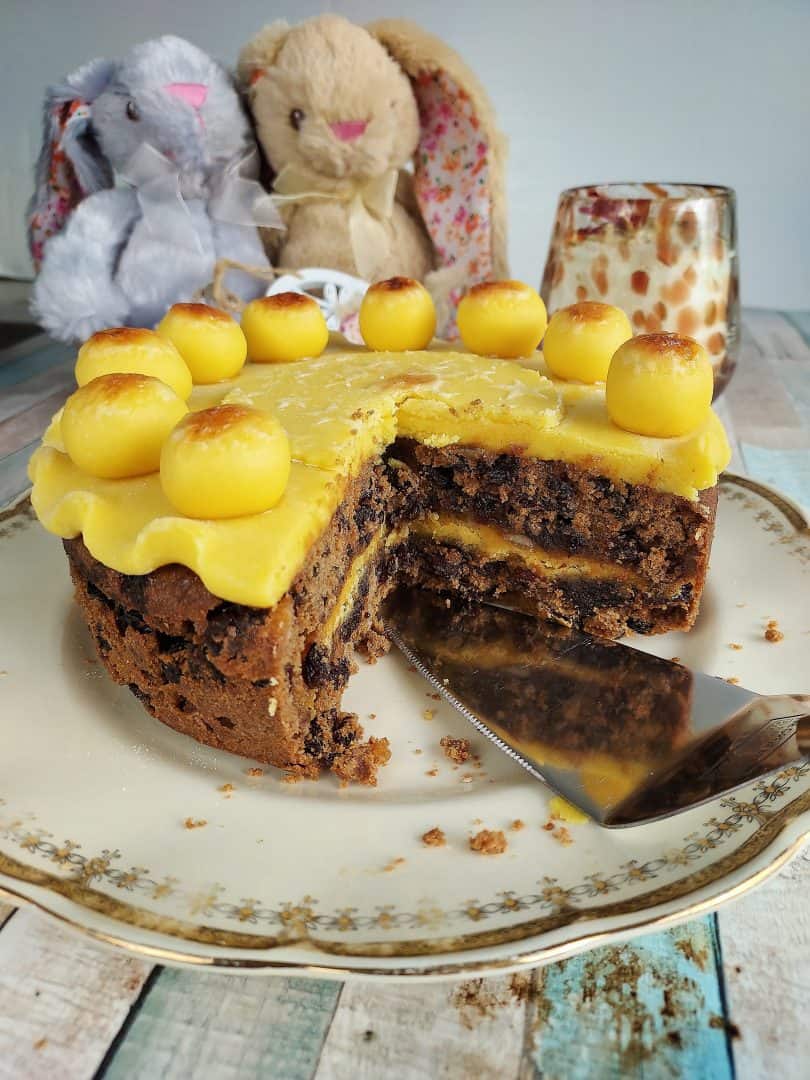 What type of marzipan should I use for my Simnel Cake?
I don't think there are folk law and rules about the type of marzipan you use. It's probably down to preference, however, normally I use a natural coloured marzipan as it can look more elegant but on this occasion I wanted to shout from the roof tops 'Look at my vegan and gluten free Simnel Cake' so naturally I decided to use the almost neon yellow marzipan as a beacon to summon free from bakers from far and wide. However, I think I may have eaten too much marzipan trimmings before typing this up, as I'm a little over excited!
---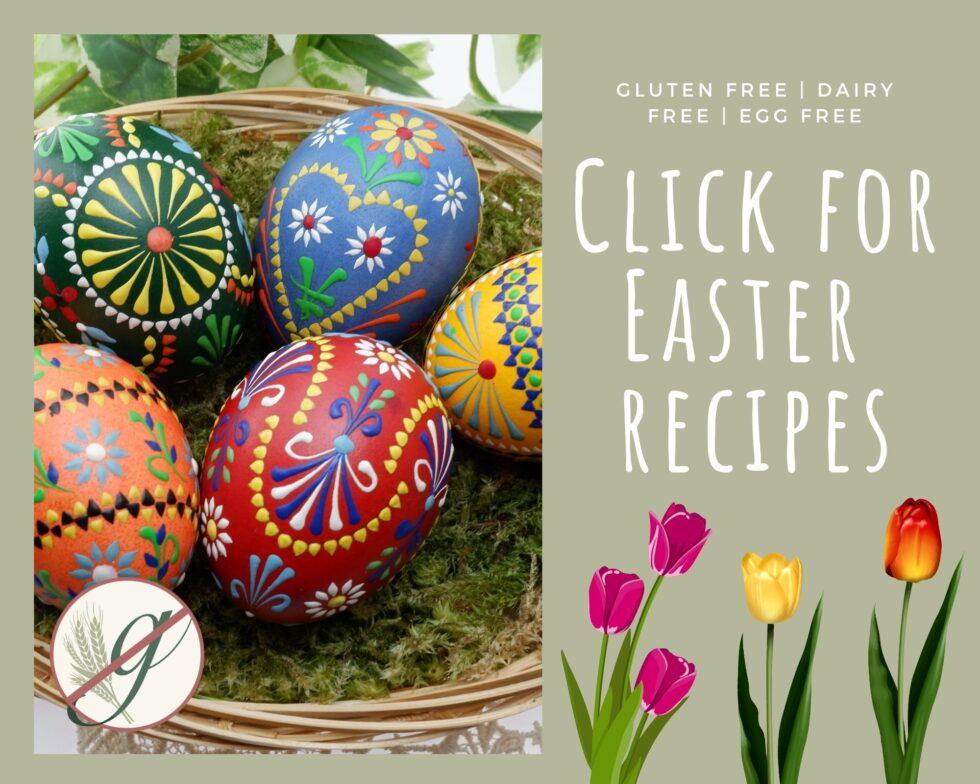 ---
Can I make this gluten free and vegan Simnel Cake with eggs and milk?
Yes technically you can but I have an original Glutarama Simnel Cake that uses my Christmas Cake mix which has all the ingredients in (except gluten of course) so if you like head over there to sue that recipe instead. Gluten Free Simnel Cake a Rich Fruit Cake for Easter. If you do decide to make this recipe and add the eggs and milk, I'd love to know how you got on so please pop back and leave a comment.
How do you get the marzipan in the Simnel Cake?
Roll out approximately 150g of marzipan to 1-2 cm thick (depending on how much you like it)
Cut a circle about 1 inch smaller than the size of your cake tin (this will prevent seepage)
When you've made the fruit cake mix according to the instructions below add 1/2 the mixture to the tin
Place the marzipan disc onto of the mixture and top with the remaining mixture making sure no marzipan is touching the sides of the baking tin (it will burn to a toffee harder than diamonds if it does).
Make this nut free too with my nut free marzipan
The recipe below is for a gluten free, dairy free, egg free and nut free mini Christmas cake using my own homemade nut free marzipan.
Mini Christmas Cakes
Free from gluten, dairy, eggs and decorated with a nut free marzipan, these Mini Christmas Cakes cane be enjoyed by everyone this Christmas
Check out this recipe
How to Decorate your Simnel Cake
Once cooked and completely cooled, using the unused marzipan, roll a further circle out to top the cake. Use all remaining marzipan to make the 11 marzipan balls to depict the disciples.
Preferably using a mini kitchen blow torch gently heat the marzipan to get the beautiful toasted effect. If you have no lighter then you can pop it under the grill but you may not get an even toast.
Other homemade gluten free festive treats
Small Celebration Vegan Simnel Cake Recipe
If you make it and like the recipe I would be eternally grateful if you popped back and commented leaving a star rating as this will tell search engines that this recipe is worth checking out and others will get to find it in searches.
Small Celebration Vegan Simnel Cake
Delicious and fruity, this gluten free, dairy free and vegan Simnel Cake is a smaller version of the traditional Simnel Cake – the perfect centre piece for the Easter table. Also made with less pricy ingredients for those watching the pennies.
Ingredients
300

g

dried mixed fruit

200

g

gluten free plain flour

150

ml

orange juice

option to use brandy or another spirit.

2

tsp

mixed spice

(½ clove, ½ nutmeg, ½ cinnamon, ½ ginger)

1

tbsp

treacle

100

g

dark brown sugar

80

g

butter or butter alternative (I use Flora plant butter)

I use Flora blocks

2

tbsp

ground flaxseed

or chia seed (I actually use my own blend of both)

100

ml

water

1

tsp

psyllium husk powder (optional)

optional but does help with cake structure

450

g

marzipan

white or yellow, although here I've used the bolder yellow version.

2

tbsp

apricot jam

to make your decoration stick.
Instructions
Add the mixed fruit to a large bowl and soak in the orange juice for a couple of hours to plump them up encouraging a super moist fruit cake.

TIP: if you can't wait 2hrs, then pop the soaked fruit in the microwave with a cover for 2mins, the steam will plump up the fruit quickly, then allow to cool for 10 mins before adding the mixture.

While your fruit is soaking/cooling, prepare the cake tin. I use a small loose bottom cake tin as this cake mixture makes an 7inch/20cm round cake, ensure that you have lined the tin and greased it too, I use a handy oil spray for this. As this cake does not take as long as a rich fruit cake there is no need to over do the lining.

Preheat oven to 150°C | 130°C fan | 300°F | Gas 2.

Make your flaxseed eggs by adding 2 tbsp of ground flaxseed to 100ml of water then )if using) add the 1tsp of psyllium husk, whisk with a fork to combine otherwise you'll get lumps, your 'eggs' will thicken quickly to a paste, especially if you added the husk powder too. Set aside.

In a mixer, cream the butter, sugar, treacle until paler in colour, then add the flaxseed eggs and beat thoroughly.

Add the flour and spices, continue to beat until light and fluffy then add the fruit (including the soaking juice). If not using a electronic mixer, this is when you'll need strong arms!

Spoon ½ the fruit cake batter into the prepared tin and smooth with the back of a spoon or spatula.

Now take 150g of marzipan and roll out to ½ cm (5mm) thickness before cutting into a square. The square needs to be smaller than your cake tin so about 6 inches wide. This is because you don't want the marzipan to be too close to the end of the cake or else it will seep out down the size when baking and burn.

place the marzipan square on the 1st layer of cake dough and press down firmly round the edges so it sinks into the mixture.

Spoon the remaining mixture into the tin on top of the marzipan and smooth the top down, add a square of greaseproof to the top of the cake to prevent it from burning.

Cook on the bottom shelf of the oven for 1 hour and check on it. If the cake has a bounce to the touch (if not add another 10mins) then remove the grease proof paper and continue to cook for another 15mins.

Remove from oven when inserted skewer comes out clean and allow to cool slightly before lifting out of the tin and removing the baking paper.

Allow to cool completely before decorating.
To decorate the cake
Next, brush the cake generously with apricot jam to allow the marzipan to stick.

Roll out the remaining marzipan to a 7 inch circle about 5mm-10mm thick. Press down gently onto the marzipan brushed cake so it sticks.

With any offcuts, roll out 11 balls of marzipan – remember to miss out Judas, I normally eat him!

To caramelise the tops of the cake you have two choices. firstly you could pop it under a preheated hot grill, DO NOT TAKE YOUR EYES OFF THEM! Remove from heat once the edges start to 'catch' (colour).
Notes
to make 1 flax egg you need the following ingredients:
– 1tbsp ground flax seed
– 3tbsp water
– 1tsp psyllium husk (optional but does add elasticity to baking)
Nutrition
Nutrition Facts
Small Celebration Vegan Simnel Cake
Amount per Serving
% Daily Value*
* Percent Daily Values are based on a 2000 calorie diet.
Have you tried this recipe?
Let me know how it was & I will be super grateful. Take a picture & tag me @glutarama on your social media posts – I love seeing your photos more than you will ever know x
I love to see your own photos of my bakes, dinners and treats head to your favourite social media account and don't forget to tag me in @glutarama
Subscribe to my email list so that you get NEW recipes straight in your mailbox every Friday PLUS a FREEBIE and access to some amazing gluten free DISCOUNTS
*disclaimer: I use affiliate codes on my website, the vast majority are to Amazon. If you click on any of the links or images in the post and make a purchase my family will benefit from a small % of that purchase at no extra cost to you, in fact, for full transparency, in 2020 I made my first £25, and recently in 2022 I reached my next £25 (Amazon don't transfer the money until you reach £25). As you can see, it won't make me a millionaire but it will treat me to a few coffees, Lord knows I need the caffeine!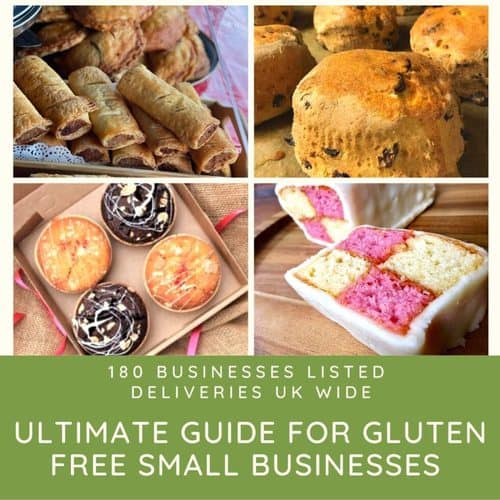 Fancy buying yourself a treat or a gift for a loved one this festive season, then go small…small businesses' that is!

Guide for Gluten Free small businesses that deliver across the UK

— Glutarama, supporting small businesses
---