This recipe for Easter Simnel Slices was inspired by the Gluten Free Simnel Cake a Rich Fruit Cake for Easter that I developed one Easter proving to myself that fruit cake is not just for Christmas!
However, with this recipe you actually get two for the price of one because should you have any slices left over, the second recipe linked to this post is for my Simnel Icecream, move over Ben and Jerry, this is seriously chunky and packed with lumps of cake and marzipan…you'll love it!
What's the history behind Simnel Cake
As with many long term traditional bakes, the Simnel Cake has many variations on the history; how Simnel Cakes got their name, when Simnel Cake is eaten and what's in a traditional cake. The one fact that remains unwavering throughout history is why there are 11 balls of marzipan onto of a cake.
The eleven marzipan balls represent the 12 apostles who followed Jesus and spread his word, that is minus the 12th apostle Judas, and we all know why he didn't get a marzipan ball in his honour!
It seems odd to make a cake during Lent, but this cake was just that, a rich fruity luxurious cake that was often made to celebrate Mothering Sunday so Lent rules were overlook for this day of the year.
Can I make this festive bake nut free?
Technically you can by using my nut free marzipan recipe. The marzipan was developed for my Mini Christmas Cakes; gluten free with nut free marzipan and there were many, many attempts at getting the flavour, consistency and colour right for an imitation but nut free version of the almond paste. Back to that word 'technically' you see I'll hold my hands up and say I've not baked with the nut free marzipan so cannot say how it will hold up to being in a Simnel Slice, nor how it would cope with being toasted for that authentic caramelised finish.
I love to hear your feedback though, so if you beat me to it and do use my nut free marzipan in these slices then please do let me know how it went.
Can you make these Simnel Slices dairy and egg free?
Rich fruit cake holds well in structure so omitting eggs and fat such as butter is possible, as long as the recipe doesn't require more than 2 eggs. I always add my own flaxseed eggs when baking vegan and swapping the butter for a dairy free alternative is simple, I recommend using Flora vegan blocks if you can access them in store.
However, if you want a rich fruit cake that's been developed to be egg and dairy free then you'll want to take a look at my recently developed Small Vegan Simnel Cake made gluten, dairy and egg free.
How to make a flax egg

to make 1 flax egg you need the following ingredients:
– 1tbsp ground flax seed
– 3tbsp water
– 1tsp psyllium husk (optional but does add elasticity to baking)

Simply add all ingredients to a glass and stir before measuring out the other recipe ingredients, by the time you come to use your 'egg' mixture it will have thickened to a frog-spawn consistency (thicker if you added psyllium husk)

Then just add to your baking as you would an egg. For 2 eggs double the ingredients but note that recipes that require more than two eggs may fail due to lack of support in the structure.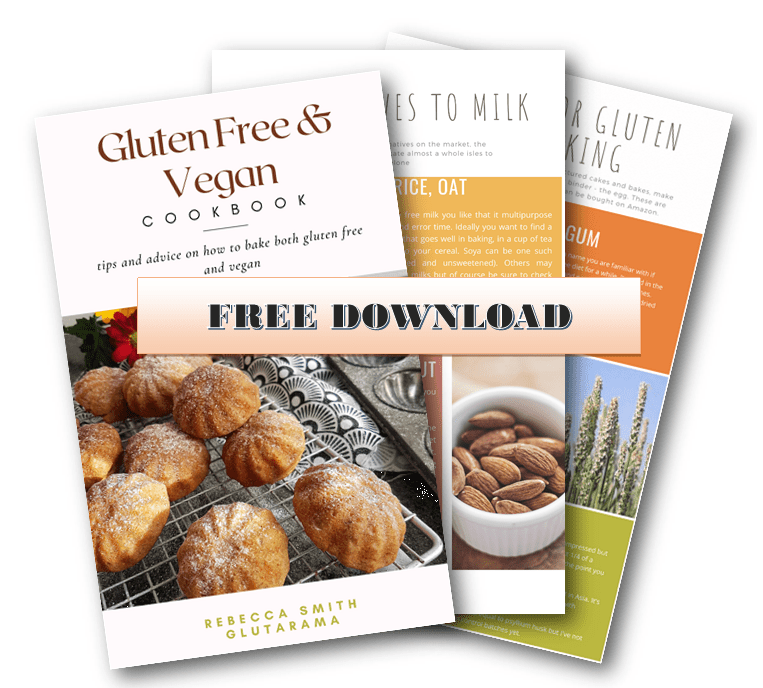 Never miss out again…
Sign up to my weekly Friday newsletter and not only get a FREE e-Book (currently my Gluten Free & Vegan Cookbook) but also get VIP subscriber discounts on free from goodies. Join me and learn to make anything gluten free.
Anyway, back to the Simnel Slices. I used my adjustable cake tin to get the 7 inch size fruit cake I needed for this recipe. This tin is really handy but for goodness sakes remember to hold the base of the tin and not the size (I speak from experience!). In contrast to my Christmas fruit cake, I chose to add orange juice for a more spring-like feel (I use brandy on my Christmas version).
To be fair this isn't the best photo because I actually double line my baking tins when baking a rich fruit cake. As these cakes take a long and slow bake, it's possible they can burn at the edges if not well insulated. Also a hazard with Simnel cakes of all kinds is escaping marzipan from the middle of the cake, therefore extra preparation is often rewarded with an easy peel cake once cooled slightly. I go as far to spray my baking paper with oil too.
Different ways I can decorate my Simnel Cake
I've made these a few times over the years as you can imagine, I always like to feature Spring in these bakes, this is, after all the best season of the year. The most hopeful season where bulbs bloom and birds seem to sing louder. So why not celebrate the Spring by decorating these slices with flowers.
This also works if you fancy some Simnel Cake but are not to comfortable with the religious symbolism of the 11 marzipan balls – just stick some pretty patterns on them instead. Here's a recent example of some slices I made with various decorations. If you're interested, the 'smarties' are vegan from Doisy & Dams.
---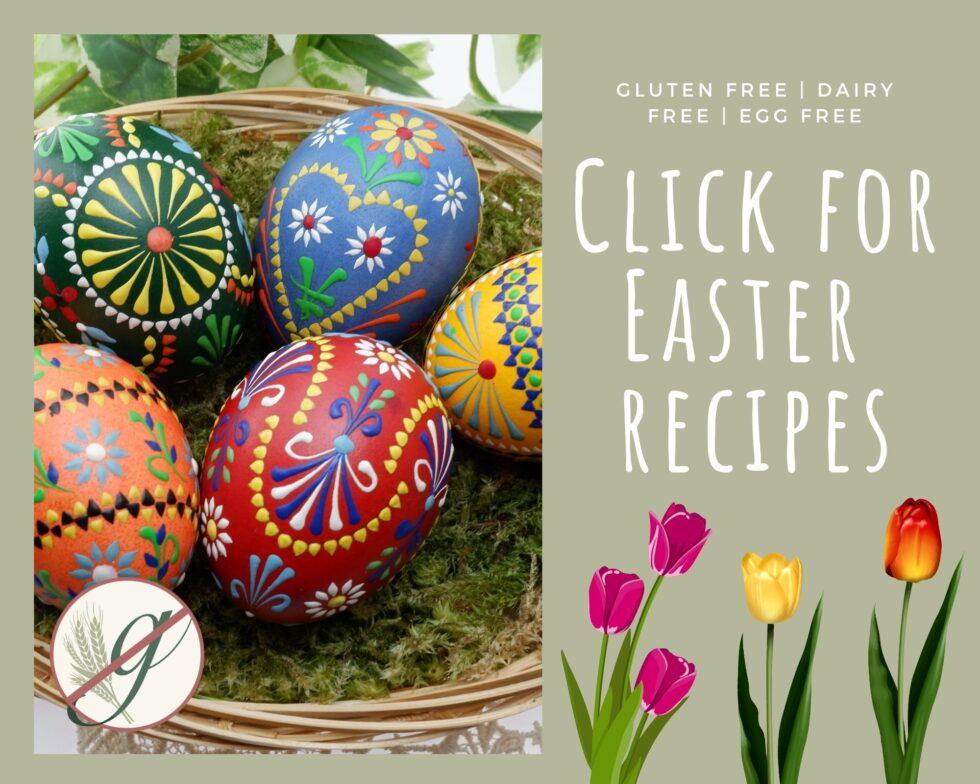 ---
Other fruity gluten free recipes you might like to try
Gluten Free Simnel Slices Recipe
Gluten Free Easter Simnel Slices
Delicious and rich, these gluten free Simnel Slices are an individual portion sized version of the traditional Simnel Cake – the perfect centre piece for the Easter table. Also easy to make dairy and egg free following the simple ingredient substitutions and instructions.
Ingredients
450

g

dried mixed fruit

50

g

ground almonds

you can keep this out if you'd rather

200

g

gluten free plain flour

I used Doves Farm

2

tsp

mixed spice

(½ clove, ½ nutmeg, ½ cinnamon, ½ ginger)

1

tbsp

treacle

100

g

dark brown sugar

150

g

butter

or dairy free alternative, I use Flora blocks

2

egg(s)

or flaxseed eggs [see notes]

150

ml

orange juice

option to use brandy or another spirit.

500

g

marzipan

white or yellow, although white looks more elegant in this case.

2

tbsp

apricot jam

to make your decoration stick.
Instructions
Add the mixed fruit and ground nuts (if using them) to a large bowl and soak in the orange juice for a couple of hours to plump them up encouraging a super moist fruit cake.

TIP: if you can't wait 2hrs, then pop the soaked fruit in the microwave with a cover for 2mins, the steam will plump up the fruit quickly, then allow to cool for 10 mins before adding the mixture.

While your fruit is soaking/cooling, prepare the cake tin. I use a Multi-size Cake Tin, this cake mixture makes an 7inch/20cm square cake, ensure that you have double, if not treble lined the tin (for example, my mum always wraps newspaper around her round Christmas Cakes) the idea is to insulate as much as possible to reduce risk of the cake mixture catching and burning.

Preheat oven to 150°C | 130°C fan | 300°F | Gas 2.

In a mixer, cream the butter, sugar, treacle until paler in colour, then add the eggs and beat thoroughly.

Add the flour and spices, continue to beat until light and fluffy then add the fruit (including the soaking juice). If not using a electronic mixer, this is when you'll need strong arms!

Spoon ½ the fruit cake batter into the prepared tin and smooth with the back of a spoon or spatula.

Now take 200g of marzipan and roll out to ½ cm (5mm) thickness before cutting into a square. The square needs to be smaller than your cake tin so about 6inches square. This is because you don't want the marzipan to be too close to the end of the cake or else it will seep out down the size when baking and burn.

place the marzipan square on the 1st layer of cake dough and press down firmly round the edges so it sinks into the mixture.

Spoon the remaining mixture into the tin on top of the marzipan and smooth the top down, add a square of greaseproof to the top of the cake to prevent it from burning.

Cook on the bottom shelf of the oven for 2 and a half hours. Checking after two by pricking with a cocktail stick or skewer.

Remove from oven when inserted skewer comes out clean and allow to cool slightly before removing the baking paper.

Allow to cool completely before decorating.
To decorate the slices
Trim any over baked/caramelised edges of the cooled square of fruit cake.

Now cut into 8 rectangular slices (two rows of 4). Don't worry about any off cuts, you can use these for my Simnel Ice cream recipe, enjoy them with a cup of tea or freeze them for later.

Next, brush the cut slices of cake generously with apricot jam to allow the marzipan to stick.

Roll out the remaining marzipan and using a ruler measure the length and width of your slices. Cut the marzipan into 8 rectangular sections that will fit snuggly onto of each cake slice. Press down gently so they stick.

With any offcuts, cut out some pretty shapes to decorate the tops of your slices, I happen to have little flowers cutter.

To caramelise the tops of each slice you have two choices. firstly you could pop them under a preheated hot grill, DO NOT TAKE YOUR EYES OFF THEM! Remove from heat once the edges start to 'catch' (colour).
Notes
to make 1 flax egg you need the following ingredients:
– 1tbsp ground flax seed
– 3tbsp water
– 1tsp psyllium husk (optional but does add elasticity to baking)
Nutrition
Nutrition Facts
Gluten Free Easter Simnel Slices
Amount per Serving
% Daily Value*
* Percent Daily Values are based on a 2000 calorie diet.
Have you tried this recipe?
Let me know how it was & I will be super grateful. Take a picture & tag me @glutarama on your social media posts – I love seeing your photos more than you will ever know x
I love to see your own photos of my bakes, dinners and treats head to your favourite social media account and don't forget to tag me in @glutarama
Subscribe to my email list so that you get NEW recipes straight in your mailbox every Friday PLUS a FREEBIE and access to some amazing gluten free DISCOUNTS
Fancy buying yourself a treat or a gift for a loved one this festive season, then go small…small businesses' that is!

Guide for Gluten Free small businesses that deliver across the UK

— Glutarama, supporting small businesses
---
*disclaimer: I use affiliate codes on my website, the vast majority are to Amazon. If you click on any of the links or images in the post and make a purchase my family will benefit from a small % of that purchase at no extra cost to you.

For full transparency, in 2020 I made my first £25, and in 2022 I reached my next £25 (Amazon don't transfer the money until you reach £25). I'm now up to £17.80 for 2023 so edging closer to the magical £25 mark!!

To date I have made £69.28 since I first started the scheme in 2017. It won't pay the bills, that's for sure but it does help to pay for ingredients or little treats to cheer me up!