I love free food, don't you think things taste better when they are free? Take the inspiration for my Pear, Chocolate & Almond Torte. This was born out of daily walks to the park with my two gorgeous (albeit high maintenance) dogs, Hope and Faith. The girls are getting used to me stopping in my tracks when I come across bounties of fallen fruit, waiting for me to pick them up, and take them home.
Recently on our walks we have come across a few pear trees. Their heavy branches bending over the wall overhanging the paths weaving between estates. I never take anything from the trees, only windfall fruit. The fact they may have the odd bite or two taken out of them by slugs or insects never bothers me.
The pears I was lucky to harvest on this occasion were Comice Pears, read on to find out the most common pear trees in the UK, recipes to make with your windfall and harvested fruit and how to store your pears.
What are the best sweetest pears to cook with?
Here in the UK the most common pear trees you'll find are the Comice Pear and Conference Pear. You can distinctly tell the difference. Conference are the taller skinnier pear with a non-shiny skin, often brown in places. Comic pears are shorter with rounded bottoms, are a paler yellow-green colour and the skin can be shined if you buff it on your clothing.
Both these pears make a great eating pear and cooking pear and if you can find one in your area or know someone who has a tree then why not ask for a few and treat them with this Pear Torte as a thank you.
I have lots of pears, can I freeze them?
Heck yes! If you have the freezer space, I will always recommend freezing any harvest of fruit you have, especially when you have lots of homegrown fruit. Why buy fruit out of season at inflated prices when you can have your own bounty right there at your fingertips.
Take Note: not all fruit will hold its shape if frozen and defrosted. The higher the water content in the fruit, the more likely your fruit will lose its shape.
What does this mean for my pears if I freeze them?
Well it means that you can peel, slice and dice pears and seal in a reusable container (you can use freezer bags but think of the environment) and use those prepared pears at a later date. For example; pear crumbles, pear jams, pear compote. However, you are less likely to be able to use your sliced pears for decoration such as this pear, almond and chocolate torte due to the fact that your pear slices will have lost their solid structure.
Do I have to use an egg replacement for this Pear, Chocolate & Almond Torte?
Nope, not at all. If you are able to eat eggs, then fire away. You will need two medium sized eggs for this recipe. If you wish to create a lighter torte structure you could separate the eggs adding the yolk to the chocolate and 'butter' in instruction (6) then whip and fold in your egg whites after adding the gluten free flour in instruction (8).
How to make a flax egg

to make 1 flax egg you need the following ingredients:
– 1tbsp ground flax seed
– 3tbsp water
– 1tsp psyllium husk (optional but does add elasticity to baking)

Simply add all ingredients to a glass and stir before measuring out the other recipe ingredients, by the time you come to use your 'egg' mixture it will have thickened to a frog-spawn consistency (thicker if you added psyllium husk)

Then just add to your baking as you would an egg. For 2 eggs double the ingredients but note that recipes that require more than two eggs may fail due to lack of support in the structure.
Other recipes that use pears
Well if you loved this idea for using up pears, then you'll love my Chocolate and Pear Cake
Or how about these darling little Chocolate Pear Ghosts, perfect for a healthy Halloween treat
Maybe something for the adults with these Spiced Red Wine Poached Pears
Delicious Gluten Free Pear, Chocolate & Almond Torte Recipe
If you make it and like the recipe I would be eternally grateful if you popped back and commented leaving a star rating as this will tell search engines that this recipe is worth checking out and others will get to find it in searches.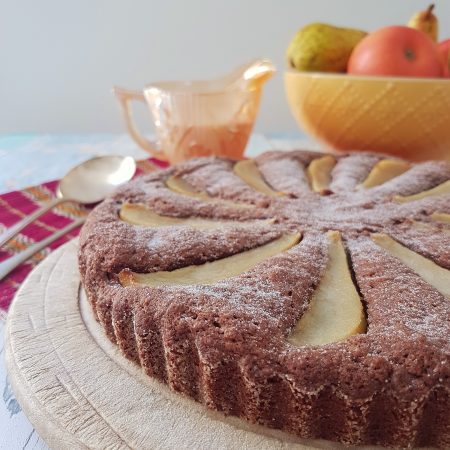 Delicious Gluten Free Pear, Chocolate & Almond Torte
Deliciously simple to make, this Pear, Chocolate & Almond Torte is the perfect recipe to use the one or two windfall pears you get after a storm. Beautifully moist and rich yet low in sugar. Gluten free, dairy free and egg free so almost everyone can enjoy.
Ingredients
100

g

gluten free self raising flour

100

g

dark chocolate

use your favourite free from bar

85

g

butter or butter alternative (I use Flora plant butter)

85

g

ground almonds

50

g

golden caster sugar

1-2

large pears

peeled, cored and sliced

2

tbsp

ground flaxseed

100

ml

water

1

tsp

psyllium husk powder (optional)
Instructions
Preheat oven to 200°C/180°C Fan/400°F/Gas 6

Make you flax seed egg by combining the ground seed, water and psyllium husk if your using it in a small jug, set aside to thicken a little.

Prepare your 9inch (22cm) flan tin by greasing and lining with baking paper. I also add a tbsp of rice flour and tap the tin to coat, this helps the torte to rise and prevents sticking.

Melt the dark chocolate in a microwave or traditionally over a bowl of boiled water.

Add the melted chocolate and dairy free butter to a mixing bowl and using the whisk attachment whisk until combined.

Add sugar and flax egg and repeat whisking.

Add ground almonds and fold into the chocolate mixture.

Finally sieve the flour into the bowl and repeat folding process.

Pour into your prepared flan tin and smooth the top with a spatula.

Decorate with your prepared pear slices as you see fit.

Pop into the oven and bake for 35 minutes.

The bake will be ready when it has a soft bounce to a light touch in the centre of the torte.

Remove and cool or eat hot.

To serve I recommend custard, cream or ice cream.
Nutrition
Nutrition Facts
Delicious Gluten Free Pear, Chocolate & Almond Torte
Amount per Serving
% Daily Value*
* Percent Daily Values are based on a 2000 calorie diet.
Have you tried this recipe?
Let me know how it was & I will be super grateful. Take a picture & tag me @glutarama on your social media posts – I love seeing your photos more than you will ever know x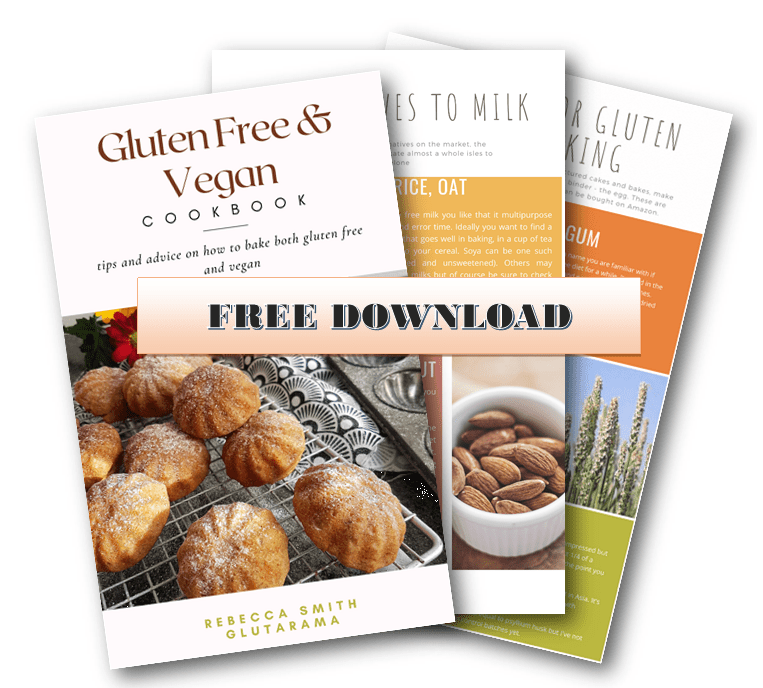 Never miss out again…
Sign up to my weekly Friday newsletter and not only get a FREE e-Book (currently my Gluten Free & Vegan Cookbook) but also get VIP subscriber discounts on free from goodies delivered to your door. Join me in my journey and learn to make anything gluten free.
Pin my Pear, Chocolate & Almond Torte recipe for later
I love to see your own photos of my bakes, dinners and treats head to your favourite social media account and don't forget to tag me in @glutarama
Subscribe to my email list so that you get NEW recipes straight in your mailbox every Friday PLUS a FREEBIE and access to some amazing gluten free DISCOUNTS