Chocolate and Pear Cake Updated Feb 2018. I'm slowly going through all my old recipes remaking and re shooting them. I have to say it's turning out to be far more fun than I'd expected. Firstly because I love the fact that I can go back and make recipes from my own website, that may seem a bit odd but I always have a little giggle to myself when I log on to make my own recipes, it's a bit surreal to me even now after nearly 3 years of blogging. Secondly I'm REALLY loving replacing the photo's and seeing how far I've come.
These are my best present day photo's I got impatient and photo'd them in fading light so they're not as good as I'd like, but you have to agree, they're an improvement. Oh and I know what you're probably thinking, the new one sank…erm well yes, a wee bit but I have an electric oven now and to be fair I'm still learning where that's concerned!
The best bit about this remake of one of my recipes is that I made it to share with two wonderful friends Emma and Mel who just spent the day with me, you may know them as Free From Farmhouse and Le Coin de Mel. The funny bit…we didn't get to eat it. We talked and talked and laughed and shared our lives with one another whilst being entertained by two of the most darling little girls who got on so well playing together and my two furry puppy dog girls who quite frankly are spoilt rotten. When it was time to go I offered slices of cake to-go but the offer was turned down because I'd not photographed it yet…that is how you spot a food blogger at 20 paces; putting the blog before an empty tummy!
Original Post 2015: This Chocolate and Pear Cake was made yesterday on a completely impulsive need to have cake and tea, tea and cake … cake! I'm not even a lover of pears but there were 4 of them staring at me in the fruit bowl, on the edge of over ripeness. I knew it was only a matter of time before the fruit flies would come a-knocking so there was only one thing for it, bake them, even better, bake them gluten free, in fact no flour at all.

I'd had this recipe for pear cake in my scrapbook for literally years now and although I didn't have all the exact ingredients, I thought I'd give it a go (a disadvantage to impulsive baking – lack of specific ingredients, but don't be shy, give it a try!) This recipe is an adaptation from a recipe I cut out from a Tesco magazine, some times you win, some times you loose; on this occasion I came up with a winner!
Can I make this Chocolate & Pear Cake Dairy Free?
Yes you can, it's quite simple you just swap out the butter for a dairy free alternative. I'm finding that the new vegan Flora block is proving to be very effective at dairy free baking at the moment and is secretly my favourite dairy alternative to butter (not an ad, just the honest truth). If you wanted to make this egg free too you're going to struggle as this is a three egg bake, and in my experience you can only really get away with a flax egg alternative for two eggs worth. By all means prove me wrong, here's my guide to a flax egg if you want to give it a go.
How to make a flax egg

to make 1 flax egg you need the following ingredients:
– 1tbsp ground flax seed
– 3tbsp water
– 1tsp psyllium husk (optional but does add elasticity to baking)

Simply add all ingredients to a glass and stir before measuring out the other recipe ingredients, by the time you come to use your 'egg' mixture it will have thickened to a frog-spawn consistency (thicker if you added psyllium husk)

Then just add to your baking as you would an egg. For 2 eggs double the ingredients but note that recipes that require more than two eggs may fail due to lack of support in the structure.
If getting creative in the kitchen isn't your style and you'd rather a trialled and tested version then this is the bake for you Delicious Pear, Chocolate & Almond Torte – gluten free and vegan. As you can see by the photo, my skills just keep improving in that department (thank goodness).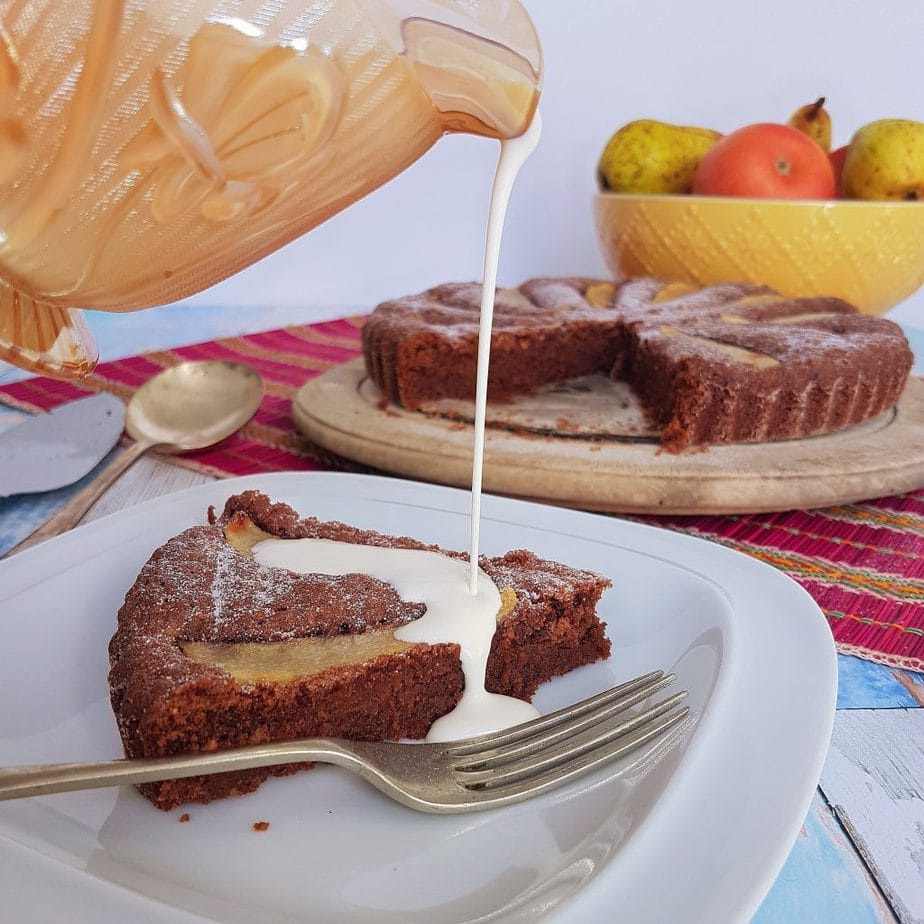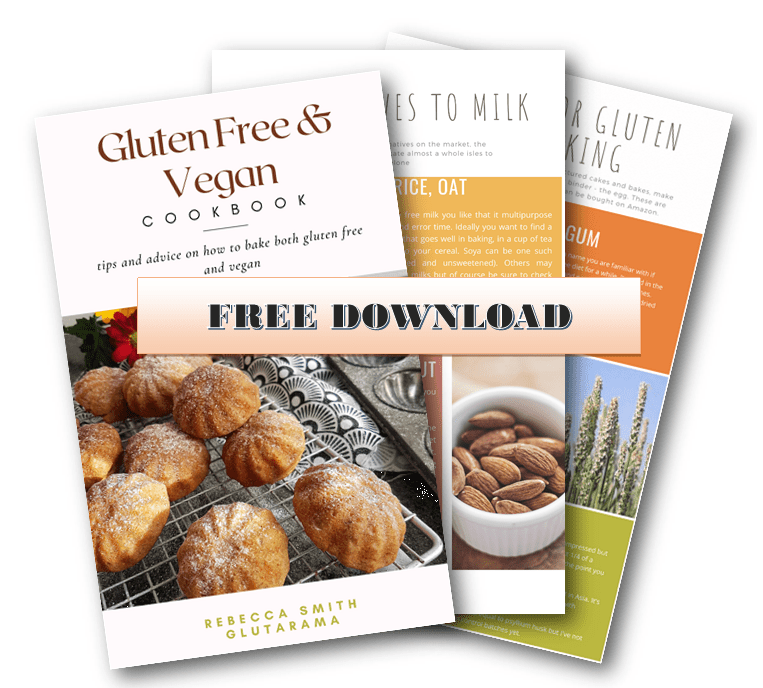 Never miss out again…
Sign up to my weekly Friday newsletter and not only get a FREE e-Book (currently my Gluten Free & Vegan Cookbook) but also get VIP subscriber discounts on free from goodies delivered to your door. Join me in my journey and learn to make anything gluten free.
Gluten Free Chocolate and Pear Cake Recipe
Chocolate & Pear Cake
Deliciously moist and torte-like in texture, this pear and chocolate cake is naturally gluten free due to the fact it contains no flour and with a dash of whisky it's a real treat for the tea table.
Ingredients
85

g

butter

or dairy free alternative

85

g

caster sugar

85

g

dark chocolate

1

tsp

whisky

brandy or rum are also delicious

3

eggs separated

85

g

hazelnuts

almonds work equally well

3

ripe pears

peeled, halved and cored
Instructions
Toast the nuts under a grill until just brown – keep an eye on them, they burn really quickly

Blitz the nuts in a food processor until they are finely chopped

Melt the chocolate and butter in a bowl over hot water or in microwave

Add the whisky to the chocolate, leave to cool.

Whisk the sugar and egg yolks until thick and a pale creamy colour

Fold the nuts and chocolate mixture into the eggs and sugar.

Whisk the egg whites into soft peaks, add one wooden spoon of the white to the chocolate mixture and stir.

Add the remaining egg whites and fold in.

Add to a loose bottomed cake tin that has been lined and buttered

Arrange the pears in a circle round-side up.

Bake at Gas4 / 180C / 350F for 45mins

Once cooked leave to cool for 5mins before taking out of tin to cool completely.
Nutrition
Nutrition Facts
Chocolate & Pear Cake
Amount per Serving
% Daily Value*
* Percent Daily Values are based on a 2000 calorie diet.
Have you tried this recipe?
Let me know how it was & I will be super grateful
I value every comment, more than you could know. Don't be shy and leave a comment. If you share photos of your delicious creations, please do tag me or use the hashtag #Glutarama on Facebook, Twitter and Instagram.
Subscribe to my email list so that you get NEW recipes straight in your mailbox PLUS a FREEBIE and access to some amazing gluten free DISCOUNTS
Don't loose it, pin this delicious Chocolate and Pear Cake
And one last thing! I've linked my Gluten Free Chocolate and Pear Cake with these other awesome Foodies websites, go check them out
*disclaimer: I use affiliate codes on my website, the vast majority are to Amazon. If you click on any of the links or images in the post and make a purchase my family will benefit from a small % of that purchase at no extra cost to you, in fact, for full transparency, in 2020 I made my first £25, and recently in 2022 I reached my next £25 (Amazon don't transfer the money until you reach £25). As you can see, it won't make me a millionaire but it will treat me to a few coffees, Lord knows I need the caffeine!