I'm pleased to introduce you to some Delicious Simple Dinner Ideas this week for my turn as host for the famous #CookBlogShare. Writing this post and looking at all the linked recipes from last weeks link-up party over on Lost in Food has been a lovely distraction.
I'm saddened to say I have a bit of a heavy heart at the moment, following a Covid death in the family and another family member severely ill in hospital too. It seems that this horrible virus finally caught up with us.
Add to that my two autistic teens who are on the edge of their nerves about going to school, plus struggling to cope with lockdown no.2, and we have a recipe for walking on egg shells adding to my heightened anxiety.
I could have tapped over the cracks and written this post without mentioning any of the above, but it felt false, fake and unfair to those who have passed and others who are feeling terrible too. Please just know that you are not alone, remember to talk to someone about your feelings and if there is anything in this world that makes you happy at the moment such as reading, writing, walking in nature or cooking and baking (like me) then do it with no guilty feelings, make that time to look after YOU. You'll thank yourself for it.
Now then, onto the round up and linky.
As a general foodie group, the recipes in #CookBlogShare aren't exclusively gluten free but I've chosen six delicious simple dinner recipes today that are perfect for you and I know are easily adaptable if necessary, to meet your dietary requirements. For any recipes that need a tweak I've giving tips on how this can be achieved.
What is #CookBlogShare again?
#CookBlogShare is a weekly link party where foodies share recipes, comment on each other's cooking creations and generally immerse ourselves in the world of gastronomy! If you've got a recipe this is the place to show it off!
As mentioned, I have the pleasure of guest hosting this link party this week. The main hosts this year have been; Jacqui at Recipes Made Easy and Leslie and Michelle at Lost in Food and the round ups and linky go live every Tuesday.
If you are new to this link party and wish to join in, please take a few moments to read the guidelines after my recipe shout outs. Joining in with us is very simple and you are welcome to share your old and new recipes (there is no specific theme and all recipes are welcome).
Thank you to everyone who contributed last week and shared their recipes.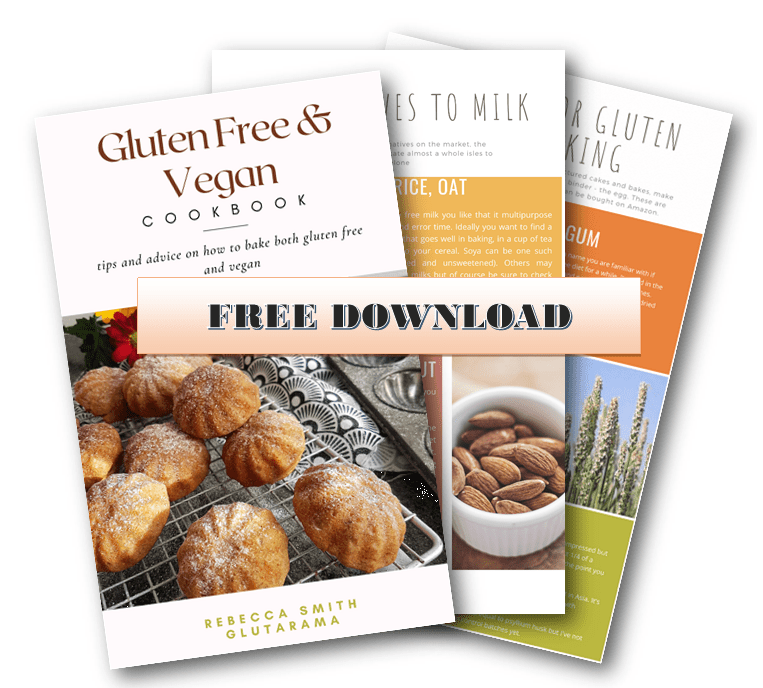 Never miss out again…
Sign up to my weekly Friday newsletter and not only get a FREE e-Book (currently my Gluten Free & Vegan Cookbook) but also get VIP subscriber discounts on free from goodies. Join me and learn to make anything gluten free.
So here we go, my picks from last weeks #CookBlogShare
The full post from last week can be seen via this link Comfort Food Recipes but as I mentioned I've chosen these ideal simple dinner ideas that I know are safe for you my reader and are simple yet filling and nutritional.
Joanna at Taste Botanical added her delicious Onion Soup last week. Infused with sage and thick and creamy this is a top comfort food that you can make in bulk and enjoy over a couple of days, then you can sit back knowing that at least dinner or lunch is sorted. Make sure the stock you use is gluten free.
Sarah at Tales from the Kitchen Shed linked up her wonderfully aromatic Madras Curry. Made in a slow cooker which is frankly the best way to cook at the moment, no fuss, just throw in the ingredients and sit back and get on with working from home, or schooling the kids or taking time for yourself. All in the knowledge that you've got an amazing dinner that awaits. Make sure any curry pastes you use are clearly labelled gluten free.
Eb over at Easy Peasy Foodie is ahead of the game here with her Mulled Wine Ham, and it really IS easy to make. Which is exactly why I'm adding it to this collection of recipes; such a delicious and easy recipe could be made all year round and be enjoyed with several different dinner throughout the week.
Sarah from Real Food With Sarah has created this perfect one pot sweet and sour dinner with all the tastes I love during the festive season but again, this can be eaten all autumn and winter and is another perfect example of a dish that you can prep in no time and leave to cook to perfection with little fuss.
Beth, aka Effortless Foodie has added her Prawn and Chorizo Paella which certainly wins in out family. We love rice dishes and given half the chance my daughter Bethany would happily eat rice all day every day! We also have a stir fry every Monday but that is getting a little boring now so what a wonderful recipe to ring in the changes. Some sausages may not be gluten free so please check labels.
Corina linked her recipe from Searching For Spice last week. This is not a long slow cook at all, its all done and dusted in 25mins in fact but I thought I'd add a deliciously simply dinner idea that you can do off the cuff (assuming you have the spices in your larder, or in my case messy spice drawer!)
Want more Autumn Recipe Ideas?
Want a delicious pudding to go with these delicious and simple dinner ideas? I have a post that combines 20 delicious gluten free autumnal dessert recipes here 20 Awesome Autumn Gluten Free Desserts to make at home. Recipes include fruit cobblers, crumbles, turnovers, chocolate puddings and tray bakes perfect to eat with lashings of hot custard.
How to join in the fun with #CookBlogShare – readers
You've got the easy job! Simply make a cup of tea and peruse the recipes I've highlighted from last weeks #CookBlogShare links and scroll to the bottom of the page where you'll find new links to lots of delicious recipes being linked up this week.
How to join in the fun with #CookBlogShare – bloggers
This is how you can join in:
You can link up any foodie posts you have. Both old and new posts are welcome as long as they have not been linked to #CookBlogShare before.
Link up a recipe or foodie post by clicking the blue 'add your link' button below and following the instructions. You can link up to 4 posts.
Add a link from your post back to this post (so everyone else can find it and link up too!)
Add the #CookBlogShare badge to your post (Code below – for WordPress copy and paste the code below into the text view of your post or copy and save image).
Comment on some of the other recipes linked up here (at least 2 for each link you added but the more you can the better) and generally share the love with a bit of social media action!
Plus comment on either this post or one of the posts labelled HOST in the linky.
You can also post your recipes on the Cook Blog Share Facebook Page.
I will visit all the blogs participating in the link party and share your recipes across all the major social media channels as well as pin them on to the Cook Blog Share Pinterest Board. If you tweet a link to your recipe and tag me in @glutarama, using #CookBlogShare I'll do my best to retweet it!
Please use #Cookblogshare when sharing your recipes on Instagram – we can 'swap' more 'likes' and comments.
A quick reminder that by joining in you are giving the #CookBlogShare hosts permission to use your pictures in a round up and on social media.
Thank you for sharing your recipes with #CookBlogShare!
One last reminder that your host for Week 47 will be Jacqui from Recipes Made Easy
Delicious simple dinner ideas #cookblogshare 2020 week 46