Oh yes I did! I just said best EVER gluten free trifle! Okay, it's not got homemade custard in it (because who has time for that right?), but it's packed full with sherry soaked gluten free Genoise sponge and my perfect time-saving cheats blancmange made using only two ingredients.
I believe trifles should be multi layered fun packed desserts, I love the fact that each spoonful can give you a totally different taste and texture sensation, I love the bits of soggy sponge that have soaked up the sherry and the jelly, I also love the sponge bits that have eluded sogginess and stayed dry. I love the set jelly compared to the silky smooth strawberry blancmange, then the set vanilla custard and the light cream topping, oh my, it's sheer bliss!
Sadly…I can't eat it! Pause for effect and head scratching.
Yep, that's right, since 2017 I have been dairy and egg free so this is a serious no-no for me now unless I want to explode! However dear reader, I am working on a Rebecca friendly version so fear not we will have our trifle and eat it!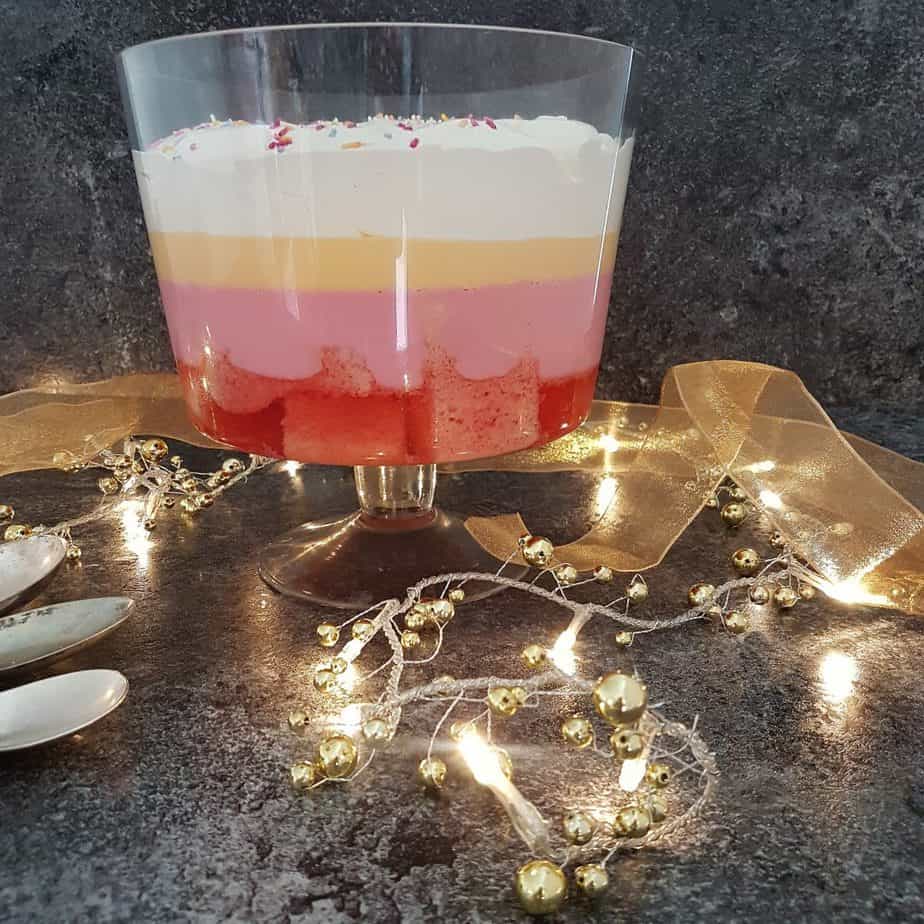 The perfect Gluten Free Genoise Sponge for Trifles
This is honestly so simple so please do not be scared of the Genoise sponge, just follow these step-by-step Genoise recipe instructions and I promise you'll have Genoise Sponge for Trifles, Tiramisu's and cakes forever more. This sponge is heavier than normal Genoise and perfect for soaking up liquids.
120 g gluten free plain flour
120 g gluten free self raising flour
130 g caster sugar
4 eggs separated
First things first…sieve both the flours together….4x! I've tried making this sponge with and without the sieving process and believe me it does make a difference.
Add the egg whites to a mixer and beat into firm peaks
Add the caster sugar a spoonful at a time and continue to beat until the whites become stiff and have a beautiful glossy sheen to them. You know it's ready if you take a pinch and rub your fingers together, if you can feel the sugar grains between your fingers you need to continue beating.
Add the egg yolks and mix quickly to combine
Fold in the sifted flours quickly but gently to prevent knocking too much air out of the mixture.
Add to your well oiled and lined tin(s)
Bake on 180°C for 20 minutes – keep a close eye to make sure the sponge does not catch, you know this will be ready when you get a perfect spongy bounce to the touch….the cooked smell is unmistakable!
depending on the recipe you plan to use this for allow to cool completely, or a little if planning on rolling.
The printable version on my Genoise Sponge Mix is in the link.
Can you make this gluten free trifle in advance?
Yes you most certainly can. I have made this three days in advance in fact. My top tip would be to cover the trifle so that your cream does not absorb any undesirable fridge smells. I would also strongly recommend not adding any sprinkles until the day you plan to present your trifle to its adoring fans. Sprinkles have a tendency to soak up any liquids and bleed their colours.
Can you freeze Genoise Sponge?
Absolutely, you can freeze Genoise sponge, you can also leave it in a sealed tin for a week, in fact the longer you leave it, the more like original trifle sponge fingers they become. If you do plan to freeze your sponge for later just take it out and let it defrost at room temperature before you make you next dessert.
The gluten free Genoise sponge used for this delicious trifle is actually a double batch so you only need half to make your sponge fingers so what I always do is cut the sponge into fingers and freeze any that I don't use.
Can you make this gluten free trifle dairy free too?
Yes, you can … I say with hesitation. The Genoise is dairy free, as is the jelly layer. To make the blancmange layer dairy free you can substitute the whole milk for coconut milk. This does work, I've tried it before and no, you can't taste the coconut. For the custard layer, simply swap the whole milk for soya milk or another milk alternative. Now, how about the cream layer? This is where I hesitate, this is a HUGE party-sized gluten free trifle and dairy free creams can be, lets just say, awkward with their consistency and setting capabilities. If I were making this trifle totally dairy free I'd be tempted to make individual ones and use a whipped coconut fat and honey cream to top them with.
NOTE: you will need to get a can of coconut milk that has 60%+ coconut in it, any less and you will not have enough solid coconut to whip with the honey or maple syrup. Alternatively, how about this recipe I developed for the festive period.
Dairy Free Black Forest Trifle Dessert
A delicious twist on the traditional trifle and the Black Forest Gateau. This Black Forest Trifle is the best of both worlds. Layers of rich chocolate sponge, cherry jelly, blancmange and chocolate custard. Finally topped with lashings of cream. And all the while being a gluten, dairy and egg free dessert!
Check out this recipe
Other recipes you can make with Genoise Sponge
I've had some fun on the past using this easy gluten free Genoise sponge to make my children's birthday cakes, sadly I don't seem to have photographed many (odd for me!) but here are some ideas. You may also want to hop over to see my Victoria Sponge Gateaux and my Swiss Roll recipe too.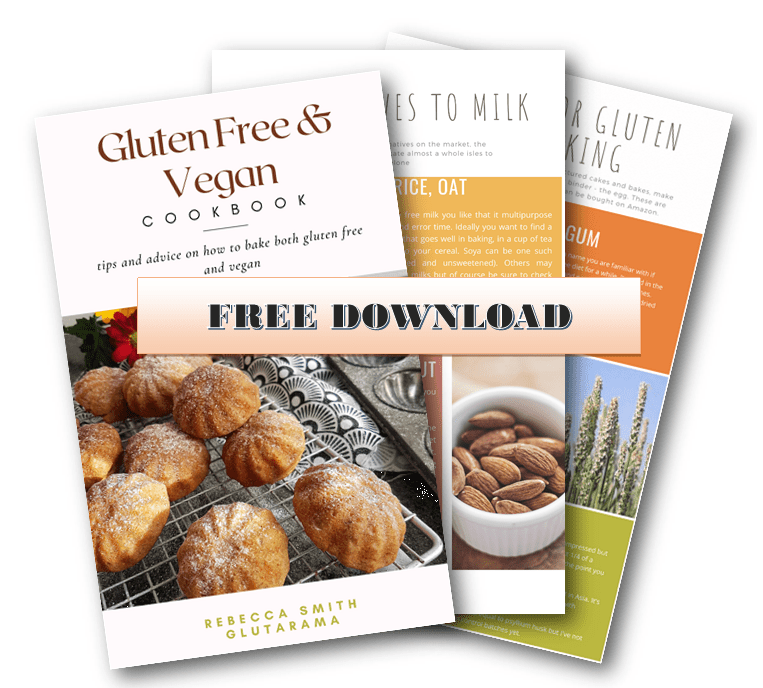 Never miss out again…
Sign up to my weekly Friday newsletter and not only get a FREE e-Book (currently my Gluten Free & Vegan Cookbook) but also get VIP subscriber discounts on free from goodies. Join me and learn to make anything gluten free.
The Best Gluten Free Trifle Recipe
Best Ever Gluten Free Trifle
A showstopper of a Trifle, this wonderfully indulgent gluten free trifle is actually really simple to make, you just need time!
Ingredients
Sponge & Jelly layer
8-10

trifle sponges

Genoise Sponge Recipe

2

tbsp

sherry

135

g

block of strawberry jelly (jello)

I use Hartley's blocks

285

ml

boiled water

285

ml

cold water
Blancmange layer
135

g

block of strawberry jelly (jello)

285

ml

boiled water

285

ml

whole milk
Custard layer
3

tbsp

Bird's original custard powder

570

ml

whole milk
Cream layer
600

ml

double cream

whipped to a soft dropping consistency
To decorate
1

tbsp

hundred's & thousands

make sure you buy gluten free ones.
Instructions
Follow the instructions in the main text to make your Genoise Sponger Fingers (this will take 10mins prep and 20mins baking)
To make the sponge & jelly layer
Add the Genoise sponges to your trifle dish, you can be as random or as regimented as you like, I tend to just throw my sponges in and let them be!

Drizzle 2tbsp of sherry over the sponges, you can add more buy be mindful that too much alcohol can prevent the jelly from setting properly. Set aside and make your jelly next.

To make the jelly follow the packet instructions; boil ½ a pint (285ml) of water and pour over your separated jelly cubes in a large jug, stir until dissolved and add ½ pint of cold water to the hot jelly mix.

Pour liquid jelly over your Genoise sponges, don't worry if some poke out. Pop into the fridge for 1 hour to set.
To make the blancmange layer
While you're waiting for the jelly to set you can crack on with the easy blancmange. Simply repeat the strawberry jelly process but instead of adding cold water to the hot jelly, add cold milk. This will give you an easy creamy jelly much like blancmange.

Once the jelly layer has set, pour your cooled blancmange over the jelly and any bits of sponge that are still poking out.

Pop into the fridge for 1 hour to set.
To make the custard layer
In a saucepan, measure 3tbsp Bird's Custard Powder and a little milk to make a paste, pour the rest of the milk in (1 pint in total) and heat gently whilst stirring until your custard has thickened and gone a lovely yellow colour.

Pour the custard layer over the blancmange layer and, you guessed it, pop it back in the fridge for an hour.
To make the cream layer
Whip the 600ml of double cream and 1tsp of vanilla extract to a soft dropping consistency being careful not to over whip, you want it to be a dropping consistency still.

Spoon the cream over the set custard layer and gently smooth to the edges.

Finally decorate with sprinkles of your choice. NOTE: if you are making this in advance, don't add the sprinkles until you plan to display your trifle as sprinkles have a tendency to bleed their colours into the cream.
Nutrition
Nutrition Facts
Best Ever Gluten Free Trifle
Amount per Serving
% Daily Value*
* Percent Daily Values are based on a 2000 calorie diet.
Have you tried this recipe?
Let me know how it was & I will be super grateful. Take a picture & tag me @glutarama on your social media posts – I love seeing your photos more than you will ever know x
I love to see your own photos of my bakes, dinners and treats head to your favourite social media account and don't forget to tag me in @glutarama
Subscribe to my email list so that you get NEW recipes straight in your mailbox every Friday PLUS a FREEBIE and access to some amazing gluten free DISCOUNTS
*disclaimer: I use affiliate codes on my website, the vast majority are to Amazon. If you click on any of the links or images in the post and make a purchase my family will benefit from a small % of that purchase at no extra cost to you.

For full transparency, in 2020 I made my first £25, and in 2022 I reached my next £25 (Amazon don't transfer the money until you reach £25). I'm now up to £17.80 for 2023 so edging closer to the magical £25 mark!!

To date I have made £69.28 since I first started the scheme in 2017. It won't pay the bills, that's for sure but it does help to pay for ingredients or little treats to cheer me up!