Egg free Scotch Eggs? I know right, you think I've actually lost it this time! The truth is this recipe idea was born out of me making a joke on a Facebook page. I made the joke, then a little voice in my head said 'that's impossible'…then the other voice said 'who say's it's impossible'?
Yes, I have little voices in my head, lets just sweep that aside for now and focus on the main topic here.
I've never been a huge fan of scotch eggs, don't get me wrong I'll eat them if there on offer but would never go out of my way to buy them…that is until I found out I could no longer tolerate eggs, and whoop-de-do all of a sudden I start to crave scotch eggs, isn't it always the way?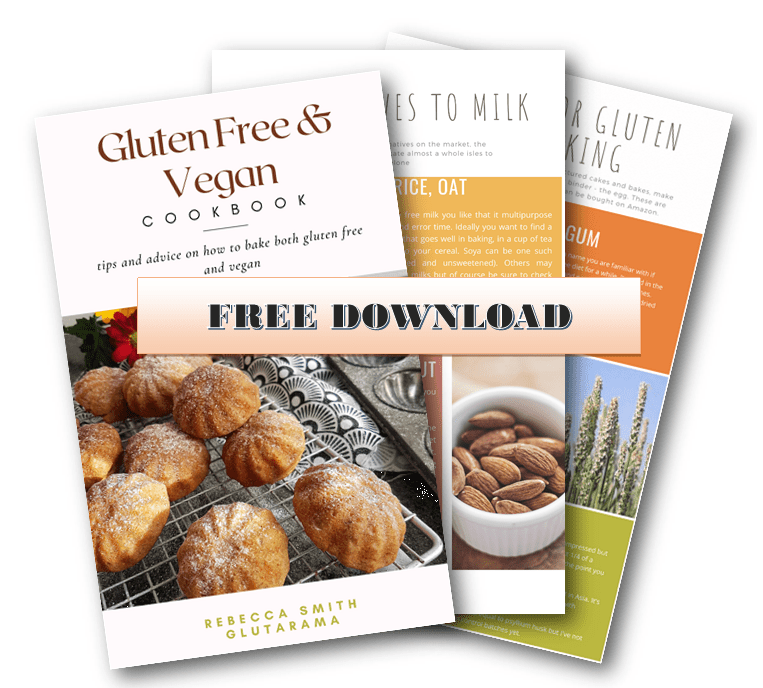 Never miss out again…
Sign up to my weekly Friday newsletter and not only get a FREE e-Book (currently my Gluten Free & Vegan Cookbook) but also get VIP subscriber discounts on free from goodies. Join me and learn to make anything gluten free.
Can I make these eggless Scotch Egg Vegan?
Yes you most certainly can make my homemade Scotch Eggs vegan simply by swapping out the sausages for meat free sausages. Please be wary of vegan products however. Many meat substitute products have wheat and specifically rusk in them to support the structure of the product. It goes without saying but always read the labels.

How to make a homemade eggless Scotch Egg!
here's the step-by-step instructions on how to make your eggless scotch egg, honest, it's not as difficult as you think. Keep me updated on how you get on, I'd love to see your eggless creations too.
Other recipe inspiration for gluten free and vegan 'sausage' meat
Other savoury egg free recipe ideas
Egg Free Buffet Quiche
Don't worry, these mini buffet quiche are totally dairy free, egg free, vegan and gluten free! The mature 'Cheese' flavour comes from nutritional yeast and a few other tricks to get that wonderful umami flavour we all crave. Filled with different savoury flavours to cut into bite-size pieces perfect for any party table or canapé. Lots of flavour combo ideas included in this simple free from recipe.
This recipe makes 2x20cm quiche or 4x10cm quiche
Check out this recipe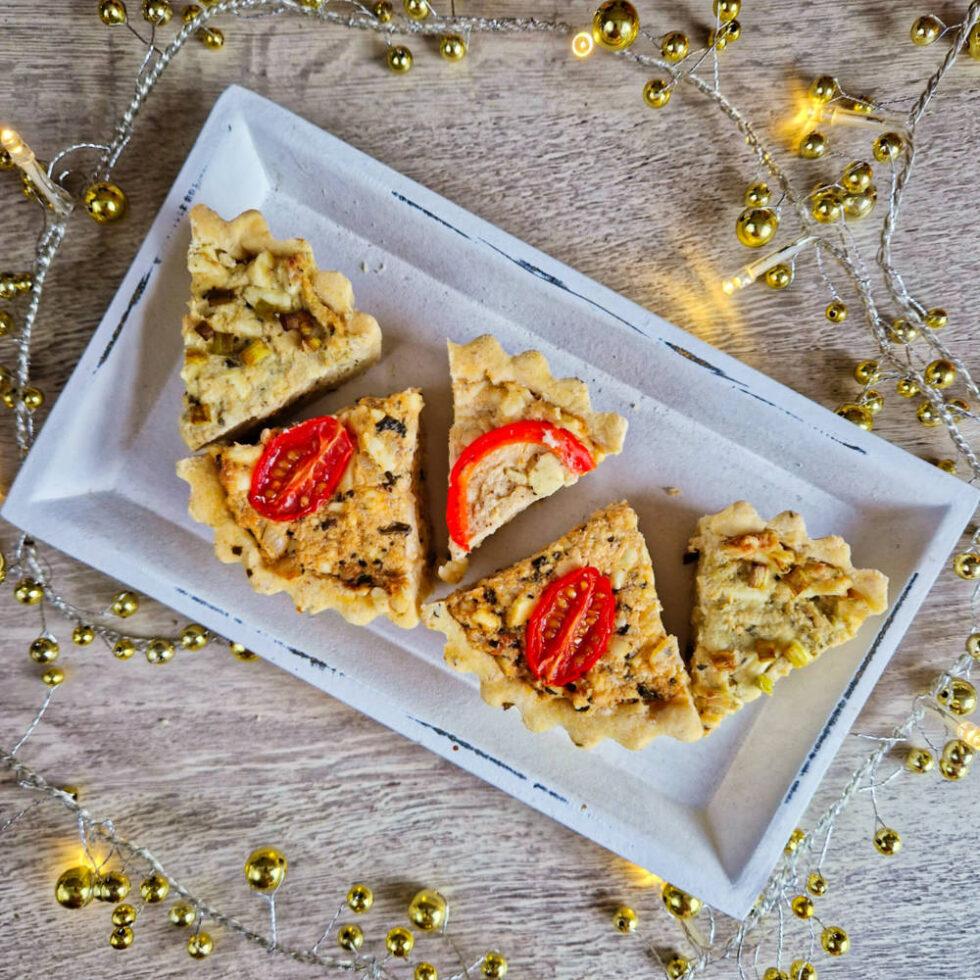 Vegan Mature 'Cheese' Quiche
Don't worry, this quiche is totally dairy free and vegan. The mature 'Cheese' flavour comes from nutritional yeast and a few other tricks to get that wonderful umami flavour we all crave. Made with a mouth-watering 'cheesy' pastry, this quiche gets better with age so feel free to make it then eat a few days later cold as part of a ploughman's on on a picnic.
Check out this recipe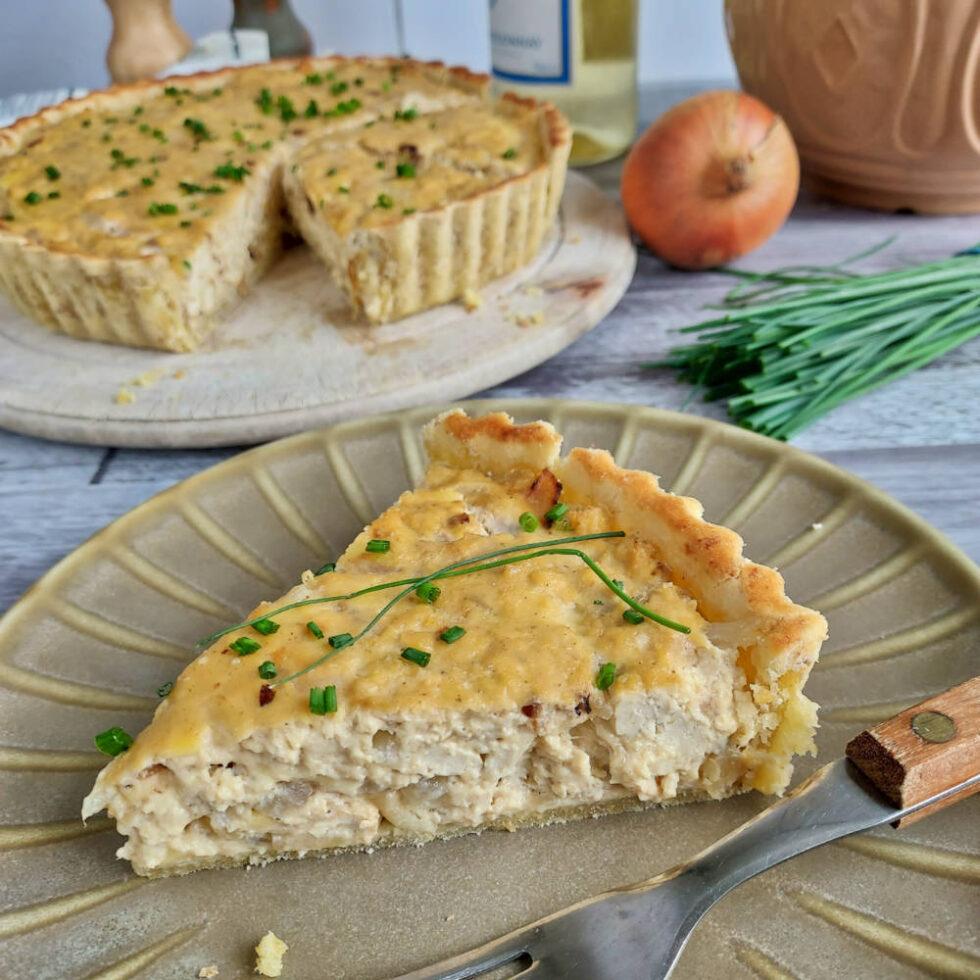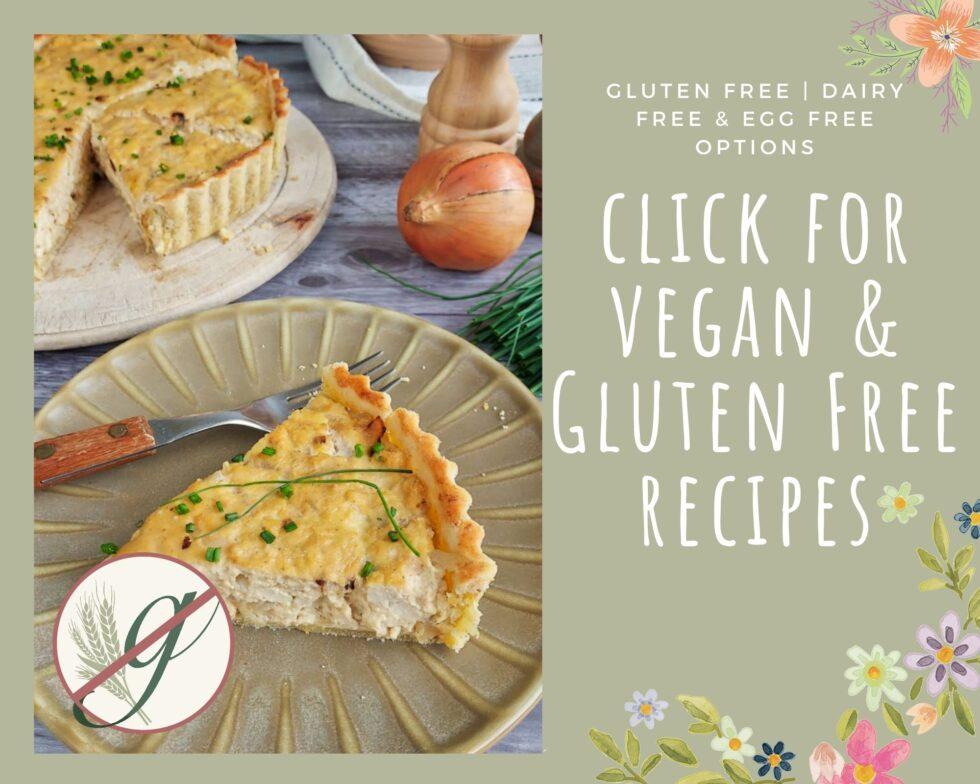 Egg Free Scotch Eggs Recipe
If you make it and like the recipe I would be eternally grateful if you popped back and commented leaving a star rating as this will tell search engines that this recipe is worth checking out and others will get to find it in searches.
Egg Free Scotch Eggs!
That's right, now you can enjoy gluten free and egg free scotch eggs at your summer picnics, buffets and party tables with this simple to make free from recipe. Made with gluten free sausages and a gluten free crumb. Using a clever little trick with cauliflower to imitate the egg filling.
Ingredients
2

packs

gluten free sausages

12 in total

250

g

cauliflower

100

g

gluten free bread crumbs

I used Mrs Crimbles breadcrumbs

3

tbsp

vegan mayonnaise

1

tbsp

mustard

I used mild hot dog mustard (check for gluten)

salt & pepper to taste
Instructions
'Egg' filling
First you need to make your 'egg' filling. To do this pop the cauliflower in a blender and blitz until an even crumbly mix.

Pop the cauliflower crumbs into a bowl add a tablespoon of water and cover with clingfilm. Pop in the microwave for 1 minute to soften slightly. Drain any excess liquid. Leave to cool.

Once cooled add the mayonnaise, mustard and seasoning. Spoon the mixture into an ice cube tray or ideally a cake pop silicone mould. You'll need 20 cubes/half pops in total. Place in the freezer until the mixture has frozen solid. This should take about 40 minutes.
The Meaty Bit
Split the skins of all 12 sausages and remove, place all the sausage meat in a bowl and beat to remove any lumps.

Take 10 equal portions of the sausage meat and roll into a ball. On a floured surface press the meat ball into an oval shape about 5mm thick. Repeat with all 10 meat balls.
Building your Scotch Egg
This bits messy… Take your 'egg' ice cubes/half pops from the freezer. This is where you'll realise that a cake pop mould works better because two half pops will make a lovely little circle of 'egg' mixture to wrap in sausage meat. Ice cubes will work but you'll have a more egg shaped scotch egg for your end result (maybe not a bad thing).

Carefully wrap the meat around the 'egg' making sure there are no tears in the meat and the holes are all pinched together to seal. Repeat until all scotch eggs are meat covered.

Gently roll your meaty balls in the bread crumbs. I use Mrs Crimbles because the taste is more authentic and it's easier. If you choose to make your own make sure you use STALE gluten free bread crumbs.

Once you've coated your scotch eggs in bread crumbs pop onto a tray or in a cupcake tin to prevent them from rolling around and escaping!

Pop into a preheated oven 200°C | Gas 5 for 20-25 minutes until golden. There may be some liquid seepage but this will be reduced if you make sure all the excess liquid was drained from the cauliflower.

If taking on a picnic allow to cool completely before popping into Tupperware, alternatively have for dinner as these are equally as delicious hot!
Nutrition
Nutrition Facts
Egg Free Scotch Eggs!
Amount per Serving
% Daily Value*
* Percent Daily Values are based on a 2000 calorie diet.
Have you tried this recipe?
Let me know how it was & I will be super grateful. Take a picture & tag me @glutarama on your social media posts – I love seeing your photos more than you will ever know x
I love to see your own photos of my bakes, dinners and treats head to your favourite social media account and don't forget to tag me in @glutarama
Subscribe to my email list so that you get NEW recipes straight in your mailbox every Friday PLUS a FREEBIE and access to some amazing gluten free DISCOUNTS
*disclaimer: I use affiliate codes on my website, the vast majority are to Amazon. If you click on any of the links or images in the post and make a purchase my family will benefit from a small % of that purchase at no extra cost to you.

For full transparency, in 2020 I made my first £25, and in 2022 I reached my next £25 (Amazon don't transfer the money until you reach £25). I'm now up to £17.80 for 2023 so edging closer to the magical £25 mark!!

To date I have made £69.28 since I first started the scheme in 2017. It won't pay the bills, that's for sure but it does help to pay for ingredients or little treats to cheer me up!
Join my friendly Facebook Group
life's a drama, gluten free doesn't have to be….