Egg free Scotch Eggs? I know right, you think I've actually lost it this time! The truth is this recipe idea was born out of me making a joke on a Facebook page. I made the joke, then a little voice in my head said 'that's impossible'…then the other voice said 'who say's it's impossible'?
Yes, I have little voices in my head, lets just sweep that aside for now and focus on the main topic here.
I've never been a huge fan of scotch eggs, don't get me wrong I'll eat them if there on offer but would never go out of my way to buy them…that is until I found out I could no longer tolerate eggs, and whoop-de-do all of a sudden I start to crave scotch eggs, isn't it always the way?
Guess what, this recipe is only just the beginning; prepare to be spoilt for choice when it comes to #FreeFromPicnic ideas because this is another collection of posts from our group of free from bloggers, we keep our recipe ideas secret from one another so it's amazing that until now we've managed to avoid any duplicate-style posts. For other recipe collections search the following hashtags;
#FreeFromPancakes
#FreeFromEaster
This months collection will be brought to you by the following bloggers, as usual, we'll link to each others recipes so you'll always have a delicious breadcrumb trail to each recipe and won't loose any recipes on the big wide inter-web!
Kate – Gluten Free Alchemist
Emma – Free From Farmhouse
Nathalie – Intolerant Gourmand
Laura – Dairy Free Kids
Midge – Peachicks Bakery
Chloe – Just the three of us
Mandy – Sneaky Veg
Mel – Le Coin de Mel
Vicki – Free From Fairy

Egg Free | Gluten Free Scotch Eggs
That's right, now you can enjoy gluten free and egg free scotch eggs at your summer picnics with this simple to make free from recipe.
Ingredients
2

packs

gluten free sausages

12 in total

250

g

cauliflour

100

g

gluten free breadcrumbs

I used Mrs Crimbles breadcrumbs

3

tbsp

vegan mayonnaise

1

tbsp

mustard

I used mild hot dog mustard

salt and cracked pepper to taste.
Instructions
'Egg' filling
First you need to make your 'egg' filling. To do this pop the cauliflower in a blender and blitz until an even crumbly mix.

Pop the cauliflower crumbs into a bowl add a tablespoon of water and cover with clingfilm. Pop in the microwave for 1 minute to soften slightly. Drain any excess liquid. Leave to cool.

Once cooled add the mayonnaise, mustard and seasoning. Spoon the mixture into an ice cube tray or ideally a cake pop silicone mould. You'll need 20 cubes/half pops in total. Place in the freezer until the mixture has frozen solid.
The Meaty Bit
Split the skins of all 12 sausages and remove, place all the sausage meat in a bowl and beat to remove any lumps.

Take 10 equal portions of the sausage meat and roll into a ball. On a floured surface press the meat ball into an oval shape about 5mm thick. Repeat with all 10 meat balls.
Building your Scotch Egg
This bits messy... Take your 'egg' ice cubes/half pops from the freezer. This is where you'll realise that a cake pop mould works better because two half pops will make a lovely little circle of 'egg' mixture to wrap in sausage meat. Ice cubes will work but you'll have a more egg shaped scotch egg for your end result (maybe not a bad thing).

Carefully wrap the meat around the 'egg' making sure there are no tears in the meat and the holes are all pinched together to seal. Repeat until all scotch eggs are meat covered.

Gently roll your meaty balls in the bread crumbs. I use Mrs Crimbles because the taste is more authentic and it's easier. If you choose to make your own make sure you use STALE gluten free bread crumbs.

Once you've coated your scotch eggs in bread crumbs pop onto a tray or in a cupcake tin to prevent them from rolling around and escaping!

Pop into a preheated oven 200°C | Gas 5 for 20-25 minutes until golden. There may be some liquid seepage but this will be reduced if you make sure all the excess liquid was drained from the cauliflower.

If taking on a picnic allow to cool completely before popping into Tupperware, alternatively have for dinner as these are equally as delicious hot!
Here's the method in pictures if you get stuck!
[su_carousel source="media: 4190,4191,4192,4193,4194,4195,4196″ height="200″ title="Method"]
Check it out! I've shared with these other blogs
[su_row]
[su_column size="1/3″]
[/su_column]
[su_column size="1/3″]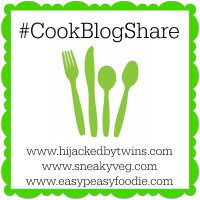 [/su_column]
[su_column size="1/3″]