These dinky little Christmas Truffle Cake Pops are an adorable festive version of my raw cookie cake pops that I made a few years back. I've always like the old recipe and wanted to spice it up a bit, literally! So with a bit of Christmas magic I can present to you a simple recipe that families can do together involving the kids in the kitchen. Why not make these as a gift for the teacher or a family member or to present on the tea table over the festive period.
What's the difference between a cake pop and a truffle?
Technically these are neither cake pops nor truffles but more of a hybrid between the two. Cake pops are more often baked cake balls with sticks and coated and decorated extravagantly. Truffles are mainly made of chocolate and cream and have a soft silky texture. These are cake-like in flavour, truffle-like in appearance and like a raw cookie dough in texture.
Dairy Free and Vegan Condensed Milk Recipe
Empty a 400ml tin of coconut milk into a medium saucepan, add 150g caster sugar and stir to combine. Place on a high heat and stir until bubbling. Turn heat down to a gentle rolling boil and leave for 15 minutes. Don't leave unattended and stir occasionally, the condensed milk will halve in volume and go a wallpaper paste colour! Remove from the heat, pour into a glass heatproof jug and cool to room temperature, this will take about an hour.
For the full recipe, method and top tips head to my Easy Dairy Free Condensed Milk recipe.
Can you make these cake pops in advance?
Yes you can make these cake pops in advance, handy if you're planning on making these as a gift for someone over the festive season, or to take to a party with you. I go into more detail below when I talk about storage, but these can be kept both a room temperature and in the fridge. You could also half make them and leave the truffles un-decorated, then you simply coat them in chocolate closer to the time you need them.
Different ways to decorate Christmas Truffle Cake Pops
I've opted for the easy icing sugar glaze for these mini Christmas Pudding Truffles. I'm not a huge fan of white chocolate (gasp) and so I'd much rather this decoration than a melted white chocolate but of course if you like white chocolate and can get hold of dairy free white chocolate then feel free to swap this part of the recipe out. I'd melt at least 50g of white chocolate to use for decoration.
What different flavour cake pops can I make?
Of course you could add a little brandy or rum if you wanted to make these for adults. I'd be tempted try these again with some orange extract or Cointreau, actually, cherry brandy would be rather special too.
If you fancied something a bit more chocolatey then why not switch the digestives and blitz some gluten free Oreo style biscuits instead, or chocolate chip cookies. The possibilities really are endless, and I encourage you to be adventurous in the kitchen. Please do let me know if you do explore other flavour combos and come back and leave a comment.
How to store Christmas Truffle Cake Pops?
I have stored these truffles very well in Tupperware containers and I know that these will last for up to 3 days at room temperature, and well over a week if kept in the fridge. That is of course if these truffles last that long!
I haven't tried to freeze these truffles, but if you felt you wanted to make these in advance you could maybe freeze them and coat and decorate them later. I have to say, they are so quick and simple to make that I don't feel you'd benefit from doing this though, so best to make from fresh.
If you like these Christmas Truffle Cake Pops, you'll love these other festive treats
I have a few similar style recipes on the website now that may interest you, these all make excellent free from Christmas Gifts and festive family treats. All my Christmas Recipes can be found via the link
Never miss out again…
Sign up to my Friday newsletter and receive not one, but THREE FREEBIES.
GF and Vegan e-Book
conversion charts
3 simple guides to allergies, intolerances & autoimmune.
Join me and learn to make anything gluten free.
Easy Gluten Free Christmas Truffle Cake Pops Recipe
If you make it and like the recipe I would be eternally grateful if you popped back and commented leaving a star rating as this will tell search engines that this recipe is worth checking out and others will get to find it in searches.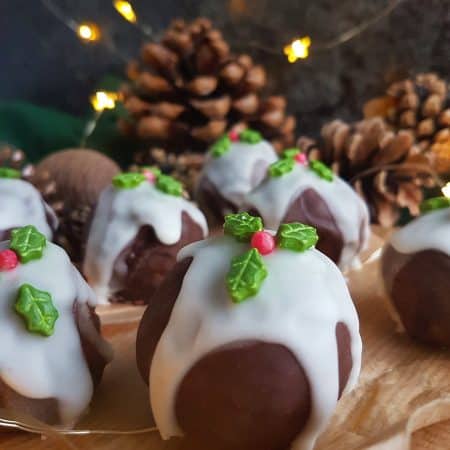 Easy Gluten Free Christmas Truffle Cake Pops
Adorable little raw truffle cake pops made to look like mini Christmas Puddings. These are no-bake treats made using mincemeat and spices to get an authentic Christmas Cake taste in one easy bite. Gluten free, dairy free and vegan too
Ingredients
160

g

gluten free digestive biscuit(s)

100

g

mincemeat

check the label for gluten

50

g

condensed milk

vegan condensed milk method in notes and post

30

g

butter

I use Flora unsalted vegan block

Pinch

of nutmeg

Pinch

of cinnamon

Pinch

of clove

100

g

chocolate

I used a dark dairy free chocolate
To decorate
50

g

icing/confectioners sugar

1

tsp

milk

I used soya milk

holly and berry decorations
Instructions
In a blender blitz the digestive biscuits until you have fine crumbs. Tip the crumbs into a large bowl.

To the bowl add the mincemeat, condensed milk, melted butter and spices and with a spoon mix together thoroughly.

Put the bowl into the fridge to harden the raw truffle mixture.

After 30mins, remove from the fridge and roll the dough into 10 walnut sized balls.

Place onto a plate or tray and set aside.

Carefully melt your chocolate, I use the cheat method and pop it in the microwave – oh, and don't sneak any squares of chocolate, you'll need all 100g!

Using a teaspoon, roll the dough ball in the melted chocolate and place carefully back on the tray or plate, repeat until you have covered all 10 truffles.

Return to the fridge for 30mins to set the chocolate

Meanwhile you can make your icing to act as cream pouring down the side of your mini puddings.

Don't be tempted to add more icing sugar, this is the right amount to achieve the viscosity for the icing to set without dripping off the truffles.

Add your Christmas decorations and return to the fridge or by an open window to set the icing.

Store in the fridge in a sealed Tupperware container (if you fail to seal them with a lid, the chocolate will 'sweat' in the fridge and become sticky).
Nutrition
Nutrition Facts
Easy Gluten Free Christmas Truffle Cake Pops
Amount per Serving
% Daily Value*
* Percent Daily Values are based on a 2000 calorie diet.
Have you tried this recipe?
Let me know how it was & I will be super grateful. Take a picture & tag me @glutarama on your social media posts – I love seeing your photos more than you will ever know x
I love to see your own photos of my bakes, dinners and treats head to your favourite social media account and don't forget to tag me in @glutarama
Subscribe to my email list so that you get NEW recipes straight in your mailbox every Friday PLUS a FREEBIE and access to some amazing gluten free DISCOUNTS
Don't lose this delicious Christmas Truffle Cake Pops recipe – pin it for later.
*disclaimer: I use affiliate codes on my website, the vast majority are to Amazon. If you click on any of the links or images in the post and make a purchase my family will benefit from a small % of that purchase at no extra cost to you.

For full transparency, in 2020 I made my first £25, and in 2022 I reached my next £25 (Amazon don't transfer the money until you reach £25). Recently I got paid a whopping £27.10 for 2023.

So to date I have made £78.58 since I first started the scheme in 2017. It won't pay the bills, that's for sure but it does help to pay for ingredients or little treats to cheer me up!
Join my friendly Facebook Group
life's a drama, gluten free doesn't have to be….