There appears to be a trend in everything being flavoured Chocolate Orange at the moment so naturally I though why not Chocolate Orange Mince Pies too! I adore Terry's Chocolate Orange and sadly have had to miss out on my favourite chocolate orange Christmas treat since 2017. So, when I see all the latest limited additions on the shelves in the supermarkets I go green with envy.
I've decided to turn my frown upside down and have a stash of gluten free and dairy free chocolate orange surprise up my sleeve for Christmas this year so if you haven't already, make sure your on my newsletter mailing list to be the first to hear about my new recipes.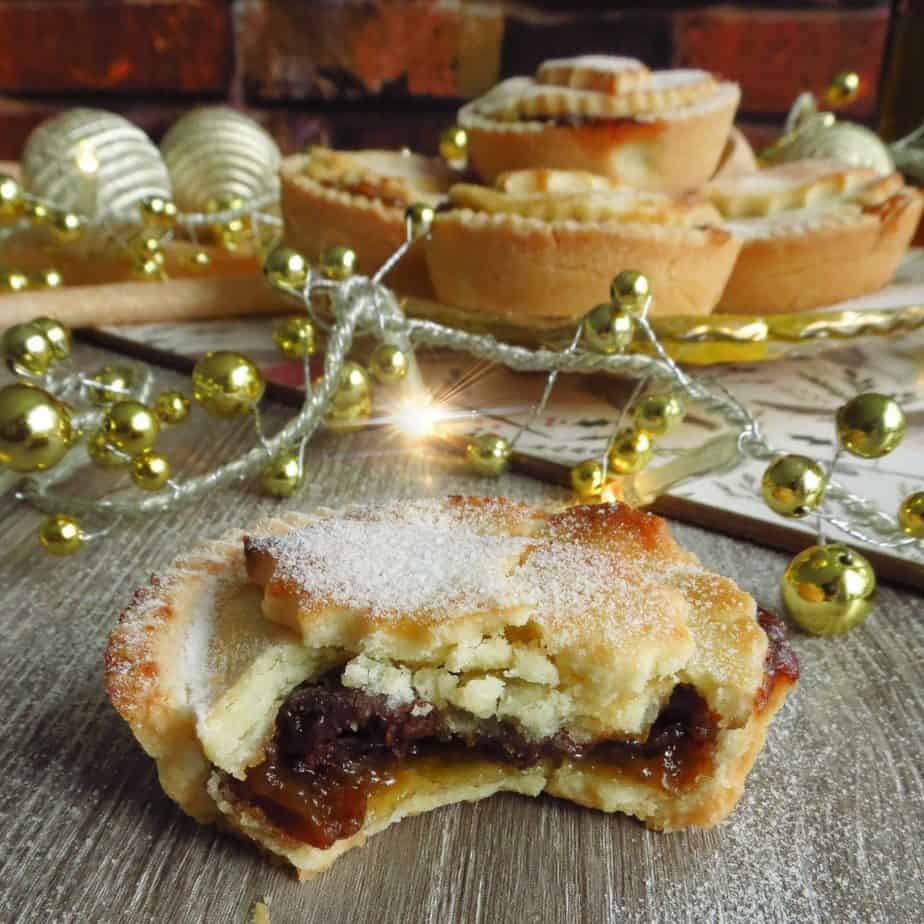 Why are they called Mince Pies?
I had to chuckle when I did a bit of research into what people were searching for on Google and found that there were many questions about the humble mince pie such as;
Why are they called mince pies?
Do mince pies have meat in them?
Why does mincemeat have suet?
All very good questions so I thought I'd answer them all here to save you the job of searching around on the internet.
Why are they called mince pies? The history of the mince pie dates back to the 13th Century, it was one large pie with a thick savoury pastry crust and the filling was minced meat i.e. mutton, beef or pork and lots of dried fruits and spices to pad it out. These pies were only made for celebrations and its said that Henry V had it made for his Coronation in 1413 [source Walkers Shortbread]

Do mince pies have meat in them? The key thing to notice here is the different wording Minced Meat and Mincemeat the latter refers to the totally meat free version we now recognise at the festive filling for mince pies and other Festive baking. The former is meat that has been passed through a mincer machine to make our minced beef, lamb, pork etc.
Why does mincemeat have suet? The reason for this is two-fold. Originally it would have been an additional way to preserve the mincemeat between usage, remember there were no fridges back in the earlier centuries! Secondly the suet is added to keep the mincemeat juicy and rich in flavour. I have a copy of Mrs Beeton's book of Household Management and I think they put suet in pretty much everything – I'm not kidding it's the main ingredient in so much of her baking sweet and savoury. Those days it would have been beef suet but we now have access to vegetable suet and if you want to make your own gluten free vegan suet I have a recipe here with my Gluten Free Dumplings that keeps for ages in the fridge.
Can you make these into dairy free mince pies?
These are dairy free, gluten free and wheat free mince pies if you follow the recipe and method. They are also vegan if you use a vegan shop bought mincemeat, which most stores have these days. Please check the labels as some mincemeats are not automatically gluten free due to the suet they use. Franky, and I may be biased here, but I think once you have tasted these, you'll agree that these are the best mince pies for 2020! A bold statement but everyone who has tried these so far would agree with me.
What pastry do you use to make Chocolate Orange Mince Pies from scratch?
There really is only one pastry you can use to make traditional mince pies and it's a sweet shortcrust pastry, the shorter the better for that melt-in-the-mouth experience. I've adapted a recipe I sued to use all the time from a fellow food developer Free From Fairy so that it's a wee bit less healthy and richer despite me having to make the egg and dairy free version of it for myself.
These ratios work every time and you have adequate pastry to top your mince pies and add a decoration if you wish.
200g plain gluten free flour
80g butter or dairy free alternative
20g lard, Trex or other vegan alternative
60g caster sugar
1 egg (hold a tiny bit back for an egg wash) or 50ml water for an egg free version
How do I make homemade mincemeat for mince pies?
There are two wonderful recipes I'd like to refer you to here if you plan to make your own homemade mincemeat for mince pies. Firstly there is this recipe for a Low FODMAP Mincemeat by Vicki Montague aka The Free From Fairy. Secondly Kate Dowse aka The Gluten Free Alchemist has a recipe for her Extra Fruity Mincemeat with Pistacio that has no suet in it for those of you not keen on the idea of suet.
If you want a simple rule of thumb for a homemade mincemeat then I'd go for these measurements;
Equal quantities of two main dried fruits, suet and dark brown sugar then equal parts of brandy and mixed peel with nutmeg to flavour and a grated cooking apple.
A simple gluten free Mincemeat Recipe
150g currants
150g raisins
150g sugar
150g gluten free suet
50g mixed peel
50ml brandy
teaspoon of nutmeg
1 bramley apple grated
These quantities will give you a large jar of homemade mincemeat that will fit into a 1ltr Kilner Jar enough for 4 batches of 12 mince pies at least.
How to store Chocolate Orange Mince Pies?
I have stored these very well in both Tupperware containers and old biscuit tins so I know that these will last for up to 5 days easily, probably over a week to be fair. That is of course if they last that long! They last well due to the alcohol and suet in them, which goes back to my comments about why suet is used in these mince pies.
I haven't tried to freeze these but I'm positive they will freeze just fine. To bring them back to life you will need to defrost at room temperature for over 3hrs I'd say and I would recommend popping them in a hot oven for 5mins to revive the pastry back to its perfect shortcrust crumble state.
If you like these Chocolate Orange Mince Pies, you'll love these other pastries and bakes
I have quite a catalogue of gluten free Christmas recipes on my website now and I know you'll just love these delicious festive recipes. Take my Gluten Free Lebkuchen which has had some lovely feedback over the years, then there are these Mini Edible Christmas Wreaths and how about this recipe for my Mini Christmas Cakes with Nut Free Marzipan
Gluten Free Ecclefechan Tarts
The humble Ecclefechan Tart is a wonderfully traditional tart originating in the small town of Ecclefechan. With simple, easy to source ingredients these tarts are a nod towards a mince pie but without the festive spices you'd expect and an egg to bind the filling together. This can make 6-8 tarts depending on the depth of your baking tin.
Check out this recipe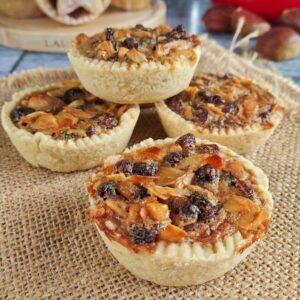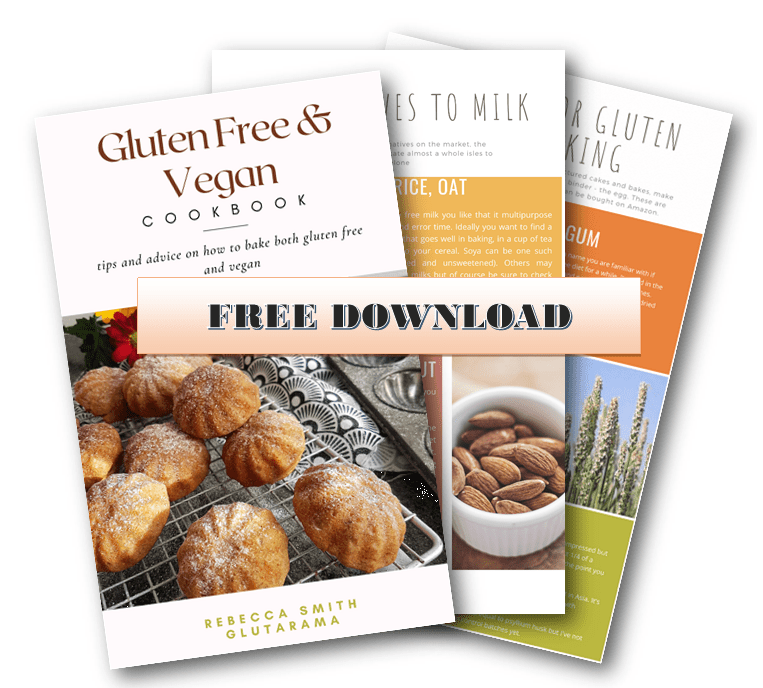 Never miss out again…
Sign up to my weekly Friday newsletter and not only get a FREE e-Book (currently my Gluten Free & Vegan Cookbook) but also get VIP subscriber discounts on free from goodies. Join me and learn to make anything gluten free.
Gluten Free Chocolate Orange Mince Pies Recipe
If you make it and like the recipe I would be eternally grateful if you popped back and commented leaving a star rating as this will tell search engines that this recipe is worth checking out and others will get to find it in searches.
Gluten Free Chocolate Orange Mince Pies
These Chocolate Orange Mince Pie are a delightful twist on the traditional classic Mince Pies, with dark chocolate chips dispersed in the rich mincemeat and a kick of orange extract these mince pie are sure to please at any festive gathering.
Ingredients
Gluten free shortcrust pastry
200

g

gluten free plain flour

80

g

butter or butter alternative (I use Flora plant butter)

I use Flora DF blocks

20

g

lard/trex

I use Trex

60

g

caster sugar

50

ml

water

or if you can use a beaten egg leaving a little for brushing
Mince pie filling
400

g

mincemeat

I find you tend to use approx. 30g per mince pie

100

g

dark dairy free chocolate drops

1

tsp

orange extract

or Cointreau Liqueur
Instructions
To make the pastry
Add the butter, lard and flour to a bowl and using your finger tips rub until the mixture resembles crumbs or use a pastry knife until you get the same result.

Stir in the caster sugar.

Make a well in the middle of the crumble mixture and then add the egg or water.

Using a rounded knife cut through the crumble mixture to incorporate the egg or water until the mixture starts to come together, now you can tip the contents of the bowl onto a clean kitchen worksurface.

Bring the crumble mixture together and begin to knead, this will take about 3 mins, no need to add more liquid, trust me it will come together.

Take your ball of pastry dough and pop into a Tupperware container and put in the fridge for at least 30mins to chill, this will prevent shrinkage in the final bake.
To make the chocolate orange mincemeat filling
In a bowl measure out the mincemeat required for 12 pies and add the orange extract or Cointreau, leave the chocolate drops to one side for now.
To build your mince pies
Take the chilled pastry out of the fridge and preheat the oven to 200°C | 180°C fan | 400°F | Gas 6

Knead the pastry for a minute to make it manageable and roll out to approx. 3-4mm thick.

Using an 8cm cutter (I use a fluted cutter as they're prettier) cut 12 larger circles and then repeat with a smaller cutter to make your lids.

Carefully place the large pastry circle into a 12 pie tray and gently press down into the corners.

Add a dollop of mincemeat and now sprinkle a few chocolate chips on top of the mincemeat.

Repeat another 11 times and top the pies with their lids, if you have a little gap around the outside then there is no need to make a hole in the mince pie to release trapped air.

If you plan to decorate your pies, then do so using a holly or star cutter.

Finally use the little egg you have left (or a dash of water and tip this into the bowl you used for your mincemeat, stir these together with a pastry brush and use this as a pastry wash to help your mince pie to go a golden brown.

I also sprinkle a little caster sugar over the tops of my mince pies for added texture.

Pop into the oven for 14-16 mins depending on your oven or until a golden brown.

Remove from the oven and allow to cool almost completely in the tin before taking out, this pastry is fragile when hot/warm but fine to reheat afterwards.
Nutrition
Nutrition Facts
Gluten Free Chocolate Orange Mince Pies
Amount per Serving
% Daily Value*
* Percent Daily Values are based on a 2000 calorie diet.
Have you tried this recipe?
Let me know how it was & I will be super grateful. Take a picture & tag me @glutarama on your social media posts – I love seeing your photos more than you will ever know x
I love to see your own photos of my bakes, dinners and treats head to your favourite social media account and don't forget to tag me in @glutarama
Subscribe to my email list so that you get NEW recipes straight in your mailbox every Friday PLUS a FREEBIE and access to some amazing gluten free DISCOUNTS
*disclaimer: I use affiliate codes on my website, the vast majority are to Amazon. If you click on any of the links or images in the post and make a purchase my family will benefit from a small % of that purchase at no extra cost to you.

For full transparency, in 2020 I made my first £25, and in 2022 I reached my next £25 (Amazon don't transfer the money until you reach £25). I'm now up to £17.80 for 2023 so edging closer to the magical £25 mark!!

To date I have made £69.28 since I first started the scheme in 2017. It won't pay the bills, that's for sure but it does help to pay for ingredients or little treats to cheer me up!